What is Mapping Software?
Mapping software turns your location data into interactive maps so you can easily analyze and share information. It's a powerful way to visualize your spreadsheet/CRM/ERP data and gain insights that are hidden in thousands of lines of information. Professional mapping software helps improve your understanding and decision making through advanced styling and analysis options, including heat maps, territory building, routing, buffer maps and more.
Professional mapping software for you
eSpatial is the mapping system of choice for professional business users. We provide the necessary tools to build and deploy the maps you need. With the expert support, integration functionality, and data capabilities that your business requires. Read on to find out more about our software, or click below if you want to just start working on your mapping project.
Essential mapping software features
eSpatial's mapping tool empowers businesses of all sizes to create, manage and analyze interactive snapshots of their data. This is made possible through a unique set of mapping software features that are indispensable to today's field sales and service teams.
From intuitive route planning tools to mobile compatibility, there's no shortage of innovations that help make eSpatial a best-in-class solution. Below are just a few essential mapping software features that can allow you to proactively manage your resources, identify trends and patterns in your data and improve your decision-making at every level.
Add data from multiple sources
With eSpatial, loading data from multiple sources is quick and painless. You can combine large datasets from siloed spreadsheets, databases, CRM, ERP and POS systems to create live, interactive territory maps that scale alongside your business growth. Whether importing data manually or through the eSpatial Data Uploader, you can ensure critical information is organized, up to date and available within the mapping tool.
Once imported, your data is stored in a data library that contains over 100 third-party boundary and demographic datasets. This added insight can not only enhance the accuracy of your data mapping, it can also help you create more balanced and actionable sales territories.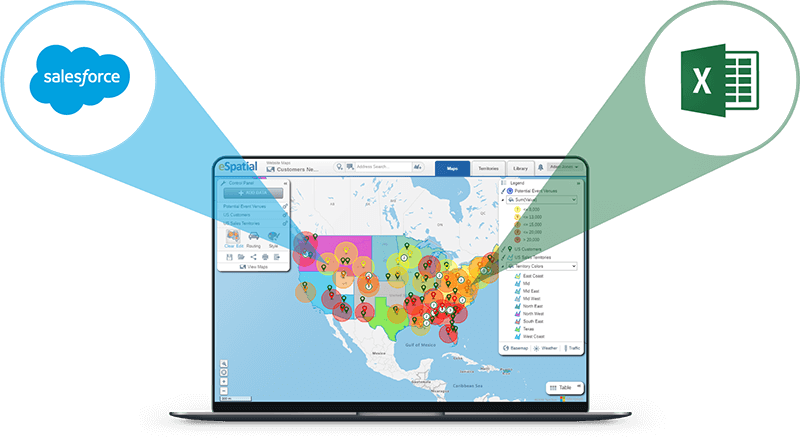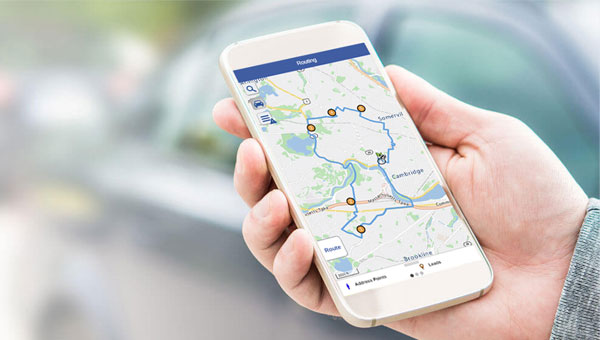 Mobile compatibility
eSpatial was designed to actively support sales and service teams in the field by offering intelligent route planning, scheduling and data management features. With eSpatial Mobile, your field teams can access customer data on the road, optimize their travel routes and spend more time meeting with customers and prospects.
This mobility can help staff in the field prioritize their accounts and plan out their entire week in advance. Using radius or drive-time buffers, sales reps can organize their days based on the proximity of client meetings to a particular location, like your office or the airport. What's more, users are able to quickly open Google Maps for turn-by-turn navigation.
Try mapping software for yourself
Sign up for a free seven-day trial
Intuitive data visualization
Any mapping tool is only as strong as its data visualization and styling features. That's why eSpatial allows you to create a range of eye-catching, interactive maps that can be tailored to your unique needs. You can customize the symbol, size and color of individual data points, create distinct labels and insert annotations for added context.
No matter what your goals are, eSpatial has a map style to suit the occasion, including pin maps, heat maps, bubble maps, radius maps and more. When paired with location analytics, these data styling features can help you visualize your business performance in extraordinary detail.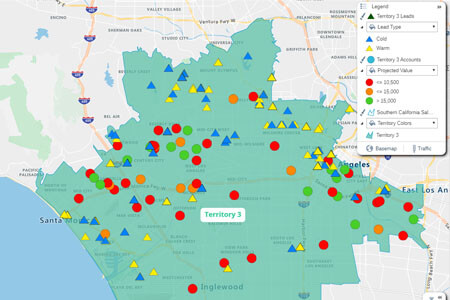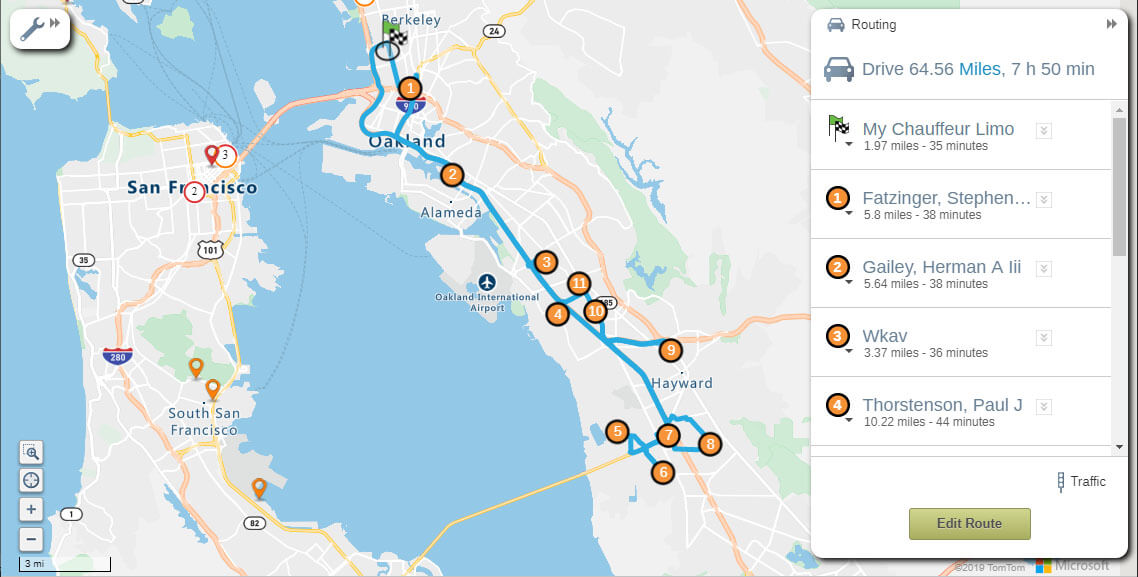 Route planning designed for business users
Today's field sales and service teams rely on real-time customer data and location analytics to organize their daily tasks. eSpatial's intelligent route mapping tool can help field staff minimize travel times and reduce fuel costs by plotting out the most efficient trip. Users can easily add multiple stops to their routes, block off time for in-person meetings and create a flexible snapshot of their weekly schedules. You can also create, edit and share route maps with other internal stakeholders, ensuring your field teams' activities are both productive and cost-effective.
Easy to use professional mapping tools
Professional mapping projects require professional capabilities. Learn about some of our most popular tools below, or visit our mapping tools page.
What type of map do you need to create?
With our cloud-based mapping software, you can easily upload, visualize, and analyze multiple layers of data. Rapid visual insights take the guesswork out of decision making. Below are the eight most common map types created by our customers.
Popular mapping software use cases
Mapping tools provide a wealth of insight into your sales performance, territory alignment, customers and competitors without slowing down your day-to-day operations. But getting the most out of your data mapping may require a bit of thought. What are you trying to accomplish? Which pain points can mapping software fix? And how can eSpatial help optimize your sales plans? Below are a few popular use cases for eSpatial's mapping app that help illustrate how the platform can directly support your business goals.
Support from mapping experts when you need it!
You're the expert on your data and business, but to get your mapping project completed you'll need some support. That's why our eSpatial team includes geographic information system (GIS) qualified mapping experts who work with you. They provide expertise in both mapping and data integration for on-boarding and through your time using eSpatial.
They can even help you find your way around our product. In fact, you should be able to speak to one of them right now through our chat function. Try it by clicking the orange icon in the bottom right corner of your screen, or schedule a call (below) for some dedicated time.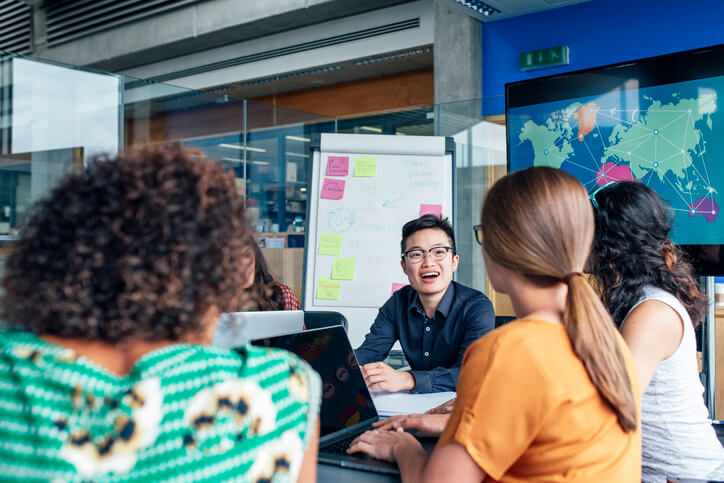 Mapping software to suit your mapping need
You need your mapping solution to be the right size for your needs. Take a look through the different features we offer for different sized customers. You can see how all of this comes together in our pricing area.
Large Team – Key Features
All the features from the medium and single user packages, as well as:
Largest possible data processing volumes
Single Sign On (optional)
API and CRM integration (e.g. Salesforce)
Dedicated Customer Success Manager
Pilot available
Enterprise SmartStart (optional)
Mobile App Controls
Medium Team – Key Features
All the features from the single user options, plus so much more:
Huge team data processing volumes
Role Based Access Control
Secure sharing
Drive Time Analysis (optional)
Customized training (optional)
Publish & share analysis (optional)
Small Team – Key Features
All the features you need to get mapping by yourself:
Industry leading geo-processing volumes
Street level geocoding
High resolution printing
Live chat support
Territory manager
Personalized Training Plan
Mobile App Options
Who uses mapping software?
eSpatial is the world's best mapping tool for sales, services, marketing and distribution. Professional teams across the globe use our software to run their business workflows. Our mapping platform delivers meaningful insight, improves workflows and maximizes field outcomes for leading businesses across the world. To get started on your project why not turn your data into your first map as part of a free trial. Or start a chat with one of our mapping experts who can get your project started. Just click the bottom right corner of your screen.
How is data added to the map?
Your map is only as good as the data it's representing. But how do you get your data onto our maps? Here are the most common approaches:
---
Add existing Excel data
When working with eSpatial, most customers create their map with data they already have organized in Excel. Just save it out to CSV/XLS/XLSX in a file that includes location information. For example, if you wanted to map your recent sales, you may wish to include the customer name, sales value for last year, and address information. The mapping engine will figure out where those address points should be placed and create the first version of your map. Then you can get into analysis and the creation of different maps or workflows.
Integrate with Salesforce
eSpatial can be fully integrated with your Salesforce CRM through the AppExchange. You can import any records that you have access to from Salesforce and use them to generate your maps. This includes leads, contacts, accounts, opportunities, reports, custom objects, and anything else you may have configured in your Salesforce CRM.
Automate upload from another CRM / ERP / data warehouse
Uploads from these tools can be configured to run on an automated basis using our automated upload tool. That said, many customers find that the most straightforward means to initially add data from their existing CRM or ERP system is to simply export from that system to a CSV file, and quickly upload to eSpatial.
Integrate through a REST API
We also offer a REST API that can be configured to manage your access to another dataset. Get in touch with our sales or customer success teams to discuss your specific needs.
Overlay additional data from our extensive dataset library
While your data is the most important component, we provide additional data sets that you can overlay with your data in order to make your mapping tasks easier. Here are some of the more popular datasets:
Create a custom map with your data in 3 simple steps
---
1.

Prepare your data

Simply save your data to CSV format from your CRM, ERP or POS systems ensuring that you have header rows including your location information. Include any columns you want to be displayed in the information box attached to each map pin.

2.

Sign Up for an eSpatial trial account

Register for a free trial by clicking the button below. The screen shown to the right will ask you for a business email address and password, but no credit card information is required. This will begin your free trial where you can create your map right away.
Your spreadsheet data on a map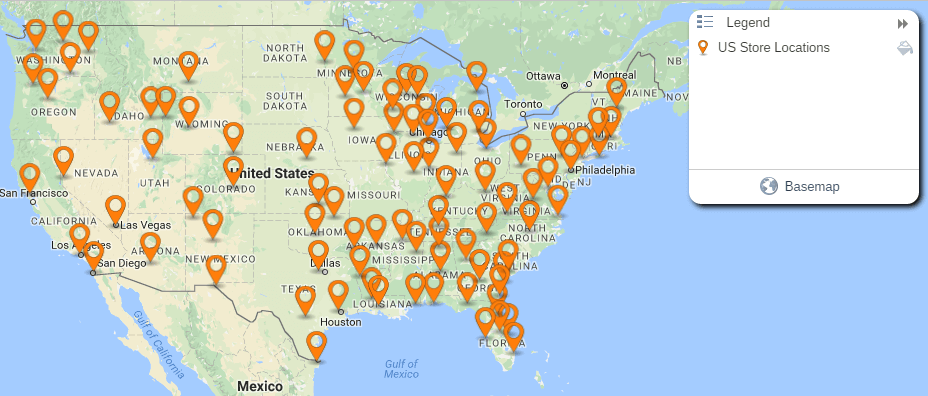 As soon as your data is uploaded, it will be plotted on a map as seen above. Each pin on the map represents a row in your spreadsheet. All this data appears in the information box when you click a pin. This forms the basis for your data analysis. You can then style your map, run various analysis and share.
Online mapping software
With eSpatial not only do you build your maps online through our cloud-based tool, but you can also publish and share them directly to the internet to share them with the world. Whether it be published online to better inform your customers, or a private link to a single individual, eSpatial is the online mapping tool for you to get your mapping job done.
Ready to start your mapping project?
Seven-day free trial, no credit card required