Microsoft MapPoint, originally released in 2000, was a popular data mapping software for businesses. In 2015, Microsoft stopped supporting the platform, leaving users searching for a MapPoint replacement to help them visualize their data.
eSpatial is your number one Microsoft MapPoint alternative. Our mapping software provides all your existing MapPoint capability and much more, including:
Quick and easy visualization and analysis
World leading territory capability
Publish/share with ease from the cloud
Approved Microsoft partner, unparalleled MapPoint experience
All in a free trial with no credit card required
Replacing Microsoft MapPoint for your business
Microsoft MapPoint is no more, but it has played an important role in your organization up to now. When you decide to move on from Mappoint your business needs to continue running, you need a capable replacement.
Recognizing the need and potential for cloud-based mapping tools was a key factor in the foundation of eSpatial. eSpatial provides you with the functionality to visualize and analyze your data the same way you already do with Microsoft MapPoint. However, eSpatial is both faster and easier to use. Our modern mapping engine enables much better outputs that can be shared across multiple devices. With eSpatial you can create a powerful sales performance map and have it shared with all of your sales team within minutes. But why take our word for it, our cloud software approach means that you can sign up for a free, no obligation trial and create your first map right now.
It does provide a much better way for the members to find us - locate our services - and to have that on a visual.
Adam Walton
Infrastructure & IT officer

Taking mapping to the cloud
As with any cloud-based software, eSpatial is accessible on desktop, laptop, tablet, and mobile. We also update our software on a regular basis bringing new features and functionality to improve your maps, your analysis, and your experience. Our mapping tool kit includes collaboration, annotation, and map styling features alongside the ability to integrate your Salesforce account for instant access to your Salesforce data from within eSpatial.
With eSpatial, your maps don't just live on the computer they are created. They live securely in the cloud which means that the workload to create the maps and analyze the data can be shared across the team and can be updated and collaborated on at any time. In addition to this, all your hard work is saved and backed up for you. You no longer need to rely on a specific device.
Access your maps anywhere on multiple devices
With MapPoint being a desktop application, it can only be accessed from a licensed device which prevents the user from viewing, editing or sharing their maps when their device is stuck in the office. eSpatial is a cloud-based mobile mapping software which can be accessed anywhere with an internet connection, across multiple devices including PCs, Macs, iOS devices and Android devices.
Plot and label your data for quick visualizations
You can plot and label your business data in eSpatial, just as you have been doing in MapPoint. You can layer multiple datasets and style them for quicker understanding and analysis. eSpatial provides you with advanced styling options such as custom symbols, optimized labels, color by value, size by value, symbol by value and visual heat maps. And with over 12 basemaps to choose from, you can ensure that your data speaks for itself on a map.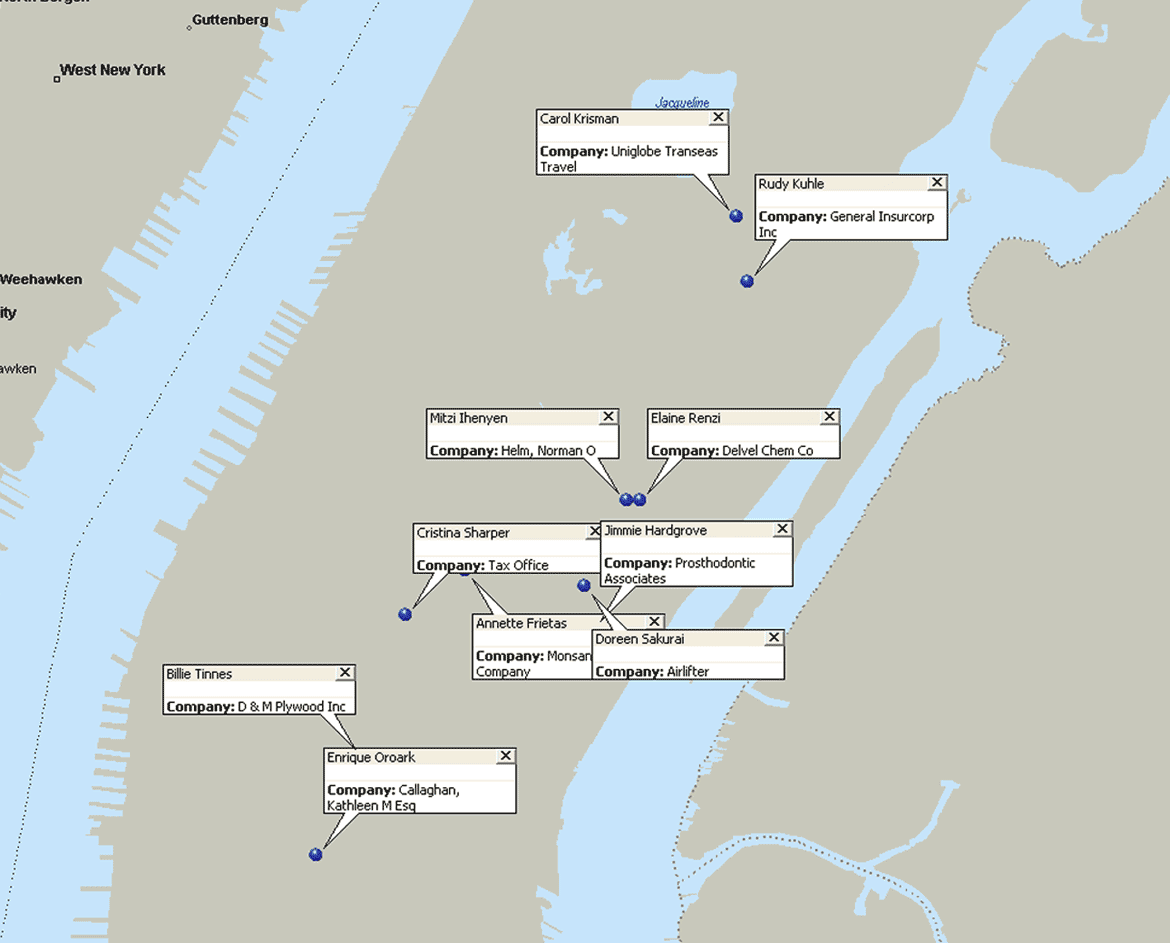 Plan and optimize routes
Planning sales or service calls is much easier with eSpatial. Our optimized routing feature will calculate the fastest route taking into account each stop, as well as the start and finish point. You can even add stop off points to your itineraries such as coffee, lunch or an overnight stay. Enabling your team to make the most of their time on the road.
Share and export routes directly to your colleagues on the road, which then be accessed on PCs, Macs, iPads, tablets, and smartphones. Turn-by-turn directions can also be generated by opening route legs on any mobile device in Google Maps, Apple Maps or Waze.
Build and manage your territories
Territory management is reported by our customers to be one of the top reasons they use MapPoint and also the main reason they choose eSpatial as an alternative. Not only can you build, balance and analyze your territories with eSpatial, you can also create a hierarchical view that follows your company's organizational structure. You can then delegate responsibility for various territories where necessary. You can export existing territories from MapPoint and load them into eSpatial to reassign, re-balance and align as required.