Right now, more than half of all sales reps in the US engage in outside sales, according to research from the sales and marketing platform 99firms.
As pressures grow to optimize revenue while maximizing sales effectiveness, a major challenge faces all sales operations and sales leadership teams. Efficient route planning.
Consumer-level GPS mapping apps don't have all the features traveling sales teams need to find the fastest travel time and most efficient route. Outside sales teams need more than a simple GPS routing tool — they need specialized route planning software. One that can help them overcome the unique challenges they face in their everyday work through dynamic route optimization.
What is route optimization?
Route optimization involves planning the routes and order of sales calls in the most efficient way. Traditionally, it was done by hand with physical maps or a consumer GPS system. However, for sales teams to survive in the modern age, they need a specialized route optimization software.
How route optimization works
Most consumer apps can get you from point A to point B, but adding more stops is tedious. With a route optimization solution, like eSpatial's all-in-one mapping software, users can add all their stops at once to produce an optimized route plan.
Sales reps don't need to worry about fiddling with the order of their stops. The route planner automatically creates the most efficient route for up to 100 stops. It leads to reduced travel time, fuel usage and operational costs.
When you're on the road, things rarely go according to plan. If traffic is heavy or a meeting runs late, sales reps can now use dynamic routing to easily adjust the rest of their schedule.
Professional routing software can also help sales reps maximize productivity. If an appointment cancels, they can use their map to search for nearby customers and add them to their route plan.
And, unlike many consumer-level navigation apps, you can share multiple routes created through a best-in-class route optimization tool. Users can send their route to team members, either publicly through a link or privately within a specific group.
The challenges of traditional route planning
Whether you're a route manager mapping out an optimal route or a field sales rep trying to give a client an accurate ETA, there are several common pain points when it comes to route planning. If you face these problems, it is time to consider route optimization software:
High effort, low reward
High-performing sales reps avoid falling into a rut. You know that repeating the same routes can lead to under-performance. You avoid the "milk run" mentality and employ more analysis and research.
For a new rep, it can be a lack of experience or knowledge that affects sales performance. Understanding where to maximize sales potential is a nightmare without the right planning tool.
For the seasoned salesperson, it can be a matter of habit. In any role, it's easy to find a comfortable, repeatable route plan. But a sales rep seeing the same clients on the same schedule every month isn't maximizing revenue.
Mapping software with dynamic route optimization features transforms rep effectiveness. For new sales reps, it brings complex sales data and trends to life. It enables them to target new sales leads and untapped sales potential. And it allows managers to work closely with new reps to prioritize target accounts. Whether that's meeting more often with high-value customers or targeting a certain industry to sell a new product, it helps align the sales rep with sales strategy and business goals.
For the more experienced salesperson, an optimized sales territory map can help them see things in a new light. Filtering by important factors, like potential sales, reveals a disconnect between effort and results. For example, a low-value client may have made it into the milk run. If the sales rep is visiting them frequently, that client may actually be costing the business revenue and the rep their bonus.
Travel time and scheduling pressures
Sales reps must analyze their schedule. Particularly on days with a lot of planned in-person meetings. One long meeting can throw the whole day's schedule, forcing the salesperson to push or cancel other appointments. When this happens, your ability to adjust routes in real-time is a major advantage. Sales reps need route optimization that lets them input multiple stops and make changes on the fly.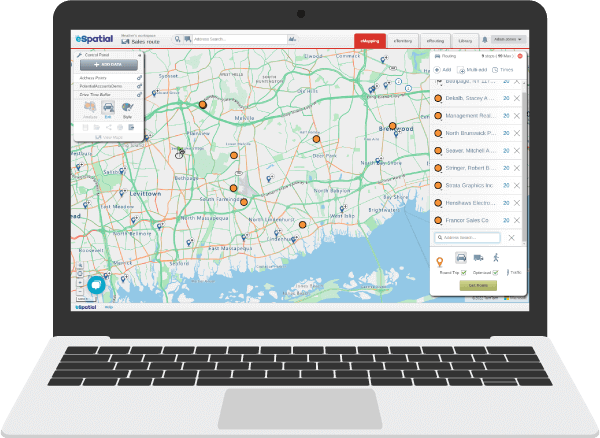 Increasing customer satisfaction
Sales reps need to make a target number of stops daily. It can be difficult to prepare for each meeting. One customer needs a contract clarification, while another is looking for a new product demo. But when sales reps show up under-prepared or tired from their drive, it can impact their performance.
A routing solution that can optimize their sales route to avoid inefficiency and display details from your own CRM data is a game-changer. Sales reps can reduce their driving time and increase their meeting preparation time. It results in higher impact sales calls and more sales opportunities.
Manual route management
Route planning is time-consuming and clunky when done by hand. It's important for traveling sales reps but takes time away from sales meetings. Simply put, there's a better way.
Intelligent route planning software eliminates the heavy lifting for sales reps. With automatically optimized routes, you spend more time on activity that drives revenue.
Lack of visibility
You know you have a problem when there's a disconnect between field sales and office staff. To solve this, sales operations, sales managers and support staff should have access to route plans. A solution like eSpatial makes it simple and intuitive to share this information between key team members.
Sales managers can make effective decisions about sales territory management with this information in hand. And, if a red-hot sales lead needs immediate attention, office staff can quickly and easily contact the closest sales rep who creates the shortest route. It supports decision-making and planning for office admins but also improves efficiency for sales staff and customer service for clients.
Balancing workforce resources
Sales managers balance resources and workloads for sales reps with improved visibility of sales routing. When the workload isn't even, you'll run into several problems. Some sales reps might not have enough travel time to meet their quotas. It affects their earnings and can lead to managerial pressure, causing stress. On the other hand, too much work can cause burnout for sales reps and lost sales opportunities for the company.
Mapping sales data lets managers create balanced sales territories. That way, sales reps have opportunities without being overwhelmed. When paired with route optimization, it ensures sales reps are spending more time with customers and less time in a vehicle. In turn, customers and prospects receive the right level of focus.
What does eSpatial's route optimization software offer?
There are key differences between a route optimization solution like eSpatial's route mapping software and other map applications intended for the average consumer driver.
Automatic route planning
Route optimization is based on intelligent route planning. Specialized software can automatically optimize route plans. And this isn't just from point A to point B — your route is optimized for every stop along the journey.

Users can optimize a one-way route or round trip. It ensures they save time and money and keep to their sales meeting schedule. Best of all, it eliminates your need to manually plot and plan routes. One organization was able to reduce its trip planning time by 75%thanks to eSpatial's route optimization software.
Display destinations with CRM data
Unlike other navigation or map apps, eSpatial's route mapping software works with your CRM. It unifies customer data across your tools so sales reps always have easy access to correct, up-to-date information. Your salespeople will also have all the information they need for appointments at their fingertips. Stops will display any data you choose to enter, like customer names or order history. Prepared sales reps are proven to achieve higher revenue and customer satisfaction.
Plot out territories for field sales teams
When looking for the right route optimization software, you should consider complementary features. Combining route optimization with mapping lets sales managers create balanced geographic sales territories. And perform visual analysis easily.

When you plan territories with geography in mind, it's easier to create an efficient route later. Creating manageable territories helps sales team leaders balance workloads and improve customer service.
Visualize data to support decision-making
Visualizing sales data is a huge benefit. It allows decision-makers to better understand the market, including your competition and growth opportunities. For example, with sales territory maps, managers can easily see coverage gaps or whitespaces. Lost opportunities and overlapping coverage can be eradicated, while new revenue can be unlocked.
Why is route optimization essential for managers and field sales teams?
Besides solving the common pain points for sales operations teams, there are a few more reasons to invest in an intelligent routing solution:
Efficiency, without the manual legwork
Route optimization for field sales reps using eSpatial is quick, streamlined and automatic. This means sales reps and office staff eliminate manual route planning and no longer rely on consumer GPS apps for each leg of their trip.
Kristen Eldridge, Motiva Operations Support Analyst and eSpatial user, says it has saved her as much as 25 minutes per sales lead. Since she evaluates and plots routes for up to 30 leads a day, the time savings are massive.
"eSpatial saves me so much time," Eldridge said. "I use it to investigate and target high potential leads, then plan routes for the salespeople on the ground. I used to do this with Google Maps, and it was tedious. With eSpatial, it takes only five minutes each."
Fuel cost savings and sustainability
Intelligent route optimization reduces travel time and fuel costs. When you analyze how much you spend on fuel and vehicle maintenance for each sales rep, the savings quickly add up. Efficient driving routes also lower your carbon footprint - an increasing concern for businesses. Now you can save money and impact your environment positively.
Improved resource management and customer service
With more efficient driving routes for sales reps and visual data for team supervisors, resource planning and workforce management are easier. Sales reps receive equal workloads to prevent overloading or burnout. Using the most efficient driving routes also helps reps meet with more clients in a day, which improves results. "Since we can plan optimized routes for the salespeople on the ground, they can get more done and make more sales," Eldridge said.
Users can even use eSpatial's filtering features to help prioritize accounts and boost efficiency - not to mention sales.
"We have a complete, up-to-date view of our clients, staff, and resources," said Andres Delacruz, NorthStar Deputy Director of Business Continuity and an eSpatial user. "It enables us to mobilize our staff and resources to the best location to support our clients and quickly react to incidents. eSpatial is an absolute game changer, helping us make better decisions."
Agile planning, on the go
One of the biggest wins for sales teams when it comes to route optimization is the ability to adjust their schedules in real-time. eSpatial enables users to plot multiple stops and include start and end times for each meeting. Should a meeting run long or short, the sales rep can adjust the rest of the route to match. This feature helps put an end to scheduling problems and missed appointments and enables sales reps to squeeze in an extra stop when they have the time.
Key features to look for in route optimization software
Right now, there are more route optimization solutions available for field sales teams, but not all offer the right fit for you.
To overcome your key challenges and reap the benefits discussed above, you need a route optimization solution with specific features, including:
Schedule 20-day optimized routes with ease.
Easily re-route a day if a customer cancels.
Access an intelligent recommendation engine that ensures you focus on the highest priority sales calls.
Seamlessly integrates with Salesforce.
Mobile ready.
Visualize and analyze your routes for productivity insights.
Lock in appointments and optimize your day around key sales meetings.
Overlay and filter your customer datasets on interactive maps.
Set priority-based scheduling based on your preferences, like the highest potential to close.
These are must-have features, but the best route mapping software will also have advanced capabilities. Data styling tools and interactive map features let businesses dive deep and do more with their sales data.
To find out more about the difference route optimization can make, talk to a mapping expert about your mapping software needs today.
Every business has different needs, so eSpatial offers a variety of solutions. Check out an overview of the solutions we offer below, and visit our pricing page for more detailed information.
Mapping
A complete suite of data visualization tools. Perfect for sales, service, data analytics, and marketing teams
---
$

1,495

/ per year

€

1,495

/ per year

£

1,300

/ per year
---
(€1,838.85 Inc VAT)
Buy now
Includes 1 user
$500 for each additional user
€500 for each additional user
£435 for each additional user
Perfect your site selection process
Interrogate performance with regional or hotspot heatmaps
Analyze your competition and use advance styling options
Optimize your resources with location intelligence
Present your data story with power maps
Make job allocation easy with smarter workflows
Mapping & routing
Multi-user mapping and routing solution. Perfect for sales, sales operations, and service teams
---
$

2,495

/ per year

€

2,495

/ per year

£

2,175

/ per year
---
(€3,068.85 Inc VAT)
Buy now
All features in Mapping
Includes 3 users
$500 for each additional user
€500 for each additional user
£435 for each additional user
Plan up to 20 day sales routes
Optimize routes and eliminate inefficiencies
Easy collaboration between managers and reps
Easily re-optimize your route when you get a cancellation
Visit more customers and prospects
Mapping & territories
Territory design and management, powered with data visualization. Perfect for smaller sales, and service teams
---
$

4,995

/ per year

€

4,995

/ per year

£

4,345

/ per year
---
(€6,143.85 Inc VAT)
Buy now
All features in Mapping
Includes 1 user
$500 for each additional user
€500 for each additional user
£435 for each additional user
Design and align territories
50 territories included
Access multiple manual realignment options
Maximize efficiencies with account exceptions
Complete solution
A complete mapping, route, and territory optimization solution with advanced functionality for enterprises
---
From
$
9,995
/ per year
€
9,995
/ per year
£
8,695
/ per year
---
(€12,293.85 Inc VAT)
Contact us
All features in Mapping & routing, and Mapping & territories
Includes 1 user
Advanced route optimization
Advanced sales territory management
Advanced territory optimization
Compare and contrast alignment scenarios before you decide
Enterprise support package
Want to learn more about route optimization?