Route planning is about more than finding a way between two locations. eSpatial is a complete field sales planner that can help you target the leads to meet, plan the most efficient route for your day and update your records to track your progress.
eSpatial is the route planning solution designed with field sales professionals in mind. Intelligent route mapping will help you save time and fuel while market analysis tools help you select your leads and focus your efforts — all in one solution.
How can route planning help you?
Know your territories
Roll out territories to your field team on a clear map. Ideal for onboarding new team members.
Target leads
Filter by customer potential, size, or last visit. Cluster together by location to ensure you are visiting the right prospects.
Plan and route
Plan the most efficient trip to maximize your time. This gives you more customer facetime and the ability to fill in cancellations.
Update to CRM
Once you have visited your customer, update your CRM with a record of the visit or details of the visit, without going into the CRM.
Report performance
Oversee the field performance to ensure productivity benefits are being realized right across the group.
Who benefits from route planning?
Field sales leader
1. Bring in technology to support your team
Help your field sales team spend less time with administration, and more time in front of customers.
Better up-front planning means less expense on travel and more customer visits.
Empower your field sales team to strategically pursue high value opportunities.
2. Visualize your field team's performance
Know which locations your team are visiting, and where they have been.
Monitor how your team's activities align with your strategic objectives. Are they visiting who you want them to?
See your sales performance data visually so that you can compare and contrast areas or teams.
3. Decide where your field sales team should grow next
Analyze your marketplace to understand where your customers, supply centers, distribution, and competition are based. Use that understanding to plan your winning strategy.
Share and communicate this knowledge across your team to speed up decision making.
4. Plan and optimize your field sales team
Identify gaps in sales coverage and how they compare with market opportunity. Plan new hires and partnerships to match.
Push updates of your sales territories out to your field team instantly.
Report on your sales performance and how it lines up with your plans and strategic objectives.
5. Align support efforts
Line up your sales efforts with marketing programs, service center locations or whatever else makes sense for your business.
Communicate sales coverage with the marketing and operational teams to ensure they align with sales.
Field team member
1. Prioritize the Highest Potential Accounts
Identifying the highest priority accounts when planning your day is key to a successful week. You can choose to visit customers who are possible to close by the end of the month or those who line up with your product objectives. Make conscious decisions on what type of customer you want to visit, and then find out where those customers are most densely located. From there you can build a plan for the week to maximize your time.
2. Plan Your Week
Start by creating a map of your call locations for each day. Filter the points to only show the accounts you have scheduled a call with. Each day you can open the relevant map and create an optimized route to ensure you get to see them all. Create your route and then have the option to open each leg in Google Maps for turn-by-turn navigation.
3. Fill in Cancelled Meetings
One of the most frustrating things for salespeople is when meetings are canceled, especially if they have traveled to be there. With eSpatial Mobile, you can make the most of cancellations by identifying other accounts nearby that may be able to see you instead. All of their contact information from the CRM will be available right there for you.
4. Quickly Update Your Accounts
Once you have finished your day of sales calls, you can then quickly update fields such as "Status" or "Last Visited Date" right from your map. This means that your data is up to date for the next day and your manager can see what you have been doing without you having to do a bunch of paperwork.
Operations team
1. Integrate Field Sales Activities with Sales Territories
Rollout territory updates directly to the field sales team. This way you can quickly make changes knowing that your users are working from the latest information. Align and balance your territories to make sure you are getting the most from the field sales team.
2. Easily Report on Field Sales Effectiveness
Show the location of your customers, distribution, competition as well as your field performance all in one place. Not only is it easy to understand, it is all in line with the same data being acted against in the field. Sharing is also simple. Print, publish to the web or send to powerpoint for easy internal decision making.
3. Integrate with Salesforce or Another CRM
Line us your field toolkit with your CRM via API, a managed sync process to your CRM, or use the field tool as the system of record. This will let you know that your sales team are seeing and updating the right pieces of data in the right places. All at minimum effort for everyone involved.
4. Easy Onboarding
Our world-class onboarding team are experts in achieving your data objectives. We will help you to work through challenges of data loading and data management, all to get your organization up and running in no time.
Why start route planning?
Route planning with eSpatial helps you meet more clients and use your time efficiently. You can create, edit and share route maps on your PC, Mac, tablet or smartphone. This allows you to adjust on the go if a meet cancels or you have extra time to squeeze in another drop-in.
Bulk add your points and create a route map in seconds.
Add start times and meeting length for an accurate schedule.
Open step-by-step instructions in Google Maps.
Edit your route map on the go with the eSpatial app.
Save and share your route maps with your team.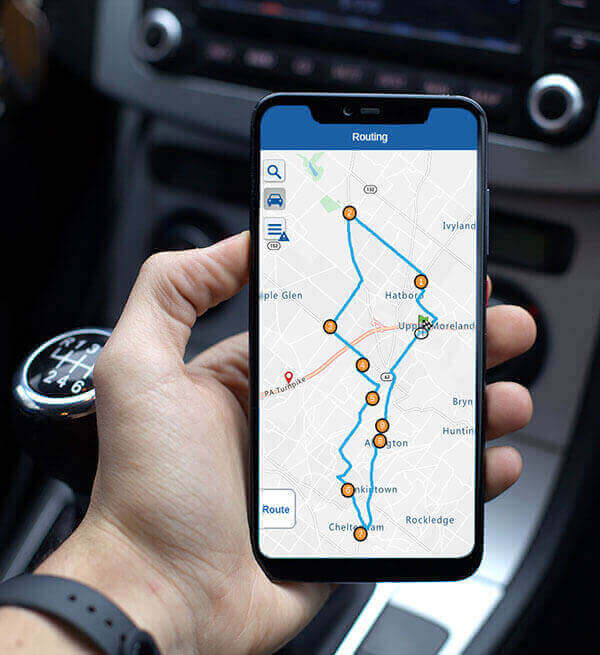 Save time on field sales planning
With eSpatial's free trial
1. Combine tools for a complete field sales planning solution
Route planning is great for maximizing efficiency, but the true power of eSpatial comes from its full suite of features. Route planning pairs naturally with features like filtering and drive-time analysis, which together create a complete field sales planner.
Many field sales reps plan their week based on instinct. They consider which clients they haven't seen in a while, choose a few others to visit based on their knowledge of the territory. eSpatial helps document this knowledge, and can take appointment targeting to the next level. By recording the date you last visited each client, you can instantly see areas that need attention with color-coded pins. You can also choose to filter and prioritize by sales potential so that you're getting the most return for your effort. Once you've narrowed down the clients you need to visit, planning the day is only a few clicks away.
If you're out in the field and an appointment cancels, you can use eSpatial to make the most of that time. Using a drive-time buffer on the mobile app, you can check for clients nearby that may be available for a drop-in visit. The drive-time buffer will help you ensure you choose a visit that you can reach without being late for your next appointment. Then just edit your route on your smartphone.
2. Save office & driving time
Not only does route planning save time on the road, it saves time in the office as well. When combined with filtering, intelligent route planning can cut down the time it takes to plan your week. Rather than sifting through lines in a spreadsheet, mapping allows you to instantly see where your high value clients are and who is due for a visit.
Once you've selected them, there's no need to enter each address in the order you'd like to visit them, as you would do on other platforms. Instead, you can easily select all your locations and eSpatial's intelligent route planning will find the most efficient route. If all your planning for the week is done in one day, you can create and save your route maps ahead of time.
3. Share your itinerary & directions
In some cases, office staff help support field sales reps by booking appointments and assisting with planning. eSpatial route planning make this easy. All the client information is available in one place, ensuring everyone is on the same page. Maps can be shared publicly or privately and can be opened directly on a mobile device. The sales rep can then open the direction in Google Maps for turn-by-turn navigation.
How to create a route from your map
1. Sign up and create a pin map
Sign up for a free seven-day trial of eSpatial. After signing up, prepare and upload your data. This will create a simple pin that shows all of your data.
2. Analyze and target
Decide which clients or leads you would like to visit. It can be helpful to use filtering or color coding during this process. For example, here we have color-coded the pins based on their estimated potential value. Now we can look for areas with a high number of red, high-value leads.
3. Select your appointments
Once you know who you'd like to visit, select the Routing button in the Control Panel on the left side of your screen. Once in routing mode, use the Add or Multi-addbuttons to select them. You can create a round trip or set separate start and finish locations. You can also click on Times to set the day and time you plan to leave, as well as how long you plan to spend at each stop. Next, select the Optimized box and click Get Route.
4. You've created a route
Congratulations, you've created your first route map! You can now save and share this map, as well as access is on your mobile app. eSpatial also allows you to open the turn-by-turn directions in Google Maps for live navigation.