Route planning for sales teams is an essential offering new ways to maximize sales productivity. Gone are the days when typing a location in Google Maps to find the shortest route was enough to organize your day.
Route optimization is a strategic approach to a complex scheduling problem. You must maximize the number of calls you make to the right customers at the right time and minimize travel times. But that is just the start. You need the flexibility to change plans on the move as you work with postponements, meeting overruns, and traffic delays.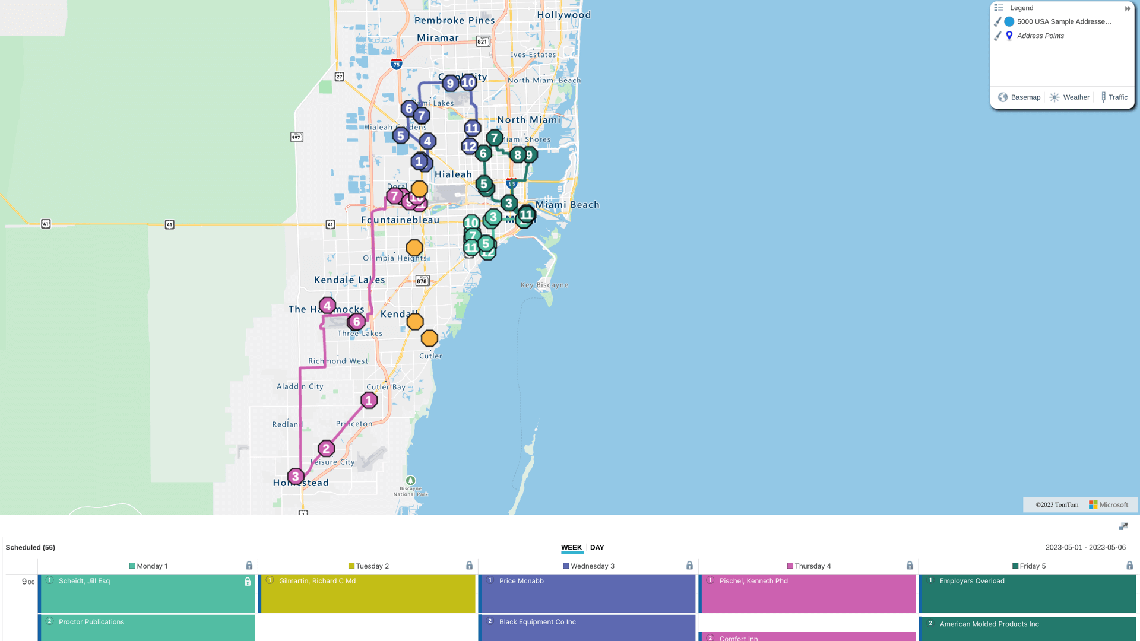 If that isn't challenging enough, you need to record your meeting notes in your CRM as you go. Sales and revenue operations look for systems that manage the complexities of route planning and optimization but are simple for users.
How can route planning help you?
Free up more time to sell or service customers
With intelligent algorithms that do all the heavy lifting, you can reduce drive time by 30%. But that won't be enough. You need the ability to prioritize your calls and "lock in" critical appointments first so your route planner optimizes your days and weeks around your most important meetings.
Maximize your territory potential
Every 1% you free up in planning and drive time is 1% more time to exploit your territory sales potential. Free up more time to prospect. Add one more service call to your day.
Know your territories
Visualizing your sales and service territories is a game changer for sales leaders, revenue ops, and operations. Onboarding new team members is faster as they get clarity from day one on their areas. Look for a route optimization tool that integrates seamlessly with a territory optimizer. You design the perfect territory alignment and optimize your last mile with a power route planner.
Target leads
When planning your week, upload your prospect accounts and set your priority (within eSpatial, there is a recommendations engine helping you do this)—filter maps by customer potential, size, or last visit. Select your targets and optimize your routes. When you have a cancellation, open your mobile app and select a replacement stop on a map and reoptimize your day.
Update to CRM
After each stop, you can update your CRM in real-time with your meeting details. There's no need to leave your route planner. With eSpatial's eRouting app, you can enter your data quickly, which is synched to your CRM.
Report performance
Oversee your field team performance by comparing planned v actual routes. Analyze call frequencies, win rates, and opportunity pipeline on maps, making it easier for coaching sessions.
Who benefits from route planning?
Sales, sales operations, service, revenue ops, and operations get a tangible return on investment with a multi-day route planner.
First, you eliminate most of the manual and time-consuming planning tasks. Planning optimized schedules takes minutes, not hours, with the right route planning software. Let's review the ROI by role.
Sales leaders - Field teams
Eliminate hours of manual planning
Reduce unnecessary sales and service rep travel time
Slash travel costs
Add extra sales and service calls daily
Focus the team on the highest-priority stops and analyze performance quickly
1. Visualize your sales, service, or operation team's performance
Not all route planners are made equal. You should look for a solution that includes mapping software essentials like heatmaps, hotspot maps, pin maps, and bubble maps.
2. See and analyze sales team visits (actual v planned)
Ensure that team activities and priorities align with your business strategy. For example, if your strategy is to target hospitals with 1,000 beds, use a color-coded map to analyze actual sales call patterns with your plan.
3. Analyze data for new pockets of growth
Overlay your account information with call patterns and see over or under-serviced areas on a map.
Analyze your regions by plotting customer, competitor, distribution centers, and office locations and identify gaps in coverage.
4. Plan and optimize your field sales coverage
Identify gaps in sales coverage and new hiring locations for sales and service personnel.
Push sales and service territory updates to your field team instantly.
Share maps showing sales and service performance by territory.
Align sales activity with marketing campaigns with maps.
Share route maps and schedules internally with key stakeholders. For example, share field rep schedules with distribution to ensure call and delivery patterns synch.
Field sales and service reps
1. Prioritize the highest potential accounts
An optimized week for sales and service teams begins with prioritizing your highest-value customers and prospects.
2. Real World Scenario
You have one week to year-end and want to ensure that you call on customers with a sales deal probability of 75% or higher. They are the most likely to close and help you hit quota, so you want your route planner to optimize your week around those critical meetings. Easy.
Using eSpatial's recommendation engine, you can add weighting to those customers ensuring the software optimizes your route around those stops.
3. Meeting cancellations
What is that? A normal week? Does your schedule ever go 100% to plan? Customers cancel or postpone meetings—some meetings overrun. Traffic is unpredictable. So to deal with unforeseen events, you need a flexible planner.
4. Real World Scenario
Your highest-priority customer cancels at the last minute. You are in the area and don't want to lose time. So, you open your map, select a new stop or stops and reoptimize your day. You are back on track in minutes. And you can access all customer details with one tap.
5. Quickly update your customer records
When you finish a call, you can access a status field, record your visit date and time, add your meeting notes, and set up your follow-up tasks. Your data is synched with your CRM; you can focus on your next call.
Operations team
1. Integrate route planning with sales territories optimization
Optimizing sales and service territories is made easy with territory mapping software. But the perfect territory design does not mean your team work to an optimized route or schedule. You'll want to ensure that every day is optimized too. With a territory map, you can instantly share changes in your alignments with your team. They can ensure their schedules generate the highest revenue per call with the lowest drive time.
2. Easily report on field sales effectiveness
Show the location of your customers, distribution, competition, and field performance all in one place. A power mapping platform like eSpatial includes advanced maps, territory, and route optimization on an integrated platform. It makes it easy to analyze sales performance and realign and optimize sales territories to maximize opportunity and minimize unnecessary travel. Sharing maps and insights is simple. Print, publish to the web, or send to PowerPoint for easy internal decision-making.
3. Integrate with Salesforce or another CRM
Line up your field toolkit with your CRM via API, a managed sync process to your CRM, or use the field tool as the system of record. The system updates you to inform you that your sales team is seeing and updating the correct data in the right places — all at minimum effort for everyone involved.
Why start route planning?
Use route planning software if you are serious about:
Driving sales productivity and utilization
Eliminating unnecessary drive time
Adding more calls to your rep's day
Prioritizing efficiency and effectiveness
The convenience of mobile
Value map visualization
Optimizing your day
Route optimization software gives you the power to become more efficient (make more sales and service calls) and effective (focus on your highest-priority calls). You can create, edit and share routes:
Bulk add your points and create an optimized route map in seconds
Add start times and meeting lengths for an accurate ETA
Available step-by-step instructions in Google Maps
Deal with cancellations and postponements on the fly
Save and share your route maps with your team
1. Combine tools for a complete field mapping software solution
With a route optimizer, you can maximize efficiency, but you need advanced maps and territory optimization to achieve optimal results.
Real World Scenario - Sales operations
Your workflow is in three stages:
You want to visualize your sales or service data on a map. Heatmaps, hotspot, pin, and bubble maps give you unparalleled visual insights. Seeing your data on maps brings it to life. You can identify new growth areas, under or over-serviced hotspots, or competitor locations. Using advanced filters allows you to hone your analysis further.
Leveraging your visualization insights, you analyze territories for realignment possibilities. You want to maximize field productivity while balancing the workload for all areas.
Once your territory alignments are optimized and approved, you want your field reps to be hyper-productive and to leverage a route optimization mobile solution. All is possible with eSpatial's power mapping software platform.
Real World Scenario - Sales rep
Many field sales reps rely on instinct when planning their week. Often they prioritize customers they haven't visited recently. They leverage their knowledge of their sales territory and balance their need to hit quota while planning.
High-performers use a route optimization tool to achieve the next level of effectiveness. Importing their data and setting a priority level for the highest-potential customers, they "lock in" appointments with a fixed visit window (a medical rep may be restricted to visiting doctors Thursday afternoons between 2 PM and 4 PM).
Next, they will have a back plan for cancellations, postponements, and delays. It helps to have a pool of customers ready if you need to reschedule.
When needed, open the map, select your new targets and add them to your schedule, and press optimize. You are back on track.
2. Save office and driving time to maximize sales
Route planning saves you from needless driving while freeing up more time to talk to customers. Eliminate spreadsheets and enjoy the benefits of a modern selling tool.
Not only does route planning save time on the road, it saves time in the office as well. When combined with filtering, intelligent route planning can cut down the time it takes to plan your week. Rather than sifting through lines in a spreadsheet, mapping allows you to instantly see where your high-value clients are and who is due for a visit.
Once you've selected these leads, there's no need to enter each address in the order you'd like to visit them, as you would do on other platforms. Instead, you can easily select all your locations and eSpatial's intelligent route planning will find the most efficient route. If all your planning for the week is done in one day, you can create and save your route maps ahead of time.
3. Share your itinerary and directions
Office staff sometimes help support field sales reps by booking appointments and assisting with planning. eRouting route planning makes this easy. Share route maps publicly or privately and access them directly on a mobile device. All the client information is available in one place, ensuring everyone is on the same page.
How to create a route from your map
2. Analyze and target
Decide which clients or leads you'd like to visit. It can be helpful to use filtering or color coding during this process. For example, here we have color-coded the pins based on their estimated potential value. Now we can look for areas with a high number of red, high-value leads.
3. Select your appointments
Once you know who you'd like to visit, select the Routing button in the Control Panel on the left side of your screen. Once in routing mode, use the Add or Multi-add buttons to select them.
You can create a round trip or set separate start and finish locations. You can also click on Times to set the day and time you plan to leave, as well as how long you plan to spend at each stop. Next, select the Optimized box and click Get Route.
4. You've created a route
Congratulations, you've created your first route map! You can now save and share this map, as well as access it on your mobile app. eSpatial also allows you to open the turn-by-turn directions in Google Maps for live navigation.