What is mapping software?
Mapping software turns your location data into interactive maps so you can easily analyze and share information. It's a powerful way to visualize your Excel, CRM or ERP data and gain insights that would otherwise be hidden in thousands of lines of information. The eSpatial mapping program helps improve your understanding and decision-making through advanced styling and analysis options, including heat maps, territory optimization and much more.
Professional mapping software for you
eSpatial is ideal for professional users. With the expert support, integration functionality, and data capabilities that your business requires. Read on to find out more about our leading-edge platform.
Popular mapping software use cases
When used as a data and process mapping tool, eSpatial can provide a wealth of insight into your sales performance, territory alignment, customers and competitors without slowing down day-to-day operations. But getting the most out of this type of process mapping may require a bit of thought. What are you trying to accomplish? Which pain points can mapping software fix? How can eSpatial help optimize your sales plans? Below are a few popular use cases for eSpatial's mapping app that help illustrate how the platform can directly support your business goals.
Sales performance
An effective concept for sales territory alignment is key to any winning strategy. With eSpatial's territory map maker, you can balance your sales team's workload, drive revenue and maximize profitability. By keeping territories aligned, you can ensure existing customers are fully supported and new lines of business can be acted upon in real time. When every member of your sales team can access detailed territory maps, it's much easier to track performance against sales targets, improve selling strategies and forecast future revenue-generating opportunities.
Cost control
Efficiently managing a field sales team requires more than a balanced workload. Knowing where your clients and prospects are located can cut costs without compromising coverage.

eSpatial's route planning tools allow your sales reps to calculate the fastest route to client meetings, even when multiple stops are scheduled. This can not only help reduce travel times and fuel costs, it can also enable your team to make the most of their time on the road. With spot-on spatial analysis conducted with our software, you can optimize travel routes with up to 100 individual stops, ensuring your sales reps can focus on what really matters: cultivating profitable relationships.
Business growth
Growing your business can be difficult without a top-down view of your sales territories and customer distribution. That's why eSpatial's mapping software features a variety of visualization tools that can help you identify under-served regions and customer groups. Dive deeper into your business data to create accurate demographic profiles for each sales territory.

By combining these regional profiles and territory heat maps, you can expand into new markets without relying on guesswork. Get a complete view of your sales performance, market penetration and competitors by integrating the eSpatial data diagramming tool into your workflow.
Recruitment
As your business expands into new markets, your existing territories may become overloaded or start to underperform. With data mapping software, you can locate these inefficiencies and balance your territories based on sales volume and earning potential. Creating a process map focused on territory optimization is particularly useful when onboarding new team members, as it allows you to focus your recruitment efforts in regions that need additional support.

eSpatial's app can also help you split territories to provide sales reps with equal footing and earning potential. Build your dream sales team and keep your top performers engaged with a flexible mapping tool tailored to your unique business requirements.
Who uses mapping software?
eSpatial is perfectly suited for sales, services, marketing and distribution. Our platform delivers meaningful insight, improves workflows and maximizes field outcomes for leading businesses across the world
---
Logo carousel. If your screen size is less than 768 pixels 2 logos will be shown, greater than 768 pixels and less than 992 pixels 4 logos will be shown, other 6 logos will shown. Use the previous and next buttons to navigate.
---
0

50

%

Saving in administration time
0

30

%

Improvement in sales productivity
---
eSpatial's platform is more than robust enough to expand well beyond our original needs, but user-friendly and intuitive enough for our team to jump right in and start mapping. eSpatial's tools and resources were necessary in order to close a $1.2 million annual account, and their team helped us through all of the processes in getting started and making sure our needs were accommodated effortlessly.

Michael Szymanski
Senior Marketing Consultant

eSpatial has become a key tool for our strategic sales and marketing activities. The mapping capabilities have given us a platform to build a business case and visually pitch a strategy internally to increase our market footprint and execute on marketing campaigns.

Ken Chung
Strategic Marketing
eSpatial helps us identify the best locations to hire new staff and the most suitable markets to test new products to better serve our clients. The customer support is what makes eSpatial stand out as they are always really helpful and quick to respond.

Matt Weaver
Retail Operations Analyst

Essential mapping software features
The eSpatial mapping tool empowers businesses of all sizes to create, manage and analyze interactive snapshots of their data. This is made possible through a unique set of features that are indispensable to today's field sales and service teams.
Add data from multiple sources
Uploading from multiple sources is quick and painless. You can combine large datasets from siloed spreadsheets, databases, CRM, ERP and POS systems to create live, interactive territory maps that scale alongside your business growth. Whether importing data manually or through the eSpatial Data Uploader, you can ensure critical information is organized, up to date and available within the interface. Once imported, your data is stored in a library that contains over 100 third-party boundary and demographic datasets. Use it to enhance the accuracy of your data mapping and create more balanced and actionable sales territories.
Mobile compatibility
eSpatial was designed to actively support sales and service teams in the field by offering intelligent route planning, scheduling and data management features. With eSpatial Mobile, your field teams can access customer data on the road, optimize their travel routes and spend more time meeting with customers and prospects.
This mobility can help staff in the field prioritize their accounts and plan out their entire week in advance. Using radius or drive-time buffers, sales reps can organize their days based on the proximity of client meetings to a particular location, like your office or the airport. What's more, users can quickly open a Google Map for turn-by-turn navigation.
Create custom maps
Businesses don't always follow a set template in their operations, so neither should your maps. With eSpatial, you can import datasets to create unique, individualized sales maps for different products, services, customers, and other custom attributes. Simply upload the data you would like to visualize, whether it's customer and office locations or sales territories, and generate a base map to provide context. Then, set your geographic boundaries by:
Postcodes
ZIP codes
County
State
Account (or point based)
Territory
Once you've created your custom map, you can further personalize it by organizing your data by each unique attribute you'd like to display. With each attribute type loaded as a different dataset, you can add it to maps in separate, easily manageable layers.
Intuitive data visualization
Any mapping tool is only as strong as its data visualization and styling features. That's why eSpatial allows you to create a range of eye-catching, interactive maps that can be tailored to your unique needs. You can customize the symbol, size and color of individual data points, create distinct labels and insert annotations for added context.
No matter what your goals are, eSpatial has a style to suit the occasion: pin maps, heat maps, bubble maps, radius maps and more. When paired with location analytics, these data styling features can help you visualize your business performance in extraordinary detail.
Route planning designed for business users
Today's field sales and service teams rely on real-time customer data and location analytics to organize their daily tasks. eSpatial's intelligent route mapping tool can help field staff minimize travel times and reduce fuel costs by plotting out the most efficient trip. With this feature, field teams can easily add multiple stops to their routes, block off time for in-person meetings and create a flexible snapshot of their weekly schedules. You can also create, edit and share route maps with other internal stakeholders, ensuring your field teams' activities are both productive and cost-effective.
Territory mapping and alignment
Effectively managing territories is essential to any sales team, but this is easier said than done. eSpatial's territory mapping solution enables you to design, build, optimize, and align your territories in no time. Not only does this offer a better way to structure sales resources and activities, but it also boosts profitable selling time with your highest-potential customers. By balancing and aligning your territories to focus on high-priority clients, you can maximize sales productivity and utilization to unlock hidden revenue and reduce selling costs.
Easy-to-use professional mapping tools
Professional mapping projects require professional capabilities.
Filter data in a live map
Upload all of your data to the map. Then you can use filters to see the information you want. For example, you can filter to see only customers with sales over $1,000 or who have purchased a particular product.
Effortlessly share and export
Collaboration is everything in any sales mapping software. Being cloud-based means you can collaborate in real time with other team members so everyone has the latest data. Mobile device, role-based access and single sign-on options are available. You can also publish maps to the internet (in public or private links), print, export to PPT, PDF or CSV or take a screenshot. The choice is yours.
Custom drawing & selection tools
Want to select a group of pins or areas at the same time? Just draw a shape (known as a polygon) that touches the areas or encloses the pins. Then you can export the selected data, re-assign a territory to a new person or add a sales stop to a route.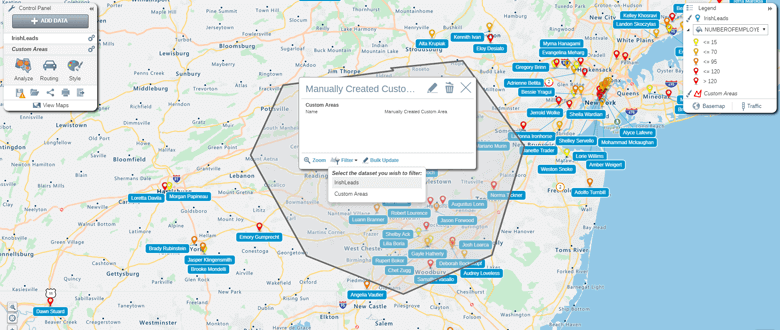 Advanced analysis mapping
eSpatial analysis functions help businesses map their coverage, find gaps in service, identify wasted effort, compare regional or territory performance and a whole lot more.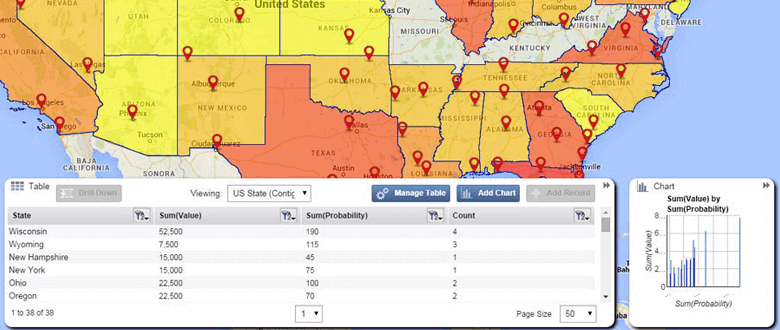 Color points & areas by value/size
Effectively visualizing your data points or areas by color will help your map tell its story. This can include color by opportunity rating, status, product line and so on, to help you more easily understand how value is distributed.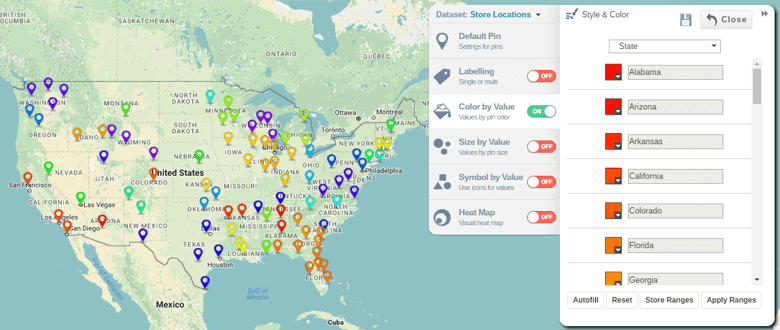 Versatile in-map labeling
Without strong labeling, your map can be difficult to navigate. eSpatial has the most versatile labeling toolkit in the industry.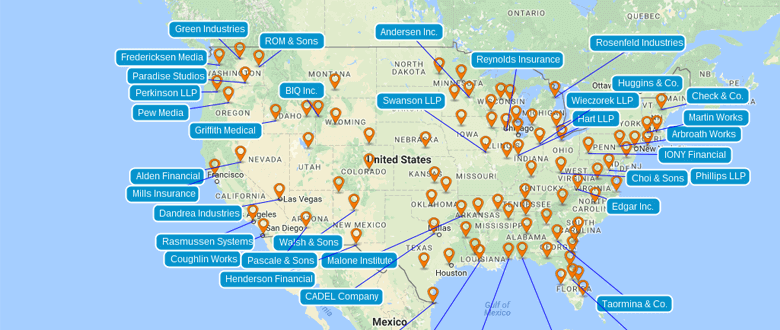 Flexible map point styling
You need full control over how your data appears on your map. Pins can be customizedin many ways, including by color, transparency, size and clustering. You can also upload custom images or logos to use on your map, or combine several mapping styles to view multiple metrics on each point.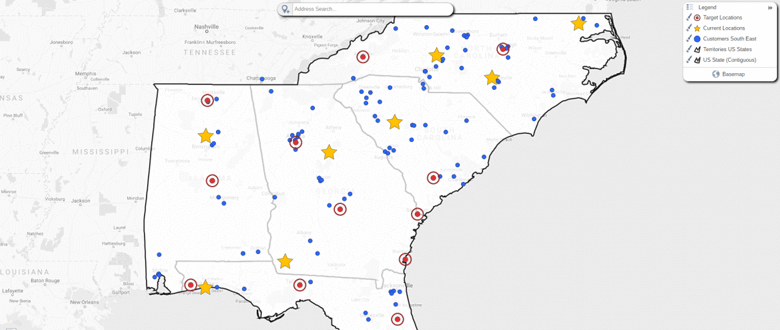 Proximity / drive-time analysis
Need to understand how your data points geographically relate to each other? Check how far apart they are, find your nearest neighbor or identify points within your maximum drive-time zone before adding them to your route.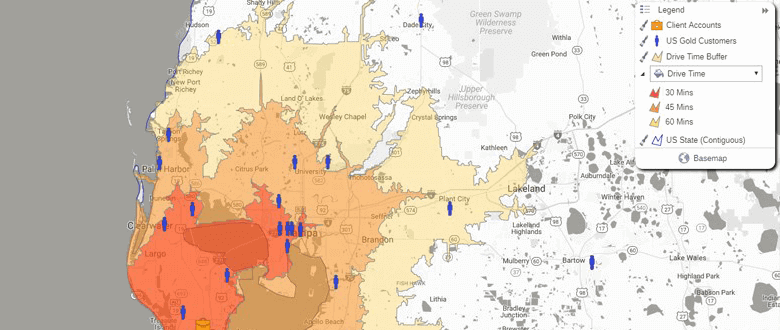 What type of map do you need to create?
With our cloud-based mapping software, you can easily upload, visualize and analyze multiple layers of data. Rapid visual insights take the guesswork out of decision-making. Below are the eight most common map types created by our customers.
1. Regional heat map
Regional heat maps are most often used to compare performance and activity across boundaries such as states, ZIP codes or territories. They allow you to quickly identify areas where performance varies and then zoom in on the details to aid your decision-making.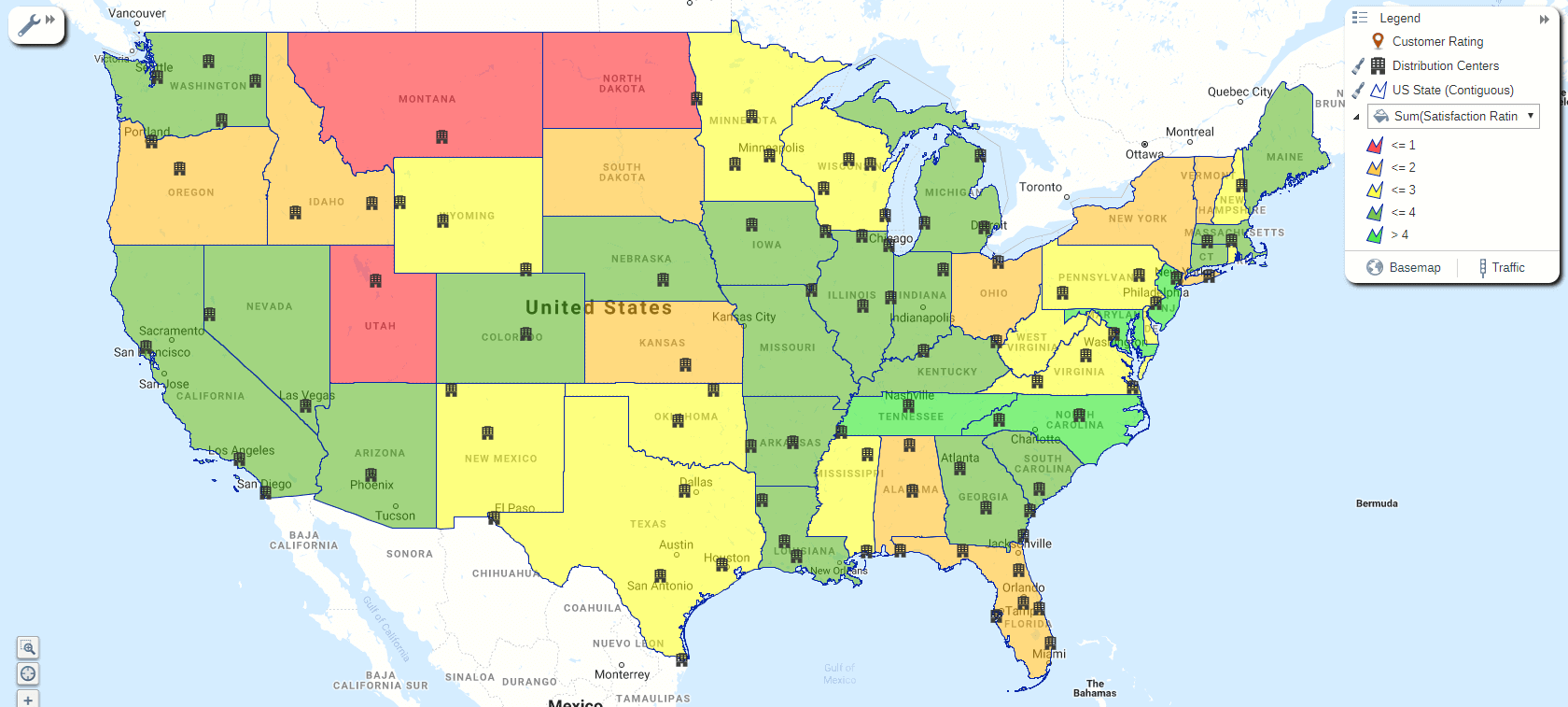 2. Hot spot heat map
Hot spot heat maps are commonly used to show geographic density. They can help you track down areas with a significant customer population and relate them to the location of other items (e.g., retail stores or service teams).
3. Territory map
Territory maps help you manage geographic areas of responsibility. Often used by sales teams and service providers, they employ balancing tools to divide and align duties among personnel. Territory optimization can help maximize productivity and evenly distribute team workloads.
4. Pin map
Pin maps are useful for understanding where things are located (such as customers) in relation to your retail stores, or service team locations. You can map multiple locations by using basic pins or by employing different visuals for different components on the map.
5. Route maps
Making a basic route from one place to another is a pretty simple task. But what if you want to visit multiple stops? Route mapping allows you to choose which locations you should visit, and plan the most efficient route to minimize drive time.
6. Radius/buffer maps
Radius maps, also known as buffer maps, are commonly used as coverage maps to see where you may have gaps or overlap of coverage of your shops, services, and operations.
How is data added to the map?
Your map is only as good as the data it's representing. Here are the most common approaches to turning your information into detail-rich visualizations:
Add existing Excel data
Many customers create maps with data they already have organized in Excel. Just export a file in CSV, XLS or XLSX format that includes location information and upload it to eSpatial. For example, if you wanted to map your recent sales, you might wish to include the customer name, sales value for last year and address information. The mapping engine will figure out where those address points should be placed and create the first version of your map. Then you can get into analysis and the creation of different maps or workflows.
Integrate with Salesforce
eSpatial can be fully integrated with Salesforce through the AppExchange, as soon as it's been set up on your network. Import any records that you have access to from Salesforce and use them to generate your maps. This includes leads, contacts, accounts, opportunities, reports, custom objects and anything else you may have configured in the CRM.
Automate upload from another CRM / ERP / data warehouse
Uploads from these tools can be configured to run on an automated basis using our automated upload tool. That said, many customers find that the most straightforward means to initially add data from their existing CRM or ERP system is to simply export from that system to a CSV file, and quickly upload to eSpatial.
Integrate through a REST API
We also offer a REST API that can be configured to manage your access to another dataset. Get in touch with our sales or customer success teams to discuss your specific needs.
Overlay additional data from our extensive dataset library
While your information is the most important component in any eSpatial process, we provide additional data sets that you can overlay with your own to make mapping tasks easier. Here are some of the more popular datasets:
US ZIP code
US ZIP code capability empowers businesses and organizations to pinpoint ZIP code locations of customers or product users. Thousands of regional sales and service managers use zip codes as their territory boundaries. Our mapping software is designed using ZCTAs, offering support for both five-digit ZIP codes and three-digit ZIP codes.
UK postcode
We provide postcode boundaries based on areas, districts and sectors. From there, you can plot any data you want. You can also analyze it using our suite of tools and map types.
Demographic information
Adding demographic information to your map can hugely grow your market understanding. For example, it can help you see how your performance matches demographic profiles, and bring you to further pockets of opportunity. Our dataset library holds a huge volume of demographic information that you can add to your map.
Additional datasets
There are over 100 total third-party datasets built into eSpatial that you can use to enrich your map.
Create a map with your data in 4 simple steps
1. Prepare your data
Save your data to CSV format from your CRM, ERP or POS system, or as an XLS file if using Excel. Make sure you have header rows that include location information. Any columns you want to be displayed should be noted in the information box attached to each map pin. Download an Excel template.

2. Sign Up for an eSpatial trial account
Register for a free trial. You'll need to use a business email address and create a password, but no credit card information is required. Afterward, you can start creating your map right away.
3. Upload your data
Log into eSpatial. Click Add new data and follow the instructions that appear. If you have any difficulties, you can get help from real mapping experts on our live chat system. Just click on the orange icon in the bottom right corner of the page.
4. See your results
As soon as your data is uploaded, it will be plotted on a map as seen above. Each pin represents a row in your spreadsheet. All of this data is displayed when you click that pin. You can then style your map, run various analysis procedures and share it with your team.
Best mapping software - Why choose eSpatial?
Simple to use — create your map in three steps.
Range of styling options - make the heat, pin, route or territory map you need.
Available where you work - get eSpatial in Salesforce, Apple App Store and Google Play.
Free trial including world-class eSpatial support to get your map started.
Easy sharing and publishing options to make your map available to others.
Named one of the best mapping software tools by windowsreport.com.
Support from our experts when you need it
You're the expert on your data and line of work, but to get your project completed, you may need some backup. That's why our support team includes geographic information system (GIS) experts who can assist with mapping and data integration needs, during onboarding and through your time as an eSpatial user.
Frequently asked questions
Can I analyze my sales data and see trends and patterns?
Yes. eSpatial is packed with data analysis features like heatmaps, bubble maps, proximity maps, and drivetime analysis. All offer invaluable new insights into your sales data. You can easily spot trends and patterns.
Can I analyze my market data and plan campaigns?
Yes. eSpatial is packed with data analysis features like heatmaps, bubble maps, proximity maps, and drivetime analysis. All offer invaluable new insights into your data. You can easily plan marketing campaigns.
Can I create Powerpoint presentations of my maps?
One of eSpatial's export options is direct to a PowerPoint presentation.
Can I conduct a what-if analysis?
What-if-analysis is a core feature of all our products. It is perfect for sales, sales operations, and marketing.
Can I layer multiple datasets on the same map?
Yes. You can add all of your datasets directly as layers to your maps.
Can I share my recommendations with others so they can approve my changes?
eSpatial is a perfect solution for your approvals process. As an administrator, you can set up user access rights.
Can I map my competitor locations?
Yes. You can overlay a dataset as a separate layer that shows your competitor's locations.
What is a heatmap?
Density heatmaps show you the hotspot/ cluster areas of your data geographically like a weather map. A regional heatmap aggregates and color codes your data by regions, such as Counties or ZIP Codes.
What is a bubble map?
It is a way to visualize your data in the form of bubbles. For example, If you wish to see how many customers you have in each US State, a bubble will be in the center of each state and sized bigger or smaller based on your customer volume.
Can I filter my data to focus on a specific area?
Yes, you can select a territory or ZIP code, county, etc. And filter your data to that region.
Can I filter my data to focus on a specific vertical?
If you open the table, you can filter by any verticals in your data.
Can I filter my data to focus on a specific sales rep?
Yes, you can filter all the data within a sales rep's territory on the map or filter the data from the "Account Owner" column in the table.
Can I style my data?
We have many styling options. You can change the color, size, and label of your data. Click on the "Style" button in the control panel to see all your options.
Can I draw a custom area?
Our polygon tool allows you to draw freehand custom areas.
Can I edit or delete points in a dataset?
Click on the point, and the information pop-up box appears. From here, you can edit the record and delete it.
How do I prepare my data for upload?
All data must be imported via an Excel file. Please ensure that you have separate columns for street address, city, and state information. Plus, separate columns for all other metrics you wish to add.
Can I set up an admin account and control user access?
Yes. Admins can set up groups and assign users to each group(s). Each group may or may not have specific permissions that the admin also controls.
Can I create a radius or drivetime buffer?