eSpatial Interactive Mapping Software makes more of your data
Interactive mapping software will change the way you do business forever. It allows you to take dormant (often overlooked in its importance) location data and turn it into an information-rich map.
eSpatial is a leader in the field of onlin interactive mapping software. Use it to allocate resources more efficiently improve ROI or for better decision-making.
eSpatial will allow you to:
Create maps in minutes
Transform Excel spreadsheets into eye-popping data-rich maps
Generate a variety of maps: for location plotting, territory mapping, within distance mapping – and much more
Get new insight from automatically-generated reports
Create marketing plans from real-world data, provided by detailed demographics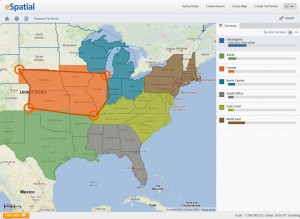 ---
Find out more about eSpatial interactive mapping software