The business world has been fundamentally changed by the events of 2020 and 2021. Even as businesses reopen, more people get vaccinated and the threat of COVID-19 lessens, certain company processes (namely sales) will need to evolve to keep up with current best practices.
Even after these transformations, your employees will still need to travel by car in various contexts. Field sales reps may take fewer trips, but they won't phase out in-person routes entirely. Depending on your business, you may also have service technicians and couriers who have to hit the road regularly. And when they do, they should use more than basic GPS mapping apps to make their routes as efficient as possible.
The cutting-edge eSpatial platform is your ideal solution. It gives team leaders all they need to create driving routes that reach as many customers as possible while cutting down on drive time and costs. Here, you'll learn all you need to know about the fundamentals and key benefits of the route optimization process.
What is route optimization?
Route optimization involves planning the order and route of sales or service calls in the most efficient way possible. For this, you need a specialized route optimization tool. Most consumer apps let you input a starting location and a final destination, but adding more stops along the route is tedious and time-consuming. All-in-one mapping software from eSpatial lets users add all their stops at once, and it uses the geographic data to create an efficient route.
Sales reps don't even have to worry about fiddling with the order of their stops. The route planner can automatically create the most efficient route between up to 100 stops from your organization's database of customer locations. Ultimately, this leads to lower travel time and fuel costs.
There are other key reasons why route optimization is well worth your time and effort. For example: When you're on the road, things don't always go according to plan. Sudden traffic slows personnel down on long but unavoidable highways. Not every sales meeting, service call or appointment runs the same length of time. But with eSpatial, team members have an effective contingency plan.
If a meeting or appointment runs long, team members can use dynamic routing to easily adjust their paths and itineraries. And when cancelations happen, users can fill that appointment by searching their maps for other nearby customers.
Unlike many consumer-level navigation apps, you can share multiple routes created through a best-in-class route optimization solution. Users can send their route to team members, either publicly through a link or privately within a specific group.
What major benefits does route optimization offer?
There are a few more key differences between a route optimization solution like eSpatial's mapping software and other, less effective map applications marketed to the average consumer. Take a closer look:
Automatic route planning
Intelligent route planning in eSpatial doesn't just focus on the path's beginning and end. The route is optimized across every stop along the way, whether you're traveling one-way or roundtrip. This ensures that users save time and money while keeping to their schedule. It also eliminates the need for drivers to manually plot and plan routes. Last but not least, users can share routes with other team members via eSpatial to desktops or mobile devices, either publicly through a link or privately within a specific group.
Displaying destinations with CRM data
eSpatial mapping software works perfectly alongside your customer relationship management (CRM) platform. If you're a Salesforce user, you can even use a direct integration that allows you to run eSpatial within your Salesforce instance. This helps unify customer data across your apps, so users always have access to accurate, up-to-date information regarding all of their appointments. When you look at each stop on the map, it will display any data you choose to enter, such as a customer's name or their order history. Better prepared reps can better address the unique needs of each customer.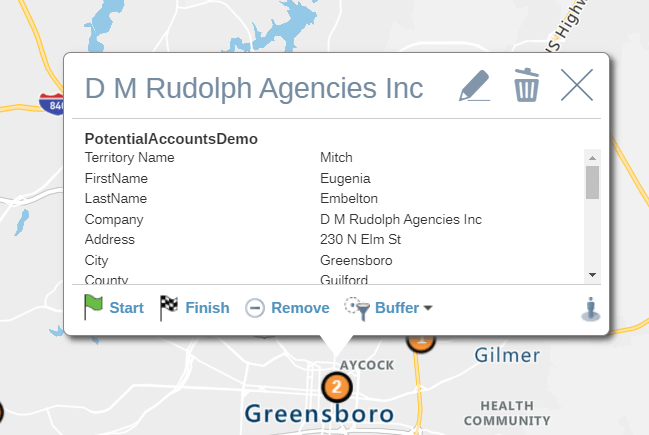 Plot out sales territories
It's always critical to consider complementary features when looking for an ideal mapping and data visualization platform.
For example, in eSpatial you combine route optimization with all of the tool's multi-faceted mapping power. This allows sales managers to create balanced geographic sales territories.
When you plan territories with geography in mind, it's easier to create efficient sales routes later. Putting together manageable territories helps team leaders balance workloads for their personnel, and it also serves as an opportunity to improve the overall quality of customer service.
Visualize data to support decision-making
Visualizing sales and service data allows decision-makers to better understand the market, including the strength of their organization's competition and the various opportunities for expansion that may exist. With territories mapped out, managers can easily see gaps or overlaps in coverage and modify routes and territory assignments accordingly. This can help your team minimize lost opportunities and eliminate costly inefficiencies.
---
---