The third of a three-part series covering rep effectiveness and efficiency. This article focuses on maximizing sales rep activity to fill work days with more scheduled and unscheduled visits (those last-minute changes to your day).
We'll focus on some best practices for maximizing field time with your customers:
What is an optimized route, and how does it feed into your optimized schedule
Why it is valuable
Best practices
What is route optimization?
Imagine a sales route that eliminates as much wasted drive time as possible. One where your daily stops are ordered by priority (a priority you have set), and you get turn-by-turn directions that take account of traffic. And as you progress through your day (in the knowledge you will achieve your daily goal of calls made) and you get a cancellation or meeting overruns, you won't stress because, with the click of a button, you can easily re-reschedule and continue.
So, fewer miles, more calls, less stress and more efficiency. And you can do all of this at scale.
What is schedule optimization?
We remember those days when it was possible to call in unannounced on customers, and they would see you. But in today's environment, making unscheduled calls is a non-starter. Many customers have time windows for your visits. So, there are built-in constraints to factor.
For example, you may have a customer who only sees reps on Thursday afternoons between 2 PM and 4 PM. In an instant like this, you'll want to "lock in" that time in your schedule and optimize around it. So schedule optimization factors in customer constraints, travel times, call times and plans your optimal week.
Why is it valuable to you?
Unlock hidden efficiencies with 30% less drive time
Reduces travel costs by up to 15%
Planning time is in minutes, not hours
Field-based teams make more, better-quality calls
Best practices
Align your scheduling to your sales strategy
Understand your customer locations
Build schedules around high-priority customers
Factor in availability constraints
Play your week or month first, then your day
Optimize your day (with some built-in flexibility)
1.

Align your scheduling to your sales strategy

Suppose your organization's sales strategy is to target your Top 20 customers in each territory to present a new product. Then, your reps' schedules should reflect that goal.

Other considerations are:
Sales/revenue potential (focusing on accounts with the greatest potential for growth)
Opportunity stage (focus on the highest probability to close)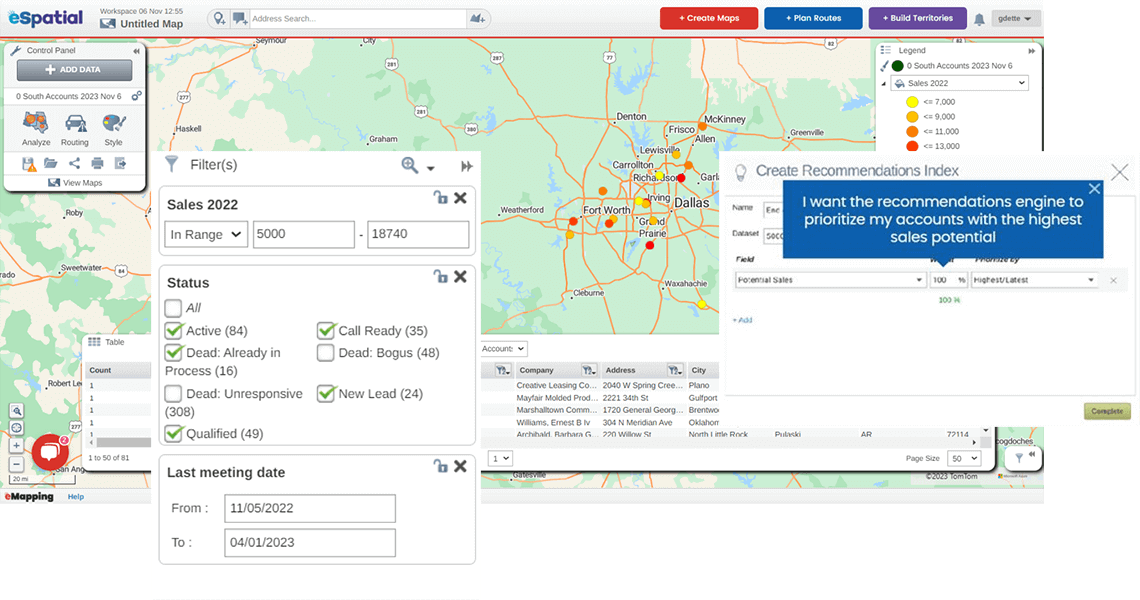 2.

Understand your customer locations

OK, it does seem blindingly obvious, but if we had $1 for every time a customer gets this ah-ha moment, "Wow, I didn't know we had so many customers in that location". Heatmaps are a great way to analyze your sales territories for hidden customer location insights.

Below is an example of a proximity map showing all customers within 120 minutes of a location. It is the perfect way to identify clusters of customers within a drive time or radius.

In this image, your priority accounts are in yellow, and there is a buffer around those which you can use to plan better.
3.

Build your schedule around high-priority customers

If we refer back to our strategy, we will start planning by "locking in" appointments with our Top 20 customers and optimizing our week or month around those.
4.

Review your customer's availability windows

You may have some customers who work to an availability window, so with the right route optimization software, you can lock in that specific appointment to ensure your day is optimized and includes that call.
5.

Plan your week or month first

We recommend starting with the macro and moving to the micro view when planning your schedule. Generate an optimized week outline, and as you work your days, you can easily re-optimize on the fly when you need to make adjustments. And you still protect your week's objectives.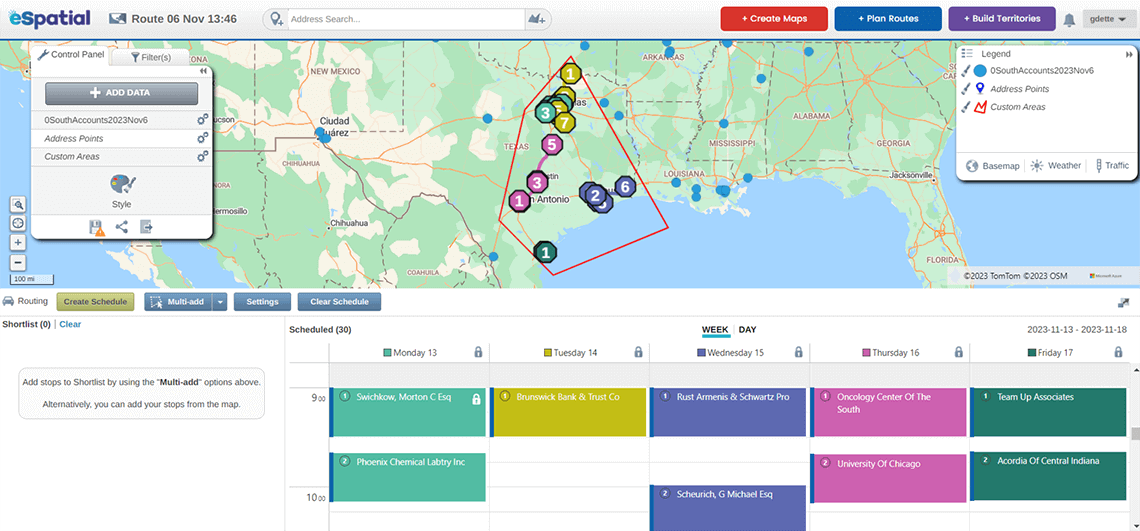 6.

Be flexible

If you are new to route optimization, the temptation is to plan your day to the minute and extract every ounce of value. But life is uncertain, and your day rarely goes to plan, so build in some flexibility for:
Appointment cancellations
Re-scheduled times
Traffic delays
Admin time (you may need to tackle some customer-related issues and allocate time for calls, etc.)
Meeting time overruns
Using the mobile app, it is easy to add calls when you have availability.
---
---