Sales territory planning is a tedious and time-consuming process without mapping software. Read on to learn how to create a sales territory plan. We have broken the process into 4 main stages:
Sales Territory Planning the basics
A sales territory plan helps you make better-informed hiring decisions, which drives sales productivity, revenue, and profits.
Sales territory planning maximizes sales resources, producing equitable and balanced areas and optimizes lead allocation.
A sales territory plan is a win for salespeople, sales managers, and operations.
Let's start with some basics:
What is a sales territory?
There are three approaches to designing sales territories.
Geographic
Here you assign a group of customers in a geographic region to a sales rep. Zipcodes are the most popular building blocks, but you can use county or state boundaries too.
Account-based territories
Many organizations ignore geographic boundaries and use an account-based or points-based design. Regardless of location, assigning accounts to a Senior sales rep or manager solidifies customer relationships.
Hybrid
As the name suggests, it combines geographic and points-based territory design.
Why good, clean data matters
To optimize sales territories, you need clean data. The challenge for many organizations is that their data lives in multiple systems like CRM, ERP, and spreadsheets.
Consolidating the data makes your process more manageable, which is where mapping software excels.
You win once you import clean data using one system as your source of truth.
You can overlay multiple layers of data and fine-tune your analysis, and as you make changes, they synch with your CRM or other systems in real time, saving hours in administration.
Video of data import process
Sales rep turnover
Your data is clean, so next, you turn to your greatest resource, your salespeople. You'll want to avoid underperformance due to poor sales territory design. All reps need coaching and development, but when your sales territory design is sub-optimal, your sales rep can fall behind, and training may not resolve the deficit.
Many salespeople leave because the odds are stacked against them.
Real World Scenario
A large contract recruitment company with a US-based field team experienced sales rep turnover of over 20% annually. On the surface, the under-performers left, which was a good thing. But the costs of hiring and training new reps escalated, and the sales operations team conducted a deep analysis of sales performance and territory design to understand if there was a correlation.
The results were stark. Almost 60% of their sales territories were out of balance with two key metrics.
Sales potential: The organization targeted large construction sites across the US to sell their services. When they mapped the locations of the highest-potential projects, a trend emerged. A minority of sales territories had enough potential projects to hit their quotas. So no matter how hard the rep worked, the area could never reach quota.
The opposite was true also. Underperforming salespeople managed the sales territories with the lowest potential, so hitting quota was much more challenging.
Workload: Using workload as a balancing metric uncovered significant flaws in their territory designs. Too many territories had workloads far in excess or below their target workloads, meaning sales potential was wasted or unrealized.
Outcome: By redesigning the sales territories and optimizing sales potential and workload, sales reps had equal opportunities to succeed. Managers could now focus their coaching on skill development, knowing that territories did not reward the salesperson.
Check out our Conquering Sales Territory Management guide
How territory management software helps
Whether you're expanding to a new sales territory or trying to boost your sales productivity, effective territory management software can make a big difference.
You can identify inefficiencies and overlaps in territory design and fix them quickly. You can map your sales data and analyze trends instantly.
You can overlay competitor locations and assess new opportunities.
The options are endless as you strive to design the best territories.
Ongoing sales territory management is easy and intuitive too. You can adjust alignments as new territory growth opportunities arise or people leave, and you re-assess area mergers. It is a way to future-proof revenue growth and maximizes rep productivity.
Optimizing your marketing plans is more manageable, too, as you map customers, prospects, and competitors and overlay other critical data. You see trends and gaps and hidden insights.
Critical outcomes of sales territory planning
Once you've chosen your territory mapping software and cleaned up your data, you'll be closer to hitting your sales goals.
But let's look at some key outcomes you should expect from properly aligned and optimized sales territories.
Your sales plan is data-led
Data-driven decisions are essential, and sales territory planning leverages the power of your data to give your visual insights.
You eliminate the guesswork, but just as important, it is easier to share, collaborate and engage others via live maps. That cuts down planning cycles while improving realignments.
Real World Scenario
The sales operations team has visualized and analyzed the sales data using heatmaps, pin, and color-coded maps. Next, they optimized the territories using their territory mapping software with a workload and sales potential index.
The final (and some would say the most crucial step) involves their key stakeholders, sales managers, and HR. They bring their expertise and local knowledge and add suggested improvements using a shared map.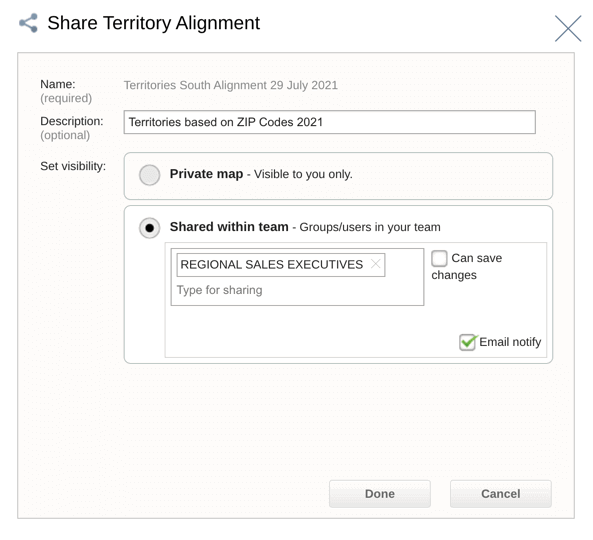 Their objective is to minimize disruption. Sometimes a customer relationship is more important than a perfect territory alignment, so it is easy to move an account to a rep (using an account exception approach).
HR, too will want to understand the impact those changes have on compensation.
Feedback via interactive maps accelerates decision-making and improves territory design while minimizing disruption.
Your sales performance improves.
With a detailed sales territory planning system, you can track leads, opportunities, deals lost, deals won, and all critical metrics on a map and share insights.
This type of granular insight also supports targeted sales and marketing campaigns. It adds context to how regional markets have changed over time. Data from Gartner, the research firm, shows proactive territory management can increase revenue by improving sales planning and streamlining various management tasks. The Harvard Business Review says that impact can increase revenue by up to 7% without any other changes. Mapping software plays a significant part in the process.
Your sales costs decrease.
Modern field sales teams understand that customer-facing time is precious and hard-won. Eliminating unnecessary travel (windshield time) is critical. Meeting customers face to face can be a competitive advantage, but cost control is essential too. Every 1% increase in selling time should convert to more revenue and higher productivity.
You slash fuel costs when you optimize territories.
According to research by consulting firm Pace Productivity, sales reps only spend an average of 26% of their time making sales. But with territory mapping software and route mapping, your sales teams can optimize schedules, almost eliminating planning time but boosting precious face-to-face time.
The image above shows a four-day optimized sales route.
Using these solutions, you can ensure your top performers are productive, cost-effective, and focused on closing more deals.
Your business can grow sustainably.
Over time, your customer distribution changes due to shifting market demand, increased competition, or other outside influences (economic, social). With a complete view of your territories, you can predict these market fluctuations and adjust your sales strategies.
For example, mapping software lets you identify underperforming regions that need support. By centralizing your data and incorporating location analytics, you can discover trends in the big picture or drill down to learn more about individual territories and clients.
Moreover, territory mapping tools can help you leverage scenario planning, allowing you to identify expansion opportunities and grow your customer base.
You hire better
The knowledge, skills, and experience of your sales reps are crucial to the success of your business, especially during times of uncertainty.
According to a 2018 report from The Bridge Group, a sales consulting firm focused on B2B optimization, the average sales rep tenure continues to decline. In 2010, reps stayed an average of three years at each job. In 2018, that was down to just 1.5 years.
Balanced, equitable sales territories with enough opportunity for success boost sales rep morale.
So how do you keep your top earners longer? Design balanced and fair territories. When you achieve balance, you give every salesperson a chance for success.
Combine that with a manageable workload, and you have a winning formula for keeping talent.
But when someone leaves, you need to act fast. Gaps in your coverage can be an opportunity or a threat to your business.
The opportunity to merge or absorb one territory into another can unlock new efficiencies. A territory map maker with optimization capabilities means you can accomplish your task in minutes.
The threat is that a vacant territory opens the area to greater competitive activity, and customers may move.
Onboarding a new rep is much easier when using a territory map. It's much easier for a new sales rep to get started when their territory, leads, and customers are in front of them. And, since the sales manager has access to the same data, they can help a new rep with targeting and creating a plan.
How to create a compelling sales territory plan: Our step-by-step guide
We've covered what a sales territory plan is and why you need it. Now let's look in detail at how to create one.
Before mapping your territories, assess your customers, prospects, and market penetration. It helps you align your territory management plan with your business goals.
You'll need to use data and insights from your CRM, ERP, and spreadsheets to create a complete plan.
Step 1: Analyze your market
The first step to creating a sales territory plan is collecting and analyzing market data. Include an assessment of buying trends, past sales targets and performance, competitor activity, and other relevant data points.
The more detailed your information, the better prepared you'll be during the territory mapping stage. Some critical questions you should answer include the following:
Where are your customers located?
Which industries do you serve?
Which regions are underperforming?
Which region over-performs?
What's the sales potential for each territory?
How are buying trends influencing your sales performance in specific areas?
Which service-related inefficiencies are leading to missed business opportunities?
How might future demand for your products/services affect your sales territory plan?
These questions will help base your sales territories on current and future needs. You need to think beyond just geography and look at opportunity and workload.
Step 2: Segment your customers
So, you've analyzed your business operations, sales performance, and market context. The next step is to segment your customers into groups.
When creating a sales territory plan, avoiding giving too much weight to any one characteristic is essential. For example, organizing your customers into rigid industry-based categories can help you prioritize sales rep assignments. But it can also force them to cover a wider geographic area.
When sales teams regularly cross state lines to meet with customers and prospects from specific verticals, the fuel costs and travel times are much higher (unless you leverage the accounts-based territory design model).
Instead, sales managers should use several data points in their territory management framework allowing for more flexible segmentation and can help maximize resources.
When categorizing your existing and prospective clients, be sure to consider the following:
Customer and prospect locations
Industry type, size, and everyday use cases for your products/services
Behavioral trends (spending habits, the likelihood of repeat sales, revenue potential, etc.)
Client delivery and sales support expectations
Regional competition (high vs. low risk of losing business to a competitor)
Combining these insights can provide a big-picture view of your current sales performance and help find areas of improvement. Keep in mind your customer segments will undoubtedly change over time.
The ability to quickly rebalance customer groups and realign territories should be a primary goal. Without some level of flexibility, your sales management strategies may fail to deliver the results you're hoping for.
Step 3: Conduct a SWOT analysis
Once you've organized your customers and prospects into groups, the next step is to assess internal and external factors that affect your business performance.
Conducting a SWOT analysis will help you identify your sales team's strengths and weaknesses, making it easier to assign the right rep to high-value or challenging accounts.
The popular business and financial education website Investopedia defines SWOT analysis as a "framework used to evaluate a company's competitive position and to develop strategic planning."
SWOT stands for strengths, weaknesses, opportunities, and threats. These considerations are crucial to building an effective sales territory plan, so take your time before moving on.
Here's a quick breakdown of each phase of the SWOT analysis process:
Strengths: Note your organization and team strengths and be as open and honest as possible. A territory planning perspective starting point might be identifying territories with solid performance and the reasons behind that.
Are you strong in specific verticals? Is your team better organized and focused than your competition? Do you offer better service levels? Is your sales training and coaching a strength?
Weaknesses: Are there geographic regions where performance is weak? Do you have some fragile customer relationships? Is your marketing spend lower than the competition? Are your sales territories out of balance? Are your sales team over or under-worked?
What other weaknesses might you have?
Opportunities: What growth opportunities are available to you? Can you grow your territory footprint by expanding into new areas? Can you split/merge sales territories? Are there competitor accounts you can win? Are some existing customers expanding? Can you increase your share of wallet with customers? Do you have new products to launch?
Threats: Everyone knows that sales are a highly competitive profession. Understanding specific threats in your selling environment can make a big difference. When conducting a SWOT analysis, you should consider competitors vying for market share, changes in demand, and time wasted on low-value tasks.
Step 4: Create your sales territory plan
The final step in the sales territory planning process is to combine your data, market research, and business goals into a single package.
Sales managers should create clear parameters for their sales teams. That includes realistic goals, information on who to target, and more. It will help you develop more balanced sales territories upfront and allow you to pivot down the line.
Some critical questions you should ask include:
Where are your highest-value accounts located?
How will you organize sales territories to capitalize on your sales team's strengths?
Which regions may need more sales support?
Where are the primary sources of new leads, and why?
What quotas do you have for sales reps?
What resources do your sales teams need to grow?
While drawing out your sales territories by hand is possible, territory mapping software gives you the advantage. It's easier, faster and allows you to make data-driven decisions.
With eSpatial's territory mapping software, you can quickly upload data from Salesforce and other CRMs, ERP systems, and spreadsheets. You can use this data to create your territory maps or analyze it further using the following:
Alongside customizable data visualizations, eSpatial offers a suite of specialized tools. They make your sales territory plan more efficient and cost-effective.
For example, route planning lets your field sales reps map out their entire day and find the quickest path from the office to customer locations.
You can see how territories perform, compare, and create maps to communicate data to C-suite decision-makers. Tracking your success and failures is crucial, as it allows you to pivot your sales strategies and capitalize on new lines of business in real-time.
A sales territory plan is dynamic. You must adjust to keep your territories balanced and your top performers satisfied.
Creating interactive territory maps transforms raw data into actionable insights. You can find the hidden details that help you increase sales efficiency and effectiveness. Ultimately, that means more conversions, higher ROI, and flexible sales processes.
---
---