Creating a sales territory plan used to be a tedious and time-consuming process. But specialist territory mapping software for sales teams means it's now quick and easy.
If you want to know more about sales territory planning keep reading. But if you're ready to get started, follow the links below and jump straight to our helpful four-step guide.
Sales Territory Planning 101
This article will tell you everything you need to know about territory planning for your sales team. A proper sales territory plan — regularly updated helps you make better-informed hiring decisions and will make a significant, positive impact on your bottom line.
Sales territory planning is about making the best possible use of your sales resources. And it's about a fairer, more efficient allocation of leads among your sales reps. With the right sales territory plan, the whole team wins.
Let's start with some basics:
What is a sales territory?
A sales territory is a geographic region or group of customers assigned to a salesperson. Sales territories are often built on ZIP codes, state boundaries or other geographic segments. Over time, businesses realized they needed more context. Many now also take into account other metrics, including:
Customer type or industry
Market potential and/or level of return
Previous customer-salesperson relationships
Number of existing accounts and prospects
Why good, clean data matters
To create sales territories that meet the needs of your sales team you need a good handle on your data.
But many companies have their data spread across several systems. Some of it is in the customer relationship management (CRM) platform, other bits are stored in spreadsheets, and sometimes there's also enterprise resource planning (ERP) software in the mix.
It's difficult to create and manage your sales territories when your data is that disjointed.
Among the benefits of investing in dedicated software to build and manage your sales territories, is getting all your data in one place.
Software that can pull from different data sources can help you get a clearer view of what's actually going on. And it can help you establish a single source of truth (avoiding conflicting numbers about the same thing in different places).
Sales rep burnout and sales rep churn
The best sales teams run on good data. But sales is also about people.
When a sales person is under-performing they need support, mentoring and training. Or they need to be moved on.
When a sales person is nailing their target, they need reward, recognition and motivation to keep improving.
So where does territory management fit in?
If you have poorly aligned sales territories your first problem will be feast and famine among your sales team.
Some reps will have too many leads to handle. Others will be struggling for meetings. In both cases, you are unlikely to maximize your sales potential.
Reps with too much to do get burnt out. While their colleagues get upset and demotivated by the lack of good opportunities. Both are now more likely to miss their sales quota.
Your second problem is failing to line up your best sales reps with your best sales territories. Only when you can easily see the number of meetings, available leads or revenue potential of a particular territory can you get the most out of your star performers.
Churn is a big problem for sales teams. Sales has a higher turnover than average. And while getting under-performing reps off the team is good, losing strong, proven sellers will kill your sales plan.
Fairer territory assignment that's driven by the numbers means less grumbling and more selling.
How territory management tools help
Whether you're expanding to a new sales territory or trying to boost your sales productivity, an effective territory management tool can make a big difference.
The right sales territory mapping software lets you quickly identify where your territory design has gone wrong, properly understand your revenue potential and track your sales performance in real time.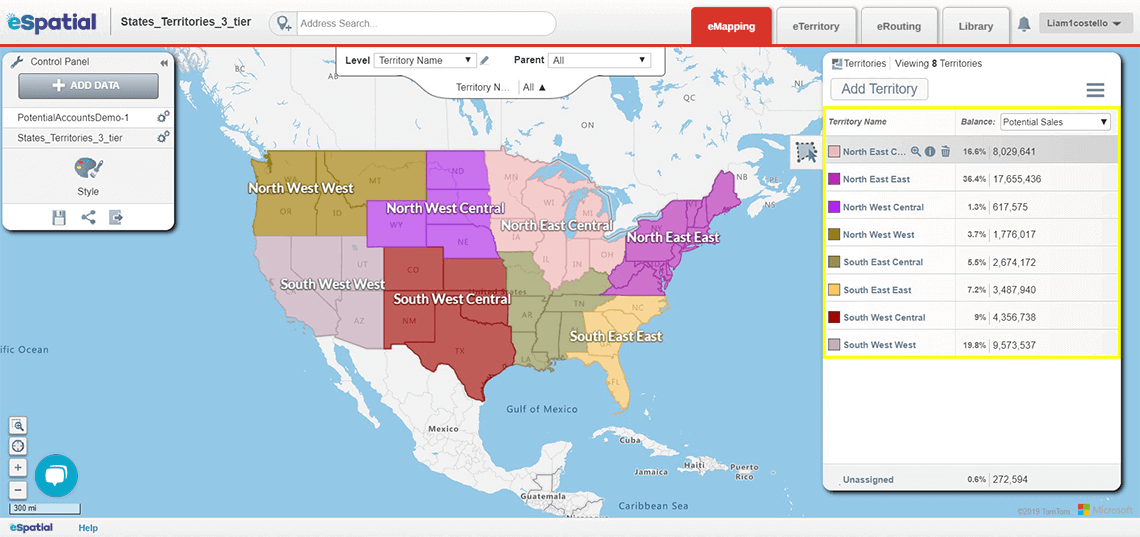 In this example, the northeast region has significantly more earning potential than others.
Of course, whether or not you use territory mapping software, it's important to have a clear management strategy to keep your business on track.
Keep in mind, even the most effective sales territory plans will eventually need retooling. This is actually a good sign. The business world is constantly changing, with new products and services, customers and competitors. So if you never need to update your territories, that means you aren't growing.
Keeping track of customers, prospects and competitors lets you adjust your sales and marketing plans to stay ahead of that change. And while your sales team may be unmatched in experience and expertise, they still rely on accurate and up-to-date information. It's how they score high-quality leads and cultivate profitable relationships.
Key outcomes of a good sales territory plan
Once you've chosen your territory mapping software and cleaned up your data you'll be closer to hitting your sales goals.
But let's take a look at some of the key outcomes you should expect from properly aligned and optimized sales territories.
Here are some examples:
Your sales plan is data-led
The best sales territory plans use data from existing customers and your wider target market to drive decision-making. Instead of relying on guesswork or personal experience to fill your sales funnel, you use real, hard evidence.
For example, a sales manager can use sales territory data to identify struggling regions. If an area consistently under performs, you can dig into the numbers to figure out why.
In one of our blogs, we took a closer look at why your sales reps are always busy, but missing their targets . It outlines a few things to evaluate when you've identified a struggling territory. If you're faced with this challenge, this is a great place to start.
Whatever the reason, a data-rich sales territory plan can help tease out the actionable insights hidden in your data.
This territory map shows how close each region is to hitting its target. This can help sales managers identify under-performing regions.
Creating balanced sales territories means there are no gaps in coverage that cause leads to fall through the cracks. It also ensure sales reps have a workload that allows them to give each lead the attention they need.
Your sales performance improves
Territory alignment is crucial for ensuring complete coverage and plays a key role in your sales performance. When you have a detailed sales territory plan, you can track where leads are coming from and forecast future sales opportunities.
This type of granular insight also supports targeted sales and marketing campaigns. It adds context about how regional markets have changed over time. Data from Gartner, the research firm, shows proactive territory management can increase revenue by improving sales planning and streamlining a variety of management tasks. The Harvard Business Review says that impact can increase revenue by up to 7%, even when no other changes are made. Especially when mapping software is part of the process.
Your sales costs go down
Field sales teams are constantly traveling to meet with prospects and customers. While this can increase revenue, it also comes with back-end expenses. Fuel costs and paying sales reps for travel time can add up fast.
According to research by consulting firm Pace Productivity, sales reps only spend an average of 26% of their time making sales . But with modern territory management software, your sales teams can use smart route mapping tools that cut down on travel time and admin.
By factoring these things into your sales territory plan, you can ensure your top performers are productive, cost-effective and focused on closing more deals.
By examining sales coverage and customer locations, you can find opportunities for expansion.
Creating territories of a manageable size, as well as route planning and optimization, can help reduce costs.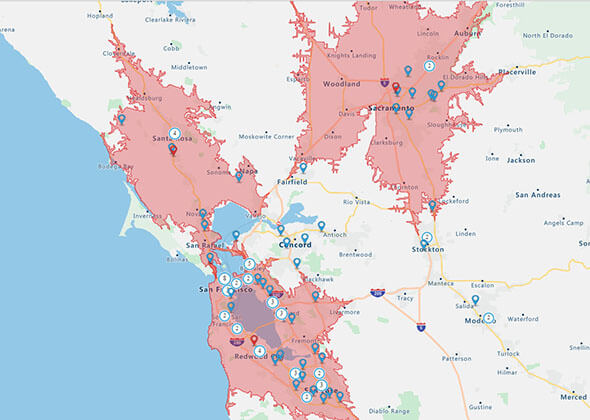 Your business can grow sustainably
Over time, your customer distribution will change. This can be due to shifting market demand, increased competition or other outside influences. With a complete view of your territories, you can predict these market fluctuations and adjust your sales strategies.
For example, mapping software lets you identify under-performing regions that need support. By centralizing your data and incorporating location analytics, you can discover trends in the big picture or drill down to learn more about individual territories and clients.
What's more, territory mapping tools can help you leverage scenario planning. This allows you to identify expansion opportunities and grow your customer base.
You make better-informed hiring decisions
The knowledge, skills and experience of your sales reps are crucial to the success of your business. Especially during times of uncertainty.
According to a 2018 report from The Bridge Group, a sales consulting firm focused on B2B optimization, the average sales rep tenure continues to decline. In 2010, reps stayed an average of three years at each job. In 2018, that was down to just 1.5 years.
Building balanced territories with enough opportunity for success helps improve sales rep morale.
So how do you keep your top earners for longer? Balanced and fair territories. When you achieve balance, you give every salesperson a chance for success. Combine that with a manageable workload and less conflict on teams, and you have a winning formula for keeping talent.
But when someone does leave, you need to be able to act fast. The departure can create gaps in your coverage and let leads and customers fall through the cracks. You need to quickly onboard a replacement or adjust territories to cover the region.
A territory mapping tool can help with both options. It's much easier for a new sales rep to get started when their territory, leads and customer are in front of them. And, since the sales manager has access to the same data, they can help a new rep with targeting and creating a plan.
Some mapping software options also have territory optimization. This feature lets you create or re-align your territories in just a few clicks. If you know you won't have a new salesperson to cover the area, you can turn a four-territory region into a three-territory region in seconds.
Creating a flexible sales territory plan gives you more control and visibility into your workforce management strategies. With the right tools, you can ensure you have the coverage you need when you need it.
How to create an effective sales territory plan: Our step-by-step guide
We've covered what a sales territory plan is and why you need it. Now let's look in detail at how to create one.
Before you start mapping your territories, assess your customers, prospects and market penetration. This helps you align your territory management plan with your business goals.
To create a complete plan, you'll need to use data and insights from your CRM, ERP and spreadsheets. This information will help you create truly balanced territories. It will also help you cover unexpected gaps and adjust territories during reviews.
Step 1: Analyze your market
The first step to creating a sales territory plan is to collect and analyze data on your market. This should include a close assessment of buying trends, past sales targets and performance, competitor activity and other relevant data points.
The more detailed your information, the better prepared you'll be during the territory mapping stage. Some important questions you should answer include:
Where are your customers found and which industries do you serve?
Which regions are currently under performing? Which are over performing?
What's the sales potential for each customer in your pipeline?
How are buying trends influencing your sales performance in specific markets?
Which service-related inefficiencies are leading to missed business opportunities?
How might future demand for your products/services affect your sales territory plan?
These questions will help you base your sales territories on present and future needs. You need to think beyond just geography and look at opportunity and workload.
The environment your business operates in is just as important as your sales strategy. So, take the time to understand how your company fits into the broader marketplace.
Step 2: Segment your customers
So, you've analyzed your business operations, sales performance and market context. The next step is to segment your customers into groups.
When it comes to creating a sales territory plan, it's important to avoid giving too much weight to any one characteristic. For example, organizing your customers into rigid industry-based categories can help you prioritize sales rep assignments. But it can also force them to cover a wider geographic area.
When sales teams regularly cross state lines to meet with customers and prospects from specific verticals, the fuel costs and travel times are much higher.
Instead, sales managers should use several data points in their territory management framework. This allows for more flexible segmentation and can help maximize your resources. When categorizing your existing and prospective clients, be sure to consider the following:
Customer and prospect locations
Industry type, size and common use cases for your products/services
Behavioral trends (spending habits, likelihood of repeat buys, revenue potential, etc.)
Client expectations for delivery and ongoing sales support
Regional competition (high vs. low risk of losing business to a competitor)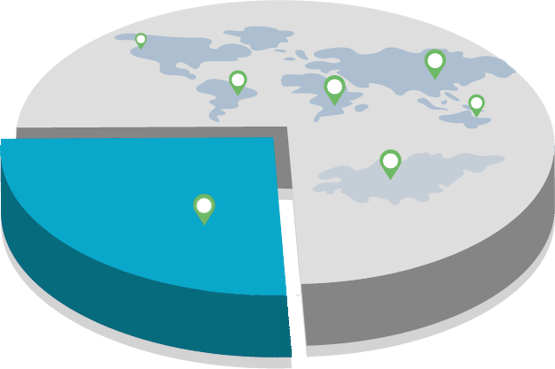 Combining these insights can provide a big-picture view of your current sales performance and help find areas of improvement. Keep in mind, your customer segments will undoubtedly change over time. Don't feel like you need to set your sales territory plan in stone.
In fact, the ability to quickly rebalance customer groups and realign territories should be a primary goal. Without some level of flexibility, your sales management strategies may fail to deliver the results you're hoping for.
Step 3: Conduct a SWOT analysis
Once you've organized your customers and prospects into groups, the next step is to assess internal and external factors that affect your business performance.
Conducting a SWOT analysis will help you identify strengths and weaknesses in your sales teams. This makes it easier to assign the right rep to high-value or difficult accounts.
Investopedia, the popular business and finance education website, defines SWOT analysis as a "framework used to evaluate a company's competitive position and to develop strategic planning."
This popular acronym stands for strengths, weaknesses, opportunities and threats. Each of these considerations is crucial to building an effective sales territory plan, so be sure to take your time before moving on.
Here's a quick breakdown of each phase of the SWOT analysis process:
Strengths: An individual sales rep's skills and experience will play a big role in your sales territory plan. For example, if a salesperson has a background in IT, they may be particularly well-suited to clients in the technology industry. But to truly leverage these types of strengths, you'll need to place reps in the right territories and keep their workload balanced.
Weaknesses: Even the most experienced and high-earning sales reps aren't perfect. By considering the weaknesses of your sales teams, you can develop more effective processes that help minimize disruption and buyer resistance. In some cases, weaknesses can be tied to the layout of specific sales territories. If a rep is overseeing a large geographic region, they may not be able to deliver the best service possible. Other times, sales reps may fall into a rut, visiting the same low-value clients over and over.
Opportunities: No matter how accurate and intuitive your territory management strategy may be, there's always room for improvement. Sales managers must be able to spot and capitalize on new business opportunities, whether or not they're obvious on the surface. Careful sales territory planning will help you find under-served regions, untapped markets and growing demand for specific products and services.
Threats: Everyone knows that sales is a highly competitive profession. Understanding specific threats in your selling environment can make a big difference. When conducting a SWOT analysis, you should consider competitors vying for market share, changes in demand, and time wasted on low-value tasks.
Step 4: Create your sales territory plan
The final step in the sales territory planning process is to combine your data, market research and business goals into a single package.
Sales managers should strive to create clear parameters for their sales teams. That includes realistic goals, information on who to target and more. This will help you develop more balanced sales territories upfront and allow you to pivot down the line.
Some important questions you should ask include:
Where are your highest value accounts found?
How will you organize sales territories to capitalize on your sales team's strengths?
Which territories may need more sales support?
Where are your new leads coming from and why?
What specific goals do you have for your individual sales reps?
What resources do your sales teams need to grow their clientele?
While it's possible to draw out your sales territories by hand, territory mapping software give you the advantage. It's easier, faster and allows you to make data-driven decisions.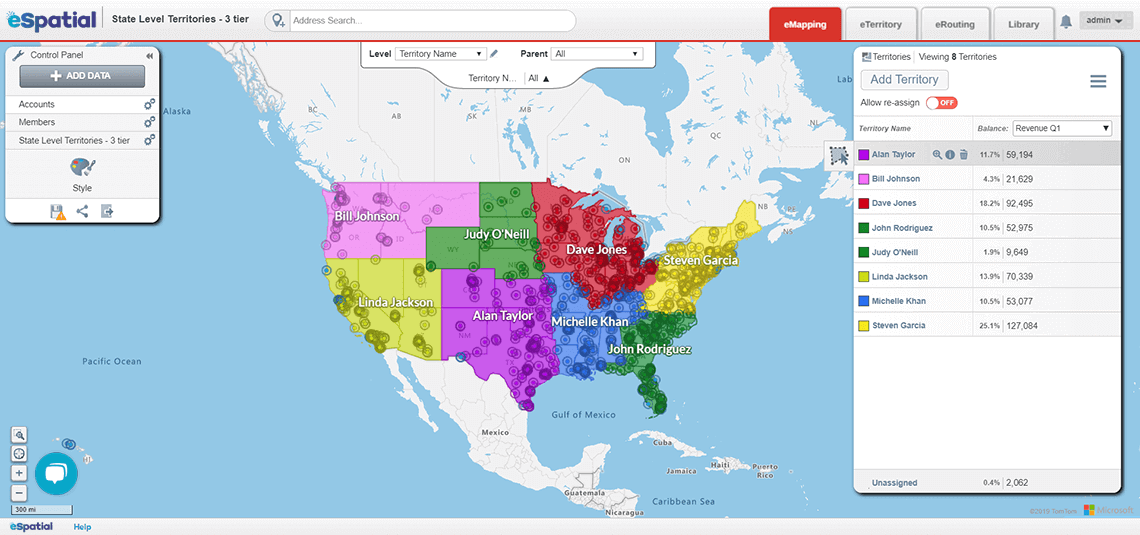 With eSpatial's territory map maker, you can quickly upload data from Salesforce and other CRMs, ERP systems and spreadsheets. You can use this data to create your territory maps, or analyze it further using:
Heat maps
Pin maps
Radius maps
Route maps
Alongside customizable data visualizations, eSpatial offers a suite of specialized tools. They make your sales territory plan more efficient and cost-effective.
For example, with route planning, your field sales reps can map out their entire day and find the quickest path from the office to customer locations.
What's more, eSpatial's mapping software can improve your sales performance monitoring. You can see how territories are performing, compare, and create maps to communicate data to C-suite decision-makers. Tracking your success and failures is crucial, as it allows you to pivot your sales strategies and capitalize on new lines business in real time.
A sales territory plan isn't static. You'll need to make adjustments to keep your territories balanced and your top performers satisfied. eSpatial's mapping app expands with your business needs, empowering you to grow your brand, increase your profitability and incorporate data-rich visuals into your staffing discussions.
Creating interactive territory maps transforms raw data into actionable insights. You can find the hidden details that help you increase sales efficiency and effectiveness. Ultimately, that means more conversions, higher ROI and more flexible sales processes.
---
---