Sales and operations leaders have a lot of challenges to balance. Managing sales performance, supporting sales, and ensuring you have the right processes and technology. And sales planning support.
An integral part of your responsibilities is unlocking new ways to gain a competitive advantage. And there is a four-step process to achieving that goal.
Assess your current market
Gather competitor landscape information
Layer more sales data
Establish your plan
All businesses differ, so we focus on high-level use cases that resonate with you.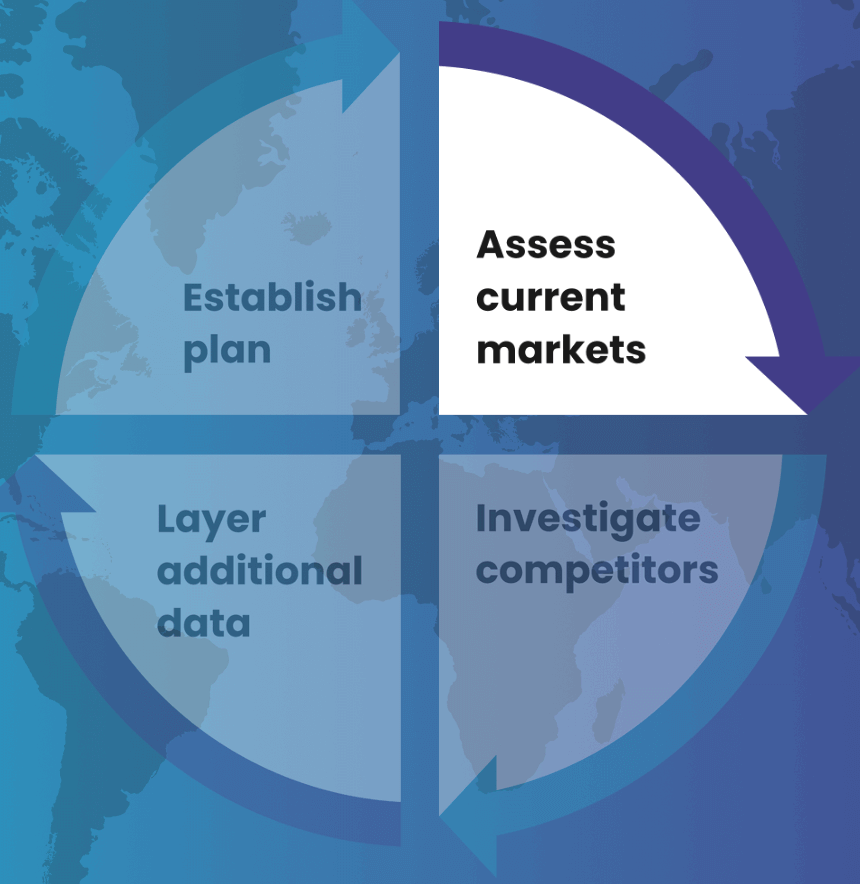 1. Assess your current market
From the perspective of your world-view, a great question to ask yourself is, "where are your sales resources"?
It is a basic but essential step. You know who your sales reps are and their locations. But do you have clarity on your customer or prospect locations?
Seeing customer locations on maps is transformational. Customers should be easy to identify, but the challenge can be understanding where your prospects live. It is here mapping excels.
How do you define a prospect or Sweet Spot Client?
Your Sweet Spot Client should be 20% of customers who deliver 80% of your sales potential in each sales territory.
How do you filter your sales data and refine it to highlight your Sweet Spot Clients? Do you use external lists or your internal database (CRM data) of sales leads? They are helpful in your analysis.
When you plot them on maps, you can ask two critical questions.
What does it tell you about your serviceability?
Are you able to service customers effectively?
Stack rank your markets
You'll want to understand and compare markets; for example, how does New York compare to San Francisco?
To assess your current markets start by aggregating historical sales and sales potential (future sales potential).
What is sales potential? It is the sum of customer spending with all suppliers in your competitive space. So, for example, your top customer spends $200,000 per year on your products or services. But it only represents 10% of their total spending. The sales potential is $2,000,000. You may adjust this based on a realistic share of your wallet; let's agree your maximum share would be 50%, so your real sales potential is $1,000,000.
Now you have a clear picture of sales potential, start creating serviceability zones based on your current resources. Can you adequately service customers and prospects and maximize your sales potential?
Using a tool like eSpatial, you can assess average distance or drive times. It unlocks a better understanding of "time to service" customers. And you can reset your priorities based on customer priority. So you can re-design or re-optimize sales territories to focus on the highest-sales potential customers.
See below for an example:

You can analyze average drive time and sales potential and identify trends in the data that enable you to plan resources better.
You can identify whitespaces. They are gaps in your sales coverage that could yield new sales opportunities.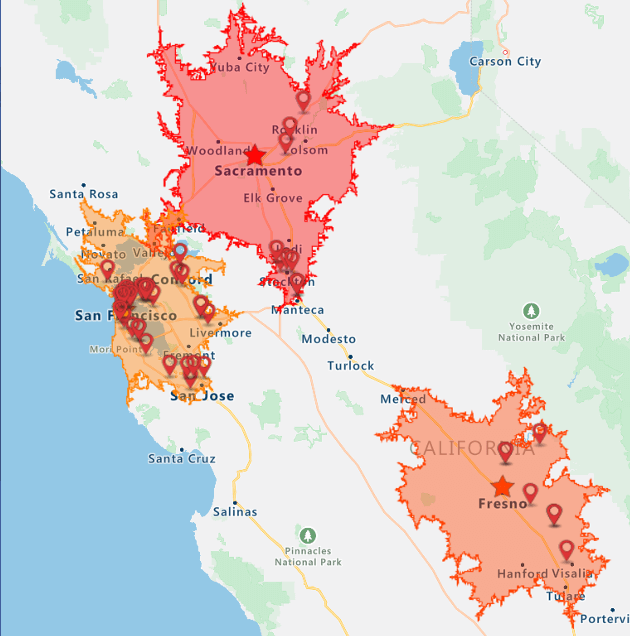 Analyze the numbers of accounts per market and see areas for optimization
In the examples below, we see differences across the averages. San Francisco, for instance, takes the most time to service customers. Do you need more resources in San Francisco?
What about driveability?
Using 60-minute drivetime for a market, you may need to understand what drivetime to the route is required for existing customers.
In example A, the drive time is 14 hours 12 minutes and covers 461 miles in the distance.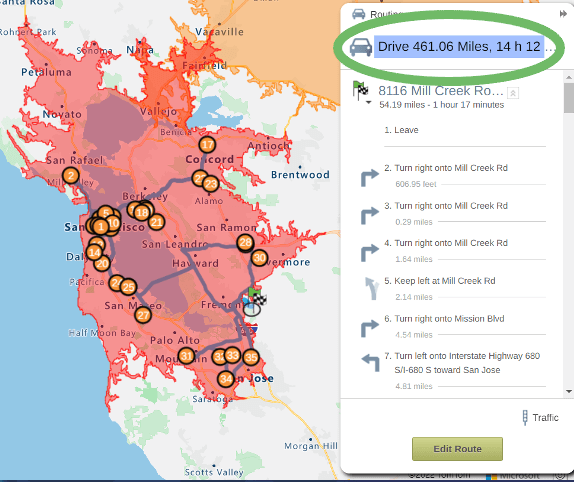 In example B, the drive time is only 3 hours and 56 mins, and the mileage is much lower at 186.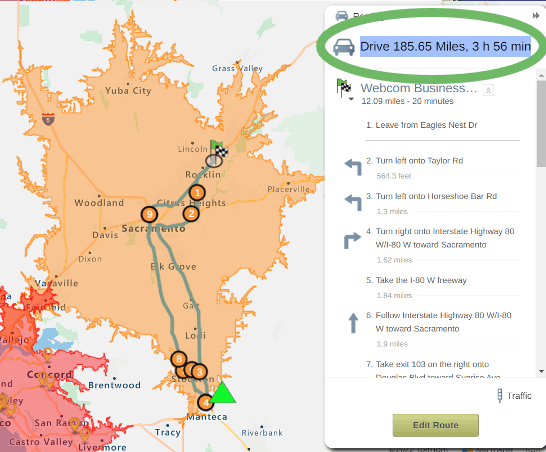 So San Francisco far outweighs the other example and prompts you to ask, "do you need additional resources"?
2. Gather competitor landscape information
Where are your competitors located?
How do their locations compare to yours?
How do their locations impact your highest value customers?
How do their locations compare to your prospect sites?
Where can you capitalize on their locations to gain a competitive advantage?
Start with a macro-level evaluation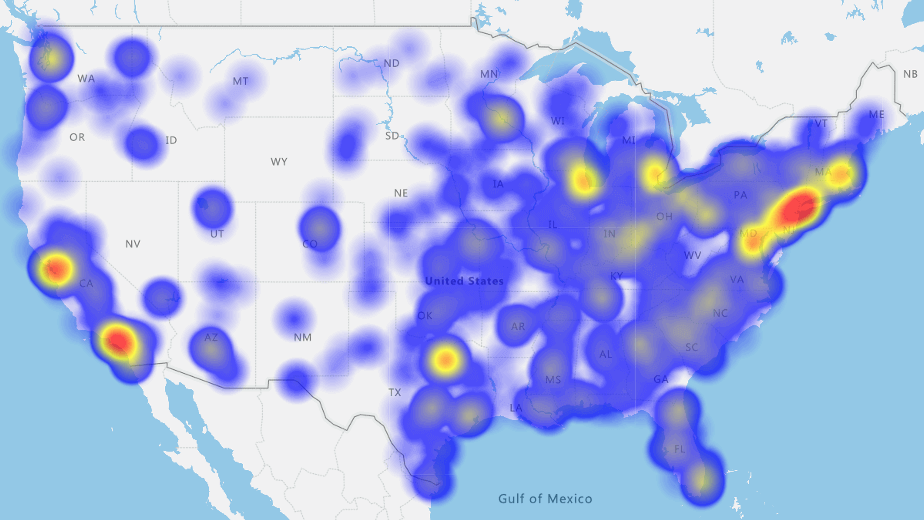 Where is your business?
Where do you need to protect?
Where can you grow?
See the example; you can make some high-level evaluations.
You can see areas where there is a threat to your business. And where you have the opportunity to grow. For example, in Denver, Dallas, and Houston, you have high sales but no market coverage.
Take the micro-level view and look at individual markets.
Assess the actual market threat
Prioritize resources where needed
Consider adjustments
The value of drive time analysis
Let's create a 60-minute drive time analysis for your sales rep and your competitor's sales rep. On the map, you can see a pocket of high-value customers near your competitor locations.
3. Layer more sales data
Layer more sales data to profile your best and worst areas
What is the data showing?
Where are your high-value areas?
What are customers buying?
What is the customer profile most likely to buy from you?
How many fit your Sweet Spot Client profile?
Where are there more customers like this?
What metrics should you consider?
Whether in B2C or B2B, you should consider the critical result metrics to analyze. We recommend including a sales potential metric or workload index when creating sales territories.
Think about industry data too
Healthcare demographics
Insurance risk scores/rates by location
Construction - Dodge data (which shows where permits are registered)
Finance - CMA compliance data
Housing - HUD data
Challenge your assumptions.
We isolated each county across the US below and customer locations.
Next, we imported median household income and filtered the map to reflect the highest income bands.
We filtered further to the Dallas area.
In this example, our Sweet Spot Client is a high-income household. But the heatmap proves the opposite. We are selling to mostly lower-income families.
Suppose we go one step further and add a 60-minute buffer to determine the potential revenue of the areas lacking in customers. The potential revenue or sales value is $200,000, and we generate, on average, $6,000/customer, which is roughly equivalent to my customer index for other markets. So, I have a business case to increase sales resources in these areas.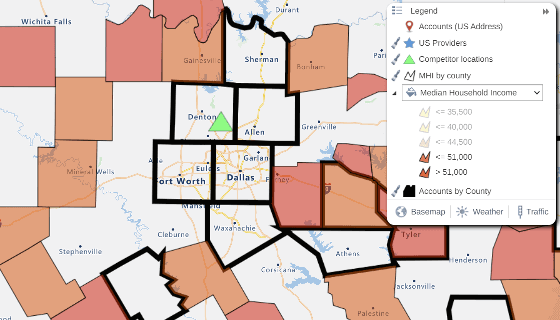 Assumption
We sell to high income households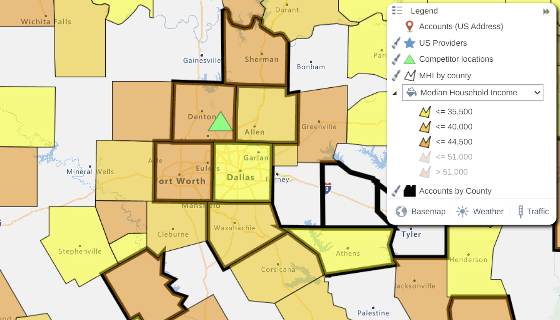 Reality
In Dallas/Ft. Worth, customer demographics show lower income
4. Establish your plan
Now you have some new approaches that help you uncover some sales potential or new areas to develop. You are in a position to develop a plan to implement the insights gained from your analysis. Each plan will be unique to your organization, but the approach to unlocking the insights is consistent. Ensure that you schedule regular reviews using the 4-step process, and the impact will be tangible.
---
---