Create your pin map
Turn your Excel data into a pin map.
Use different icons for different items.
Choose colors and a base map that suits you.
Publish/share to the rest of your company.
All in a free trial with no credit card required.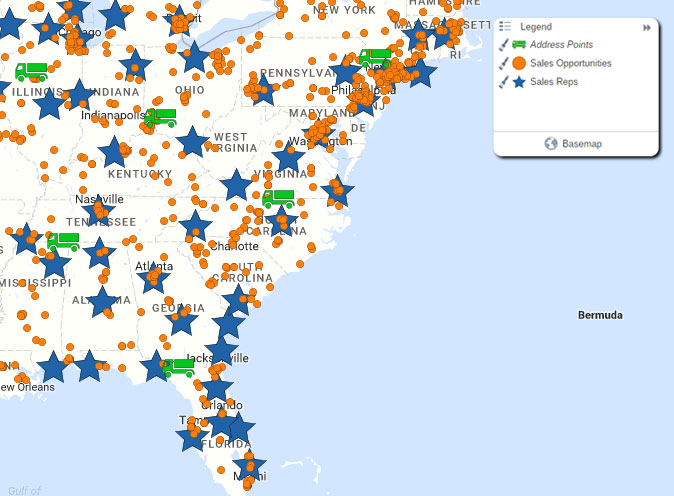 ---
What is a pin map?
A pin map is the simplest way to express data on a map. It plots a pin wherever there is a geographic location contained in your data: zip code, street, state, country, etc. Just upload an Excel spreadsheet with a column containing locations and – depending on the size of the data – it will be plotted on a pin map in seconds. You can then start to interact with your data or, alternatively, use the suite of features to analyze or enrich it.
Pin huge amounts of data
A pin map allows you to plot huge amounts of data to a single map. From there you can summarize and group pins – "cluster" them – according to geographic region. For instance, if you have 10 locations pinned in one city, then this will be summarized on the map by a number – the number "10". This is a useful shorthand feature when you are dealing with massive amounts of data spread throughout a region.
Compare and contrast layers of data
You can create complex visualizations that reveal the different levels of data that impact your business. For instance, if you were a distribution company, you could create a 3-layer pin map revealing the location of customers, sales personnel, and warehouses. Each would be expressed using a different color. Layers can be switched on or off, as required.
Pack your pins with rich spreadsheet data & links
Each pin on your map contains the data contained in each row of your spreadsheet. This allows you to find information geographically, which is faster and more intuitive than simply reading a spreadsheet. You can also link to web pages or CRM pages, including that information in your original upload.
Filter your pin map
Pin maps are great, but sometimes it can be more interesting to see a smaller amount of data. By using a filter you can instantly change the map to show you only a particular group of your pins. This might be all the ones you have visited in the past year or all the ones who have paid you in the last 6 months. You decide the detail, the filtered pin map helps you to visualize the reality.
Choose different styles of pin or make your own
Why settle for basic pins? Use different icons to express different data on a pin map. You can also express volumes per pin by the actual size of the pin on the map – large for large volumes, small for small volumes. You can also have your logo – or another relevant graphic – attached to map pins.
Publish and share your pin map
Like most things in life, pin maps are better when they are shared. Thankfully sharing is easy. You can publish or embed a live version of your pin map. That means that not only can you update the uploaded data, but the user can also zoom in or out and move around the map to their heart's content. Alternatively, you can export it as a flat image for printing or incorporating in something like a spreadsheet.
---
Create your pin map by following these 3 simple steps
1: Prepare Your Data
Save your data to a CSV file from Excel. Make sure that your columns have header rows including your location information. Include as a column any info you want to see on the map.

2: Sign up for an eSpatial trial account
Register for a free trial by clicking the button below, the screen shown to the right will ask you for a business email address and password, but no credit card information. This will begin your free trial where you can create your map right away.
3: Upload your data
Log into eSpatial and follow the add data process. It's as simple as clicking Upload new data and following the instructions. If you have any difficulties, you can get help from real mapping experts on our live chat system. Just click on the bottom right corner of the page.
Your pin map is ready!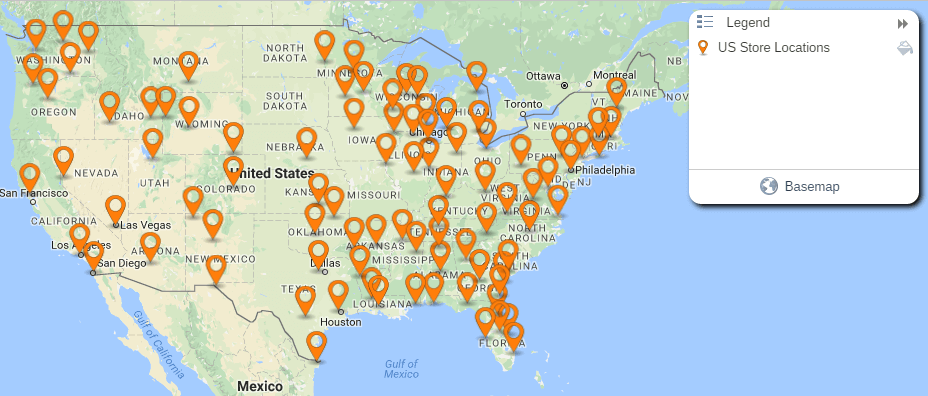 As soon as your data is uploaded, it will be plotted on a pin map as seen in the example above. Each pin on the map represents a row in your spreadsheet and all this data is contained within the information box which appears when a pin is clicked. This forms the basis for your data analysis. You can style your map, run various analysis and share your map from this point.
---
Watch this video to see a pin map being created
---
My pin map is created, what can I do next?
Pin maps are great, but they are really only the beginning. From there why not consider taking the basis of your pin maps and making your map more valuable for your business:
---
Are you ready plot your business data on a pin map? Sign up for a free eSpatial trial with seven day's access to our Pro License features to visualize and analyze your data on your very own pin map.