This article was last updated June 2017
Create a map from Excel Data for free
eSpatial is a mapping software tool which allows you to move data from excel to map. Now you can easily map addresses from excel which will allow you to better visualize your data and spot potential gaps and opportunities for your business.
So you've signed up for a free eSpatial trial and now you want to start mapping an Excel spreadsheet? Just follow the steps below to create a simple Excel map.
Map excel data like the simple interactive map above using eSpatial.
1. Put location data in your spreadsheet
Ensure that you have location data in your Excel document that our mapping engine can recognize. This can come in the form of a country, a city, an address or even a zip code. This short help page shows how to structure your Excel data for upload.
Next log into eSpatial or take a few seconds to sign up for a free trial. There are no downloads required – eSpatial mapping software is an online service. And, unless you opt for a paid account, we don't require any financial details.
2. Upload data
Once logged into eSpatial, click the Add Data button in the top left and the following screen page appears:
Assuming that you have not added data before, select Upload new data (otherwise, choose Add from Library). Alternatively we also provided the added benefit of allowing you to map data map data directly from your Salesforce account!
Select your spreadsheet file and open it. (Upload limits depend on which version of eSpatial you are using).
The fields in your spreadsheet, which will be used to plot your data on the Excel map, are automatically highlighted and listed, as indicated in the screen grab below. If you're not happy with the fields selected, simply click Change Settings and manually choose the fields that will determine how data is plotted (geocoded).
Click Complete to start uploading your data. You can observe the progress by monitoring the blue bar, which turns green upon completion. Once it has reached 100%, click Return to Map.
3. Your spreadsheet data is now on an Excel map!
When mapping an Excel spreadsheet, eSpatial attaches an information box to each point, making it fast and easy to access key inofrmation.
Mapping an Excel spreadsheet with eSpatial is now complete. You can now share your Excel map via email link, or by embedding it on your site. Select the data, interact with it, and then analyze it!
Explore our help pages to find out what more you can do once you have uploaded your data.
Turn your data into an Excel map – watch our video tutorial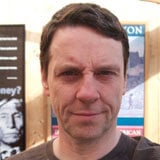 Written by
Patrick Butler
Patrick Butler joined the eSpatial marketing team from 2013 to 2015. With a Masters in Journalism and experience in a variety of organizations, Patrick brought a wealth of commercial knowledge to the eSpatial team.