Sales territory management and alignment are critical for any company looking to establish firm control over each geographical area within its reach with a notable customer or prospect population.
Let's take a closer look at the benefits of establishing sales territories for your rep team and your company as a whole. Many sales managers must improve performance with little to no extra resources, and territory management is key to achieving these targets. Let's take a closer look at the benefits of establishing sales territories for your team and your company as a whole.
1. Increase sales & reduce costs with aligned sales territories & improved coverage
The primary goals for any sales organization are to maximize the amount of time sales reps spend selling and ensure that they sell the right products to the right customers at the right time.
Aligned territories will result in balanced workloads for sales personnel, providing them greater earning potential, improved morale, and career satisfaction. This leads to higher motivation, lower staff turnover, and, most importantly, more sales.
Territory mapping should also involve route optimization. Taking this blended approach can help reduce travel costs, improve fuel efficiency and increase the number of established and potential customers field sales teams are able to serve.
2. Measure performance through reporting & analytics
When sales territory data is visualized with mapping software, there are a host of analytical tools for a manager or rep to take advantage of, including several different performance reporting options.
Mapping software enables data plotted on a map to be aggregated into a consolidated view of performance. A sales rep can segment and filter data, isolating transactions above or below a specific value.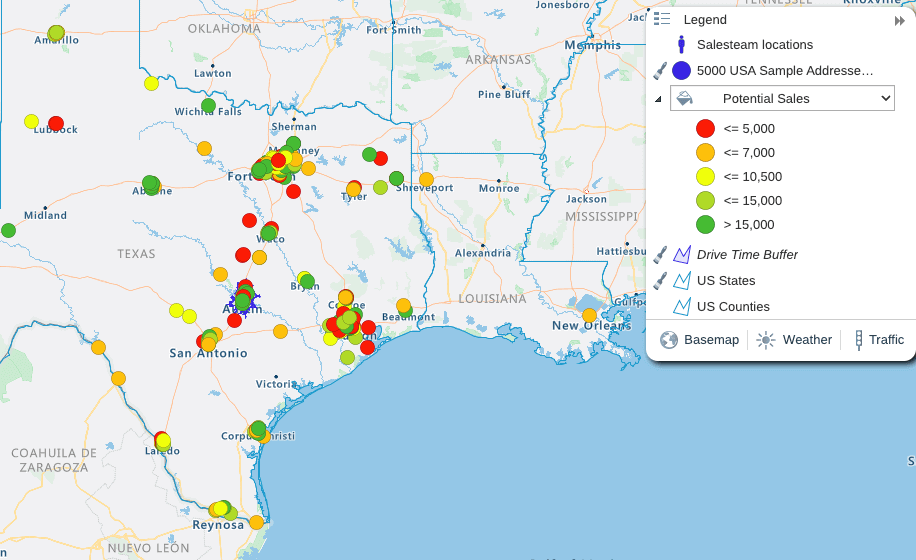 You can also overlay demographic and geographic data to analyze sales statistics and identify key insights regarding your market. Each sales team member can create reports, assess their territories and measure their performance against sales quota targets. These reports can then be easily shared with colleagues and managers.
3. Identify hidden insights with data visualization
Data visualization enables you to quickly optimize and visualize the data from your CRM and spreadsheets. By creating an interactive map, you can discover the insights hidden in your spreadsheets, like over or under-served territories. Seeing a territory in a variety of ways allows you to understand both the bigger picture and granular detail. For example, you can zoom in to see greater detail and filter your data based on characteristics like customer type or assigned sales rep. This will help you pin down external or internal factors that might be influencing the performance of your sales team.
4. Delegate work through hierarchies
Territory hierarchies allow managers to collaborate and delegate more effectively. Each member of your team, from sales reps to regional managers, can quickly see and manage their territories. For example, the hierarchy will show the areas each person is responsible for within the organization and, at the top level, you may see that there are two national VPs of sales: one handling the east coast and the other the west. Moving down a level, you can see all the regional managers and the smaller areas they cover. Finally, on a third level, you can dig into the individual salesperson in each region.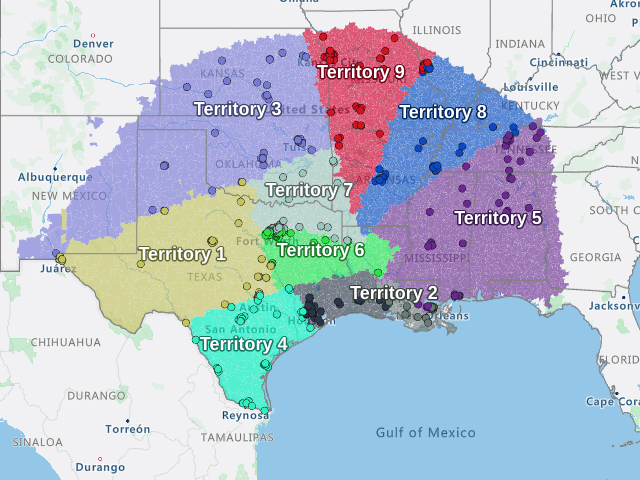 5. Increase collaboration & sharing within your team
For remote sales teams, seamless collaboration is important for coordinating efforts between each sales rep and most efficiently covering your existing clients and prospective customers. Cloud-based solutions allow every team (and the sales manager charged with overseeing it) to instantly collaborate and devise a robust sales territory plan from any location. For example, members of a nationwide sales team can add their own data, regarding sales or leads, on a daily basis. This helps the team maintain complete, up-to-date and balanced territories.
6. Save time with an easy to use sales territory management solution
Territory mapping software for sales professionals should be designed with ease of use in mind. It should be accessible from any computer or mobile device at all times, and all you ought to need is an up-to-date browser to turn your business data into a map in minutes.
---
---