Sales territory mapping software is an essential tool in the kit of any modern field sales team. Reps and managers can no longer rely on paper maps and spreadsheets to make decisions. They must use the latest location intelligence technology to stay competitive in today's fast-paced environment. But what exactly is sales mapping software, and how can it benefit territory management?
Let's take a closer look at this mapping tool and how you can use it to unlock hidden insights, sales opportunities, productivity, and more.
What is sales mapping software?
Sales mapping software is a powerful solution that transforms real-time, historic, location, and customer data into interactive maps. Using spreadsheet data from Excel, CRM or ERP systems, it creates detailed visualizations that allow sales managers and reps to unlock valuable insights that would otherwise be hidden in lines of tabular data. This makes it easy to:
Track sales performance
Identify new opportunities
Improve decision-making
Create balanced territories
Instead of poring over spreadsheets and manually entering addresses into a Google map or another consumer-grade navigation app, sales territory mapping software does the work for you.
It starts by connecting your customer and sales data with your mapping software. It automatically generates a field sales territory map illustrating each prospect, customer, and sales route, along with territory boundaries and assignments for specific sales reps.
Depending on your specific solution, you can use advanced styling and analysis options — like heat maps, customer segment prioritization, and demographic data overlays — to enhance insight and optimize your sales strategy.
Territory management works hand-in-hand with mapping software to help boost sales productivity and effectiveness. With a territory mapping solution, organizations can monitor and evaluate the performance of different territories and identify new opportunities. This enables each sales leader to optimize resource and workload distribution across reps by refining their territory assignments and boundaries.
When organizations use sales mapping software for territory management, they ensure each sales representative has equitable opportunities without being overloaded. Moreover, prioritizing high-value areas and customers enables teams to maintain critical client relationships while maximizing profitable selling time and meeting sales targets.
Territory alignment and balancing
In addition to overall management, mapping software provides a powerful solution for continuous territory planning. Factoring in data such as sales potential, travel time, rep workload, customer volume, opportunities, leads and the size of an area, businesses can create strategically balanced territories that target high-priority customers while keeping sales rep quotas in mind.
The above image shows a territory alignment scenario (before v after), enabling faster decisions on territory design and balances.
Quick explanations
Sales potential – a calculation of your addressable market or market potential. For example, your current wallet share in a sales territory is 10%, but you assess its potential value at 20% share.
Rep workload – a calculation of the effort needed (usually in calls or hours) to cover a territory's customers effectively and efficiently.
Territory mapping software makes it easy to adjust, align and optimize your territory boundaries as your business grows and changes. Some solutions even offer comparison and analysis tools to understand the impacts of potential territory assignments.
Route optimization is the final piece of the sales mapping puzzle. Effective route planning allows each sales rep to cruise through their territory efficiently, maximizing time with each priority customer or prospect. But a rep's daily schedule rarely goes exactly as planned.
Route optimization is a powerful feature of mapping software that enables your reps to re-optimize their sales route while on the move. If they need to stay longer at one appointment or another client cancels at the last minute, they can update their schedule, and the software automatically adjusts to the next most efficient route for any new client visits.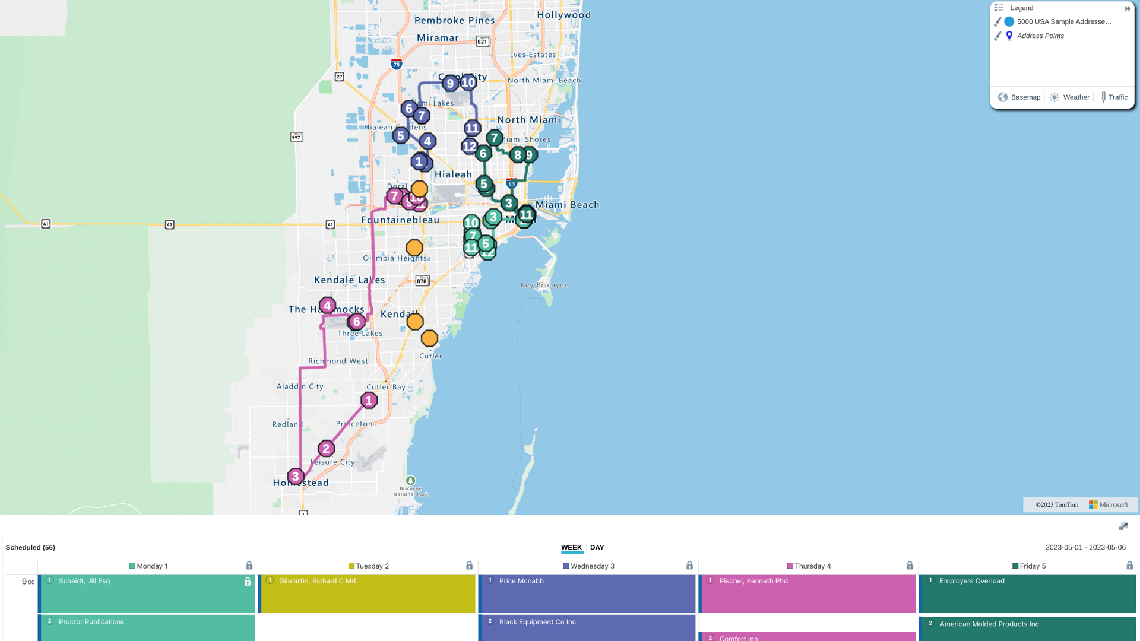 Elevate your territory, map, and route design with eSpatial
There's a lot that territory mapping software should cover between field sales mapping, territory planning, and on-the-go route optimization. While solutions like Salesforce Maps get the job done, they aren't the most user-friendly tools, and advanced features are often too complicated to use effectively. Fortunately, eSpatial combines the power of these three key capabilities on a single mapping platform.
Unlock vibrant visualizations and in-depth insight into complex data with eSpatial's enterprise-level mapping, territory, and route optimization solution.
Sign up for a free 7-day trial

Link that points to /?modal=signup
Top 10 benefits of eSpatial's sales mapping software
Not all sales mapping software is built the same. eSpatial is the perfect solution for sales, service operations, marketing, and logistic teams looking to optimize their territories and sales strategy.
A robust data visualization and styling tool suite allows you to uncover hidden trends and actionable insights that boost your team's productivity. With account prioritization and ZIP-code-level location intelligence, you can design optimized territories that deliver the most value to your business and customers. At the same time, sales reps can benefit from on-the-go route optimization to minimize travel time, maximize customer interactions and visit more stops each day.
With sales mapping software from eSpatial, your sales team can unlock its full potential and gain a distinct competitive advantage. Here are the top 10 key benefits of using eSpatial:
1. Seamless software integrations
eSpatial seamlessly integrates with your existing software and data systems. Automate data uploads from your CRM, ERP, or other data warehouse — or export what you need as a CSV file. If you can't find the datasets you need, we also offer support setting up a configurable REST API.
In addition, you can also use eSpatial as a native integration with Salesforce via the AppExchange. Import data directly from your Salesforce CRM to instantly generate maps highlighting leads, contacts, accounts, opportunities, reports, custom objects, and more.
2. Centralized access on a single platform
With comprehensive integrations, eSpatial connects your sales team's disparate data sources on a single platform. This unified view of customer and sales data streamlines territory management while providing granular detail and actionable insights into productivity, opportunities, rep performance, and more through advanced visualizations.
3. High-value account prioritization
Using your historical customer and sales data, eSpatial's intelligent recommendation engine can identify your list's highest-value customers and prospects. It allows you to set priority scheduling based on specific preferences and attributes, such as those with the highest potential for returns, the highest commercial risk, or those most likely to close soonest. Over time, account prioritization can help you optimize sales rep distribution and maximize profitability.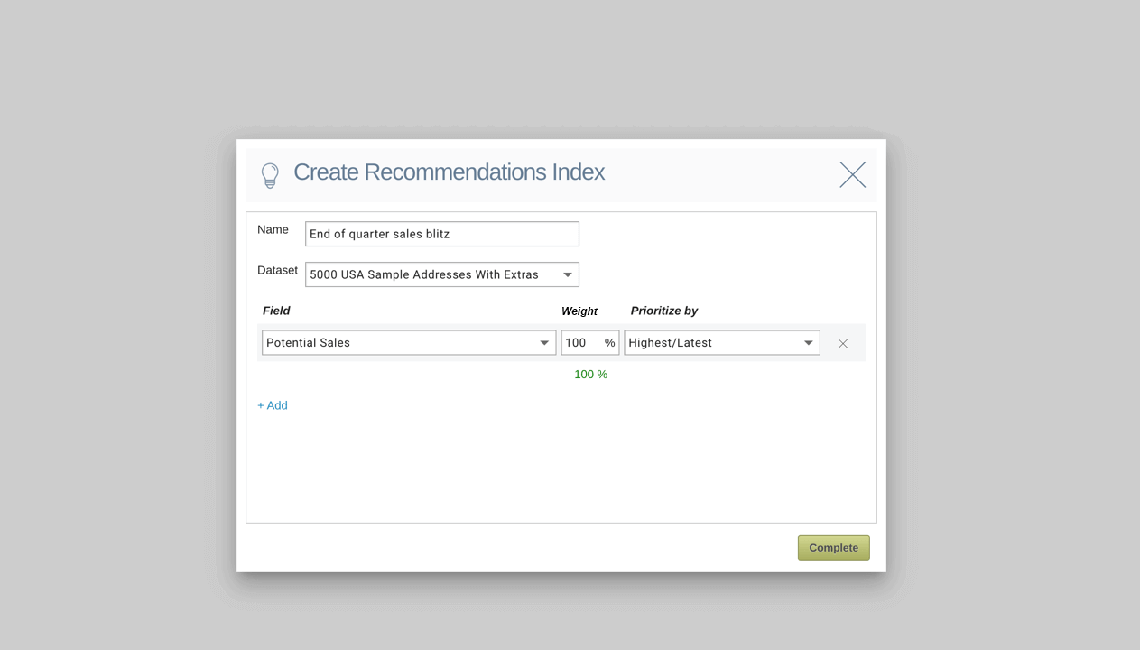 4. Territory alignment and balancing
Aligning, balancing, and optimizing sales territories using eSpatial can help you unlock up to 12% more revenue and maintain sales rep satisfaction. You'll be able to design territory boundaries that capture the most value and potential while ensuring everyone in your sales team has equal opportunity and workloads with weighted balances.
5. Streamlined territory design and map generation
Whether realigning old territories or planning and designing new ones, eSpatial allows you to do it in just minutes — saving administration time by 50%. For German service provider Engel & Volker, it was 32 times faster than their previous processes, which took around six full business days. Meanwhile, their sales representatives have doubled the number of customers they visit weekly.
6. Advanced styling features for customized maps
eSpatial's data styling features help you visualize what's most important to your business in extraordinary detail. Change each data point's color, size, and label to create pin maps, heat maps, bubble maps and radius maps — all from a single control panel. You can even upload custom logos or images and combine several map styles to view multiple metrics simultaneously.
7. In-depth visualizations unlock insights
As a data and field sales mapping tool, eSpatial provides a wealth of insight with each intuitive, easy-to-use interactive map. Drill down into ZIP code-level comparison analysis with granular boundary datasets. Create color-coded heat maps to pinpoint areas of high value or new opportunities. You can also upload your demographic information to overlay crucial context. All these visualization tools can help you identify under-served customer groups and prioritize high-value stops to maximize sales productivity.
8. Detailed analysis and reporting
You can turn location data into interactive maps, and eSpatial also has advanced analysis and reporting tools to unlock hidden insights. Use real-time and historical data on territories, sales performance, and more to make data-driven decisions that empower your business and sales team. Track performance over time and use the data to improve your sales strategy and hit your targets.
9. Optimized field sales routes
While your sales reps are on the road, eSpatial's route optimization allows them to minimize travel time, fuel costs, and other vehicle expenses while maximizing client face time. On top of improved customer satisfaction, route optimization can also increase sales productivity by allowing reps to visit more stops each week. When an appointment falls through or lasts longer than expected, it's easy to use eSpatial's mobile app to re-optimize the day's schedule and find a new optimal route.
10. Expert customer service
In addition to all of these built-in features, eSpatial also comes with comprehensive support from our geographic information system (GIS) experts. They'll be able to assist you with the implementation and setup, onboarding process and any of your mapping or data integration questions. Get the support you need throughout your entire journey as an eSpatial user.