Sales territory mapping is a critical part of running any field sales team. A sales territory map clearly lays out your resources and targets so you can prioritize and create a plan to reach your goals. Put another way, trying to run a field sales team without a sales territory map is like playing chess without seeing the board or pieces.
Imagine all you had were the chess piece locations in a spreadsheet. Trying to decide your next strategic move would leave you exhausted and frustrated. You'd be trying to visualize it all in your head. Trying to remember where everything is and plan at the same time would be too stressful.
When you see your board in front of you, you can instantly gain insights into lay of the land. Now you can put all your effort into coming up with a winning strategy.
When done well, sales mapping helps increase sales, lower costs and improve employee morale. However, creating balanced territories requires more than blocking out areas on a map. That's where territory mapping programs come in.
In this guide, we'll show you what it's all about, how to build a sales territory map and strategies for getting the most out of sales mapping.
What is sales territory mapping?
A sales territory is a group of customers that's managed by an individual salesperson. Laying these areas out on a map, usually geographically, is called sales territory mapping. This is a great start, but there are several factors you should take into consideration to ensure you're creating fair and balanced territories.
Territories aren't something you can set and forget. Your market will continually change, whether it's new competition, winning big new accounts or a shift in demographics. How quickly these things happen will depend on your industry, so it will take some time to pinpoint how often you should be reviewing your sales territory map. Carrying out these regular reviews and adjusting your territories for maximum efficiency is called sales territory management.
In the past, many regional sales managers would have gotten out a map and drawn lines to segment out territories. Thankfully, territory mapping software has made this process simpler and allowed managers to consider valuable data when making their decisions.
As organizations advance in their territory maps, many start to consider the value of accounts and historical revenue in each area. We'll take a look at these options, as well as other things you should consider in your planning.
Who needs sales territory mapping
If you have a team working in the field, you probably need territory mapping. When your company depends on a field sales team, having properly designed and maintained territories can help you make more money, lower costs and improve employee morale.
You should start mapping sales territories if you:
Rely on relationship building to sell your product
Want better visibility over sales performance
Regularly meet with existing clients face to face
Struggle to balance workload among field sales reps
Have salespeople accidentally calling on the same prospects
Always end up with one person topping the sales leader board
If any of the above sound like your business, you could greatly benefit from efficient sales mapping.
How to manage a sales territory
Resolving field sales team management issues and bringing effective territory mapping to your sales process can be easier said than done — especially without the right solution in place.
There are a few elements that must be incorporated into any territory mapping strategy, including:
A clear view of geographic coverage
Managers and salespeople alike need transparent and in-depth visibility into the geographic areas they cover. Having a sales mapping solution that can clearly display each salesperson's territory eliminates any overlaps and duplicate work, and ensures that you and your team are all on the same page.
Account locations and leads
Besides your sales team's geographic coverage, sales territory management also extends to your existing high-value accounts, as well as your most promising leads. The best solutions will be able to combine account locations with detailed demographic info about your target audience, transforming raw data into an interactive territory map.
Divide, prioritize and conquer
One of the greatest advantages of having a highly visual sales territory map is the ability to easily and efficiently split the workload and allocate your sales resources where they're most needed. Mapping your sales territories means decision-makers have access to the insights they need as quickly as possible. Sales team members can hit the ground running with current accounts and leading sales prospects.
How territory maps drive higher sales
Common pain points can considerably cut into your sales. Particularly issues like balancing workloads and calls to the same prospects from different salespeople. What's more, when the same salesperson continually tops the leaderboard, it can create a lack of motivation with your other sales team members. The bottom line is that you can do better — for your sales team, for your customers, and especially for your revenue.
Decision-makers with access to detailed and thought-out sales maps can quickly and easily prioritize sales team resources, and get salespeople out to customers and prospects more efficiently than ever before. And when duplicate calls and overlapping sales work is eliminated from the equation, your sales team can become a seamlessly productive, and highly motivated machine.
But the ability to quickly and effectively prioritize and allocate resources isn't the only way territory maps can boost your sales performance:
Evenly balance territories among salespeople: Ensure even workloads and assign your top salespeople to the territories that need the most attention.
Review and realign your accounts: Some client accounts simply need a bit of shaking up in the form of a newly assigned salesperson. Many managers struggle to assign the best salesperson to particularly challenging accounts. But with visual territory mapping and in-depth account data, you can streamline these decisions, and back them up with actionable insights.
Double-check decisions with data: Speaking of data-backed decision-making, territory maps also give sales team managers the ability to engage in what-if analysis scenarios. In this way, sales managers can ensure that their account realignment shakes out just the way they planned.
Continually reoptimize: Any sales territory management strategy should include regular reviews that create opportunities for reoptimization. Decision-makers can use these reviews to ensure customer satisfaction, better balance workloads among salespeople, and boost sales across the board.
The benefits of sales territory mapping
Sales territory mapping is a way of making your data work for you. By visually analyzing the information, you're better able to make decisions about how to effectively run your business. In fact, managers using visual data discovery tools are 28% more likely to be able to find the information they need to make informed decisions.
For example, mapping software allows you to visualize the geographical area so that you can ensure territories are a manageable size for a salesperson to cover. But filters also allow you to check the value of the accounts and pipeline in each area so all salespeople have enough opportunity to be successful. This analysis can help your business in a number of ways.
Ready to start territory mapping?
1. Increase sales
If a salesperson's territory has too many leads, some potential customers can slip through the cracks, leading to lost sales. But when sales territories are properly balanced, salespeople are able to meet with all their promising leads and close more opportunities.
Since the maps are shared with your team, you can also make live adjustments if a sales rep needs additional support or is off sick. The field sales team will immediately be able to see the adjustments and start picking up those leads.
2. Reduce costs
When a territory covers too much ground, salespeople are forced to spend more time driving and less time meeting with leads. By adjusting for driving distance, you can bring down mileage costs and ensure your sales team is working effectively.
Mapping your customers and territories also allows you to optimize your workforce, ensuring you have the ideal number of field sales reps to cover your customers.
3. Improve morale
A poorly balanced territory — whether it's too big or too small — can have a significant impact on morale. Too large and salespeople feel overworked and overwhelmed. Too small and they don't have enough opportunity to be successful. This can also lead to conflict among the team if there's an appearance of unfairness. By taking into account the size, number of customers and the amount of opportunity in the pipeline, you can increase employee satisfaction, lower turnover and as a result reduce costs.
4. Optimize daily tasks
eSpatial offers intelligent route mapping, which allows your salespeople to find the most efficient route to visit all of the day's appointments. As a result, they make the most of their time in the field and use less fuel. If an appointment cancels, the mobile app lets them see other clients and leads that are nearby, so they can still make good use of that time.You can also connect eSpatial directly to your customer relationship manager (CRM), like Salesforce, to always have the most up to date information. In addition, the mobile app allows your team to update CRM records on the go.
5. Measure & report performance
Having territories mapped makes it easy to see and compare sales. You can quickly compare who has closed the most accounts, where the highest value clients are and much more. This can help with calculating bonuses, as well as maintaining transparency and accountability with your sales team.
eSpatial maps can also be shared with team members or be exported for use in presentations.
6. Make data-driven decisions
By adding other datasets to your sales territory maps, you can start to gain more insight and make data-driven decisions. For example, mapping the demographics in each territory and comparing it to your target customer can help shed light on why some areas have stronger performance than others. If you're selling home care services, then an area with a lot of retirees is likely to perform better than a university town.
Sales territory mapping use cases
1. Evaluate your existing account value
We recommend including the value of your existing accounts when you're mapping client locations. This metric will help you judge whether one person has been assigned a skewed number of high value accounts.
To help you create those fair territories, eSpatial has a built-in balancing feature. This allows you to immediately see the total value of each region and easily adjust.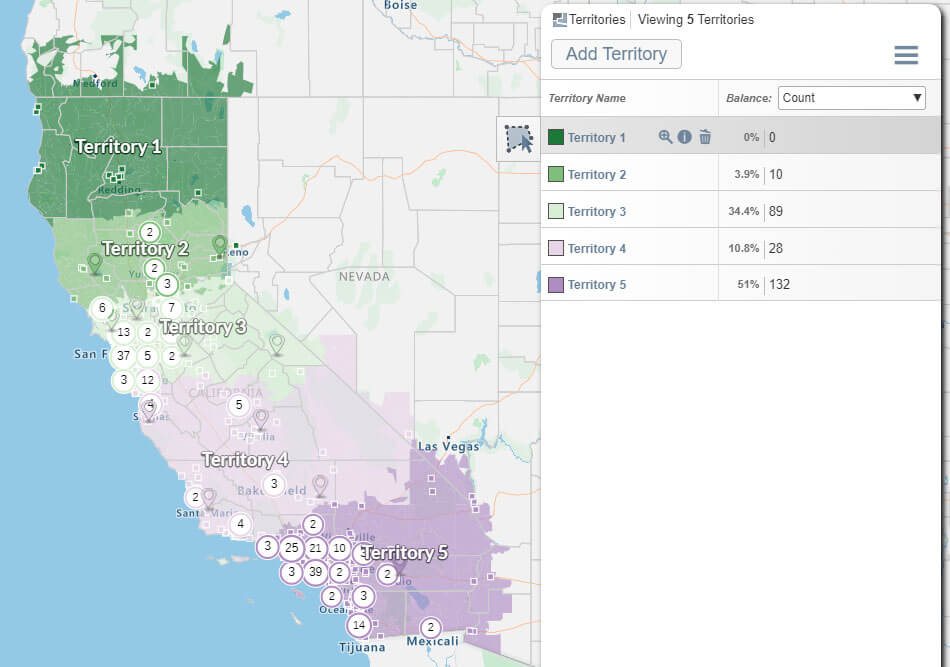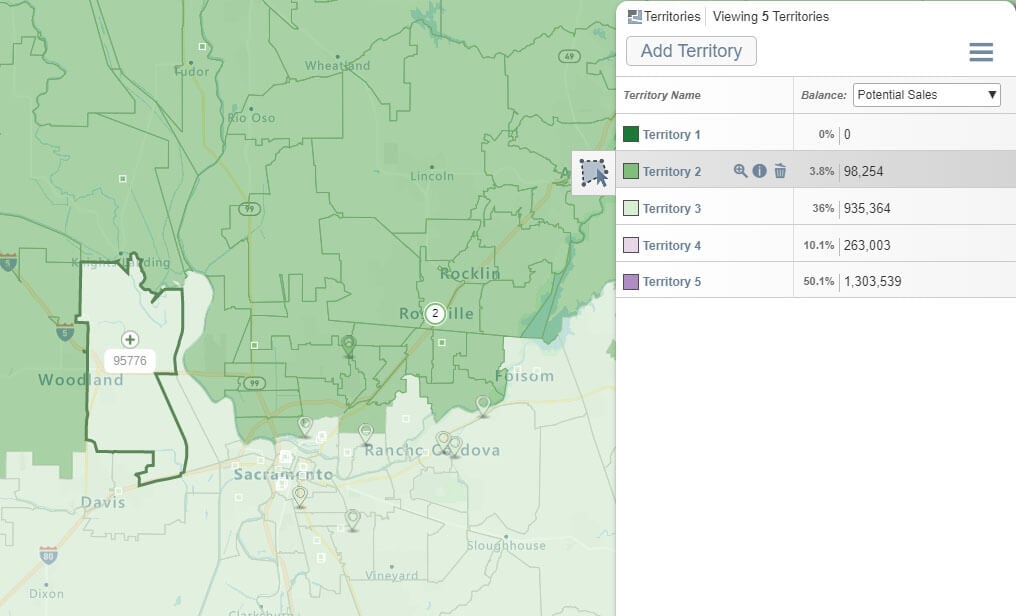 2. Uncover pipeline value
Most companies with an outside sales business maintain a pipeline, whether it's in a spreadsheet or on a CRM. When mapping your territories, it's useful to look beyond the clients you've already won. In addition, consider the potential value of accounts in your pipeline.
Some companies use inside prospecting and appointment setting to supplement their outside sales team. In this case, pipeline value should be a significant balancing factor when creating your territories. If you're looking at reorganizing territories for a field sales team that does its own prospecting, this is still an important metric. By balancing pipeline value, you ensure that your sales reps start out on strong footing in their new territories and have ample opportunity to win new business.
3. Reviewing your supply infrastructure
In many industries, being able to provide your product or service quickly can make or break a sale. As a result, your supply chain infrastructure can play a part the success of your sales reps.
For example, Rep A's territory is within a 60-minute drive of your supply center. Rep B's territory is more than 120 minutes from the nearest supply center. If Rep A is consistently closing sales at a higher rate, access to the product may be a factor.
You can use distance and drive time buffers from your supply or service centers to judge how close they are to each territory. It's not always possible to even this out between territories. However, if you know that one area is further and will have a more difficult time closing sales, you can compensate by including more opportunities in that territory.
Having this information can also be helpful when you're thinking about adding more distribution points to your network. When you've mapped your territories and supply centers, you can easily see which territories are under serviced.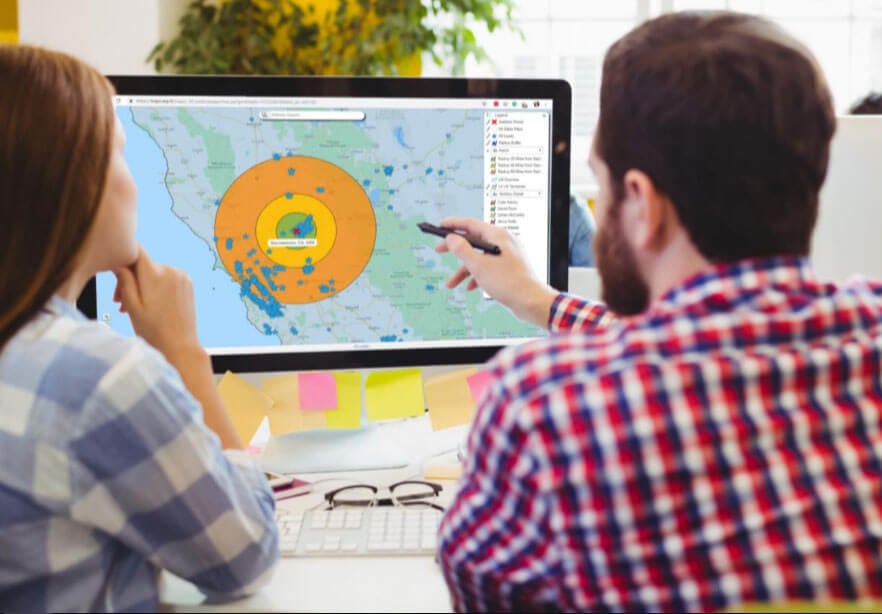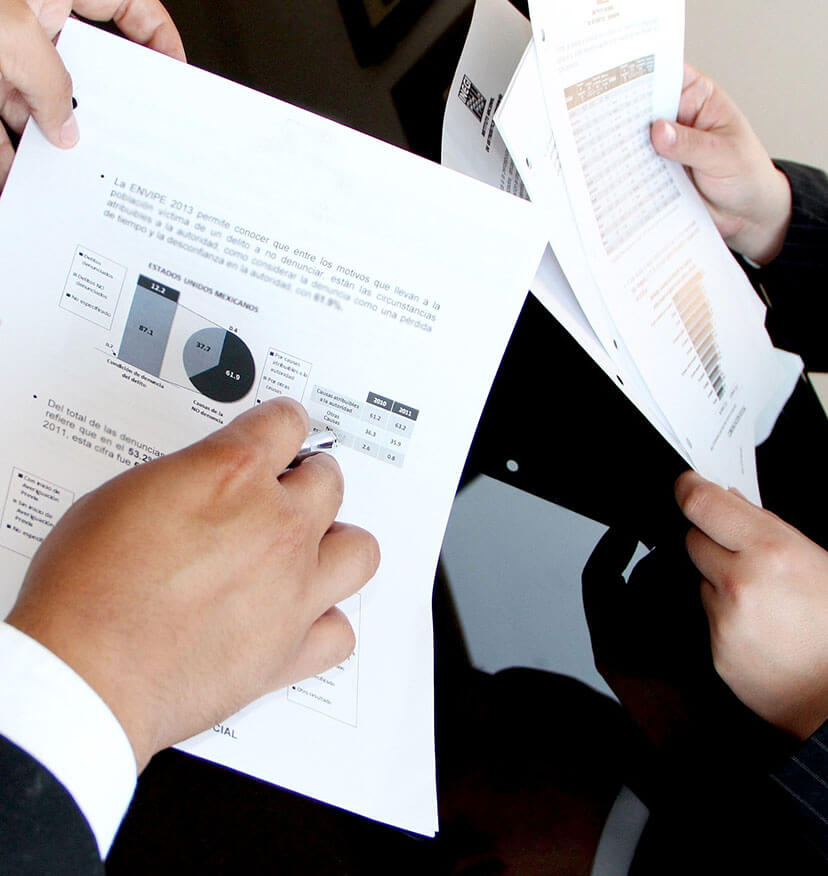 4.

Increase your marketing activities insights

You've already considered how many customers you have in each sales territory and the value of the pipeline, but what about how these metrics are likely to change? While you can't fully predict the market, you can look closely at the factors you control, like marketing.

Take a look at your company's marketing plan, with special attention paid to things that can have a local impact. For example, does your marketing team plan to invest in billboards, mailers or local tv and radio? Which territories will this affect, and can you balance out this advantage?

The information can also run the other direction and help to inform your marketing activities. Once you've mapped out your territories, you'll be able to gain more insights about each market. If the sales rep in one territory is already booked solid and unable to increase their workload, then increasing your marketing spend in that area may not lead to more sales. The same goes for areas where there are gaps in your sales coverage. On the other hand, if there are areas where the sales rep has capacity to take on more leads, increasing your marketing there could be beneficial.
5. Easily see competitor density
Knowing where your competitors are located can help you better understand patterns in your sales and make strategic decisions. By adding this layer of data to your sales maps, you can strategically plan your territories, marketing and even future expansion of your business.
There are multiple strategies for using this information to balance your territories. Some companies choose to have one territory set up to cover a competitive zone, while others may try to portion it out so that no one sales rep faces too much pressure. In either scenario, it's important to align workload and backup resources to the competitive reality. A sales rep in a particularly competitive area may require more support to reach the same level of success as those in other locations.
6. Understand your customer demographics
How well do you understand your customer? If you know who your average customer is, you can use this information to gain insights about which areas are likely to perform well.
For example, if you're selling home care for seniors, age demographics should be considered when mapping sales territories. A sales rep covering a town with a lot of retirees has a much higher chance of success than one covering an area with younger demographics. This disparity can lead to conflict, low morale and higher turnover. And, by mapping demographics and competitors, you can identify under-served areas of potential where you can create new territories.
How do I start mapping sales territories?
1. Evaluate your needs
The needs of your business will vary depending on its size, industry and business model. If you have field sales or service teams, regional managers overseeing multiple physical locations or a network of franchisees, you'd likely benefit from territories.
To understand where you're starting from, you should look at how these systems are currently managed. Are there clear territories or will you be starting from scratch? If there are existing territories, how are they recorded and communicated? Is this system clear, efficient and easy?
You should also consider how many people will need to work on your territories and whether there are other functions that a sales territory map program can help with. For example, eSpatial has a variety of tools outside of territory management. These can help you analyze your data, maximize your resources and much more.
2. Choose a tool that suits you
Whether you're creating territories for the first time or looking for a better system, you'll need to choose a territory management tool. In the past, many companies laid out territories using maps and markers. Modern methods make the process much easier, assist with reporting, allow you to share the details with your team, and allow for regular updating.
Smaller companies often start by planning territories with a simple column in a spreadsheet. This can do the trick in the very early stages, but quickly becomes difficult to manage. Having thousands of lines of data in a spreadsheet also makes it difficult to discover any insights about performance. Visualizing your data makes it easier to understand for team members, reporting and identifying trends.
Professional mapping software allows you to easily visualize your territories. This makes it easy to understand the mountains of information contained in your spreadsheet and helps clarify each team member's responsibilities. Above all, easy territory creation and management is key, otherwise your new solution may not be used to the fullest.
3. Gather your data
While you can start by laying out territories based on geography alone, you'll benefit most if add your data to the mix. This can include customer locations and value, lead location and potential sales size, your business or employee locations and more. If you're using a CRM, much of this data may be available there. With this information, you can ensure the territories you create are manageable with the resources available and provide fair opportunity.
In some cases, there may be data that would be useful in your territory building that you don't currently have. To keep things moving forward, it can be helpful to build your initial territories and implement new policies for recording this information. In six months to a year, you'll be able to review your territories with this richer information and follow territory management best practices.
4. Start building your territories
Once you have your data and chosen tool, it's time to build a sales territory map. If you've decided to use mapping for your territory creation, check out our guides on how to get started here:
Take your sales territory mapping to the next level
When they first start creating sales territories, most managers will look at geography. They may visualize where accounts are and loosely group them together for one salesperson to handle. This is a good start, but it can be difficult to tell where the edges of each territory should be. In this case, it's useful to use a mapping software that offers a radius function. eSpatial lets you create radius buffers based on distance or drive time. This makes it easier to tell where the edges of each territory should be.
Geography is a great place to start, but there are so many more factors you can consider when optimizing your territories. We'll look at a few things to consider during the sales territory mapping process.
Of course, all businesses are a little different, so the data you use to map your sales territories may vary. But when you consider the right metrics with the aim of creating fair and manageable territories, you'll find it easier to introduce changes. If you use map sharing to implement these changes transparently, then you should see fewer discussions and disputes.
How data enhances your sales territory maps
A variety of boundaries to create territories
When you start creating your sales territory map, you should think about the level of detail you need. eSpatial includes a variety of boundary options, including US state, county and ZIP codes, postal codes in the UK, Canada and Australia, and much more. This gives you the flexibility to drill down and divide up territories even at the local level.
Visit our dataset library to learn more about the boundary data available free with eSpatial.
Add context to sales territory maps with demographic data
Creating a sales territory map is more than just drawing lines. The more information you have, the better you can optimize your territories for performance and efficiency. Including demographic information in your territory process can add context to your own business data, giving you more insight into why some territories perform while others struggle.
For example, if you know that your typical customer has a household income of more than $100,000, you can add these demographics over your territories to see whether certain territories are likely to have more opportunity than others.
Based on the above maps, you can see that Territory 2 and Territory 7 have good demographics that will match well with your target market. If areas like Territory 4 have struggled to generate business, you may want to look more closely at whether there is enough potential business in the area due to the lower median household income.
Why choose eSpatial as your sales territory mapping software?
eSpatial is a professional sales territory mapping software that can help you with territory planning, balancing, re-organization and more. Once you've created your territories, sales reps can use eSpatial as a field sales planner with filtering and route optimization, helping them to organize their day and make the most of their time. If you need to analyze your markets, report on sales performance and more, eSpatial can help there as well, with a variety of advanced analysis tools like heat maps, radius buffers, drive-time and more.
Along with the power of professional software, you also receive world-class support from our mapping experts. They'll walk you through on-boarding and training and are available to answer questions any time you need assistance.
Creating new sales territory maps can be done in just minutes. In fact, Engel & Voelkers, a real estate services company, was able to make the process of defining new territories 32 times faster. What previously took six business days now takes only 90 minutes. By taking advantage of other eSpatial features, like field planning and route mapping, their sales reps were also able to double the number of customers they see in a week.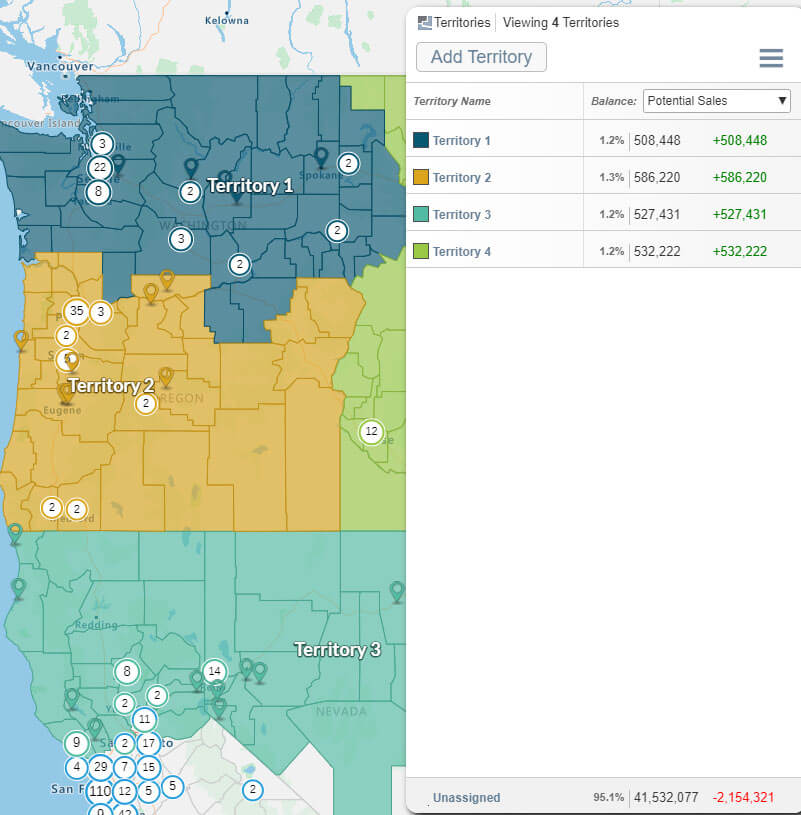 eSpatial is a bulletproof program. Without it we would only be half as effective as we are in opening new markets and finding areas of opportunity/weakness for our clients. And the customer support is off the hook. Their people should be teaching every other company in the world what support and customer service mean. Seriously your team should start another company teaching organizations how to deliver support. I can't recommend eSpatial highly enough
Jay Montgomery
President

eSpatial is packed with professional features
eSpatial is a sales mapping software that provides a wealth of features to help you with your sales territory mapping. In turn, optimized sales territories can increase sales, reduce costs and more. They include:
Streamlined territory building: Quickly create sales territories either manually or from a pre-existing file.
Always up to date maps: Continuous data updating through integration with Salesforce CRMs or automatic data uploading.
Granular territory building and analysis: Dig into the details of your sales territory maps with eSpatial's third-party boundary and demographic statistics.
Create fair and efficient territories: Balance your territories based on criteria like population, number of accounts, pipeline value and more.
Keep territories at peak performance: Keep your territories current and performing their best with easy editing.
Communicate clearly with your team: Use customizable styling and labeling for easy to understand maps and territories.
Uncover new insights: Discover key insights about your business and market with a variety of analysis tools, including heat maps and radius maps.
Maximize sales performance: Choose the ideal prospects and clients to visit with advanced filtering.
Save time and work efficiently: Plan the most efficient route for field sales rep to maximize their time on the road.
Keep everyone on the same page: Save, print and share your territory maps so the whole team is working from the same information.