What are Heat Maps
Heat maps (also known as choropleth maps) use colors and shades to display levels of data occurrence per geographic region or per incidence of that data.
If you've ever seen regional population densities expressed on a map, it's likely you were looking at a heat map. High population is typically expressed by dark shades, while low population levels are expressed by graded shades of a lighter color. What colors or shades you use on heat maps depends on the data being expressed.
eSpatial allows you to create two different types of heat maps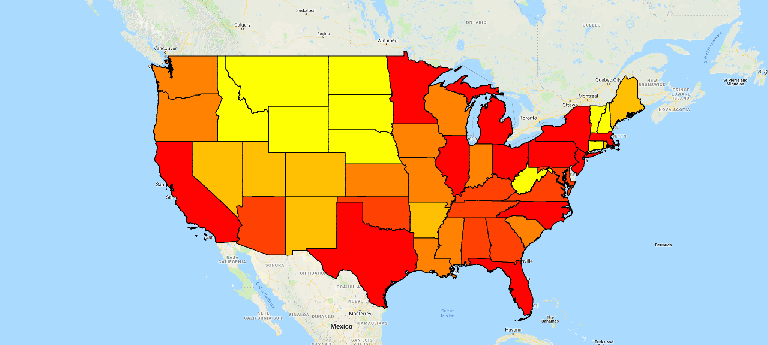 1.

Regional Heat Map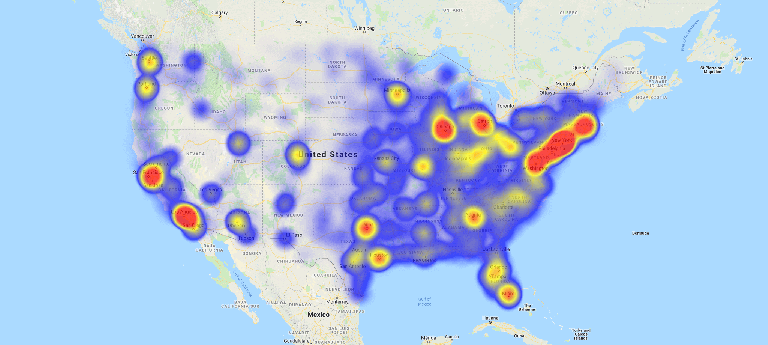 2.

Hot Spot Heat Map
What Heat Maps are used for
Get an overview of your market performance
Quickly identify high and low performing areas
Uncover trends in sales of individual products in specific locations
Identify clusters of customers
Highlight opportunities outside of current territories
Quickly spot areas for further investigation based on the density of sales
Do you have questions about Heat Maps?
Find the answers to your questions such as:
1.

How do I layer data on to heat maps?

A heat map is often used as a basemap on which you can then plot other data. Imagine you run a chain of care homes across the US. A practical map you could create using eSpatial would show percentage levels of retirees per state. You can then plot your own business data on the map – for example, the number of care homes you operate per state. This will allow you to – in an instant – spot opportunities for expansion.
2.

Heat map or color coded map?

It's possible to create a color-coded map using the eSpatial heat map tool manually, assigning specific colors to each region that appears on the map. However, an easier method is to link data to boundaries. You can do this when uploading data to eSpatial using the built in wizard. What's the difference between these types of map, you may wonder? A heat map is used for showing levels of similar data occurrence, while a color-coded map simply defines different variables in different regions (levels of occurrence are not expressed).
3.

What type of heat map should I use?

The type of heat map you use depends on what you are hoping to show. If you are wanting to look at your market and account density then a visual heat map is best. To look at performance of your team or by region then a regional heat map is best!
4.

Can I count the accounts within each of my sales reps territories?

A quick and simple way to get a count of accounts that fall within your rep's territory is to create a regional heatmap. Once created not only can you get a visual interpretation of this, but the data can be exported from the table, so you can realign your territories.