Are you deploying or re-deploying a sales, service, operations, or office-based team or trying to understand the best location for an office or service depot? The best place to start is with mapping software.
To map employee locations, you need reliable data – starting with their home and office addresses.
We recommend creating two spreadsheets:
Employee's home addresses
Office locations
Now, you can map employee locations easily; here's how.
If you need help, talk to a mapping expert or read our conquering mapping software guide.
How do I map my employees' work or home addresses?
First, gather your employees' current home address, then their work office or location (they may be the same). Using this information, creating your map is simple. We recommend a spreadsheet with the following fields.
Recommended fields for your file:
Employee name
Employee email address
Employee contact phone number
Employee department
Employee job title
Employee type (office, hybrid, remote) is optional
Home address, including street details and ZIP code
State

Step 1 - Create an employee location spreadsheet
Option 1 - Create two spreadsheets
Employee home address, with one line for each employee
Employee work location, with one line for each employee
Option 2 - Create one spreadsheet
Add a column showing if the location is work or home and upload.
Create your employee location map.
Now you can create a pin map like that shown below, demonstrating where your employees live (in purple) and work (in green).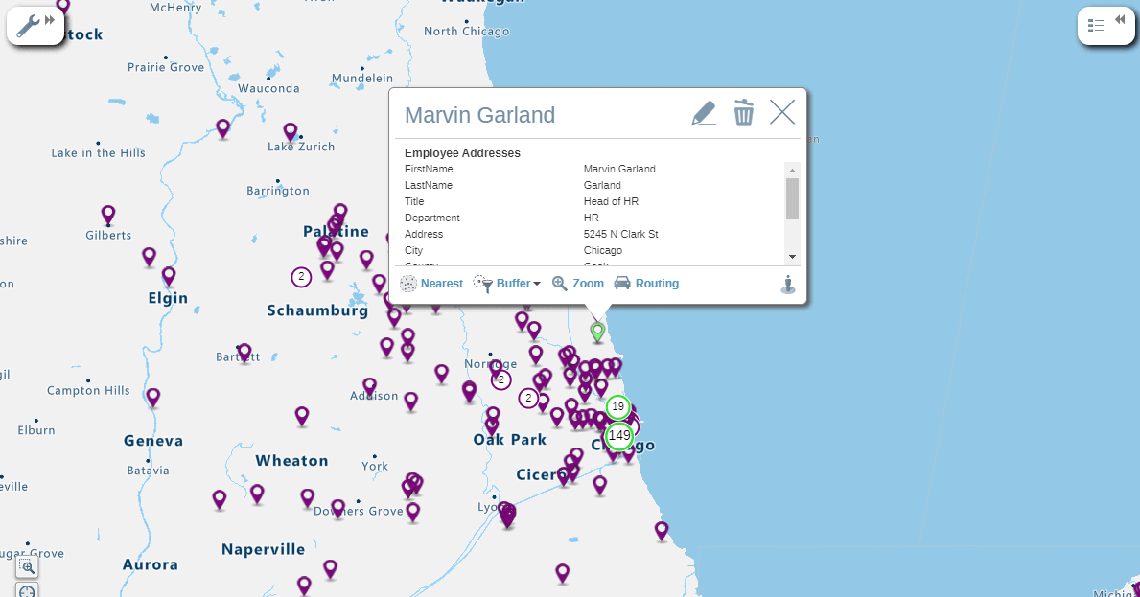 Map 1 – Employee locations, home, and work. Clicking on a point reveals more detail.
You can also create a heatmap of home and work locations, like the one below: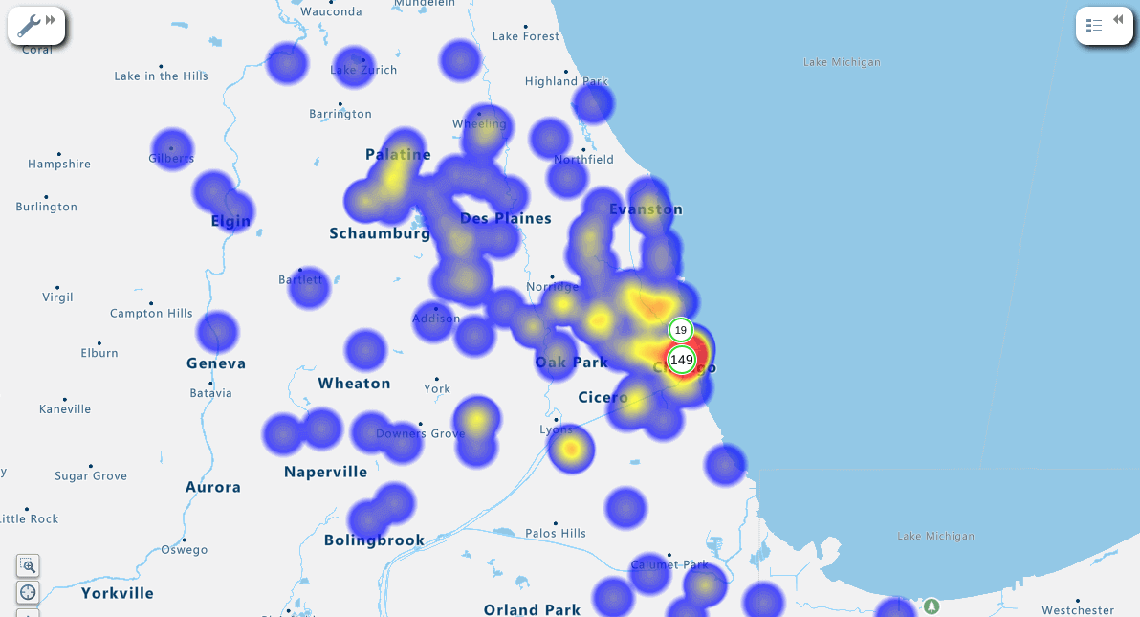 Map 2 – Heatmap of home locations. The red areas are hotspots (high concentrations of employees)
Step 2 – Use filtering to gain a deeper understanding of employee work maps
Enriching your maps and adding more employee details is straightforward and gives you a more precise location story. For example, you may be interested in visualizing where night shift staff live compared to those working on other shifts.
Just add another column to your spreadsheet identifying the shift type of an employee. You can use the filter table to further sort or hone your maps by filtering on any field in your sheet. Clicking a pin on the map uncovers all the details for that employee. You can also use filters to focus on a subgroup of employees to understand, for example, where your service teams are currently working. Read more about filtering.
In the map above, we applied a filter, honing in on one ZIP code in Milwaukee.
Real life scenario
You are a project manager on a large construction project requiring flexible employee numbers depending on the project phase. You may need a "buffer" of local contractors on call when you need them urgently.
Here is where a radius map of your employee or contractor locations excels. On the map below, you will see your project's location in red and your employees or contractors in blue.
You need people fast and decide that the best approach is to map contractors within 20 miles because they can get there within the hour.
Step 3 – Can I map where my employees are traveling to?
It can be essential to map your employee's travel locations and plans. Read on for simple travel plan mapping, but if you run a large sales, operations, or service team, you may need advanced route optimization software.
Most sales and service teams have weekly, monthly, or quarterly call plans you can access. Again, it's essential to treat this sensitive information cautiously. We recommend creating a spreadsheet with a line for every destination your employees call plan.
Recommended fields for your file:
Employee name
Employee email address
Employee contact phone number
Employee department
Employee job title
Travel destination, including street details and ZIP code
State
Travel reason
Travel start date
Travel return date
Step 4 – How to check if your employees are near a dangerous event?
You can review your map to see which employees are planning or traveling to a danger zone. For example, if there's a tornado in Kansas, you can see on a map which employees are supposed to be in the area and when.
Zoom into the target location and see who is there. By clicking on the pins, you can see the details you've added, which tell you when your employee plans to travel – simple!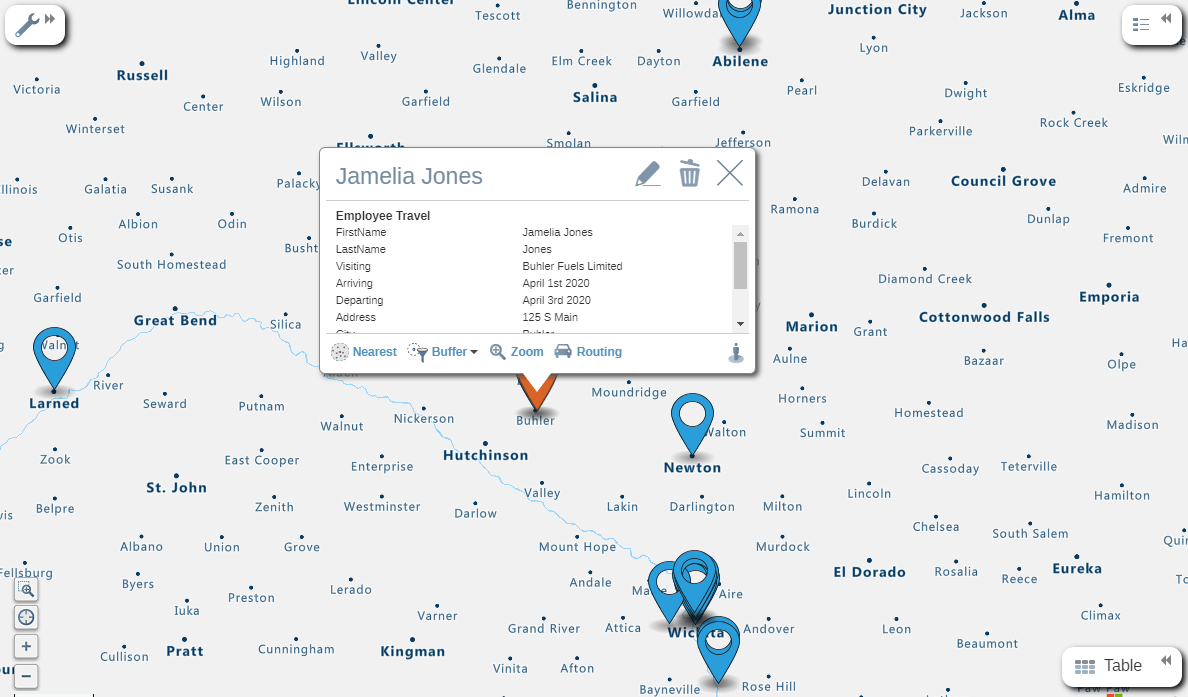 Map 3 – Zoom in on employee travel north of Wichita
Why don't you try building your employee map right now? It's free with eSpatial as part of your trial. You can also get help from our mapping experts by clicking on the chat icon in the bottom left corner of your screen.
---
---