Mapping software: A critical element in territory management
We talked briefly about mapping your territories, but how do sales operations actually do it? Fortunately, you don't need to be a cartographer in today's day and age; all you need is a good mapping software.
A modern mapping solution allows you to bring your data to life with more meaningful visualizations. Simply upload your existing geographic, customer and sales data from spreadsheets, CRM or ERP systems, and the software automatically generates a vibrant map with actionable insights.
This visual display enables seamless interaction with highly flexible features and filters to dig deeper into your data. The best mapping solutions offer annotation and communication capabilities to share maps and collaborate with leadership and other team members. With these visualization and collaboration tools, it's faster and easier to draw insights that drive better decision-making.
12 reasons why mapping software is essential for sales territory management
Increases profits and drives sales productivity
Quickly divide a target area into more manageable regions
Allocates and realigns territories to sales teams more effectively
Improves collaboration across the sales team
Cultivates better sales leads
Build your territories from predefined locations (zip codes, counties, states, provinces, and countries)
Creates territories straight from a spreadsheet
Overlay other geographic regions or points for reference
Balances your territories on multiple data sources
Creates Hierarchies to match your company's reporting structure
Produces vibrant maps for presentations and reporting
Optimizes your selling day with routing
Why is mapping software essential for territory management?
Data-driven decisions create well-balanced, more effective sales territories, but that doesn't mean you need to pore over spreadsheets to develop a successful strategy. Territory mapping software provides you with a bird's eye view of your different sales regions, uncovering previously hidden patterns and insights that you won't find in tabular datasets alone.
These automated mapping solutions offer numerous advantages to your business, including:
Boosting profits and productivity
Mapping your territories improves market coverage, allowing sales teams to increase efficiency and selling productivity.
Divide target areas to build detailed territory maps
Draw territory boundaries on an actual map based on predefined, priority locations and accounts (or points).
Optimize routes for maximum selling time
Route optimization tools allow sales reps to adjust schedules on the fly, reducing travel costs and increasing selling time.
Of course, seeing these benefits relies on your ability to effectively manage territories within your mapping software.
How to manage territories with mapping software
Before you begin mapping territories based on intuition, it's important to take a step back and look at your overarching business goals. Start by defining your objectives, whether it's revenue, sales volumes or another target. With these goals clearly outlined, you can better align your territories as you go.
When you're ready to start mapping, follow these steps:
Import customer and sales data from various datasets into your mapping software.
Set geographic boundaries at the state, county, ZIP code and account-level.
Visualize your customer stops, priority accounts and high-density areas on the map.
Organize and filter this data by specific attributes, such as sector or account type.
Analyze sales performance across these regions to uncover opportunities.
Leverage territory alignment and route optimization to maximize selling time and ROI.
Once you've completed these steps, keep an eye on the performance of your new territories and make adjustments along the way.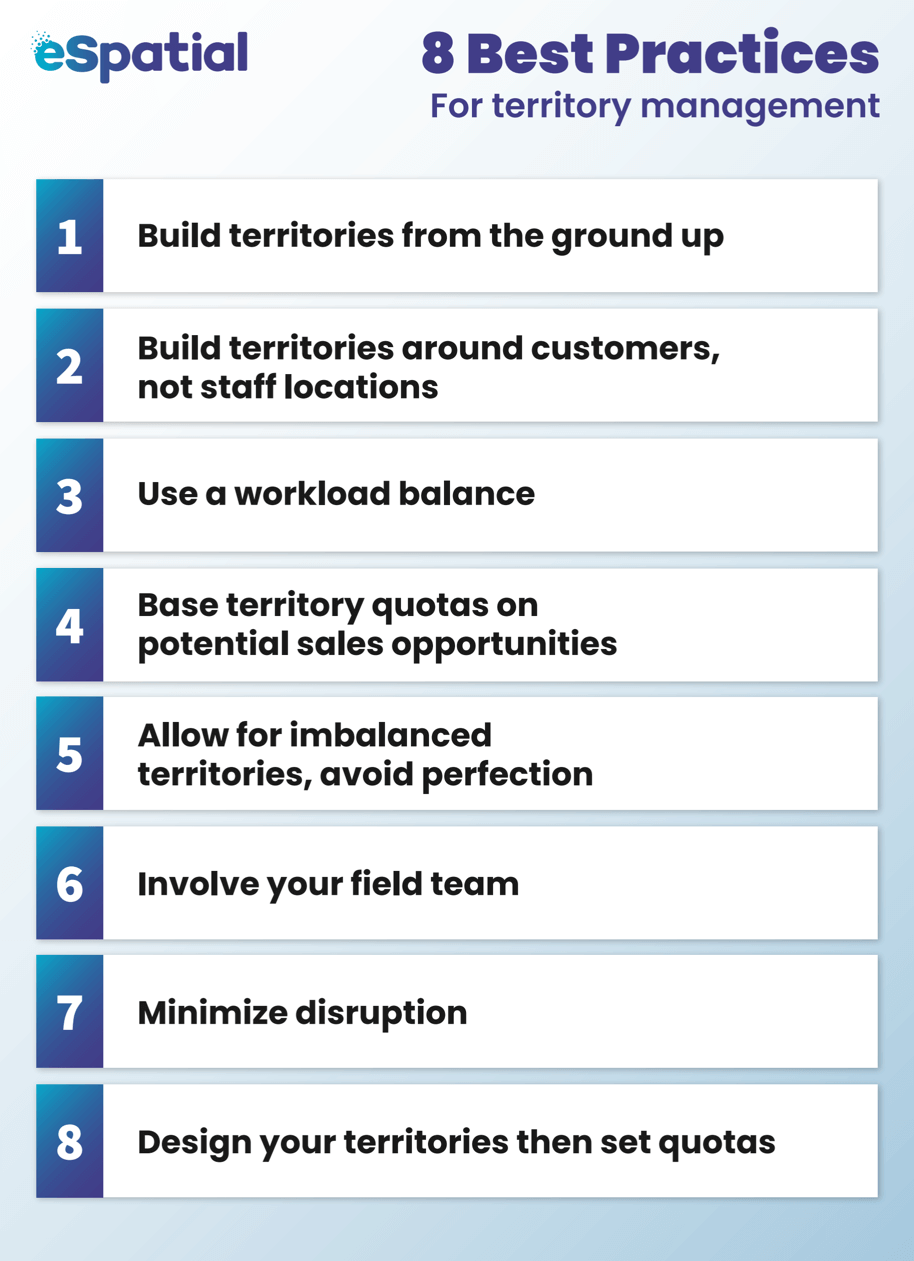 In the image above, we outline our customer's best practices for territory management. Reach out to one of our team to help you implement each.
3. Why do you need mapping software for territory management?
Current page