Making the right choice in territory mapping software
Whether you're new to the world of territory mapping or you're looking for a better solution, your starting point should always be to assess your business needs and expectations. Ask yourself what you're trying to achieve with your sales data and how you'd measure success.
When it comes to evaluating your options, you'll want to identify a few essential features, including:
Seamless integration with the rest of your digital ecosystem.
Custom territory creation and data filters for specific attributes.
Flexible territory alignment and balancing features.
Color-coded heat maps to highlight point densities and areas with high sales potential.
Collaborative scenario planning for new alignments or territories.
Advanced analytics and reporting tools that provide actionable insights.
Secure sharing features that improve communication and efficiency.
Integration with territory and route optimization software.
Use this as a checklist in your search, and you're sure to find the right solution for your sales team.
1. Do you require hierarchies?
Do you require various levels of visibility to match your sales organization structure? Assuming you do, you should choose a mapping software solution with hierarchal features. These features allow you to set up multiple hierarchal tiers for a territory map.
Look for the following capabilities:
Import and build sales hierarchy definitions
Assign a territory to a sales team member
Delegate responsibility for territories to a sales team member
Control visibility of assigned sales territories
2. Can it scale as your business grows?
Having a solution that can scale along with your business is vital. Your ideal vendor should be cloud-based as one of the most prominent cloud features, besides reliability, is its ability to scale. When working with sales data, which can be changeable, it needs to be able to grow and update along with your business. On-premise software is limited in its ability to increase capacity and requires time and effort to upgrade.
Cloud-based solutions provide the elasticity for businesses to scale up or down without buying expensive software licenses or installing programs.
3. Can you collaborate and share with your field team?
Territory management involves the collaboration of multiple users on a sales team. Allowing numerous users to access the same maps can enable time savings and real-time coordination.
When selecting a territory mapping software for your sales team, having the ability to collaborate and even delegate some of the work is crucial.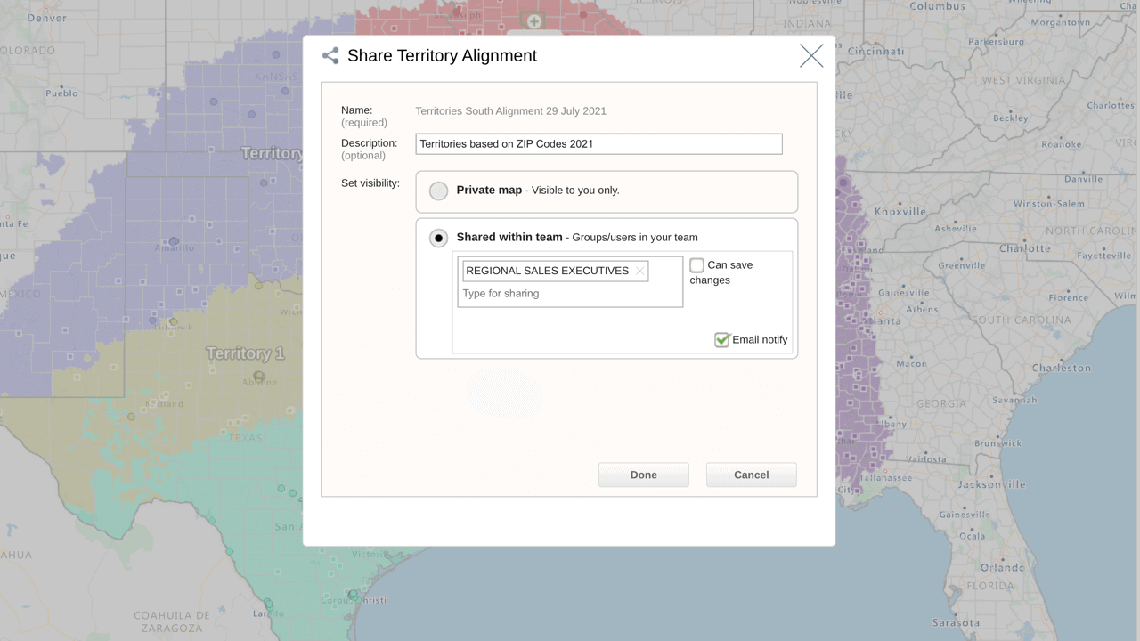 Look for the following capabilities:
Share live territory maps easily
Allocate permissions for maps
Securely share maps internally and externally
4. Can you layer in 3rd party data?
Are you looking to compare your sales data with additional information, such as demographics, to reveal the age, gender, or population of customers in your territories? Look for the following capabilities that support:
Multiple globally available data sets (e.g., US, Canadian, European datasets, etc.)
Census demographic data
Customized datasets
Global geo-coding
5. What are your reporting needs?
Performance reporting will be essential to critical stakeholders in your organization, so it is likely to be a key decider when you are reviewing mapping software provider.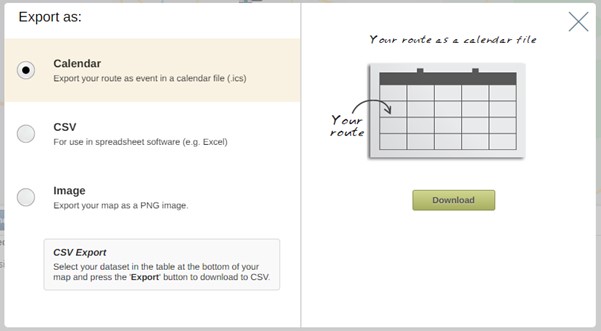 Look for the following capabilities.
Export/print high res booklet of territories, including hierarchy structure
Export for PowerPoint presentations
Create customized reports
Report using heat maps, radius maps, and filtered views
Any software you adopt for your organization or sales department must be easy to use. There are many mapping software solutions available; however, most will need a high degree of configuration and customization for territory management.
The perfect mapping solution will have an easy-to-use interface, no install requirements, ongoing automatic updates, and dedicated support.
7. Is support available when I need it?
In-app support is vital for any service used in business today. While many services provide help forums and websites, the vendor you select should give in-app support such as live chat allowing users access to experts on demand. A dedicated account manager is also vital for ongoing support. They will check in with you periodically and can make recommendations to help you achieve your goals based on your usage.
Look for a solution designed and built by Sales Territory Management experts. After all, effective territory management relies on faster and improved processes, and your sales team will use the software daily.
Finally, the vendor should also have a detailed onboarding process to help your sales team quickly become efficient with the software.
4. Questions to ask yourself when choosing the right territory mapping software
Current page