6 Benefits of territory management for sales and service
Unlocks hidden revenue and reduces selling costs
Measures performance with more actionable insight
Identifies hidden sales trends with advanced visualization
Delegates work with hierarchies
Increases team collaboration and sharing
Saves time with an easy-to-use intuitive interface
Leaders are increasingly tasked with improving performance without additional resources - a seemingly impossible feat. However, a territory management solution can help you achieve and even exceed these targets.
Increase sales and reduce service costs
A significant benefit from sales territory mapping is increased sales and reduced costs. Territory management will improve market coverage allowing sales teams to be more efficient at making each sale and grasping new opportunities, gaining a competitive advantage.
Aligned territories will result in balanced workloads for sales and service personnel, providing them greater earning potential, improved morale, and career satisfaction. It leads to higher motivation and lower staff turnover. Look for a Territory mapping tool that includes route optimization capabilities.
The image above shows sales territories optimized for both workload and sales potential.
The next step after optimizing territories is to ensure your sales and service team optimize their selling days. With route optimization software, you can add an extra daily call by providing an optimal schedule.
Visualizing territories using mapping software allows you to access analytical tools and performance reporting options.
With Mapping software, you can easily aggregate your data to get consolidated performance views. You can segment and filter data, isolating sales above or below a specific value. You can also overlay demographic and geographic data to identify insights into your market.
In the image above, customers are color-coded by value. Red indicates the highest-value accounts.
Share maps with your team, who can create reports, analyze their territories, and measure their current performance against quotas and targets. You can share new alignments or territory scenarios for approval.
The human brain can interpret visual content faster and easier than textual information. The brain interprets almost 90% of all information visually, so sales teams and managers take note.
It's proven that managers who use visual data tools are 28% more likely to find relevant information than those who rely solely on traditional reporting and spreadsheets. Data Visualization lets you optimize and visualize the data from your CRM and spreadsheets. An interactive map allows discovering hidden insights and patterns not possible in spreadsheets.
Seeing a territory from a variety of different perspectives allows for bigger picture but also more granular insight. For example, zoom in to see greater detail based on market characteristics such as customer types or assigned sales reps.
Sharing and collaboration
Territory management software enables collaboration and sharing between sales managers and sales personnel. You and your sales team can better input/edit sales data and plan. For sales teams located remotely, seamless collaboration is essential. Cloud-based solutions allow teams to collaborate and give real-time feedback on alignments from any office location or field.
For example, a nationwide sales team member can add their data, latest sales, or leads to a territory daily, creating a complete, up-to-date holistic view of their Territory. Sales leaders can share historical sales performance, territory definitions, and current performance against quota. It facilitates a constructive sales performance conversation using a single source of sales data.
The instantaneous nature of collaboration in online territories reduces the necessity of expensive and time-consuming onsite sales performance reviews. Easily share territory maps publicly or privately online. Include in your presentations, and high-quality print hard copies.
For sales teams located remotely, seamless collaboration is critical. Cloud-based solutions allow teams to collaborate on the definition of their territories from any location, office, or field in real-time.
The benefits of effective territory management
Let's take a closer look at some of the additional benefits that territory management solutions can bring to your organization.
1. Access multiple manual realignment options
No optimization tool is perfect, even with state-of-the-art artificial intelligence (AI) or machine learning algorithms. Your territory management solution should give you the ability to make manual adjustments as needed.
In the image above, a manual adjustment moving zips from one rep to another takes three clicks.
2. Maximize efficiency with account exceptions
For larger organizations, account exceptions are a must-have. When you're creating your geographic sales territories, you'll likely have a few accounts dedicated to different representatives. Account exceptions allow you to allocate specific customers to different reps outside of the region.
3. Compare and contrast alignment scenarios
It's always a good idea to get external input on your alignment scenarios. This "seeing and sharing" feature is critical, enabling different people to offer suggestions based on local knowledge.
4. Unlock the power of workload balance
By tracking workload metrics (i.e., the number of accounts for each rep), you can see where some territories are overburdened and others are underutilized. With a weighted balance tool, you can adjust your reps' workloads for optimal performance. For example, you could create a balance of 30% time spent with prospects, and 70% spent with existing accounts.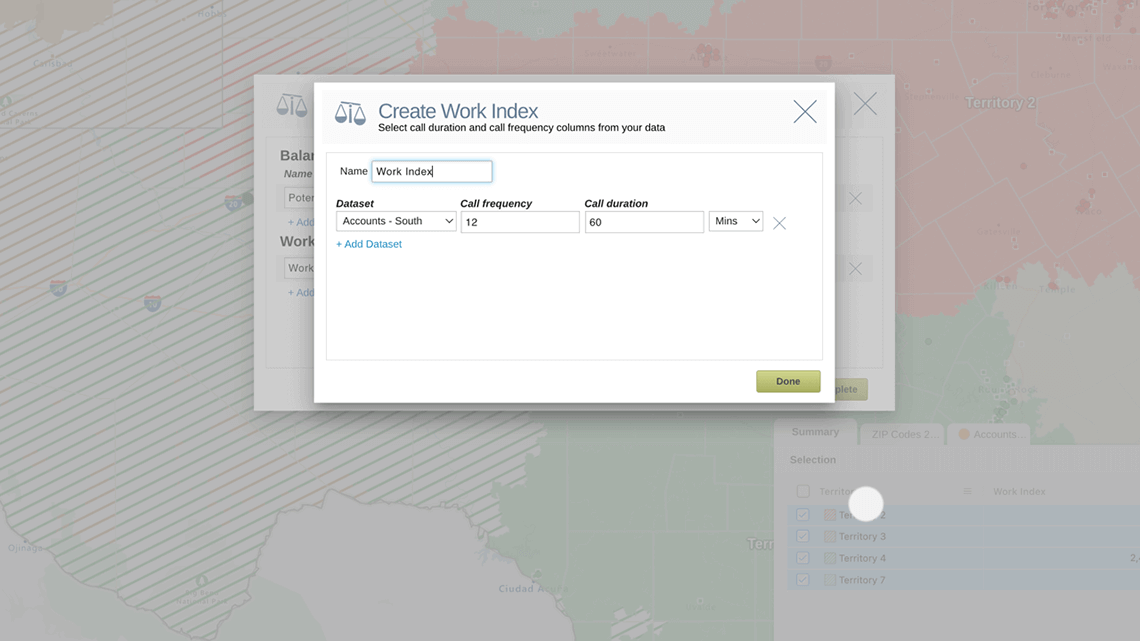 In the image above, we add a workload balance. Update the call frequency and duration in minutes and eSpatial will calculate the travel time. Each territory will require an equal level of effort from each rep to maximize sales potential.
5. Gain actionable insights from reports and visualizations
Visualizing your territories and sales data with a mapping tool allows you to gain a better understanding of your team's performance and present detailed analyses and reports. That way, you can track KPIs, analyze territories and share new insights easily.
2. How can territory management benefit your sales and service team?
Current page