Are you looking for a mapping tool that seamlessly integrates with your Salesforce customer relationship management (CRM) platform and other data sources?
While Salesforce Maps is a great tool for some tasks, it has significant limitations, such as overlaying geographic and demographic data. So why not use a mapping solution that does it all with easy data integrations?
eSpatial is an innovative three-in-one solution that empowers you to design, build, and optimize territories, maps, and routes all on a single platform. With lightning-fast setup time, efficient tools, and seamless integration, you can create vibrant maps faster while driving better business decisions.
Traditional mapping with Salesforce
Countless businesses use the Salesforce CRM platform to capture, store, and organize information on leads and customers. This information provides the valuable context and insights that decision-makers need to boost performance and sales, but without a way to visualize it, these leaders are often left in the dark.
That's where mapping software comes in.
While complicated to use, Salesforce offers a mapping solution that still delivers locational intelligence and data visualizations. Many sales teams utilize this tool to improve their territory and route planning, but the software is rigid, and the interface isn't exactly user-friendly. As a result, sales teams struggle to plan and create strategic sales maps.
Mapping Salesforce data with eSpatial
Unlike many mapping solutions on the market, eSpatial makes it easier than ever to map your data — no matter what source it comes from. Integrate eSpatial with your Salesforce CRM to access all of your existing records. Or, upload your Excel spreadsheets to map recent sales and priority clients.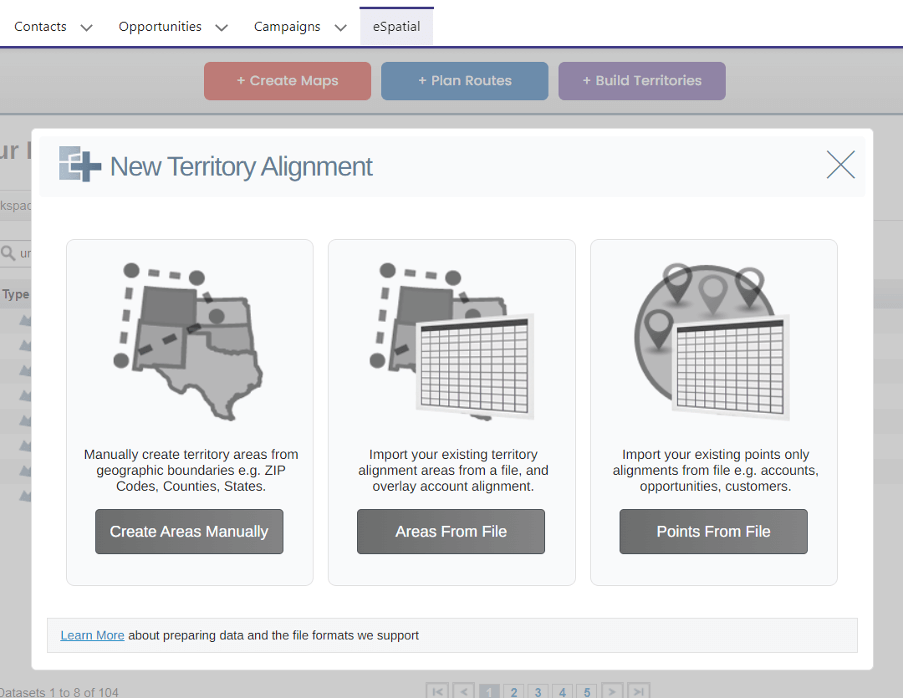 eSpatial also offers additional data sets that you can overlay to make mapping more informative. From ZIP codes and postcodes to demographic information, our library includes an immense volume of detailed data to add to your map.
Once you've imported your Salesforce data and selected any additional datasets, eSpatial automatically generates a live map from your pin data. Then, use filters to highlight the information you need. With the drawing and selection tools, you can create custom polygons around target areas to add to territories or routes. You can even perform advanced mapping analysis to uncover gaps in service, compare performance, and much more.
Further, personalize each map with custom color-coded points and areas by value or size. With point styling options for color, transparency, size, and clusters, you can create highly visual maps that offer deep insights into your sales territories.
After you've designed, analyzed, and personalized your map, it's time to share it with the rest of your team. Distribute copies as they are or set filters for certain users. You can even create templates to distribute for team collaboration.
The benefits of mapping with eSpatial
Just because you can use eSpatial with Salesforce doesn't mean you're limited to accessing data only from your Salesforce CRM. eSpatial enables users to upload data from various sources, such as an ERP or POS system — the only requirement is an Excel or CSV format.
While this cross-functionality is huge, eSpatial comes with countless other benefits for your organization, including:
Support for all default objects, such as accounts and leads, as well as custom objects and fields
No need for individual Salesforce licenses — we offer different packages for businesses of all sizes
Expert support and customer service from the mapping professionals who developed the software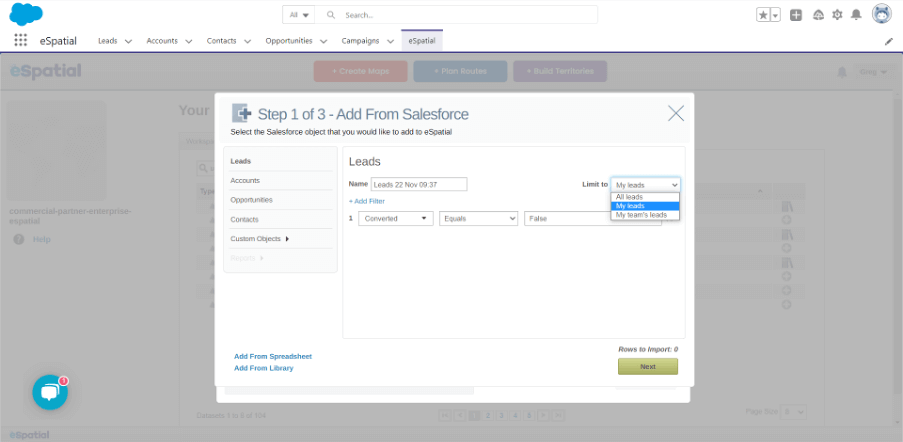 eSpatial was built to help you unlock the full power of comprehensive mapping for your Salesforce organization. Seamless data loading and geographic visualizations allow you to easily create professional maps. On top of features like heat mapping and proximity analysis, eSpatial also comes with renowned territory and route optimization capabilities to take your sales performance to the next level.
eSpatial: A three-in-one solution
As a three-in-one solution for territory design, mapping, and route optimization, eSpatial offers everything you need on a single platform. Whether you're using eSpatial as a standalone solution or embedded within Salesforce, we offer the same features and capabilities to power your sales team:
eTerritory is the best geo-analytical territory design and optimization tool on the market, enabling sales teams to align and balance territories for maximum efficiency.
eRouting allows you to plan and design efficient routes that include high-priority clients — plus, field reps can update and optimize routes on the go to stay on schedule.
eMapping enables you to discover hidden trends and actionable insights with custom maps and capabilities such as performance tracking, visualizations, and advanced analytics.
Each of these three powerful solutions can stand on its own and operate independently, but together they form a comprehensive platform for mapping your sales data.
---
---