Territory management is essential for all businesses that want to maximize the effectiveness of their sales teams. For large enterprises, this strategy can help drive sales higher. Enterprise territory management is an important tool for keeping big companies on track for growth. We'll talk about enterprise sales, territory management and how to use specific techniques to empower growth.
What is an enterprise sales team?
An enterprise sales team is the sales department for a large corporation or company. They may work for an organization that has 5,000 or more employees. The sales team alone may consist of more than 100 people. Enterprise sales teams are home to a large number of sales professionals. According to a recent search on LinkedIn Sales Navigator, about 460,000 people may work in sales functions at large US enterprises.
Sizable sales teams like these demand careful attention and coordination. Growing organizations will need to adjust their strategies as they expand. This sentiment is echoed by a representative from Alyce. In an interview with Built In, an Alyce sales leader said, "Don't assume what has gotten you to the top of the hill is enough to get you to the top of the mountain."
Even for long-standing enterprise sales teams that have a proven track record of success, periodic readjustments are necessary. The market will shift, and old strategies may become obsolete.
In particular, organizing territories requires skillful coordination to make sure the entire team is working together. Appropriately allocating workloads and resources will help ensure that sales remain in top shape.
What is enterprise territory management?
Enterprise territory management is the process of creating and maintaining sales territories for large businesses. It also refers to a specific feature from Salesforce. However, for our purposes, we are using the term to describe the process at large companies. Many different techniques and types of technology may be used.
For a small, local sales team, a simple territory management strategy might be sufficient. However, for enterprises, more complex, data-driven processes are required. This will help companies proactively support their sales representatives. At the same time, it will allow these staff members to have the resources they need to deliver results for the company. A comprehensive strategy will reduce the chances of individual sales personnel competing over the same leads while maintaining balance among workloads and opportunities. At the local level, making sure that associates can travel to all of their prospects and customers can help support the customer experience.
In order to successfully execute enterprise territory management, organizations must:
Create a territory model.
Assign accounts based on territories.
Focus on improving sales.
We'll explore each one of these steps in-depth.
Creating a territory model
As we've outlined before, creating a sales territory plan is a four-step process.
The four steps are:
Analyze your market: Assess where your current customers are located. Discover where you see new opportunities. Enterprises should study how regional competitors affect their strategy in overlapping areas.
Segment your customers: Examine your customers to find how you can categorize them. Factors to consider include geography, industry and client expectations. Enterprises may have a lot of data from which to choose. Lean on the information that's most helpful for your needs.
Conduct a SWOT analysis: This acronym stands for "strengths, weaknesses, opportunities and threats." Identify how sales teams are performing. Enterprises should then map team analyses to customer segments and create territories.
Create your sales territory plan: Once territories are in place, managers can communicate the blueprint to their teams. In large organizations, territory hierarchy information will be essential for ensuring alignment.
Enterprises may use multiple territory structures to achieve their desired results. Territory hierarchy strategies allow leaders at all levels to understand their responsibilities. For instance, an enterprise might have a vice president who is in charge of all sales for the Northeast. In this territory model, the Northeast would be a parent territory. Underneath parent territories, there is another territory type: the child territory. In our example, Massachusetts might be a child territory of the Northeast. Of course, this depends on the sales territory plan developed by the enterprise.
Account assignment based on territories
An enterprise territory management strategy should be used to improve account assignment. Top-level executives who oversee multiple territories can use data to make important decisions about their territory model. By working with regional managers to discuss the unique features of each territory type, individuals can be assigned to accounts that suit their strengths. Periodically, enterprise sales leaders should seek to reassess each assigned territory. It is crucial to regularly verify that the business is operating with balanced territories.
Territory optimization may be required from time to time. Imbalances can result from market changes, growth or other factors. Even for the most experienced sales reps, being overworked will lead to a reduction in quality. In turn, this can affect sales and retention. Adjusting territories and ensuring that sales reps continue to have the resources they need — even as circumstances change — can add up to big wins across the enterprise.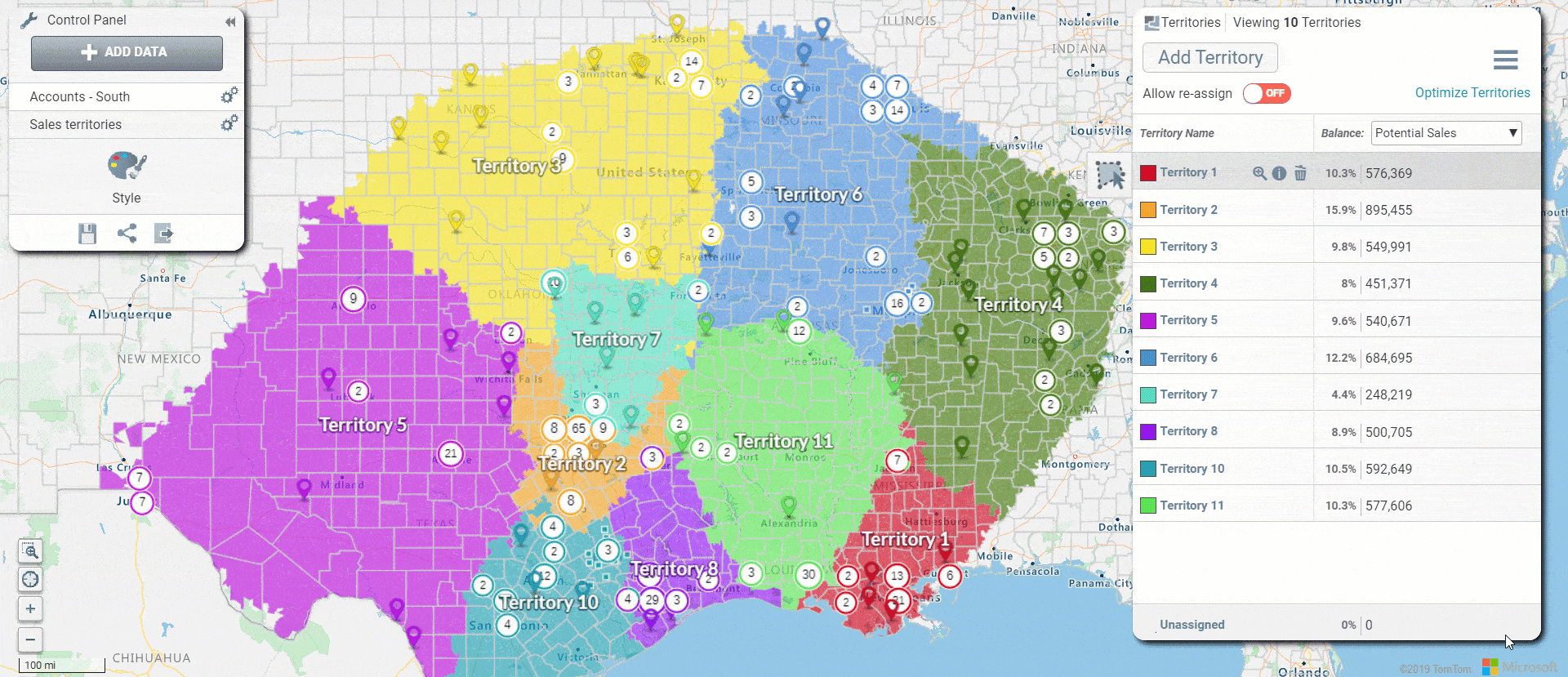 Driving more sales with territory management
So what have we learned about the overall goal for enterprise territory management?
Reps will thrive with fairer territories.
Fairer territories will lead to more achievable quotes.
More achievable quotes can foster a better customer experience.
Together, that means higher sales and more robust customer support.
That sounds simple enough. But how do you turn higher sales into a reality for your enterprise?
Sales territory mapping software allows you to harness the power of data to inform your strategy. Even better, clear navigation and appealing visual representation make these strategies easy to communicate. From upper management to sales reps in the field, everybody will have a clear idea of what they need to do and how it adds up.
There are some additional strategies you can employ to increase outside sales with effective territory management. For instance, you can conduct collaborative, hypothetical analyses. Using territory mapping software, you can adjust territories on the fly to see how these changes would affect your bottom line. With better forecasting, you can make more informed decisions. that's definitely more efficient than guesswork.
At the most granular level, sales reps can use the software to target high-priority leads with efficient route mapping.
Other methods for improving enterprise sales performance
In addition to enterprise territory management, large companies can take further actions to improve sales performance.
First of all, it's important to develop the kind of sales team that's right for your business. There's no such thing as a universal sales rep. Different companies, and various industries, rely on their reps to have unique attributes. A 2017 report from McKinsey outlined some best practices for sales teams. These tips included hiring candidates who fit the ideal seller profile for the team. Training should also be tailored to developing those attributes. Where possible, team leaders should also seek to eliminate administrative burden for their staff members.
It may seem obvious, but automating these tasks, as well as enterprise territory management, could produce big benefits. Citing research from The Economist Intelligence Unit and CFO Research Services, a 2017 publication from Oracle pointed out that 40% of sales leaders "rely on instinct to make territory, quota, and incentive decisions." that's a missed opportunity. Are you in that bucket?
---
---