Sales territory management and alignment are critical for all organizations seeking to maximize revenue, minimize the cost of sales and boost sales productivity. Designing and controlling geographic areas ensures you balance sales resources with customer service needs.
Let's analyze the benefits of establishing and optimizing sales territories for organizations, sales teams, and sales reps. Sales managers are all too familiar with the challenge of maximizing revenue with limited resources. It is like an endless game of chess. It is complex and dynamic. Territory management is critical to achieving those goals.
Here are the benefits you will reap:
1.

Increase sales and reduce costs with balanced and optimized alignments

You know that your sales rep's available selling time is their highest-value asset to the organization. Maximizing time spent with customers at the lowest cost is the objective for all sales operations teams. The caveat is that you must ensure the extra time is spent with your highest potential sales customers. Your sales team must focus on selling the right products to your ideal customers at the right time.

Optimized sales territory alignments result in balanced workloads for sales reps, boosting earnings potential and improving morale while delivering higher customer service levels. It is a win for sales operations, reps, and customers, leading to higher motivation, lower staff turnover, and, most importantly, more sales.
Territory mapping should also include route mapping software with route optimization capabilities. An ideal blend for a mapping software platform for sales and operations is a solution that includes advanced mapping (like heatmaps - great for data analysis), territory, and route optimization. All should work seamlessly together.
You have all the tools to reduce inefficiencies in territory design, boost selling time, and reduce travel time and fuel costs while driving new revenue growth.
Check out our Conquering territory management guide
2.

Measure performance through reporting and data-driven analytics

Using mapping software to visualize and optimize territories is just the first step. You'll want to access analytical tools to get a granular understanding of sales performance. You can aggregate, filter and manipulate your data on a map to offer new possibilities and scenarios.

For example, you could segment your customer base based on value, showing only those customers with the highest sales potential. Filter to view the underperforming or lowest-value customers. It may lead to changes in your sales strategy. You might transfer those accounts to internal sales or self-service via your website.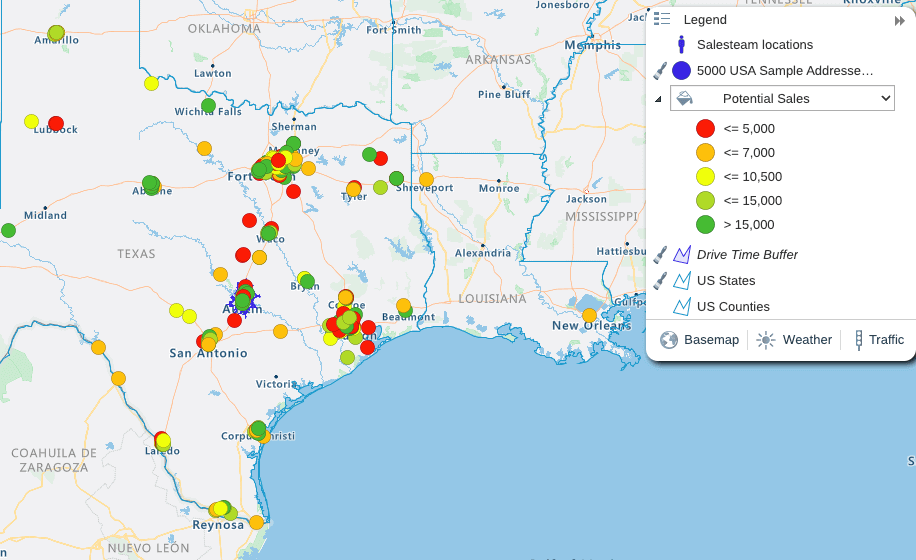 Overlay demographic and geographic data to analyze sales statistics and uncover hidden trends or insights. You can create reports, assess territories, and measure their performance against sales quotas—share reports with colleagues and managers.
3.

Identify hidden insights with data visualization

Data visualization brings your CRM and spreadsheet data alive. Creating an interactive map unleashes insights hidden in your spreadsheets, like over or under-served territories.
Real-life scenario
Your sales territory rewards the salesperson. A sales rep with a region abundant with sales potential. So much so that hitting quota requires minimal effort. And we all know that hitting quota becomes our baseline for next year's target increase. So, human nature will be to manage the numbers. Hit the target and ease off. That isn't good for organizations.
The flip side is a hard-working rep in a territory with little sales potential on offer who could use (and, let's be honest, deserves) more opportunity to succeed. Seeing your territory imbalances on maps means you get to zoom in at a granular level. You can filter the data based on sales potential or your priority sales number.
You can isolate those over or under-served territories. You can interrogate the numbers in more detail. You can assess workloads and determine if they are out of sync. You can calculate travel times, identify problematic territories, and free up more time to sell. You can create scenarios like
What would merging those territories look like?
If I transfer this ZIP to another sales rep, how will it impact the territory workload?
How will that affect the territory balance if I transfer named accounts from one rep to another?
eSpatial's eTerritory lets you view and compare your scenarios to see how your proposed changes could impact revenue, workload, and balance in real time.
In the above image, we are comparing two alignments. On the left we had ten territories with customers. On the right our scenario with nine territories (territory six has been merged).
4.

Delegate work through hierarchies

Sales territory hierarchies are a norm in most organizations allowing sales operations and managers to balance the sales structure better. They are great for collaboration and delegation as well as regional performance analysis. eSpatial allows up to six levels of hierarchy, which means you can build your sales structure from sales territories up. Easily move up or down a level to assess your KPIs for each team.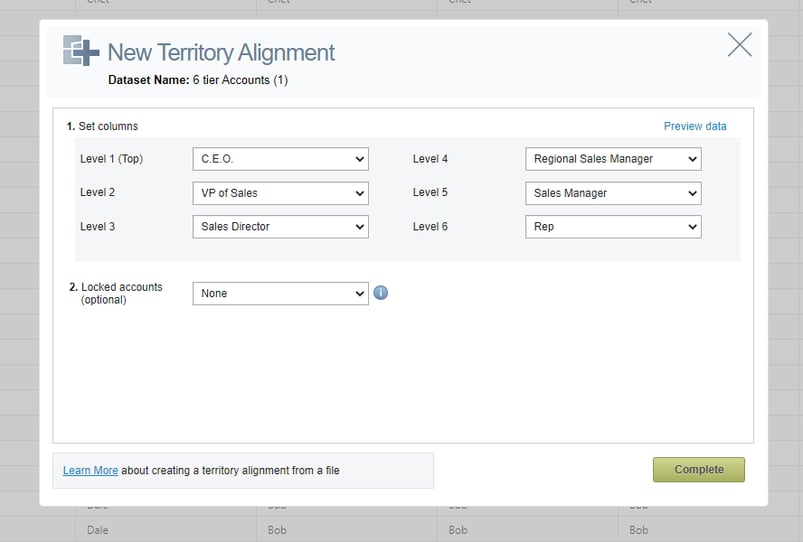 It is an essential tool for managing delegation, for example, ensuring that each sales manager is responsible for ten sales reps or each regional manager is responsible for eight sales managers. You have complete control over the sales structure, making it easy to ensure balance and fairness.
5.

Increase team collaboration with sharing

All teams benefit from greater levels of collaboration and sharing. Sales territory mapping software is the perfect tool to share territory designs and alignments.

When realigning or creating new territories, you can share them as a map with those affected and get instant feedback. It boosts engagement and allows vital input from those in the field. Technology may be amazing but it cannot replace human experience and real-world know-how. Sharing boosts engagement and speeds up your design process.

It also makes your HR team happy as you can easily share data on territory changes and how they impact quota calculations.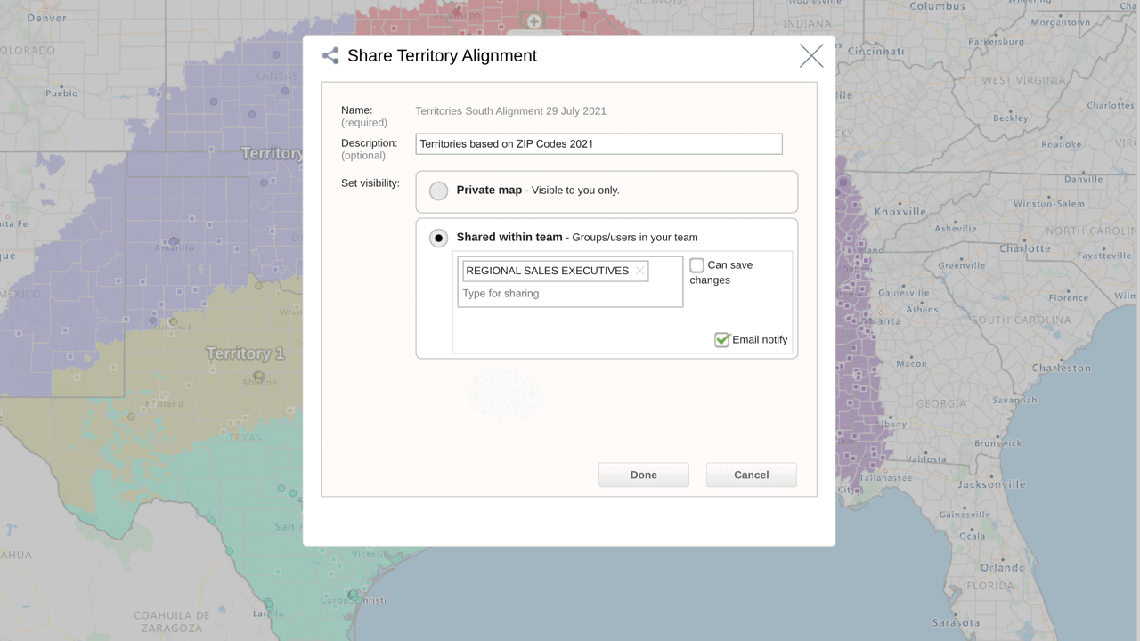 In the image above, we share a proposed alignment with our Regional sales executives to get feedback and input.
6.

Save time with an easy-to-use sales territory mapping solution

Unlock a new revenue engine. Boost sales productivity. Slash territory design and re-alignment time and transform collaboration with sharing.
---