Today, there are innumerable routing solutions on the market, but that doesn't mean they all work the same — and not all of them will have the right functionality for you. Whether it's adding multiple stops to a single route, planning schedules weeks in advance, or optimizing routes on the road, you need route optimization software that has the tools you need for daily operations.
To help you find the best solution for your business, here are the eight essential features you should look for in any route optimization software:
1.

A user-friendly interface with tools for workflow efficiency
---
Just because a tool has the features your team needs, doesn't mean you or your reps can actually use them easily. A user-friendly interface is critical, allowing your team to breeze through processes that once took hours if not days. Your chosen software should also come with easy-to-use tools that streamline your workflow, from planning to performance analysis and reporting.
2.

Connects disparate systems to centralize information in one place
---
Route optimization software should seamlessly integrate with your Salesforce CRM and existing digital ecosystem to centralize customer and sales data in one location. By connecting with your CRM and other data sources, it's easy to upload the information you need and start generating routes immediately. You can even add demographic and sales data to visualize the potential of each area and strategize your approach.
3.

Plans efficient routes for multiple stops as far as weeks or months in advance
---
The right optimization solution should offer advanced route planning functionality. That way, you can create multiple routes with multiple stops for each one of your reps. You should also be able to schedule customer and prospect visits weeks or even months in advance. This gives you and your reps time to collaborate, review the plan, and prepare for the next trip.
4.

Includes interactive, customizable styling options
---
Planning an efficient route in just a spreadsheet is like throwing a dart while blindfolded. Sales ops teams need advanced data visualization capabilities to see what they're doing. Route optimization software with interactive map features and customizable data styling options allows you to create vibrant route maps that highlight key areas and accounts. With these visualizations, it's easy to identify gaps or areas of opportunity and adjust your plan accordingly.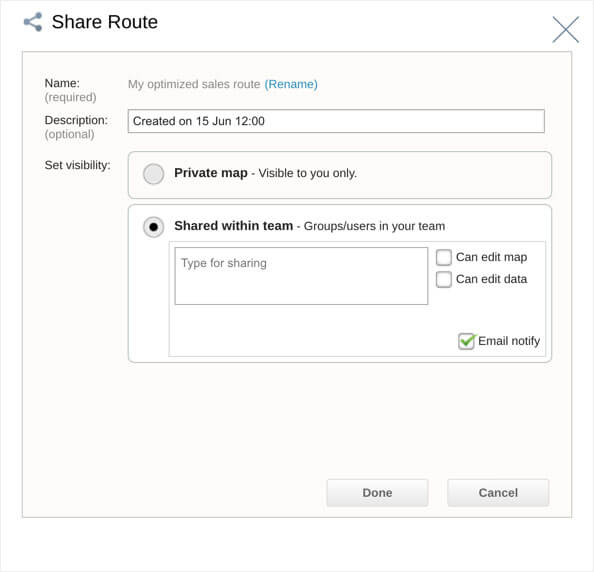 5.

Shares itineraries with reps and other co-workers to collaborate
---
Collaboration is crucial for sales teams. Your route optimization software must have the ability to share plans and schedules with reps and other team members, either publicly or within a specific group. That way, you can continuously gather feedback and make improvements that drive real results.
6.

Automatically adjusts and optimizes routes based on delayed, late, or new visits
---
When reps are in the field, they need a way to make schedule adjustments based on all manner of variables. Whether a high-value appointment went longer than expected, traffic is holding a driver up, or a client needs to reschedule, route optimization software must be able to automatically optimize your reps' schedules to make up for delays and lost time. By adding new visits whenever possible, this feature can help you maximize the number of visits your reps can make each week.
7.

Compatible with mobile devices to access while on the move
---
In addition to being easy-to-use while in the office, your optimization solution should be user-friendly while on the road. That means it must have mobile compatibility for your field reps. With the ability to check their schedules and adjust their routes whenever and wherever, your reps will spend less time fiddling with navigation apps, and more time selling to customers.
8.

Supported with expert customer service
---
Finally, it's not enough to have a shiny new solution anymore. If you experience trouble using software or you just need some advice on how to use it, you'll want to know that there's someone you can call. Your chosen vendor should offer expert-level customer support from the people who designed the software.
4. Essential features of route optimization software
Current page