What is a distance radius map?
Distance radius maps are also known as buffer maps. A distance radius map creates circles of a set distance around your chosen data points. Maps like these are indispensable when you need to gain insight from data and how it relates to other features on the map.
Distance radius maps are often used as coverage maps to see where you may have gaps in your sales or service coverage. It also helps you identify any coverage overlaps of your shops, services, and operations. As a result, you can optimize your resources better.
For instance, you may want to visualize the number of customers you have within a 10-mile radius of your office locations. Or how many customers you could serve in a particular region if you open a new franchise or hire a new outside sales person.
Why use distance radius maps?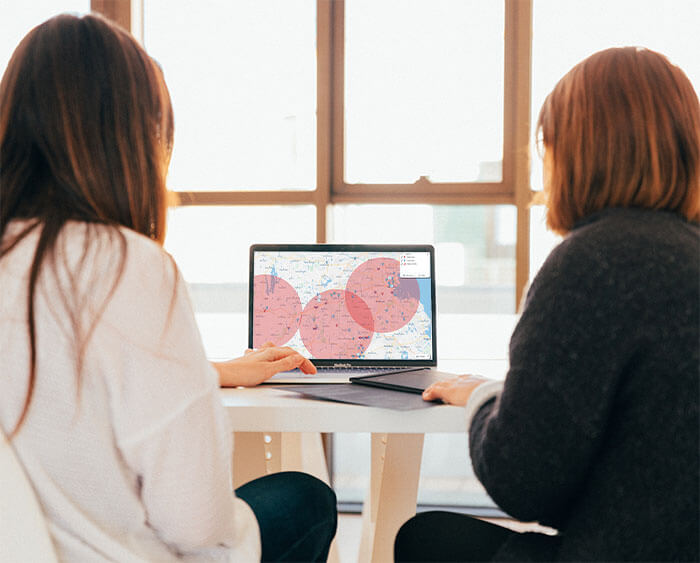 Why use distance radius maps? In a word: Insight. A radius map can be a powerful tool for scenario and recruitment planning. It's perfect for designing sales or service territories too. You gain visual insights that aren't possible with spreadsheets.
A radius map can be useful for scenario planning, recruitment planning, and territory designing. You can create multiple buffers from a single point in a dataset or from all points in a dataset (up to 200). Creating a buffer from all locations is a great way to visualize, understand and communicate your coverage (or gaps in your coverage) for your business. Learn how to use it in our how-to guide here.
Ways to use distance radius maps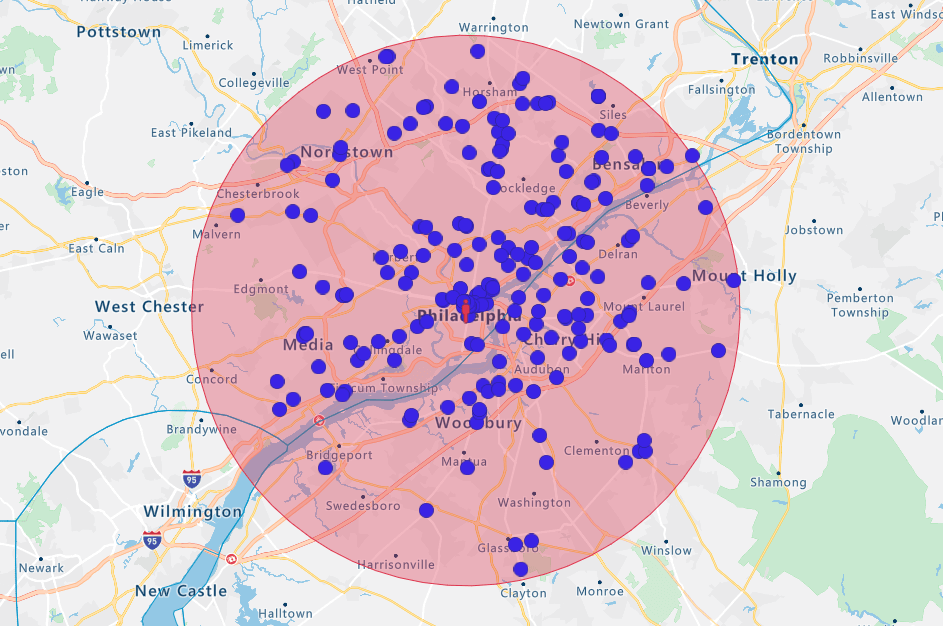 Analyze your sales or service territories to improve efficiencies
Identify new locations for offices or franchises
Map all of your land or property locations to understand adjacency
Plan your sales campaigns
Plan your advertising campaigns and spend
Identify event venues based on attendee locations
Communicate complex data simply
Publish and share your maps with your team or embed them on a website
1.

Quickly evaluate your business

You face a constant challenge. How do you ensure you have the right number of people on the ground while minimizing costs?

Distance radius maps enable you to assess your business resource needs rapidly, regardless of your industry.

You can use them to create coverage maps for outside sales reps or find opportunities to expand into new locations. That means you can re-deploy those resources to under-served areas where you may be leaving money on the table.

If you manage a transport or haulage business, distance radius maps will help you reduce costs. By creating a radius map of your distribution centers and plotting all your deliveries as pins, you can ensure trucks are minimizing travel times and maximizing fuel efficiency.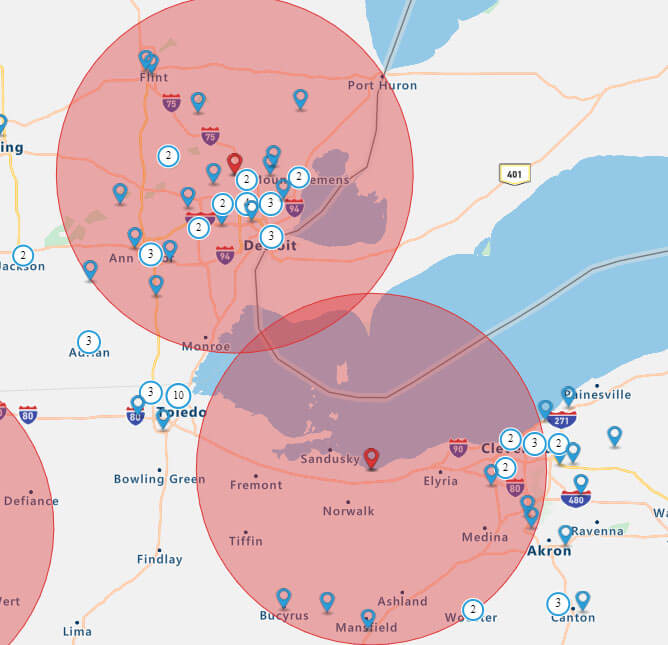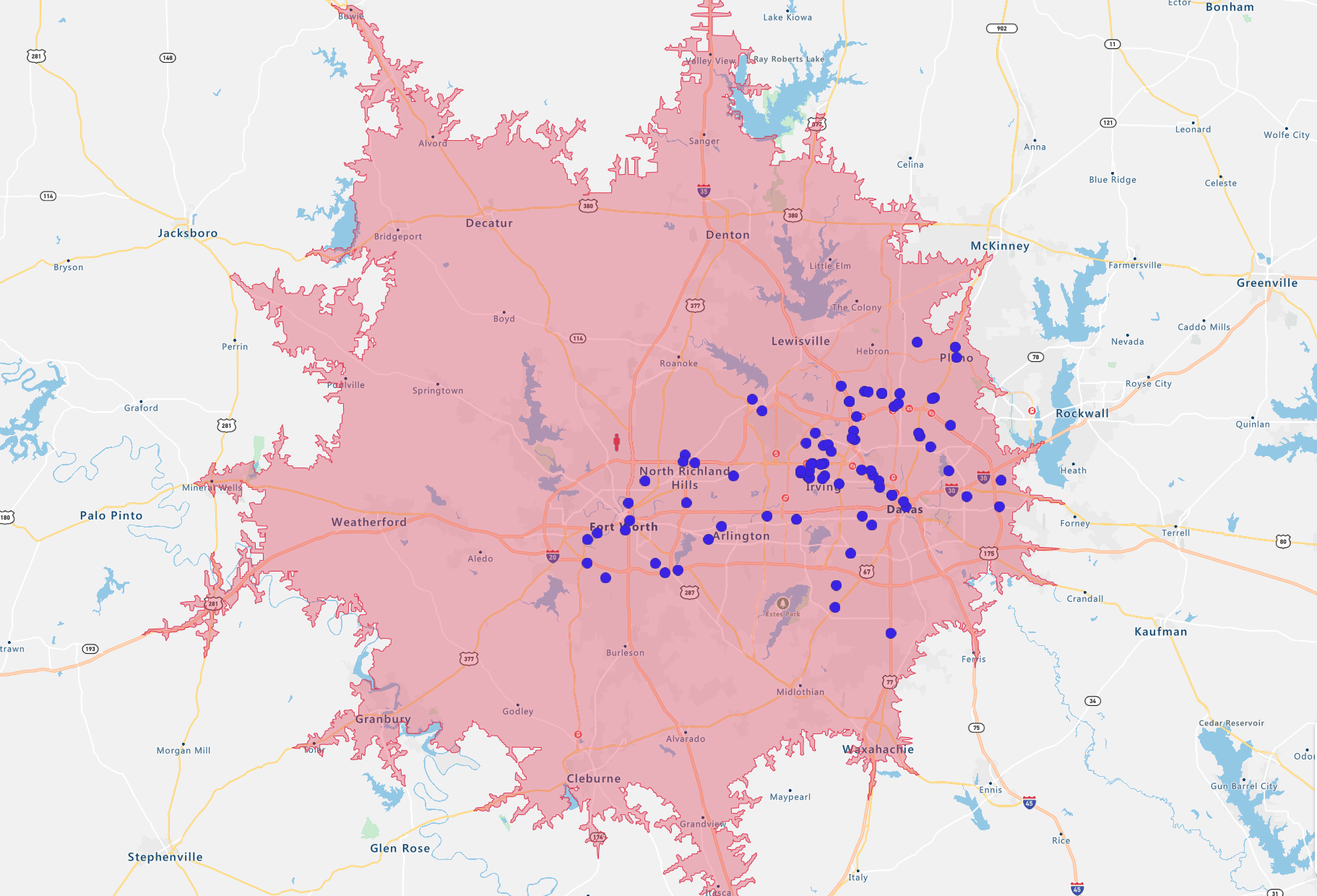 2.

Try different buffer types

Distance radius maps are also known as buffer maps. In addition to the standard distance buffer, eSpatial allows you to create drive-time buffers.

It's a great alternative when making decisions about outside sales teams, service teams and assets like trucks.

In place of radius distance, you can use drivetime buffers. Drivetime buffers enable you to create an area that shows how far you can drive in a time range you have selected, centered on a data point. This is perfect for assessing your advertising spend in an area, identifying customers within 30-minute drive of an event, or designing and optimizing a sales territory.
3.

Create outside sales campaigns

If you have an outside sales team and regularly run sales campaigns, you'll love buffers.

Using your existing sales data or a new sales lead database, you can plan highly focused sales campaigns in minutes.

Let's explore how.

Imagine you have a new qualified sales lead database. You want your sales team to begin prospecting them for new business. You also want to employ an 80/20 approach to your sales campaign.

You want your sales team to target the highest sales potential accounts within a 60-minute drive of their home or office locations. You've already color-coded your sales data based on sales potential, so your highest potential targets are in red.

You want your team to maximize selling time and minimize windshield time. Easy. Use drive-time buffers to target the closest high-value accounts, which you've marked in red.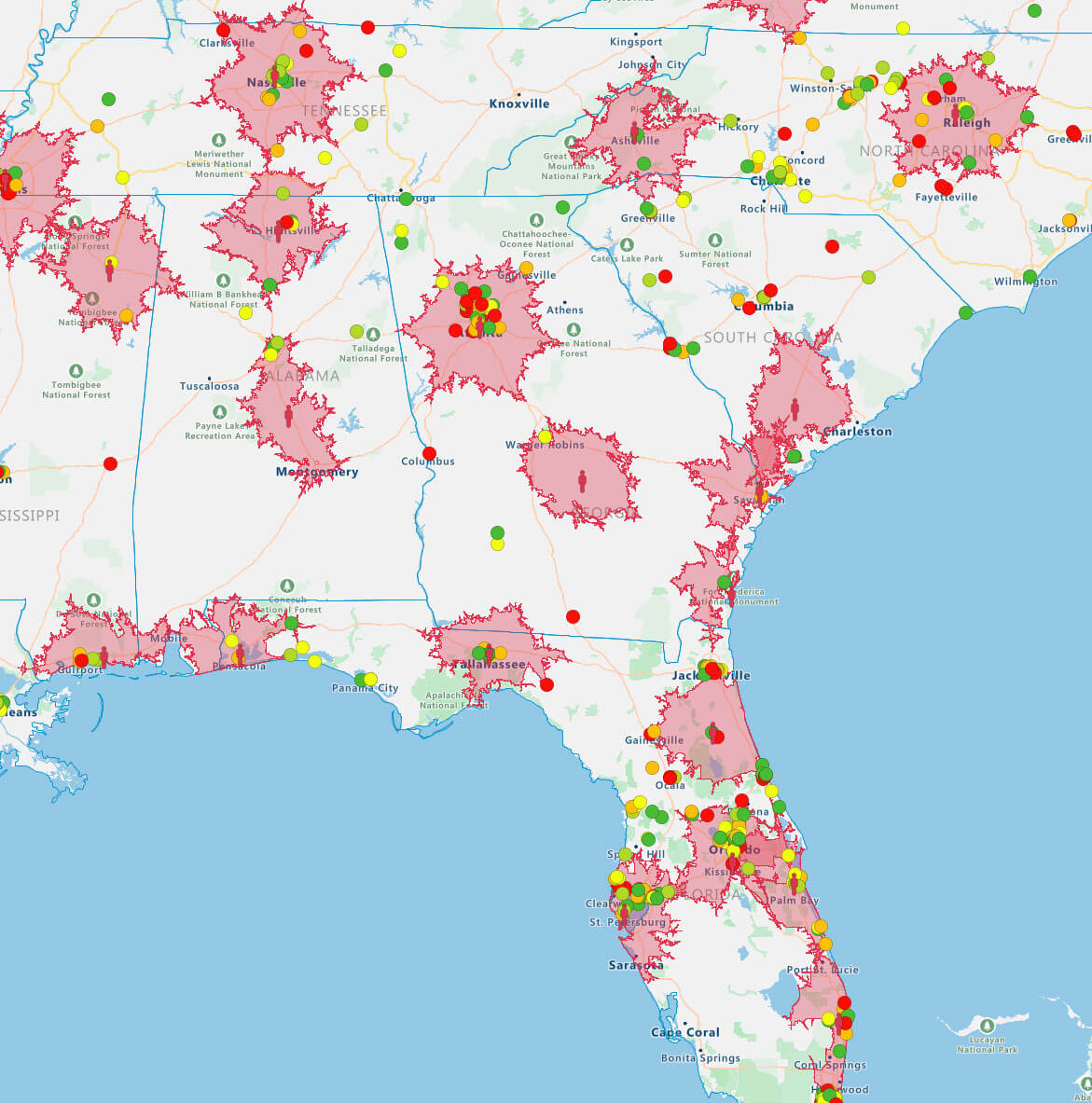 4.

Analyze your marketing spend

Visual insights make for better and faster decision-making. So, you may want to analyze in detail where your advertising dollars go and if they're generating a return on investment (ROI).

Here's how one retailer used distance radius maps to reduce advertising spend. First, they mapped their locations. Next, they mapped their customer locations.

Finally, they overlaid their map with advertising spend, based on billboard locations and local newspaper distribution.
Insights
They instantly saw that over 90% of their customers lived within a one-mile radius of their sites. Their advertising beyond that one-mile radius wasn't providing a return.
Results
The retailer reduced advertising spend by 32% with no impact on sales in their retail stores. This massively increased the return on investment for their advertising dollars.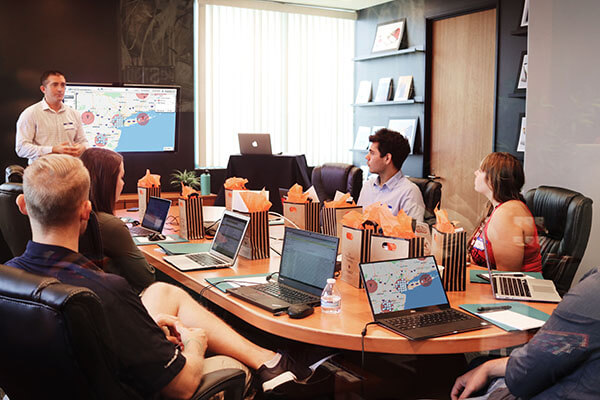 5.

Publish & share your radius map

When you're using radius maps for things like coverage analysis, you often need to share this information with a co-worker or use it in a presentation. That's why eSpatial allows you to easily save, print, export, and share your maps. Our maps can also be embedded live in a website, allowing your page visitors to zoom, pan and view information while your map is protected from unauthorized changes.
How to create your first distance radius map
---
Sign up for a free seven-day trial of eSpatial. A form like the image below will ask you for an email and password. No credit card details required!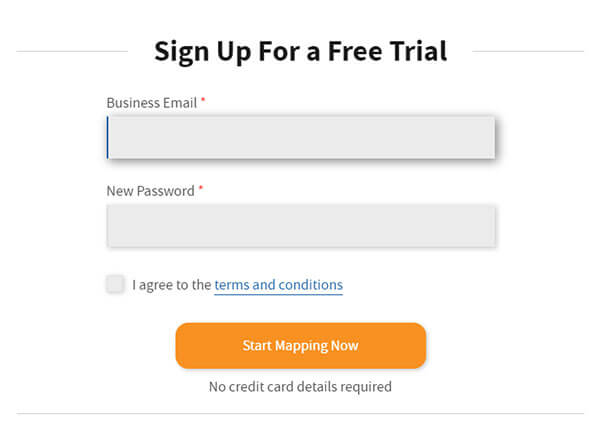 Once you've logged in to your trial, you'll have the option to use our sample data, choose data from our library or upload your own. To prepare your own location data, make sure the columns in your spread sheet include unique headings, such as 'address', 'city' and 'state.' Save your data in excel (.xsl) or CSV format before uploading. Check out our how-to guide for more tips on formatting your data.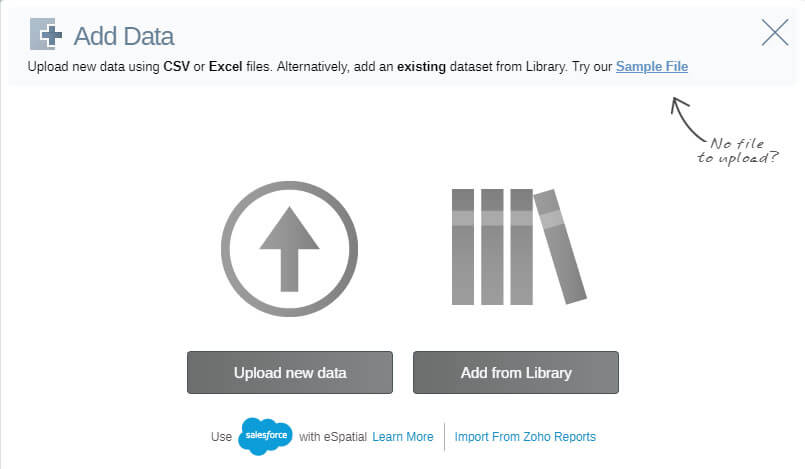 Click on the Analyze Data button on the control panel found on the left side of your screen. Then click on the Radius Map button.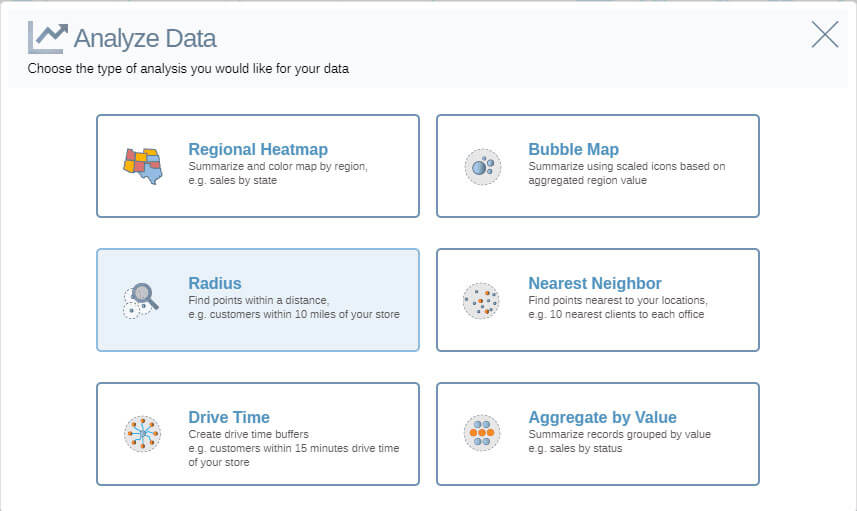 Under the first field, select the dataset you would like to show as pins on your map. In this example, we've chosen customers. In the second field, set the radius distance. Finally, choose the dataset you would like to be the center points for your radii. If you'd like to be able to see pins that are outside of the radii areas, check the box that says Include Outside Results.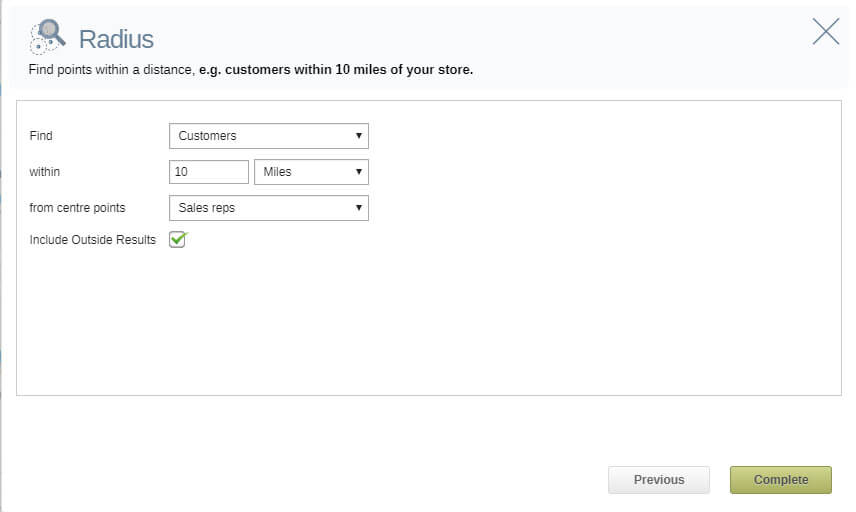 Once you've selected your settings, click Complete. Congratulations, you've created a radius map!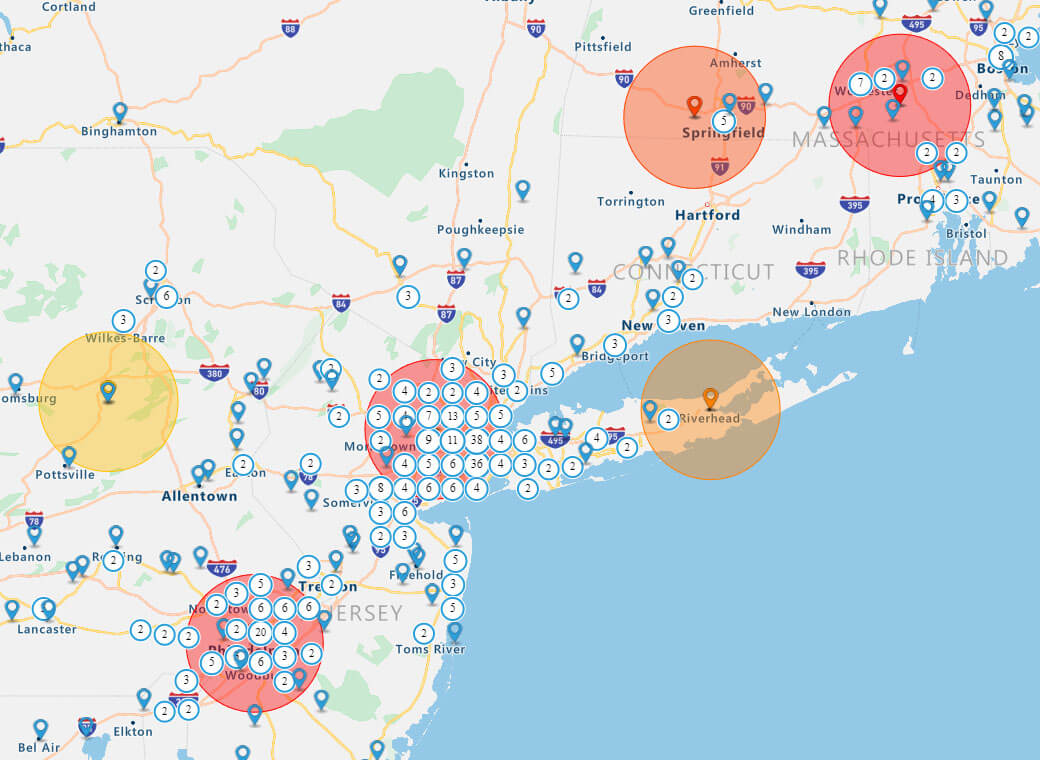 Key takeaways about radius maps
Distance radius maps are a powerful tool for you to gain insights with your data. They turn spreadsheets into actionable visual plans.
You can evaluate your outside sales and service resource needs visually.
You can experiment with different buffers to analyze drive times.
You can create sales campaigns.
You can design marketing campaigns.
You can analyze your advertising spend.
You can easily publish and share your radius maps.
Other maps you can make with eSpatial
Check out eSpatial's other capabilities to find the map that's right for your business needs:
Want to create your own radius maps?
Create a trial account, free for seven days