The sales process of any business generates a considerable amount of data. Particularly among those with outside, traveling sales teams. From customer metrics to information about lead generation, the average sales manager has a lot of metrics and key performance indicators at their fingertips.
When sales decision-makers take the time to analyze this information, they can open up a world of opportunities to improve sales performance and drive more revenue. Sales managers can use data-driven insights to support their decision-making while taking into account the actual performance of their individual sales reps.
However, gathering, analyzing and leveraging sales data can be a complex task without the right expertise and tools in place. Managers need a way to keep track of sales territories and spot merging trends.
When done successfully, sales data analysis can help you balance workloads and opportunities among your sales reps, successfully meet service level agreements, and drive revenue growth for your business.
What is sales data analysis?
These days, businesses in every industry use data analysis to access in-depth insights. For sales leaders, that involves an array of different key performance metrics from marketing and prospecting to creating opportunities and closing deals.
In its Ultimate Guide to Sales Metrics, HubSpot identified three levels that sales metrics could be applied to: a single sales rep, the wider sales team, or the company as a whole.
These metrics enable managers to get the best idea of individual, team or business performance. Combined with the right analytics platform, they can show patterns of growth, areas in need of improvement, opportunities for expansion and more.
"[Sales metrics] help track progress toward goals, prepare for future growth, adjust sales compensation, award incentives and bonuses, and identify any strategic issues," HubSpot explained.
8 key sales metrics businesses should track
When it comes to sales data analysis, choosing what to track is half the battle. Here are eight metrics that should always find their way into your sales analysis set-up:
1. Total revenue
This metric can be broken down according to the total revenue your sales team is pulling in or the total revenue generated by a single sales rep. This can help you set sales goals and make data-driven business decisions. Best of all, total revenue is typically a simple metric to gather.
2. Revenue per sale
Delving deeper into revenue metrics, it's also useful to analyze revenue per sale. Looking at revenue per sale can help establish the average profit created by each individual sale. In this way, managers can estimate how many sales they need to hit targets or judge whether they need to focus their team on increasing average sale sizes.
3. Revenue by product
Analyzing revenue by product or service can highlight the offerings that create the most revenue. Using this insight, sales teams can prioritize their sales according to their highest revenue generating products and services. This helps sales reps get the most return for their efforts and can drive your predictive analytics, for forecasting and targets.
4. Revenue by territory
It's also beneficial to analyze revenue generated in each sales territory. This metric requires intuitive mapping software that enables business leaders to include sales territory metrics in their analytics dashboard.
Mapping software also helps decision-makers analyze other types of sales data, including resource allocation, how well team members are meeting service level agreements (SLAs), and what-if scenario analysis. More on that later.
5. Sales by lead source and location
Total revenue is a powerful metric to track, but granular sales metrics can be even more illuminating.
For instance, in addition to examining total sales, managers should track and analyze sales from each lead source, client or location. Analyzing this data through the visualization dashboard of a robust mapping software platform can help you identify patterns and spot problems. If you have reliable analytics for where your revenue is coming from, you can allocate resources accordingly and make better predictions about future sales performance.
6. Revenue split between new and existing customers
Once sales leaders understand how much revenue they're making from different sources, reps and locations, it's important to focus on customer-related sales data.
For instance, a sales manager can analyze the number of new customers gained over a period of time and the percentage of revenue each new client contributed. With mapping software, you can break this sales data analysis down further. For example, you can look at the locations and sales territories where new clients have been acquired, and which ones provided the most revenue.
Similarly, analyzing how much of your revenue comes from existing customers versus new customers is an important part of any sales analysis report. Managers can drill down into the most effective methods of selling to existing clients. This might include expanding existing orders, upselling new products or services, or cross-selling into other areas of the company. You might also decide to re-balance your marketing and sales resource based on this analysis.
7. Customer Lifetime Value
Another critical metric is customer lifetime value (CLV). There are a few ways to calculate this metric, but the result provides sales managers with a better understanding of how much the company stands to make with a particular client over the course of the relationship.
Understanding CLV can help managers prioritize in-person client visits. For example, your predictive analytics can identify new clients who are similar to clients with high CLVs. These clients might warrant more in-person meetings or other resources from the outset.
You can also use predictive analytics to actively target industries, organizations or job titles that have previously generated higher CLV for your business.
8. Sales team quotas
This KPI is almost certainly already part of your sales data analysis. It's important to understand which salespeople are meeting their quotas. And if they aren't, why not? It's possible that the sales targets you've set just don't reflect the reality of that sales territory.
Analyzing sales team quotas helps managers uncover workload imbalances that need addressing within their sales territories. For example, a sales rep that consistently falls to the bottom of the leaderboard may not have enough opportunity in their territory. On the other hand, someone who always comes out on top may have too many leads to handle. Allowing sales analytics to inform resource allocation drive up overall revenue, while treating each sales rep fairly.
Sales data analysis in action
When it comes to analyzing these metrics and other sales data, the process is about more than just gathering and looking at the numbers.
One of the best ways to guide the sales analysis process is to focus on a particular business goal or objective. This helps prevent you being overwhelmed or bogged down by the amount of information.
First, sales team leaders and decision-makers can settle on a certain objective that they'd like to focus on. A useful guide here is to set SMART goals. That's Specific, Measurable, Achievable, Relevant and Time-based.
SMART is a widely-used model for incentives and performance measurement, not just in sales. It helps to avoid goals that are vague or impossible to hit, which only serves to demotivate your team.
How sales data analysis drives revenue
Conducting high-level sales data analysis is vital to the bottom-line success of any business. But the level of analysis needed to drive good decisions requires time, effort and data-visualization tools like a good mapping software platform.
The result gives you access to in-depth sales analytics that can support bottom-line improvements.
Let's examine a few of the ways sales decision-makers can leverage their sales data analysis to drive profitability and growth:
Establish or realign sales territories
With the help of mapping software, managers can use their sales data to create new territories or review existing territories.
Sales territories can be broken down in a few different ways, including by geography. This ensures each field sales rep can effectively and efficiently serve the clients in their territories. What's more, when new leads and opportunities arise, having clearly-defined territories makes it instantly clear which sales rep is responsible.
Using sales territories also improves customer service. Better service means happier customers, which can ultimately increase the lifetime value and revenue.
Overall, businesses that build and realign their territories based on their sales data analysis have reported a 2-7% increase in sales numbers, proving the effectiveness of this approach.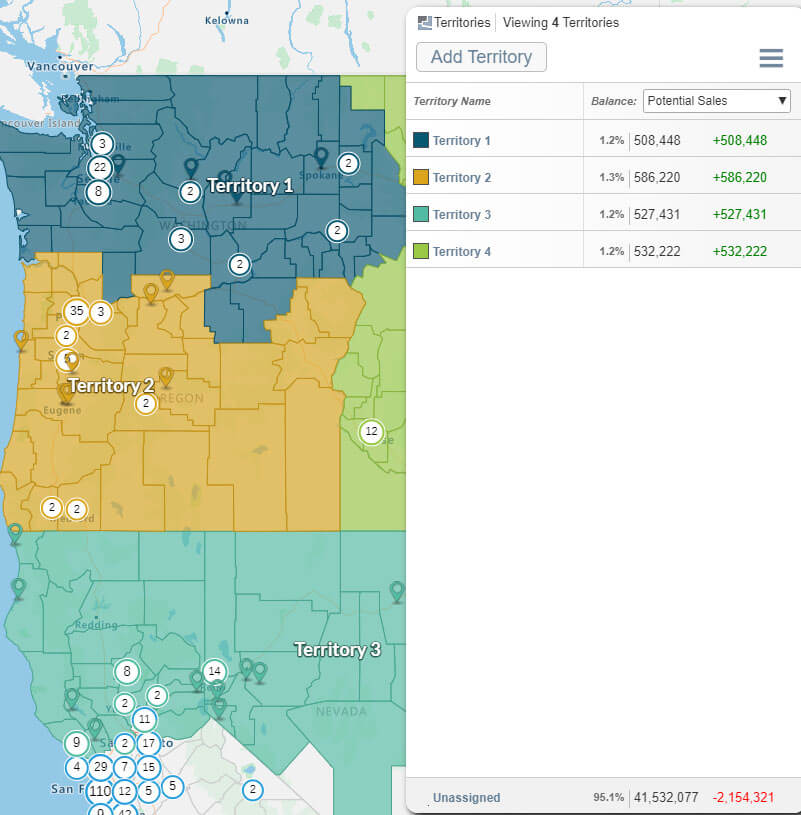 Sales leaderboards motivate employees
Team leaderboards can show where each sales rep stands in relation to their peers. Using this data, management can reward top-performing reps, and incentivize all team members to drive improvement.
These sales leaderboards are critical tools for today's sales teams. And they are just one of the ways decision-makers can leverage their sales data analysis to drive revenue. Sales leaderboards can also help managers improve their sales team resource allocation, ensuring each sales rep is assigned to the most appropriate sales territories.
We'll delve into this and other uses for sales data analysis a bit more below. First, we need to understand the types of metrics sales team managers and business leaders need to track in order to enable these actionable insights.
Visualize data in meaningful ways
When managers don't have the right analytics and visualization tools, it inevitably affects sales. Without these tools, they can't use data analysis to make meaningful decisions about account prioritization and resource allocation.
Sales team mapping software is designed to help managers visualize and understand their data. The result: more insight into the business and higher sales. For instance, managers and sales teams can leverage powerful features to view:
Sales team geographic coverage: A map of the key areas that the sales team currently covers can help managers identify new regions for expansion. eSpatial's mapping software allows users to see the geographic coverage of each sales rep individually, so decision-makers have the best understanding of their traveling sales teams' boundaries and responsibilities.
Account and sales lead overlays: Mapping software can also overlay geographic coverage maps with the locations of current accounts and prospective sales leads. In this way, managers can quickly and easily identify their highest value accounts, as well as areas that need more attention from the sales team.
Heat maps: This data visualization tool is one of the most effective for sales data analysis. With a robust mapping software tool, users can view regional heat maps or hot spot heat maps. Using these visualizations, decision-makers can get the best understanding of their regional market performance, high and/or low performing sales territories, location-based sales trends, and even clusters of existing customers. For example, by looking at customer clusters, managers can find regions with opportunities for new customer acquisition.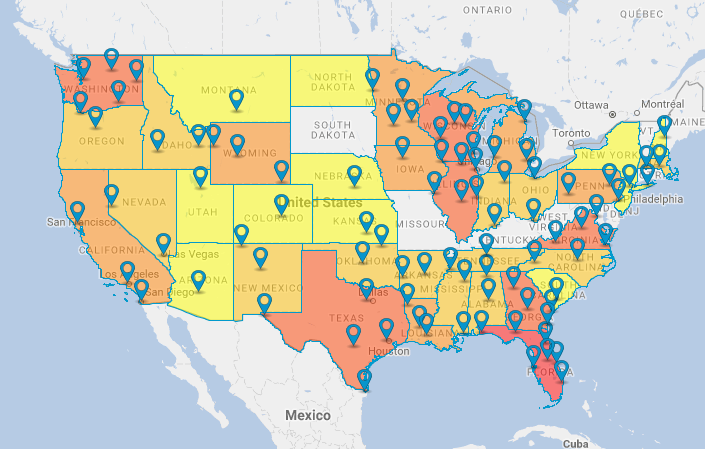 ---
Start visualizing your data
Sign up for a free 7-day trial
Start my trial
---
Improve resource allocation
Mapping software is also a considerable advantage when allocating resources and balancing workloads. For example, eSpatial's Territory Manager offers balancing, which can show when one sales territory has more clients than the others. Managers can use this information to better balance workloads. That way, every sales rep has a fair shot at the leaderboard and is at lower risk of burnout.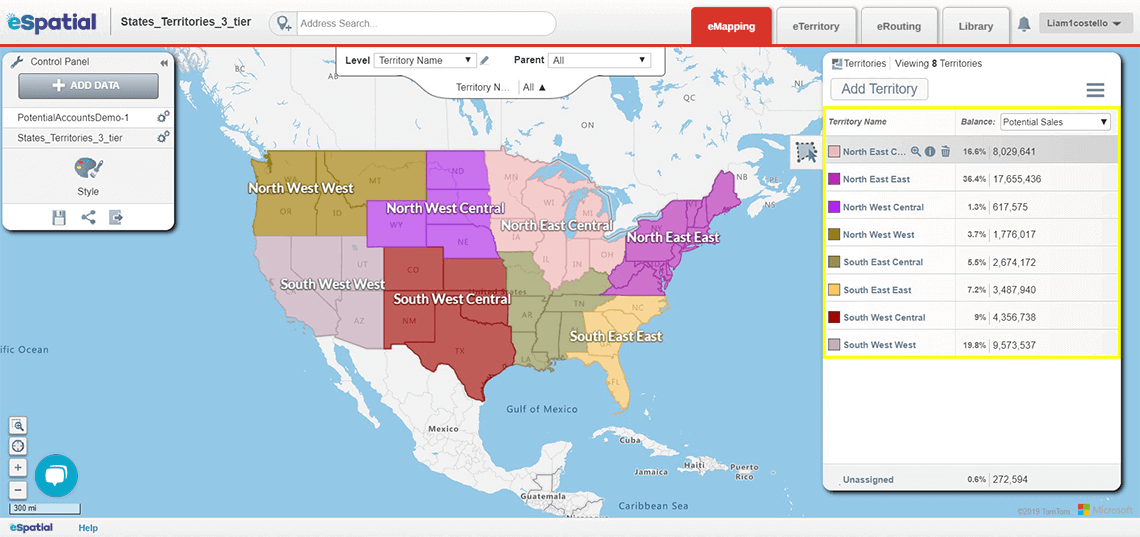 What's more, mapping software combined with good sales analysis can enable sales leaders to assign the right sales rep, based on their individual strengths, to each sales territory. For example, particularly challenging territories can be given to senior sales reps with more experience. Prioritizing and targeting workload and employee resources in this way can help maximize revenues in each territory.
Engage in what-if analysis
Before making any adjustments to field sales strategy or established sales territories, managers can also engage in what-if analysis. These exercises help decision-makers view the impact of their proposed changes to ensure that adjustments will provide an increase in revenue or other objective improvement.
Meet SLA requirements
When sales reps consistently meet service level agreements (SLAs), it helps build a track record of success and good customer service. Consistently meeting SLAs can also foster upselling and cross-selling to existing customers. Once they've seen that your company follows through on promises, customers are more likely to increase their business with you.
Tracking SLA requirements is key, as is mapping the data you need to plan for them. When you build SLA minimums into all your sales territory planning, it's easy to meet your commitments to customers.
Consistent review and improvement
Finally, all of the above elements allow managers to regularly review their sales team's performance and associated metrics. With this data, decision-makers can identify areas of improvement, adjust their sales territories and craft new SMART objectives to help further drive sales.
In-depth sales analysis is a critical process for today's businesses, and becomes even more intuitive and valuable when teams have access to mapping software to support their analysis.
To find out more about how mapping software can benefit your sales data analysis, have a chat with one of our mapping experts or start a 7-day free trial today.
---
---