Right-sizing sales resources is a strategic and continuous process of optimizing the number of sales reps to ensure you:
Maximize sales opportunities and sales potential
Avoid overstaffing
Eliminate inefficiencies and excess costs
And mapping software is a valuable tool to help you make better-informed decisions on the ideal locations and allocation of sales resources. Here we will explore some approaches.
1.

Crunch the data

First, you need to gather and crunch your data. You'll want to ensure you make data-backed decisions. Consider:
Customer location data
Sales performance data
Sales potential data
Sales pipeline
Demographics
Rep location data
Competitor locations
Heatmaps are a great way to visualize your critical sales and marketing data.
2.

Divide and conquer

Segment your customers into characteristics like:
Industry or vertical
Company Revenue
Company size (employees, locations etc.)
Customer type (SMB, Enterprise, single site, multi-location)
Critical metrics (like the number of PCs, patients, beds, and users)
Sales potential or total addressable spend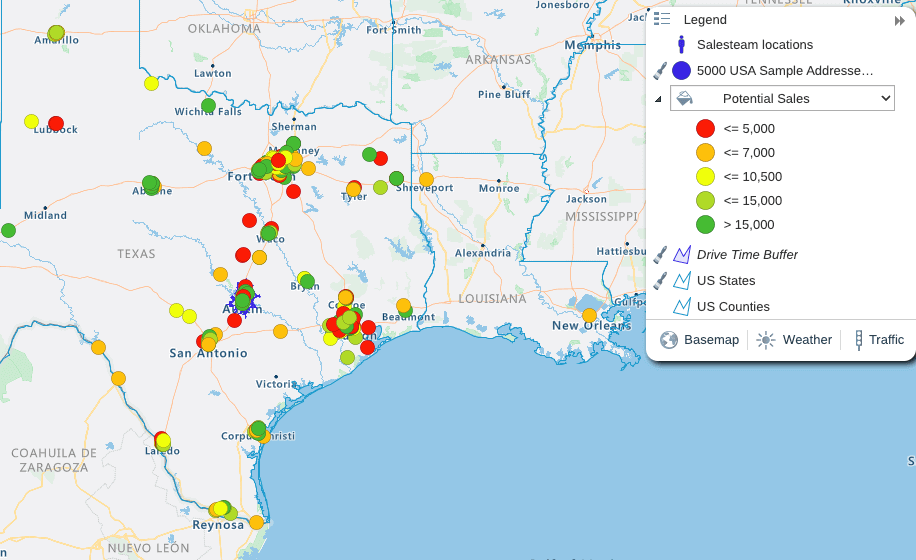 3.

Create your maps

We are biased but can think of no better way to present and interrogate your data for insights than with maps.

There are three steps to consider:
Let's explore each in detail.
Visualization and analysis
The first step is to map your data for insights. A great starting point is using heatmaps, which can help you identify:
High concentrations of sales, customers or competitors
Sales hotspots (or product hotspots)
Whitespaces (areas you lack coverage)
You can identify areas or regions requiring more or fewer sales resources. And prioritize territories to be divided, merged or created.
Above is a hotspot heatmap showing customer concentrations.
Territory optimization
Using your insights from your data analysis stage, you can map your sales territories and leverage scenario planning. When creating your sales territory plan,
Consider factors like:
Customer concentrations
Competitor concentrations
Hotspot regions
Sales potential
Workload index
Ultimately, your goal is to ensure that you optimize each sales territory and ensure each rep has a manageable workload and equal sales opportunities. But. And there is always a but. We recommend using sales territory mapping software first, then involving your team. Your sales managers, sales reps and HR department all play a role in determining sales territory alignments and resources.
You can avoid disruptions like moving customers from one territory to another and severing strong personal relationships. It alienates customers and reps alike. Get your team involved by sharing territory maps and enabling them to give feedback on your suggestions. That last-minute tweak to a sales territory can be the difference between success and failure.
Route optimization
The power trio of visualization, territory and route optimization is transformational in your decision-making. The final step using maps will be to use route mapping software to plan and optimize selling time and eliminate wasted opportunities.
4.

Finalize your headcount

You have scrutinized and analyzed your data. Created new sales territory alignments and shared them with the team. You will need to ensure your resource allocation is optimal and on budget.

Play around with different scenarios based on several headcounts to ensure you have divided sales territories optimally, minimized costs and maximized sales potential.
5.

Match sales skills to customers

If you sell to multiple sectors that require specific expertise, spend time matching your resources to the best-fit verticals. For example, you might have a salesperson with excellent account management skills and automotive industry expertise. Assign them to your chosen customer segment and then optimize your alignments.
6.

Test and measure

Review your resource allocation strategy regularly and tweak it as needed. Markets are dynamic; reps leave, customers churn, and competitors rarely stand still. Neither should you. Create a feedback loop from your regional and territory managers, ensuring you gather intelligence regularly and update as needed.

For example, a leading building equipment rental provider plots current and future construction projects on maps and assesses the need to divide sales territories every quarter to maximize sales.
Above is a map showing future construction projects within 10 miles of a rental depot.
7.

Invest in mapping software

Ensure you invest in a package that includes advanced data visualizations, like heatmaps, and territory and route optimization.

Maps are perfect for sales, operations and marketing when allocating resources. Quickly visualize, analyze and optimize resources, boost efficiencies and sales while maximizing customer time.
---
---