An Excel heat map shows different levels of information visualized as graded shades on a map. You can generate two types of Excel heat map using eSpatial: a heat map and a regional heat map.
You can follow this article at the same time as making your own excel heat map, either from your data or from our sample data. Just join our free trial below. No credit card needed.
Heat Map
This is a data styling option in eSpatial. Plot data, then create an intensity/heat map based on pin density or on particular values associated with pins (e.g., sales volumes per year, etc.). create a heat map
Regional Heat Map
This type of heat map summarizes and aggregates data within a pre-defined geographic region – ZIP code, county, state, etc. Volume levels are differentiated by colors or shades (e.g., red = high density, pink =- low density) create a regional heat map
1. Create a heat map
Log in to your eSpatial account (get a free trial here). Upload your Excel spreadsheet data (or use the sample data in the Add Data panel, to see how it works)
Click the dataset title ("sample" here) on the Control Panel, then Style & Color
On the Style & Color panel, which appears on the right side of the screen, select Heatmap.
Below, I've highlighted the heat map customization options. Experiment with these to create the best visualization for your data.
(Optional) Tick Overlay pins, at the bottom of the Style & Color panel, if you wish to see the original mapped uploaded data expressed as pins on top of the heat map. Tick Color Snapping if you wish to smooth out the edges of the heat map:
Save your heat map by clicking the indicated icon in the Control Panel. Then click Close.
2. Create a regional heat map
You can quickly create a regional heat map using eSpatial (sign up here for a free trial).
Once you've uploaded your data or used our built-in sample data (available on the Add Data panel) you can create an Excel regional heat map (like the one above) by simply clicking on the Analyze Data button.
Next, select Regional Heatmap:
Now you need to select the data that you want to express on your heat map, as well as the region dataset.
Region datasets can be composed of pre-existing regions (e.g. US States, UK Counties, etc.) or on territory datasets you have previously created.
If you have no region datasets in your account, you can add the relevant region by clicking the Add Region Datasets button. In the panel (Add from Library), click the eSpatial datastore tab, find the dataset you want and then click
Add to Map:
Close this panel and you can see that the region dataset is now available from the Select region dataset drop-down menu.
(For more on datasets and the eSpatial datastore, go to our help pages).
Now simply click Complete to generate a heat map of your point data. If you use the sample data for your point dataset and the US States as your region dataset, as I have done, your Workspace should look like this:
You'll notice that, by default, the map has retained the original pin data (the green markers). You can toggle these points on and off by clicking on the eye in the legend menu.
If you are sharing the map and only want to show the heat map analysis (and not the point dataset), simply use the Save As button in the control panel, which is found when you click the Save icon.
This allows you to save the Workspace heat map view as a unique map (you will still have the original – as long as you have saved it). And that's how easy it is to create an Excel heat map using eSpatial. Take a look at the other types of maps you can create with eSpatial here
This article was last updated April 2017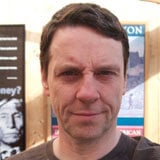 Written by
Patrick Butler
Patrick Butler joined the eSpatial marketing team from 2013 to 2015. With a Masters in Journalism and experience in a variety of organizations, Patrick brought a wealth of commercial knowledge to the eSpatial team.