Creating a sales strategy is a challenge for most sales leaders. It involves many moving parts that influence results, so it is vital to get it right. As with all strategies, it is imperfect. Nobody can tell the future, so once created, measurement and refinement are essential as you execute it. Consider using mapping software in your research and data analysis stages. Nothing beats visual intelligence when making complex decisions.
Below are some essential ingredients to your approach leading to a more effective strategy.
1.

Where do we play or not play?

Your sales strategy must align with your business strategy, and your starting point is crucial. You must be clear about those markets you choose to focus on and those you choose to avoid.

You must know your target market in detail:
Which industries?
Which verticals?
Which customers (your ideal customers)?
Which pain points you we address for your ideal customers?
Which sectors value what we sell the most?
You will need to research your market and use your data to identify the best-fit opportunities for you to succeed. Here is where map software excels with maps like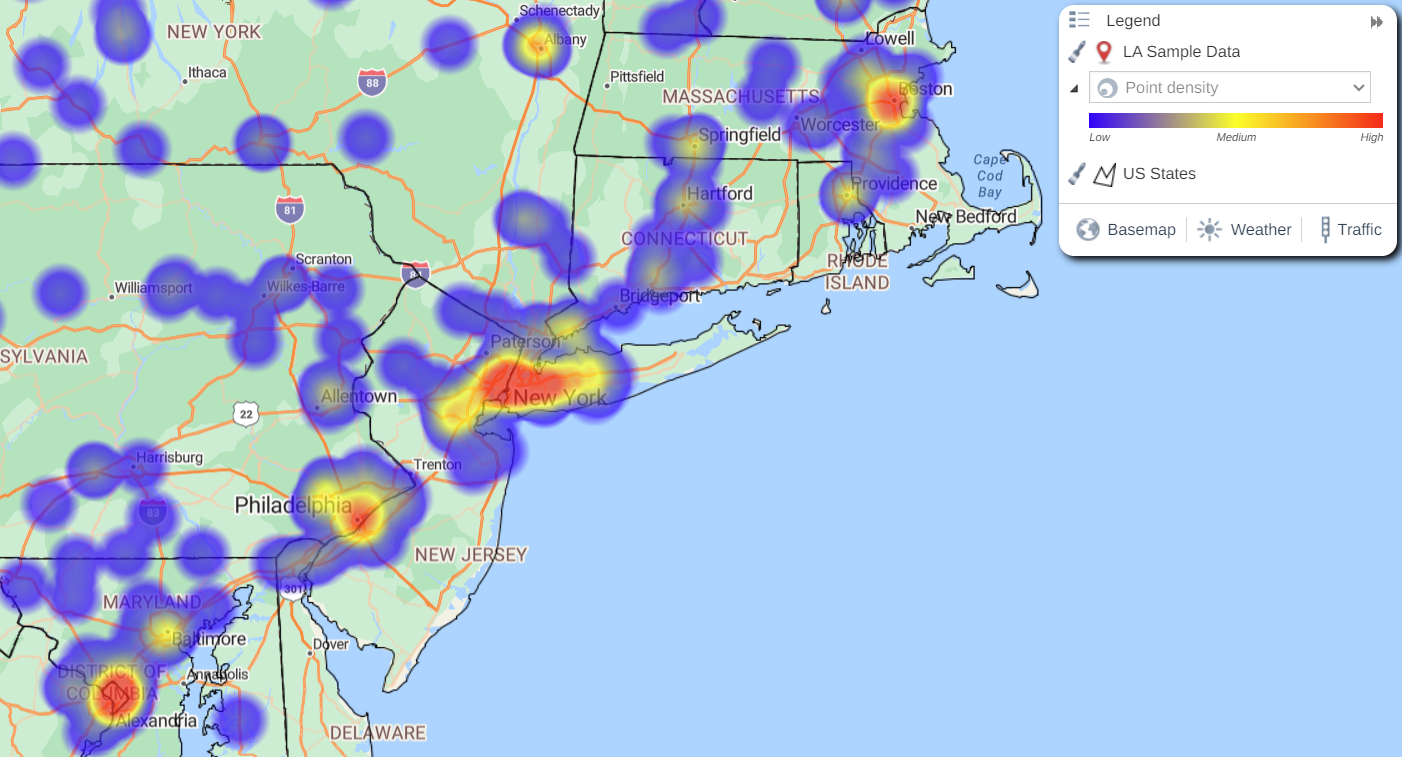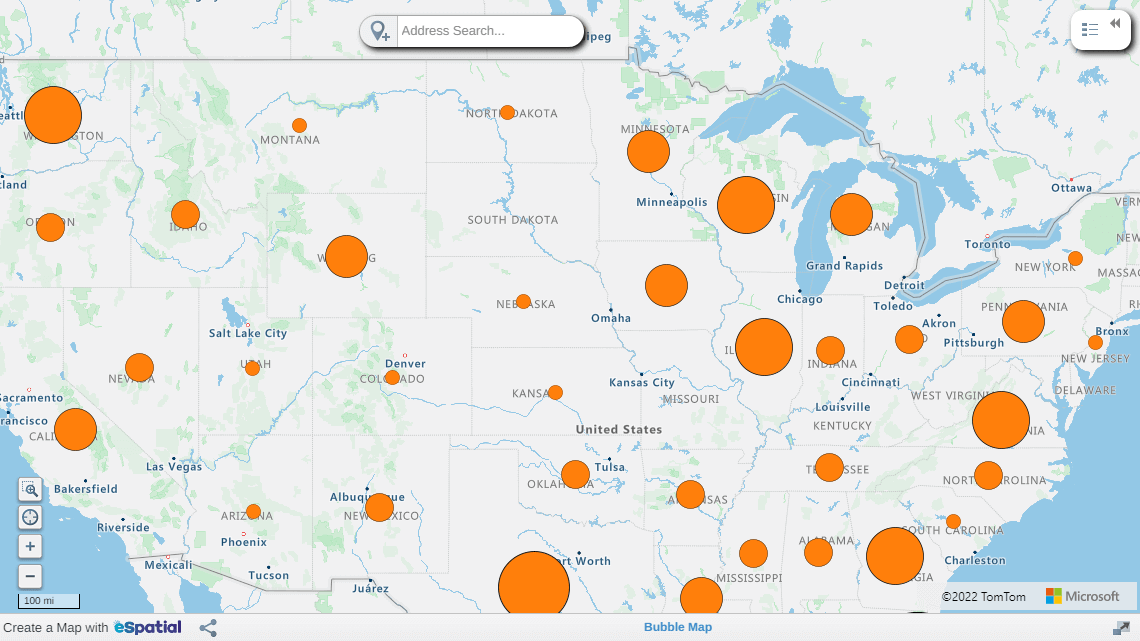 2.

How will you win?

Having selected where you will play, you must write down the specifics of "how you plan to win".

What marketing and sales tactics will you use to succeed?
3.

Analyze your competition

As you would expect, none of these approaches work in isolation. Part of step 2 is an analysis of your competition. Understanding competitor strengths and weaknesses enables you to craft winning Value propositions.

Use pin maps to show your competitor locations and give more insight to your analysis.
How will you position yourself against the competition? How will you win the customer's mindshare?
4.

Create buyer personas

A logical extension of choosing where you play and who you will target is to create buyer personas.

They should become detailed profiles enabling your sales team to tailor a Value proposition for each. Marketing and sales should collaborate on this vital stage. Hubspot has created a useful template how to create a detailed buyer persona to leverage.
5.

Map your ideal client's buying process

Before you develop your sales process, you must understand how your customers buy. What journey do they take from an initial interest in a product or service? Here are some typical steps:
Problem recognition: What were the triggers that resulted in a change of mind that initiated their process?
Research: How do they research service providers?
Onboarding: When and how do they select potential partners?
Clarify preferences: When and how do they narrow their selection criteria?
ROI analysis: When and how will they measure and calculate ROI, and how do you meet their needs?
Engage: What are the final steps to agreeing a sales deal with your organization?
6.

Map your sales process

Map how your sales team enable the buyer's journey step by step. By focusing on your customer's triggers, you develop ways to meet their needs at each stage.

What is a trigger? For example, a common trigger for our ideal customer to reach out to eSpatial is when they have a new sales territory alignment project in mind. That is usually triggered by a change in their market requiring a review of their sales structure.

As you design your sales process, refer to your CRM and pipeline stages and identify the opportunity stages that reflect your Sales Process best.

Always focus on the signals representing forward momentum in your opportunity management process—set goals for each important KPI.
7.

Sales structure

How will you organize your sales team and support resources to ensure you win in your market? Here sales territory mapping software will excel.

a. What is the account sales potential for your geography? How can you segment accounts?
What sales effort is required to develop these accounts?
What are the specific sales activities needed for each account segment?
b. What coverage and salesforce size do we need, and at what cost?

What is the effort required now to manage and grow accounts?
How many accounts can an account manager handle?
What is the average selling capacity of a salesperson?
What will it all cost?
c. Estimate revenues and profit

What can each segment generate in sales, gross profit and product sales?
What historical information can we leverage to support our research?
What win rates can we expect?
d. Evaluate the cost implications of different sales structures

What is the best channel for each customer segment? Web, inside or field-based sales, key account management?
8.

Set your sales quotas

Territory management is assigning your sales reps to areas and aligning sales quotas with sales potential and business objectives.

The best way to ensure you create balanced, equitable sales territories is with sales territory mapping software.

You can compress time and get far superior results with sales territory optimization.
9.

What sales culture will you create?

How do you define your winning sales culture? How will you create an environment that enables your sales team to be successful?

What sales training, coaching and development plans will you deliver? How do you ensure your sales team have product and market knowledge, giving them a competitive edge?

Ensure you involve your HR team and develop an incentive scheme that rewards the behaviors you want to embed.
10.

Define your sales and marketing tactics

Sales and marketing coexist and are codependent. So, work closely in defining how your sales team will sell. What tactics are best suited to your strategy?
Social selling
Email
LinkedIn
Face-to-face
Cold selling
Networking
Events
Webinars
Account management
Upselling
Cross-selling
11.

Align sales and marketing

We have discussed this topic, but take it further and co-develop an agreed sales and marketing action plan.

Sales can help marketing define and refine lead, MQL and SQL definitions, who does what, and when. Both team leaders should meet regularly and share feedback and discuss performance metrics. The perfect way to improve alignment is through map sharing.
Marketing must ensure sales reps have access to their plans, content and the tools they need for customers.
12.

Define how you will embed digital technology

Sales teams need the best technology and tools to compete effectively. Marketing focus on digitizing their buyer's journey as customers select a more self-service approach to buying.

Choose the right tools that give your team the information and data they need to be effective. And embed software that tracks customer activities and improves sales productivity and utilization.

Consider mapping software for data analysis, territory mapping software and route mapping software.
13.

Inspect what you expect

The devil is always in the detail and, you must include an execution plan with a regular cadence for sales performance management.

Analyze your sales performance against your plan. Analyze your sales team activity against your plan. Are your team targeting ideal clients with the correct Sales Process and tailoring their Value proposition?
What are the sales conversion rates?
What selling behaviors are proving successful?
What is your win/loss analysis showing?
14.

Review and update

Review your sales strategy quarterly and update it based on your latest intelligence. Acquisitions, new competitors, new products, customer footprint changes and economic factors impact the best-laid plans. Sometimes you need to be flexible and adjust as you gain feedback.
15.

Communication systems

So much of our success in work is down to the clarity and cadence of our communications. Your strategy should be clear on:
Who needs to communicate with whom?
When do we communicate?
How do we communicate?
How do we know our communication is working well?
There you have it. 15 powerful ideas to help you create a sales strategy that delivers a competitive edge. Let us know how you found the article and what has worked/not worked for you when developing a sales strategy.
Download our sales strategy template
---
---