Sales team coaching is a critical part of a sales manager's role. And it is a powerful way to grow your sales rep's competency and effectiveness. It boosts confidence and drives sales productivity. And mapping software can give you a competitive edge. With power mapping software, you can visualize your sales data to boost engagement, understanding and improve sales planning. You can plan sales routes and increase day-to-day productivity. You can optimize sales territory design, ensuring your sales team gets equal sales opportunity and potential.
You can easily make more informed, data-backed decisions and collaborate with key stakeholders. In his million-selling book The Coaching Habit, Michael Bungay Stanier describes a great coach as someone who remains curious, avoids giving opinions and listens to understand. Often sales leaders feel the need to fill gaps in conversations or jump straight to taking action.
With questions, a coach can open up conversations and encourage others to find answers. Sales mapping software excels because it is a visual tool, and 80% of all human learning is visual. And it promotes reflections, challenging questions and engagement. If you are new to mapping software, don't fret. Here is a step-by-step guide to coaching your sales team with maps. If you are an experienced map maker, there are some new ideas to leverage with mapping:
1.

Visualizing complex data

Let's face it. Most sales leaders are overwhelmed with data. The problem is not the volume. It is interpreting and gaining insights. Data visualization is the gift that keeps on giving.
Real-world example
Susan leads a twelve-strong sales team. She advocates good data management and has created a CRM maintenance and updating culture. She has clean data. But has struggled to gain context and meaning from the data. CRM reports make it too hard to extract valuable trends and insights. Using maps like heatmaps, color-coded and pin maps and visualizing her customer data locations has been a game changer.
How?
Rather than sharing Excel sheets, she holds regular review calls with the sales team and shows them sales data on maps. Her reviews are now interactive sessions where each team member can see their sales territory performance by location. And they can share scenarios, ideas and action plans on the fly.
Check out our Conquering mapping software guide.
2.

Planning sales campaigns

Using maps is a fantastic way to analyze, plan and execute sales campaigns.
Real-world example
Henkel shares interactive maps with their sales team to help them prioritize and plan sales campaigns. Using marketing data from multiple sources, they identify new verticals, prospect accounts and whitespaces for growth and share them on maps. The salespeople use maps to plan sales routes and campaigns and report updates. The result is a streamlined planning process that compresses onboarding time by 67% and significantly boosts new opportunity growth.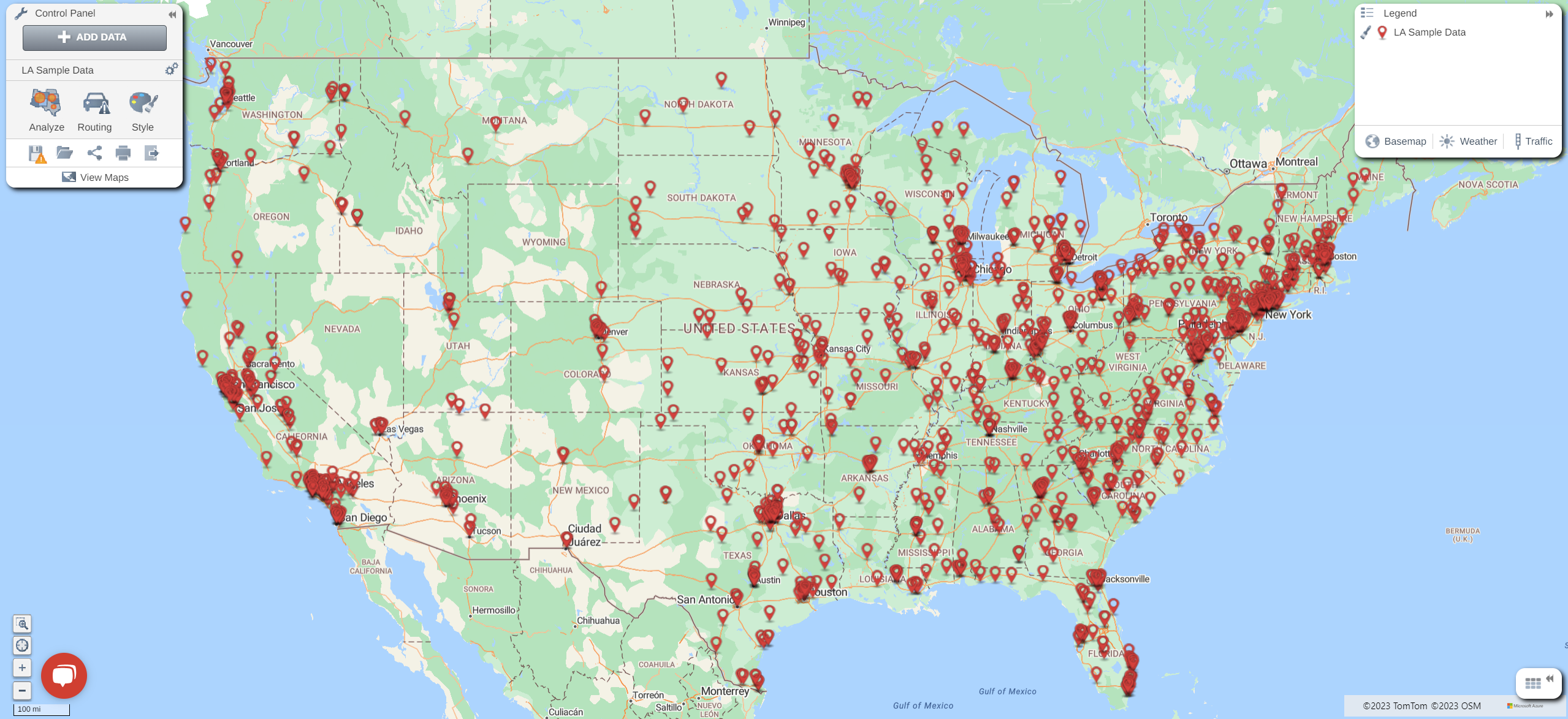 3.

Optimizing sales routes

Route optimization software is a great coaching aid for sales managers. The goal is simple. Boost time with customers. Your sales team can plan their schedules and optimize their daily routes. You can use visual analysis tools to compare intended versus actual results as a manager.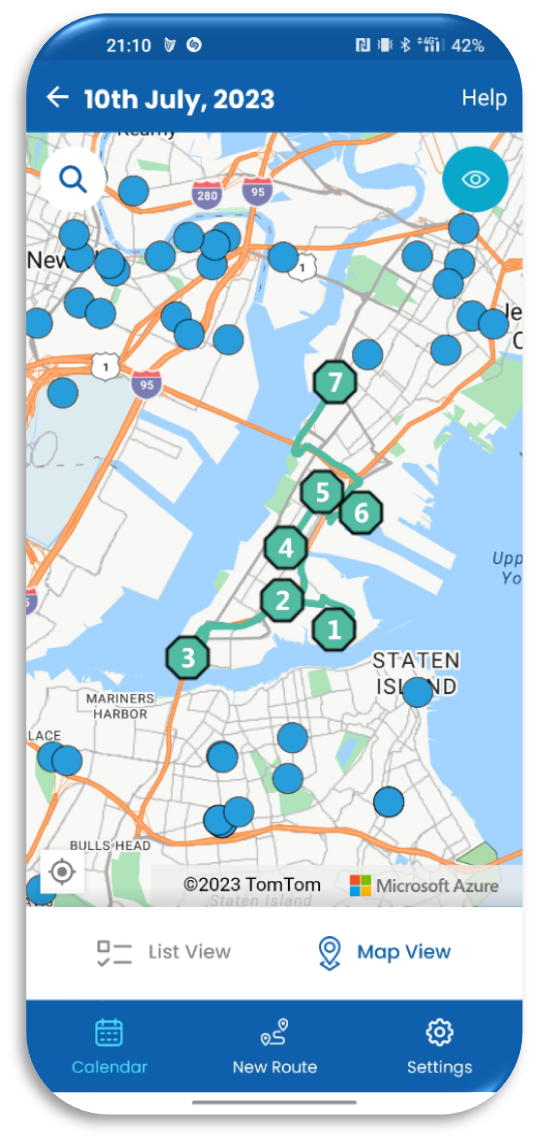 So many coaching opportunities are available to a manager who shares a route map with a sales rep and discusses areas to improve productivity and utilization. Quickly identify areas to eliminate unnecessary travel time, save cost and add more sales calls.
4.

Identify inefficiencies

Using territory mapping software, a manager can analyze sales territories for inefficiencies. Common challenges are overlapping geographies, unequal workloads and wasted travel time.

The sales coach uses territory optimization software to identify new alignment designs or opportunities to merge, split or close territories. Sharing new design scenarios and involving the sales team in new alignments can boost buy-in for changes and avoid disruption.
Disruption is a common side-effect of territory changes. Moving accounts can impact reps but, critically, strong relationships with customers. Protecting relationships while ensuring you maximize territory potential is a delicate balancing act. It is made easy if you use your territory maps as the basis for a coaching conversation.
The conversation shifts to one where every stakeholder feels a part of a process designed to create equal territory workloads, balanced sales potential and new ways to grow revenue while protecting key customer relationships.
Check out our Conquering territory management guide
5.

Layer your datasets for more significant insights

Your mapping software should allow you to layer multiple datasets and, if so, will facilitate another coaching opportunity. Imagine you are coaching one of your sales representatives to improve their prospecting success. You overlay the territory map with customer locations and ask, "What areas should you explore for new customers"?

Then you overlay a dataset of competitor locations and ask, "What competitor locations are your highest priority to win"? You can go a step further and layer demographic datasets to extract new insights. And because you approach it as a coaching conversation, you get your sales reps to engage better and suggest new options.

Then you may decide on a more direct approach and make some suggestions. Sometimes you need to act as a mentor.
6.

Feedback and reviews coaching with maps

Can you think of a better way to hold feedback conversations and reviews than visually? Maps excel in these situations. Show your team a heatmap with customer locations and use their insights as coaching opportunities.

Show your rep's results on maps:
Sales by product
Sales by zip
Sales by customer vertical
Call frequencies
Route plans versus actual call patterns
Opportunities created by zip code
Deal velocity by region or territory
Deal velocity by opportunity stage
Response times for lead follow-ups
Metrics and results come alive on maps and boost team interactions and insights.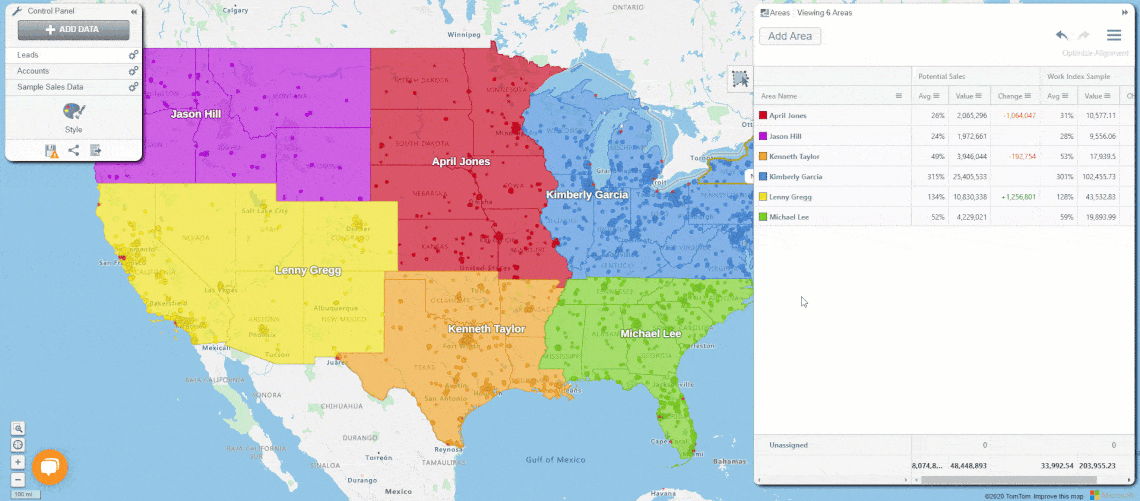 7.

Coach in the moment

Using maps in your weekly, monthly and quarterly meetings with each team member leads to better-quality conversations. As the coach, you guide your team members using a map as a backdrop to a conversation.

And starting a conversation with:
"I see that sales in Dallas are growing, but Houston is declining; what is going on there"?
"I noticed you are spending a lot of time prospecting in San Antonio, but I don't see many prospects there. Am I missing something"?
"I see you have grown account penetration for product B in the Hospital sector with great success. What are you doing that your colleagues could learn"?
It is not a cliché to say a picture paints a thousand words. Just substitute a map for a picture, and you will see that it leads to new coaching conversations for sales managers and leaders. Coaching a sales team using mapping software may be a new approach, but it is an option to consider when improving sales team performance.
---
---