Modern sales teams rely on digital maps to visualize their sales data, but that shouldn't mean you have to learn cartography just to get by. We're past the age of hand-drawn maps on tea-stained parchment; your team should have the digital solutions it needs to create efficient and effective sales maps with ease.
Unfortunately, many organizations are still using outdated tools that require intense manual work while delivering minimal results. For Salesforce users, a common complaint is the difficulty and limitations in the platform's mapping capabilities. While some organizations can get by performing time-consuming, complicated mapping processes, there is a solution: Integrated sales mapping software.
What is sales mapping software?
Mapping software combines locational intelligence with data from your customer relationship management (CRM) platform to generate interactive sales maps of your various clients, leads, and territories.
Whereas sales, location, and demographic information used to be inaccessible due to siloed systems, mapping software connects these sources to generate vibrant maps. This indispensable tool allows sales ops and leaders to uncover and visualize actionable insights hidden in their data.
Why use mapping software with Salesforce?
You might think, "Well, Salesforce works for us; why should we use another software?" That's a valid question and one that most businesses will have to answer for themselves. However, it's all too easy to get stuck using inefficient tools that don't accomplish everything you need just because they're familiar.
By integrating mapping software with your Salesforce CRM, you get the best of both worlds; you still have all the functionality of Salesforce with the added capabilities of a comprehensive mapping solution. Analysis and reporting tools also provide clear visibility into all your territories, enabling better business decisions that drive revenue. Plus, automating map creation can boost your efficiency even further, increasing both selling time and sales potential.
How to automate sales map generation with eSpatial
There are countless mapping solutions on the market, but few of them offer truly seamless Salesforce integrations, let alone sales map automation.
eSpatial is an innovative three-in-one solution, that delivers robust solutions for mapping, territories, and routing. With eMapping, eTerritory, and eRouting, you get everything you need to design, build, and optimize your sales dominion for optimal performance. On top of receiving the advanced functionality your business requires, you also get full support from our mapping experts.
Use eSpatial as an independent solution, or embed it within your Salesforce Org to fully leverage our seamless integration. No matter which option you choose, eSpatial comes with all of the benefits available in our three flagship products.
1.

Creating a map

Mapping automation has never been easier with eSpatial. Simply sign up and import your data and the platform automatically plots it on a map.

eSpatial also allows you to upload multiple datasets from Salesforce or other sources and organize them by specific attributes you'd like to display. That means you can overlay location data with specific demographic information to create a more targeted approach that aligns with your business objectives.
You can personalize your map with custom colors, symbols, and sizes for different pins and points with data styling options. For instance, you can highlight high-value customers with larger symbols and vibrant colors.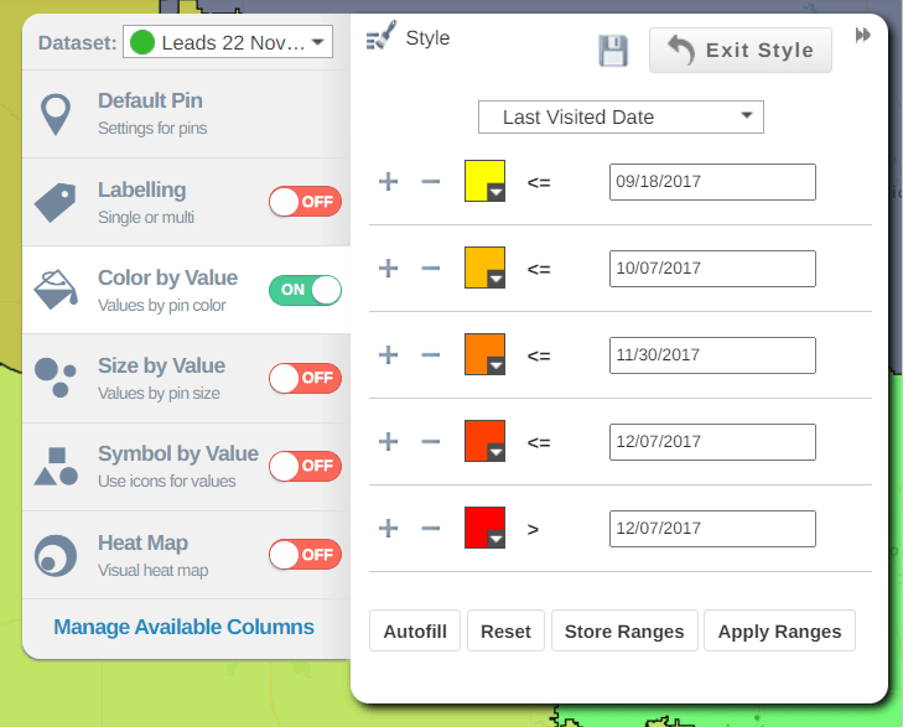 2.

Using templates in eMapping and eRouting

You no longer have to create multiple copies of the same maps with different views for each user. eSpatial allows you to create templates that display only what you need, such as leads, contacts, and opportunities. That way, you can customize the view for specific users and groups. Once you've set up, styled, and filtered your map to your liking, simply save it as a template and share it to collaborate with colleagues.
The benefits of eSpatial for Salesforce
Salesforce is a great tool on its own, but the benefits that come with eSpatial can have a huge impact on your bottom line. From technical tasks, like tracking sales and analyzing demographic and geographic data, to efficient workflow tools, eSpatial offers a user-friendly platform that takes your Salesforce Org to the next level.
Our customers receive a myriad of benefits, including:
Flexible Salesforce support: eSpatial supports all your Salesforce data, including reports, standard and custom objects, and the fields on those objects.
No Salesforce license requirements: Users don't need a Salesforce license to use eSpatial; they only need an eSpatial license or public access.
Import non-Salesforce data: If your organization doesn't use Salesforce, it's still easy to add non-Salesforce data like Excel spreadsheets.
Three-in-one solution: eSpatial has everything you need to automatically create maps, design and align territories, and optimize routes.
---
---