Optimized sales territories are the goal of all sales operations leaders. Unlocking up to 12% new revenue potential and boosting sales productivity. So you should think about territory optimization as a new revenue engine for your organization.
Optimized territories are perfect for your customers. They want service levels to match their needs. Salespeople will love them, too, as they get to maximize sales potential and earnings. And your organization benefits through higher profits and sales productivity.
Optimizing your sales territory coverage
You should consider a workload index to maximize sales opportunities while minimizing travel time.
Take an example of a Medical Device company with 478 sales reps active in the field. They calculated the time required to service their three tiers of accounts, A, B, and C.
Using CRM data drawing from sales rep activity levels. They mapped their sales process stages and assessed:
Time spent researching prospects
Time spent qualifying prospects
Sales call preparation time
Time spent in sales calls for segments A, B, and C
Time spent on negotiations
Time spent on administration
They identified territories above and below their ideal workload metric by applying a workload formula. It was clear that they had under-utilized and overworked sales reps. It resulted in sub-par sales productivity and utilization.
Workload formula
Average call duration (or time spent with customers) + Average travel time X Call frequency (the number of times a rep calls on a customer per year)

Above is a simple example, using a spreadsheet to calculate workload in hours for a sales territory. If you have a large complex sales structure, you will need a sales territory optimization solution with a workload index calculator. The algorithm will calculate travel times in seconds.
Focusing on the last column % total sales, you can see that our B accounts generate 30% of our sales but only 19% of workload hours. That could represent a growth opportunity by rebalancing the territory to free up more time for B accounts.
Losing sales to poor territory design is a common problem. And it is a complex issue to resolve. That is where sales territory optimization can transform your design workflows.
Profitable selling time
Profitable selling time is the ultimate goal. So you want to enable effective and efficient sales activity. Effectiveness gains lead to better value creation with your customers. Efficiency gains result in better use of your sales resources, so you get more out of your salesforce.
The predictive metric
One metric stands out for forecasting accuracy when optimizing sales territories—territory sales potential. I'm going to ask you to imagine two apple pies. The first pie represents your actual sales this year.
The second pie is much bigger as it represents your total sales potential. It includes your competitors' share and prospective customers.
As a sales operations leader, your job is to slice that larger pie equitably so everyone on your sales team eats an equal slice, unlocking new revenue streams.
Knowing your sales potential for each sales territory is a competitive advantage and a potential new revenue engine for your organization.
Step
one
Create your sales territory alignment goals in line with your sales strategy objectives. In the example above, "we want to maximize selling time for our B customers and drive speed to revenue".
Step
two
Focus on profitable selling time and use workload as your metric to balance sales territories. Think of a workload index as a measure of effort. Sales reps benefit from an equal workload or effort needed to achieve their quotas.
Step
three
Use territory optimization software like eSpatial to eliminate over 90% of the administration time and guesswork. Sophisticated algorithms work in minutes to deliver balanced results. Ensure your software can account for drive time. It is a component of your workload index, ensuring better alignments.
Step
four
Analyze your results against your desired workload measure. You'll want your sales reps to have a workload that enables them to cover customers optimally.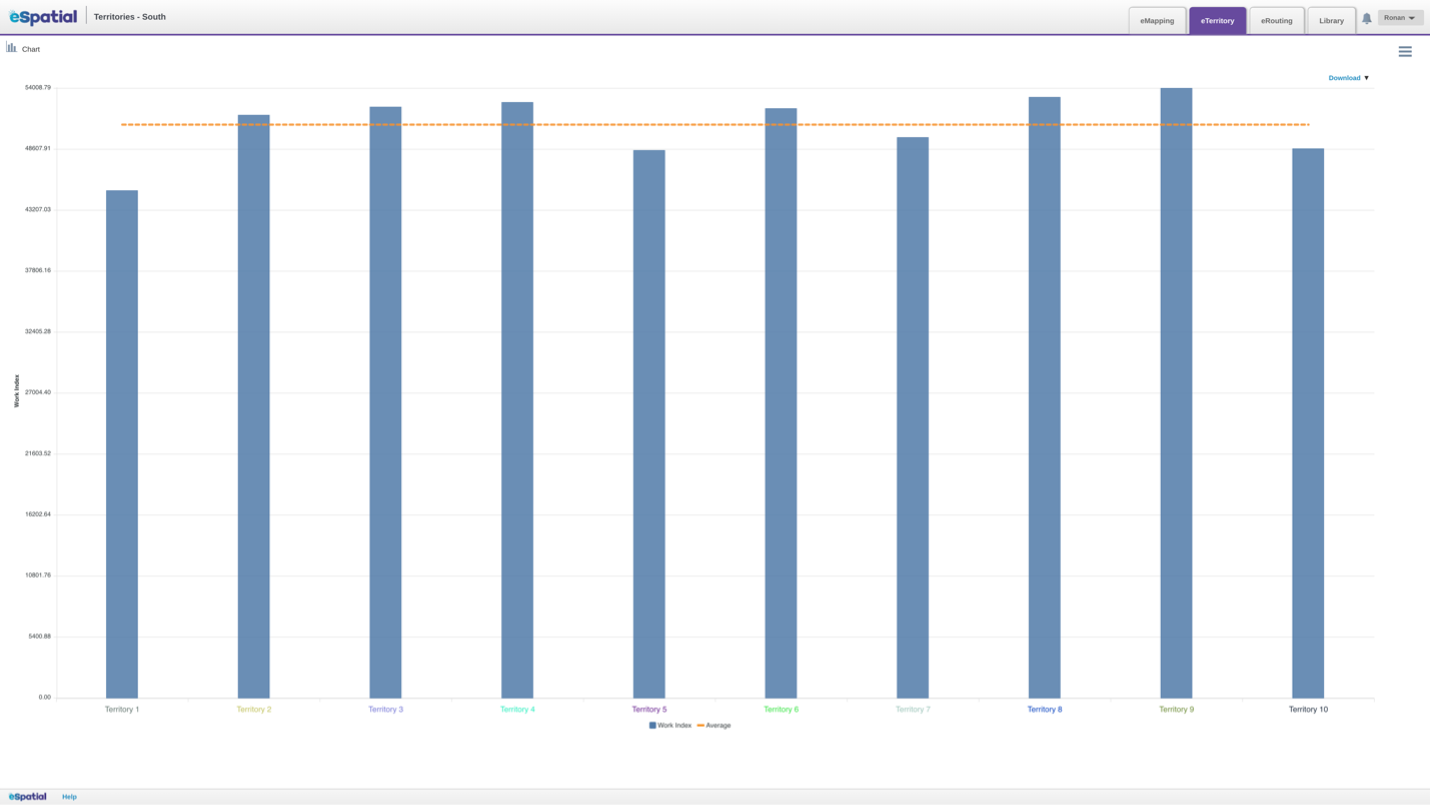 In the image above the orange dotted line represents the ideal workload for a team. Those above the line may lose sales potential as they are overworked. Those below are losing sales potential due to under-utilization.
Step
five
Minimize disruption. It impacts rep morale and customer satisfaction if approached without care. You'll want to reduce the number of account ownership changes. Involve your sales management and sales reps early in the process and have open discussions on the impact of potential changes. Use account exceptions to ensure you minimize disruption.
Step
six
Analyze the impact in time saved, miles saved, and sales potential realized. Think about the bigger pie available and track your progress in realizing that new revenue stream potential.
Remember, engaging your critical stakeholders like sales managers, sales reps, and HR early in the optimization process is best practice.
Also, read Part one of the Conquering sales management series
---
---