This article was last updated July 2019
If you're looking for a way to display your location data in a clear, concise way, you may want to create a bubble map. Bubble maps summarize your data by creating different sized circles that represent the value of your information. For example, the circles in the map below indicate the GDP of each European country. The larger the circle is, the higher the country's GDP.
Many sales managers use this type of analysis to quickly identify areas for further investigation. For example, they can easily discover regions with low customer concentrations. With this information, they can justify spending more on marketing in these regions to increase their customer base and revenue.
---
Ready to create your bubble map?
Sign up for our free seven-day trial
Create a Bubble Map
---
Summarize by region
Like heat maps, bubble maps can be used to see the density of locations in a region. Say you own a chain of coffee shops. You can upload all your locations and create a bubble map. This will show a circle in each region that's proportionate to total number of coffee shops in that area. The more shops, the bigger the circle. At a glance, you can evaluate the areas where there may be room for expansion.
Initial pin map
Bubble map
How to create a bubble map using eSpatial
---
2. Upload your data
Once you've logged in to your trial, you'll have the option to use our sample data, choose data from our library or upload your own. To prepare your own location data, make sure the columns in your spread sheet include unique headings, such as 'address', 'city' and 'state.' Save your data in excel (.xsl) or CSV format before uploading. Check out our how-to guide for more tips on formatting your data.
Once you've uploaded your data, eSpatial will try to automatically choose the relevant headings. If you need to adjust the information, click on Change Settings. When you're ready to map, click Complete.
---
3. Choose your map type
Click on the Analyze Data button on the control panel found on the left side of your screen. If you don't have your own information, you can test out bubble maps by using the sample data in eSpatial.
After clicking Analyze Data, click the Bubble Map button.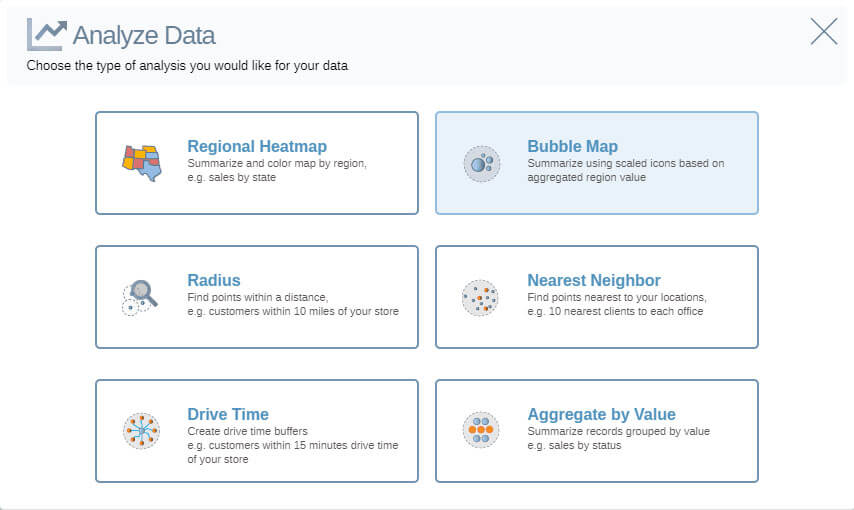 ---
4. Select your datasets
Under the first field, select the dataset you want to turn into a bubble map. In the second field, select the geographic region you want to use to summarize your data. In this example, we've chosen US States from the eSpatial database.
If you have no region datasets in your library, click the Add Region Datasets button. From the eSpatial database select the geographic region required and then click Add to Map.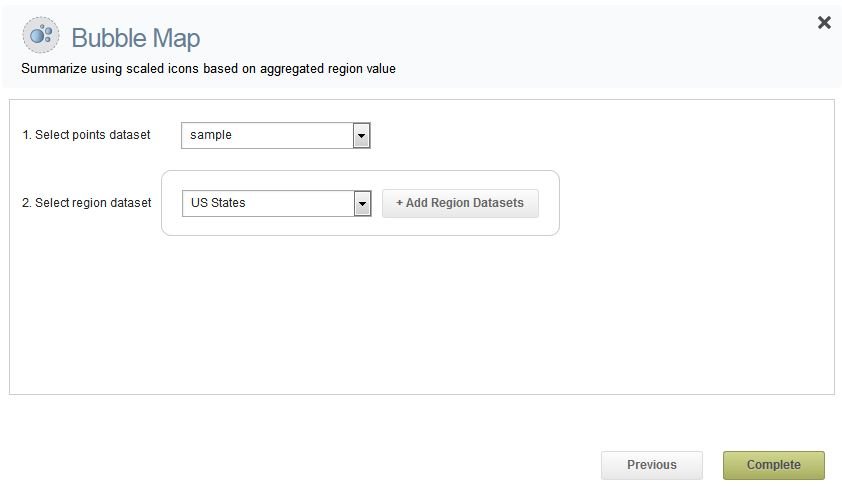 ---
5. Create your bubble map
Click Complete and your bubble map will be generated with your data summarized by region. The image you will see first will also have all your points data displayed on the map. You can hide these points in the legend by clicking the eye icon beside the dataset.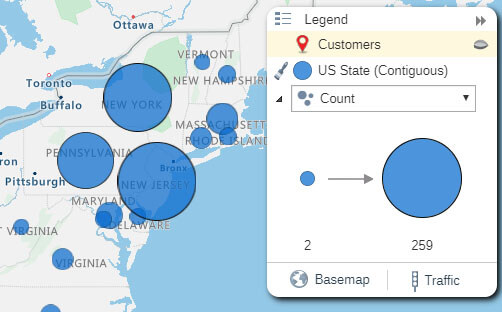 ---
6. Style your bubble map
To customize your bubble map, select the Style menu on the left side of your screen. To adjust your bubbles, select the region dataset from the drop-down menu (e.g. US States). Once you've selected the correct dataset, you can customize the colour and icon used for your bubbles under the Default Pin tab. Under Size by Value, you can adjust the scale used for each bubble by setting the size of the bubble for low and high points.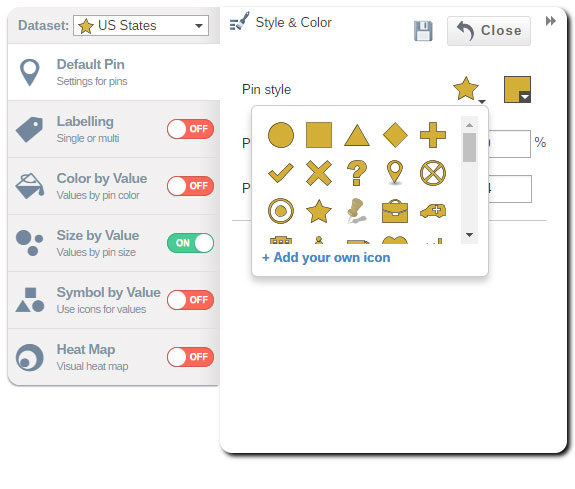 Pin Styling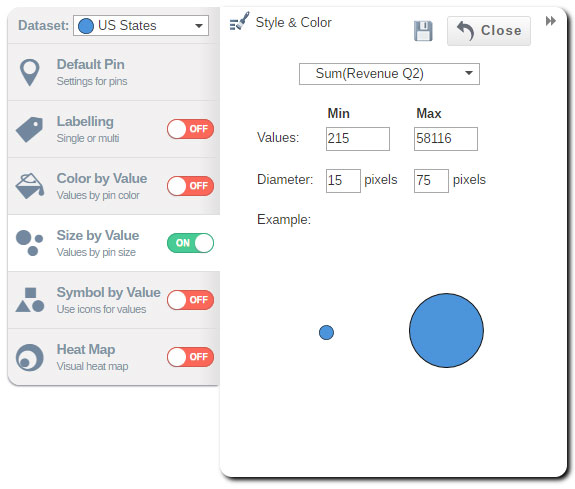 Size By Value
Experiment with the settings to find the bubble map that works best for you. If none of the icons available from the eSpatial database are suitable, you can also upload your own custom icons.
Creating a bubble map is an easy, quick way to evaluate the values of a region, whether it's at the country, state or ZIP level. Make your own with an eSpatial free trial to start analyzing your data today.
---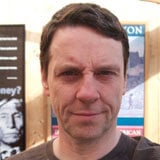 Written by
Patrick Butler
Patrick Butler joined the eSpatial marketing team from 2013 to 2015. With a Masters in Journalism and experience in a variety of organizations, Patrick brought a wealth of commercial knowledge to the eSpatial team.
Read more from Patrick Butler