Salesforce is a popular tool among organizations of all industries, and countless sales teams use its mapping functionality to create targeted sales territories — but that doesn't mean it's your only option.
While Salesforce Maps offers some great features and capabilities, it's not the perfect solution for every business. For instance, it's difficult to track deals within different regions or show demographic and geographic data together — not to mention the complicated user interface. Plus, Salesforce only acquired the tool from MapAnything, which wasn't even the original creator. That means it comes with limitations and customer support isn't always sufficient.
One solution many organizations are using is an integrated mapping tool. Let's take a closer look at these software tools and the benefits of integrating them within your Salesforce Org.
What is mapping software?
Whether you're a small business or a multinational enterprise, mapping software is an indispensable tool for any sales team. By integrating with your CRM, it allows you to create highly visual maps using existing sales and location data in the form of spreadsheets. With this birds-eye view of all your territories and sales performance, you can identify gaps and unlock hidden opportunities with actionable, data-driven insights.
Integrating mapping software with Salesforce
If you use Salesforce CRM, it's likely an essential pillar of your business, providing detailed information on current customers, contacts, accounts, activity, leads, and other opportunities. However, properly visualizing this data in Salesforce can become a time-consuming, complicated hassle without the right tools.
Whether the information is siloed away in disparate systems or the built-in mapping tool lacks the necessary functionality, an integrated mapping solution can unify your data and allow you to create vibrant maps that highlight, track, and report on critical information.
When you integrate mapping software with your Salesforce CRM, you get all the benefits of Salesforce CRM plus the advanced functionality of a comprehensive mapping platform.
---
8 key benefits of using an integrated mapping solution
Successfully integrating a mapping solution with your Salesforce CRM offers a number of benefits for your sales team, including:
1.

Seamless integrations with Salesforce and other sources

Whether embedding it within Salesforce or using it with Excel spreadsheets, mapping software offers seamless integrations. Add data directly from your Salesforce CRM or upload it from another data source — either way, you can generate detailed maps from your sales and customer information.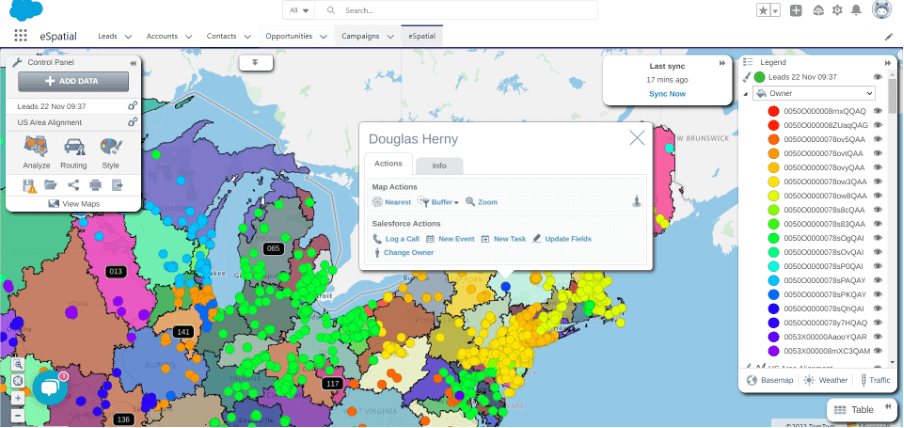 2.

Access to all your data on a centralized platform

Mapping software unifies data across your organization, connecting disparate systems and breaking down the silos that hold you back. By centralizing this information on a single platform, your team can save time creating maps to increase productivity and maximize selling time.
3.

Prioritizing high-value clients and leads

An integrated mapping solution eliminates the difficulty in prioritizing accounts by highlighting any that need immediate attention. Not only does this promote balanced territories with equitable opportunity, but it also means your customers get the support they need when they need it most.
4.

Customizable maps with advanced styling features

Your maps shouldn't be dull to view. Create highly engaging, vibrant maps with advanced styling features, such as pin size, color, shape, and more. You can easily draw attention to high-priority areas with larger symbols, different text fonts, and stand-out colors.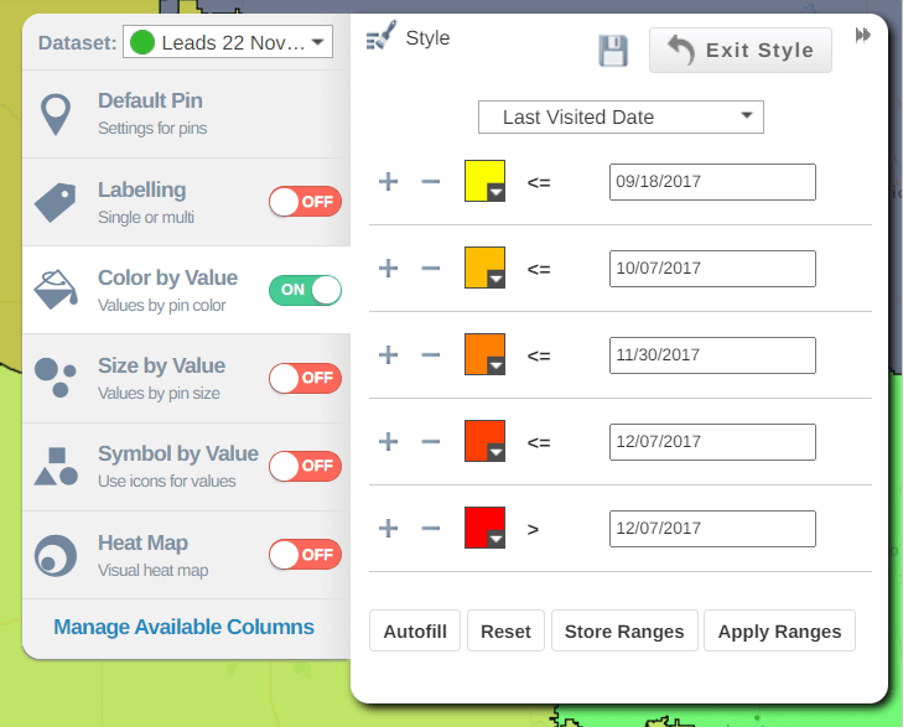 5.

Improved analysis and reporting with advanced tools

Salesforce mapping integrations also offer improved analysis and reporting capabilities with real-time, personalized dashboards that provide actionable insights. Plus, you can overlay geographic and demographic information to identify new areas of opportunity and further target your sales and marketing efforts.
6.

Faster map creation and roll-outs

Mapping shouldn't be a hassle anymore. With a Salesforce-integrated solution, importing your CRM data and automatically generating a map is easy. From there, you only need to filter, style, and share your map as a template for other team members to use.
7.

Optimized territories and routes

Comprehensive mapping software also comes with territory and route optimization features. Combining these three functions on a single platform streamlines your workflows while enabling better decision-making based on in-depth data analysis. In addition, your sales reps can optimize routes on the fly to stay on track and maximize selling time.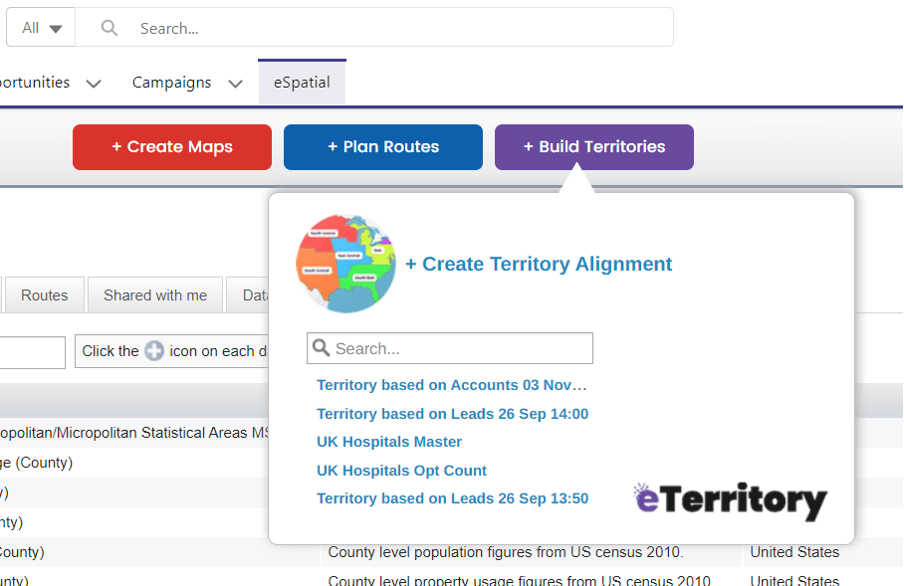 8.

Customer service from mapping experts

Finally, an integrated mapping solution offers unmatched customer service from the mapping experts who created the software. Unlike the long turnaround times and confusion that come with acquired solutions, using mapping software built from the ground up gives you direct access to live agents ready to field your questions.
eSpatial's comprehensive mapping software
eSpatial for Salesforce is the most comprehensive mapping software integration on the market. With everything from custom maps and territory alignment features to route planning and optimization, eSpatial has all you need to create detail-rich maps from Salesforce data in no time.
---
---