Heat maps are probably one of the most common types of mapping analysis undertaken by eSpatial customers. Whether you have a knowledge of data visualization or not, most people are familiar with Heat Maps in some shape or form. They're one of the first types of analysis that comes to mind when one thinks of mapping data.
However, heat maps are not simply just a method for visualizing data, the real benefit comes from understanding the data being presented. After all, a heat map can represent anything from traffic to weather patterns.
So how are our customers using heat maps in their organization? Let's look 5 common examples below. But before we do, it's important to know the two different types of Heat Maps commonly used, Hot Spot Heat Maps and Regional Heat Maps.
Hot Spot Heat Maps – Hot spot heat maps highlight clusters of your data in just a matter of clicks. A common example of a heat map would be a point density map. High densities of points are expressed by a darker shade, whereas low levels are expressed by lighter shades.
Regional Heat Maps – Regional heat maps use graded differences in shading or color in order to indicate the total or average values or quantities in certain areas.
1.

Identifying Clusters of Your Customers & Getting An Overview of Your Marketplace

One of the most common uses of heat maps is to identify the clusters of data. It's the first thing people think of when they think of a heat map. Which makes sense, because they are great for quickly visualizing data. A lot of our customers use hot spot heat maps to simply identify the clusters of their customers. In the map below you can see a sales organization in Kansas mapping their potential customers (state population) against their office locations. However, the real benefits of heat maps come after this.
2.

Refining Distribution Networks

One example of using heat maps to identify customer density is when analyzing your distribution or service network. For instance, organizations use heat maps of their customer base to identify where to best locate a service or distribution center. By visualizing their customer density and mapping their current distribution center locations, they can quickly see if a distribution center is too far away from existing customers locations or would provide a more efficient service if it was located closer to clusters of customers.

Likewise, with service technicians. Organizations use regional heat maps to determine the volume of customers per region, this information is then used to identify were service technicians need to be placed or hired in order to meet customer needs.

In the map below, the customer has created a heat map of their customer locations, overlaid with the locations of their distribution centers. From this, they can quickly see there is no distribution center effectively serving Philadelphia, where a large portion of their customer base is located.
3.

Analyzing Third-Party Data to Identify Areas of Marketing Campaigns

With eSpatial you can map multiple sets of business data from customers and prospects to individual sales reps and competitors. I've mentioned how sales and operations teams use heat maps to analyze data and make decisions. But we also have a lot of marketing teams who use heat maps to analyze third-party data to help decide where to run effective marketing campaigns.

For example, a fashion retail store in Texas is planning to run a billboard campaign. Using a regional heat map of demographic data, they can quickly see where the majority of their target audience is located (females aged between 22 and 29). This allowed the marketing team to make effective use of their budget and resources by planning and executing their campaign in these areas. This scenario is analyzed in the map below which shows the population density of females aged 22 to 29, with the color red highlighting the highest population.
4.

Identify Areas for Franchise Expansion

Another interesting use of heat maps is from franchises looking to identify areas to expand. In this situation, the organization has mapped each of its existing franchise locations. On top of this, they then upload data from their CRM. Using radius analysis they can quickly see clusters of customers that are within a 50-mile radius of their existing locations. However, the hot spot heat map of customers also shows several areas where they do not have locations (such as Boston), as well as existing locations that do not serve the market efficiently. This gives them data they need to make informed decisions on where to locate their next franchisee.
5.

Quickly Spot Customer Trends or Areas for Further Investigation

In the example above, we showed how organizations use hot spot heat maps to plan for expansion. In this scenario, we will show you how similar organizations use regional heat maps to report on their existing regions. In previous blog posts, we've discussed how easy it is for sales organizations to view the performance of territories using color-coded regional heat maps, but the value is just one way of reporting on performance.

For example, this company is using regional heat maps to monitor customer satisfaction rates nationwide (Red being a low customer rating, while green is a high customer rating). This map quickly highlights which territories have a low customer satisfaction rating, allowing management to quickly intervene and investigate the affected regions.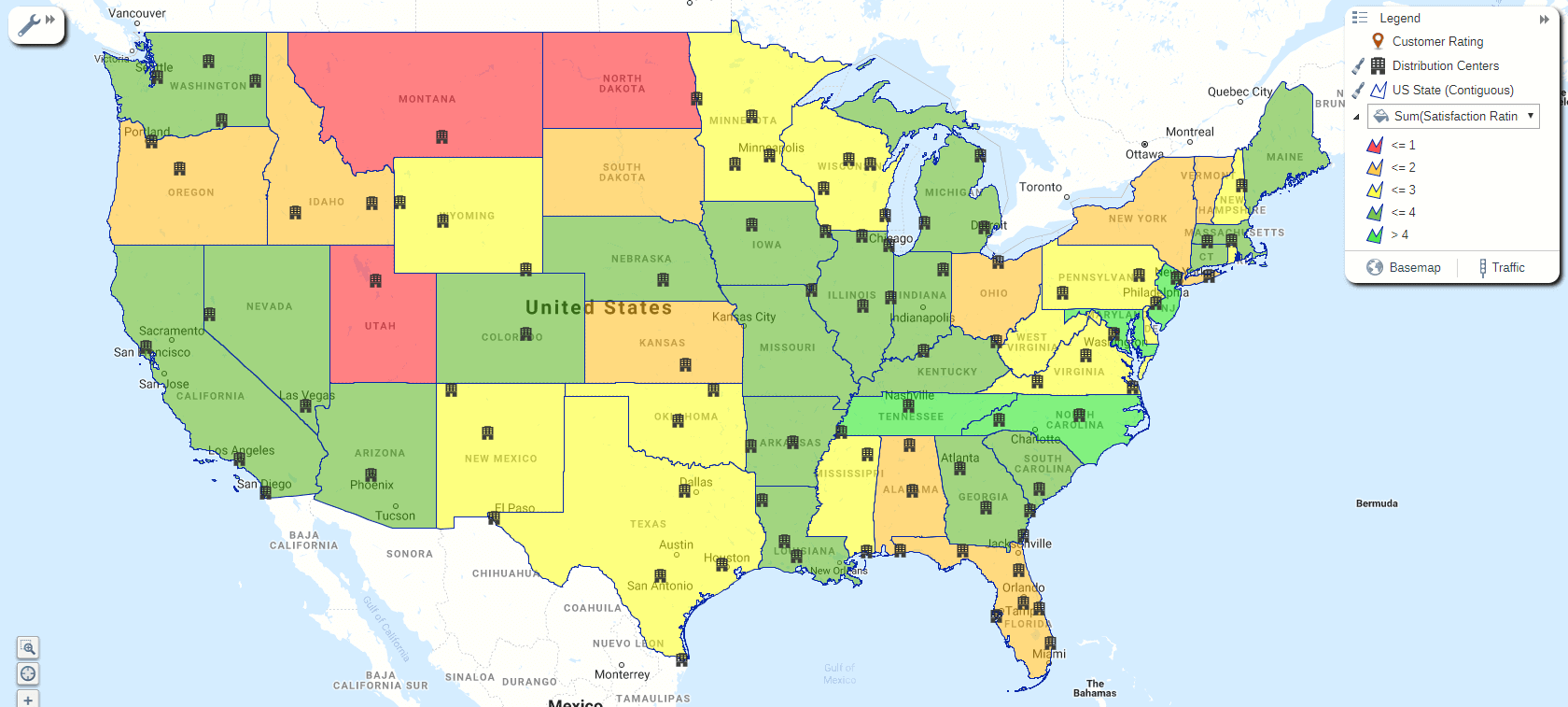 So there you have it, 5 ways organizations use heat maps that you might not have thought of. It goes to show there is a lot more to heat maps than first thought and that every part of your organization can benefit from them, from sales, operations, marketing, to after-sales services.
---
---