Our next big mapping software release is just around the corner and we wanted to give you a little preview of what's coming! We are constantly looking at ways to enhance our product and through our valuable customer feedback, we're proud to give you a quick look at our upcoming release.
New Mobile Solution!
That's right, eSpatial will be launching a mobile solution in the upcoming release. You'll be able to use us on your mobile browser and Salesforce1. In the coming months, it will be available on Apple AppStore and Google PlayStore. We listened to the great feedback from our customers and designed eSpatial Mobile which will empower sales and service reps in the field. From eSpatial Mobile, customers will be able to:
1. Prioritize their accounts
Use Radius or Drive Time buffers out on the road.Filter data based on certain criteria such as status.
2. Plan their week
View maps with accounts to visit that day and create routes.
3. Optimize Sales Routes
Select or bulk select accounts you want to visit. Then create an optimized route to save time on the road.
4. Efficiently handle canceled meetings
Every sales rep has to deal with the disruption caused by canceled meetings. Turn these frustrations into opportunities with a quick Drive Time Buffer using eSpatial Mobile to discover nearby accounts.
5. Bulk Update Accounts
No need to painstakingly update one record at a time. Open eSpatial Mobile at the end of the day and bulk update fields such as Status or Last Visited Date to finish your day.
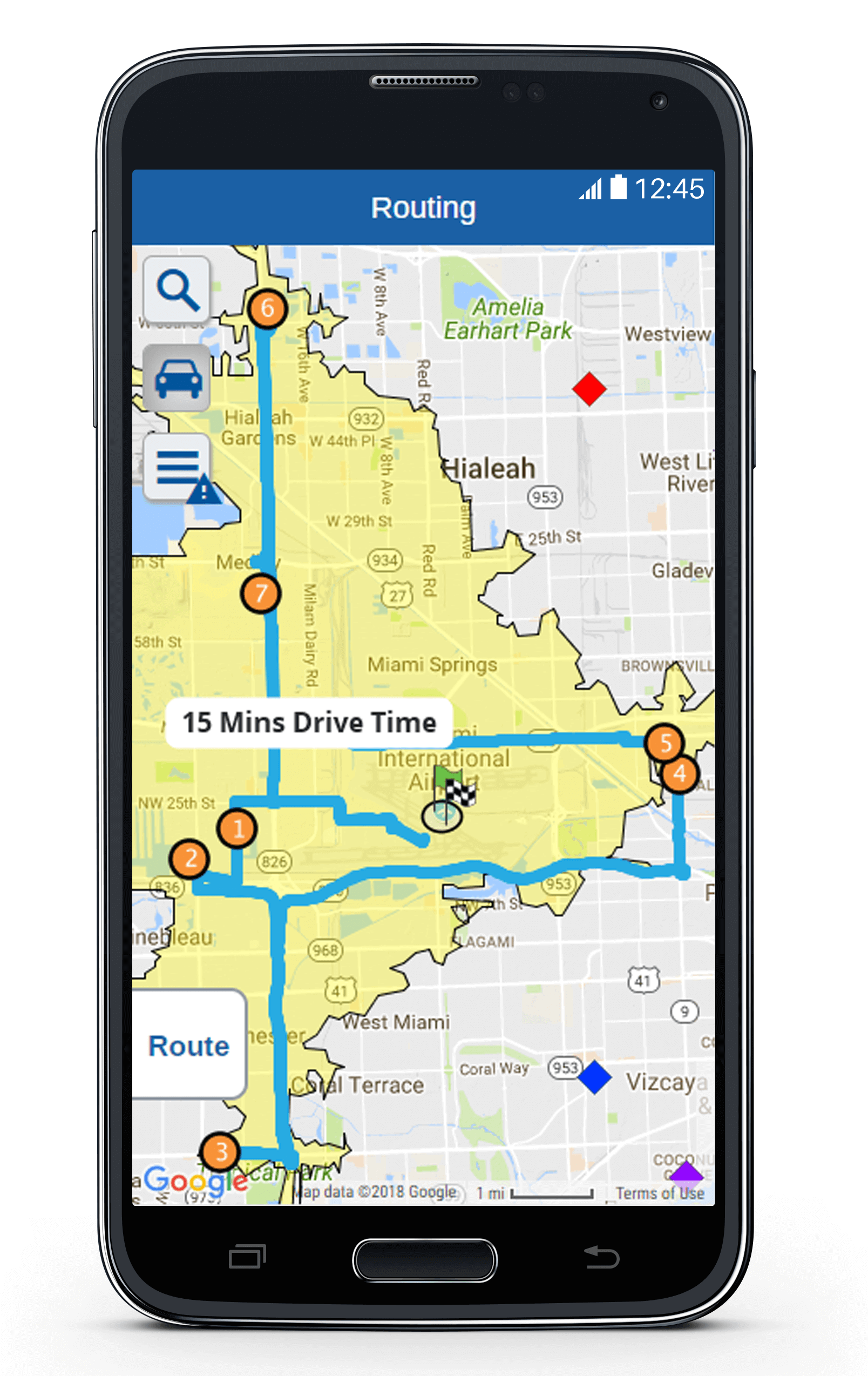 Salesforce Improvements
We brought you the launch of eSpatial mapping software on the Salesforce AppExchange in our February release. Like all eSpatial products, we plan to keep on improving this service and listening to customers. If you haven't checked us out on the Salesforce AppExchange you can find us here. Here are some of the improvements we have made for the Q2 2018 release:
1. Support of Record Types
Filter and Color By Value for Record Types.
2. Add Data – Search Functionality
You can now search for fields of data that you want to add to your map.
3. Remember Column and Settings with Add Data
Settings and Columns will now be remembered from the last addition made.
4. Available Fields from Joins automatically included
If your Salesforce objects are joined to another, for example Accounts and Contacts, all fields will be available to import into eSpatial.
5. Custom Report Support
We now support custom Salesforce reports in eSpatial.
Printing Enhancements
Printing is an essential feature for many of our customers, and based on their feedback, we have made some enhancements to the Print Preview:
1. Fine Grain Zoom
You can now use a more fine-grained zoom to get the exact detail you're looking for.
2. Cropping
Use crop to only include what you want people to see.
Additional Enhancements
1. Distinct String Thematic
Color By Value will now automatically update when you add a new value is added or taken away from the value list.
2. Territory Builder Exit
A new Add to Map button is now available in Territory Builder for improved ease of use.
3. SSO Parameters
eSpatial now supports further SSO with Microsoft's ADFS.
Don't miss our upcoming webinar covering the latest eSpatial release
Our Senior Sales Manager, Kevin O'Brien, will walk you through what's new and how it can benefit your business.
Keep In Touch
We're very excited to be bringing eSpatial Mobile and all these other improvements to our mapping software customers. Make sure to check in with your Customer Success Manager or catch us on the in-app chat if you wish to know more. Follow us on LinkedIn to keep in touch with all the latest eSpatial news.