Don't rely on basic navigation apps like Google Maps for your field sales reps. Route planning software can help your sales team strategize and create an optimized route for each rep.
With a sales route planning solution, your team can reduce unnecessary travel time while maximizing performance and productivity. Not only does this translate to increased revenue, but it also boosts customer satisfaction as field sales reps are able to visit more leads and extend meeting times. So, how does it do all of this?
Effortless team planning and collaboration
Sales route planning software provides easy access to all sales and client data, route information, schedules and more. The centralized platform also facilitates easy data sharing for tracking and reporting on performance and productivity across your field sales team.
Beyond just sharing, it also empowers collaborative planning and strategizing with comprehensive visibility into sales maps, routes, customer information and more. That way, you can work with your sales team to schedule multiple stops weeks in advance and ensure each rep stays on target.
Detailed route visualizations
Advanced visualization capabilities from route planning software let your team see a comprehensive map of sales territories, client locations, and individual routes. Not only that, but you can also visualize sales data to monitor and compare performance across regions and teams. With a sales route planning solution, you get:
Fast lead mapping
Upload your historical sales data and client information into your routing map to instantly generate a comprehensive view of all your prospects. Filter these by attributes like location, priority and last visit to ensure each sales rep visits a set number of high-value leads. Then, you can confirm your schedules and create individual itineraries with specific appointment times and addresses.
Advanced routing algorithms
Once you have your list of priority leads, you can use the interactive map to divide client stops among your field sales team based on things like customer relationships and corporate structures. Then, your sales route planning software uses advanced algorithms to automatically calculate the optimized route for each rep. These generated routes help your fleet reduce travel time and maximize sales productivity.
Sales route performance tracking
Knowing which locations your field reps visit, for how long and the revenue or opportunities generated from each meeting is crucial to improving your sales strategy. An all-in-one routing software enables you to monitor and visualize all of these metrics and more to ensure your team sticks to the strategy. With these detailed performance tracking capabilities, it's also easy to identify and report on areas for improvement.
Intuitive software controls
Your routing software can have every feature in the book, but it won't do you any good if it's too difficult to use. An effective route planning solution adapts to your workflow and processes, letting you steer the ship. To get the most out of your sales route planning, you need software that's easy to use and offers flexible controls.
Intuitive user interface (UI)
While you expect your route planning software to handle complex calculations and sales strategies, you don't want the interface to be just as complicated. An intuitive user interface offers more than just ease of use; it enables you to streamline workflow processes and boost administrative efficiency with each planned route.
Whether you're plotting points on a map, planning sales routes or distributing schedules, you need control over your software. That means the ability to filter datasets by custom attributes, create custom markers on your map and limit permissions on any files shared. With the right route planning software, you can customize settings to suit your needs for a tailor-made solution.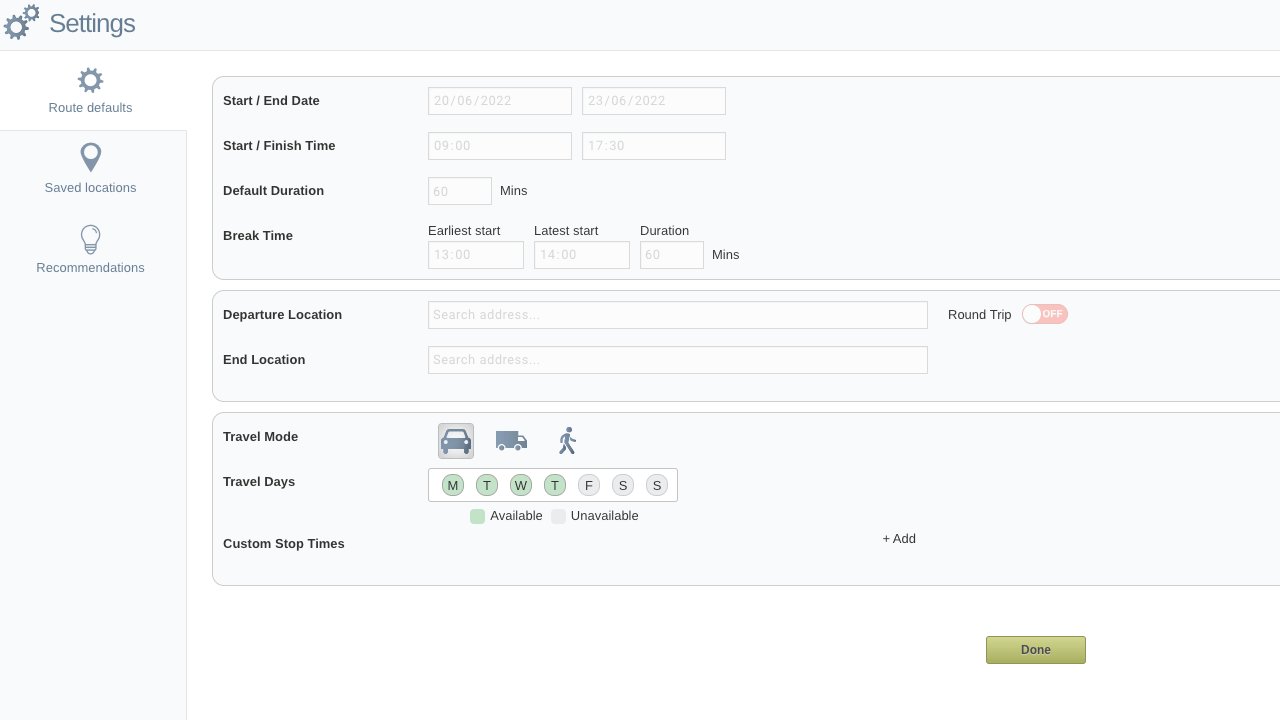 Key features for route sales software
Leverage lead data
Route planning software should connect to your customer relationship management (CRM) platform and lead database, integrating this information into the maps, territories and routes you generate. Reps should also have access to pertinent client data, such as contact information, address lines, company names and more. This streamlines route creation, but it also prepares your sales reps for each appointment.
Highly adaptable optimization
It's critical to develop a planned route, but what happens when a sales rep has to go off-schedule to meet a priority client? With a route optimization feature, your reps can adjust their appointments on the go and the software automatically finds the most efficient route. This reduces travel time and gives each driver more time for customer service.
Mobile access and compatibility
Your reps need a way to use the software while on the move. They shouldn't need access to a laptop or desktop computer for minor adjustments or data entry. Your route planning software needs a mobile app that reps' can use on their work phones to provide access anytime, anywhere.