In today's competitive business climate, you need more than intuition and experience to manage a field sales team. You need a deep understanding of your customers, resources and sales performance. That's where a territory map maker can give you the advantage.
Territory map makers help you visualize your sales activities in extraordinary detail. They transform your customers, leads and distribution centers into simple and easy-to-understand maps. This allows you to design and optimize your sales territories, discover new opportunities and more.
Many companies have their sales data scattered across spreadsheets and databases. It's a nightmare to cobble it all together to understand your business better. Territory map makers centralize this information, making it easy to access and understand.
But displaying your data is just the beginning. With advanced filtering and analysis, you can discover new insights and gain a competitive advantage.
For example, using a regional heat map, you can quickly find high and low performing ZIP codes and start investigating why. Does one ZIP code not have enough opportunity? Does the salesperson have a lower close rate and need more training?
Ultimately, a territory map maker allows you to focus on what matters: Creating a winning strategy. It's a critical tool for making data-driven decisions. And when data guides your business plan, you can increase sales, lower costs and stay flexible in a shifting marketplace. But before you start putting a territory map together, it's important to understand the basics.
Content Sections
Make your own territory map
Sign up for a free 7-day trial
What is a sales territory map?
For the sake of efficiency, many businesses group customers based on their location, industry and/or buying history. Each of these groups is a sales territory, and they're usually managed by a single salesperson.
Each territory can span a few small counties or several states. Strategies can vary by industry, so your sales territory map can look much different than other businesses in your area.
In the past, sales leaders drew territory maps on paper. They'd cover conference tables in maps and mark territories out with a ruler and highlighter. It was a tedious process. Once complete, territories were rarely updated.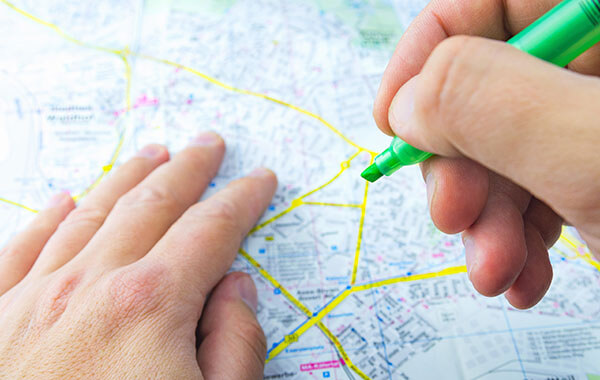 At the time, this was a way to prevent sales reps from tripping over each other. Having two reps call on the same customer can quickly sour a relationship, so it was important to get right. But that's about all these paper territories were good for. They didn't help you optimize your territories or provide much insight into sales performance. It was all based on gut instinct.
Since then, the internet has made the business world more competitive. Companies have modernized their practices and adopted innovative technologies to stay ahead of the curve.
Territory map makers are the leading edge in this sales management revolution. They allow for both a granular and big-picture view of customers, leads and sales performance. You can look at individual customers or zoom out to find the larger trends hidden in your data.
How can territory maps improve sales?
With territory maps, you can integrate location analytics into your sales plans. This makes it easy to dive into the details of your business activity.
A territory map maker lets you quickly segment and filter your data, reorganize your sales territories and much more. This level of insight can help you manage the workload of your sales professionals.
More specifically, territory maps can help improve sales by: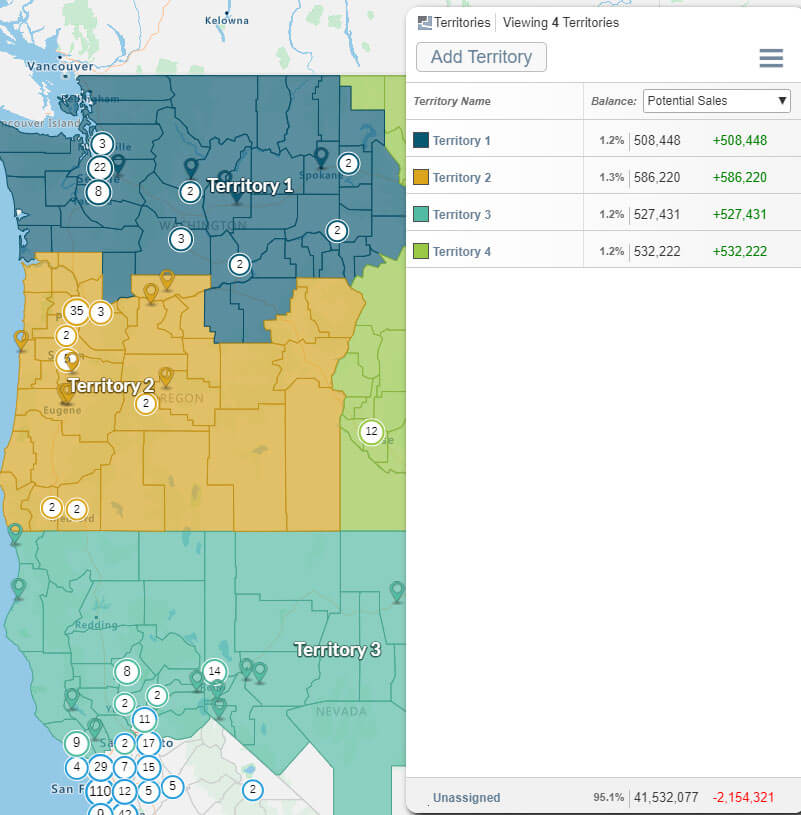 Aligning your sales territories
The market is always changing. That can make it difficult to manage your sales territories. But using territory mapping, you can balance the workload to ensure every member of your sales team has an equal footing.
This fair division is crucial for maintaining productivity. When your sales reps are never over or under-worked, they can make the most of their leads and clients. A sales rep with too much on their plate can't make the most of their opportunities or give enough attention to clients. This can also lead to a situation where you're rewarding the territory, not the salesperson.
What do we mean by that? If you have a territory that's packed full of opportunity, you'll easily sail past your targets. Virtually any sales rep in the same territory would do well. That person will receive bonuses and accolades primarily because they got lucky in their sales territory assignment. Someone else could be working harder in a territory with less opportunity and struggle as a result.
By keeping your territories up to date, you can improve morale and reduce turnover. It also frees your salespeople to focus on closing more deals.
Ending coverage overlap
A sales territory map can show areas of overlap. When territory boundaries aren't clear, it can lead to conflict on the sales team and irritated customers.
It's off-putting for new leads when multiple people from the same company reach out to them. Your prospect's time is valuable, and you're wasting it. Within the team, this can lead to arguments over who owns which lead. Research shows that conflict on sales teams creates a distraction that effects productivity. Your sales reps end up jockeying for position instead of spending their time selling. It also makes them more likely to horde knowledge to gain an advantage over their teammates. When best practices aren't shared freely, the business loses.
For customers, it can cause confusion about who they should be talking to, and sometimes means no one ends up getting back to them at all. In today's market, customer experience is a major differentiating factor. If your sales reps can't provide good service, your customers will leave and find someone who can.
Fixing territory overlap prevents sales reps from accidentally calling on the same customer. It also lets your sales team optimize their time in the field and provide the best customer service.
On the flipside, it can also highlight gaps in your coverage. Sales territory maps allow you to streamline your territory review process so you can keep the right balance. That way, your sales reps can provide high-value customers with the service they deserve.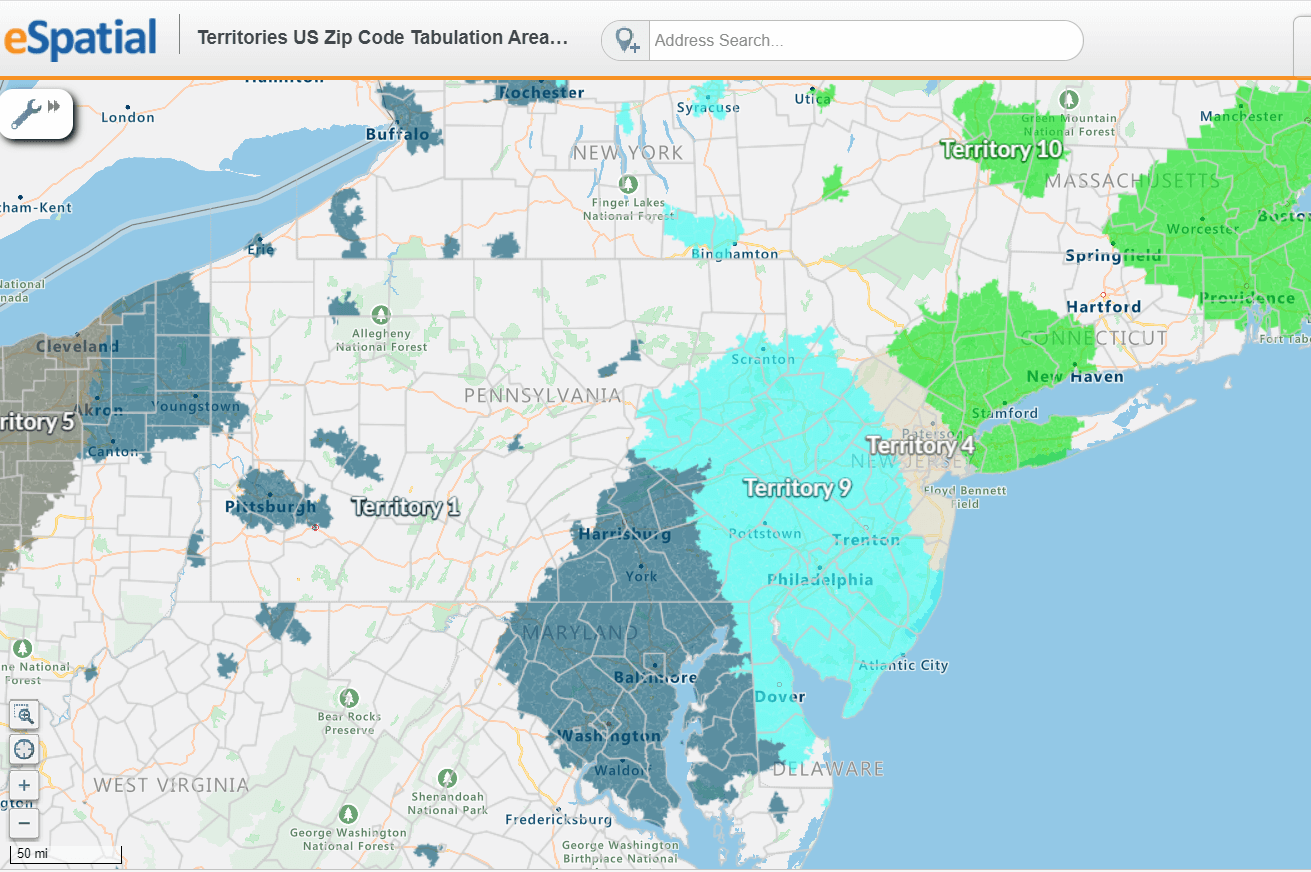 Identifying coverage gaps and new business opportunities
Directing a large field sales team requires consistent oversight and proactive territory management. Even when sales are up, there are likely gaps in your coverage that leave potential customers in the dark.
When you visually map your territories, customers and leads, you can immediately see problem areas. That can be a customer who doesn't have a designated sales rep or leads they're missing. Both situations leave money on the table.
You may also start to see areas where your company has no presence at all. Mapping software can help you investigate these areas to see whether they're ripe for business expansion.
Locating hot spots that need extra attention
Whether your company runs at a local or national level, there's a good chance your sales are concentrated in certain regions or ZIP codes.
It's not unusual for these areas to be under-staffed. When you're dealing with territories that can range widely in geographical size, it can be difficult to judge these dense areas. It doesn't seem fair for one sales rep to be covering several counties while another has a small section of New York City. But that's why you need to think beyond geographical size when designing territories.
To move away from this kind of judgment call, where territories are designed based on size alone, many companies look at number of accounts or a combination of historic and predicted revenue.
Some territory map makers give you the ability to manually balance on these metrics. Or even automatically optimize. This allows you to focus on workload, not just size. The small slice of New York City might have 20 accounts. In upstate New York, the same number of accounts are spread over several counties.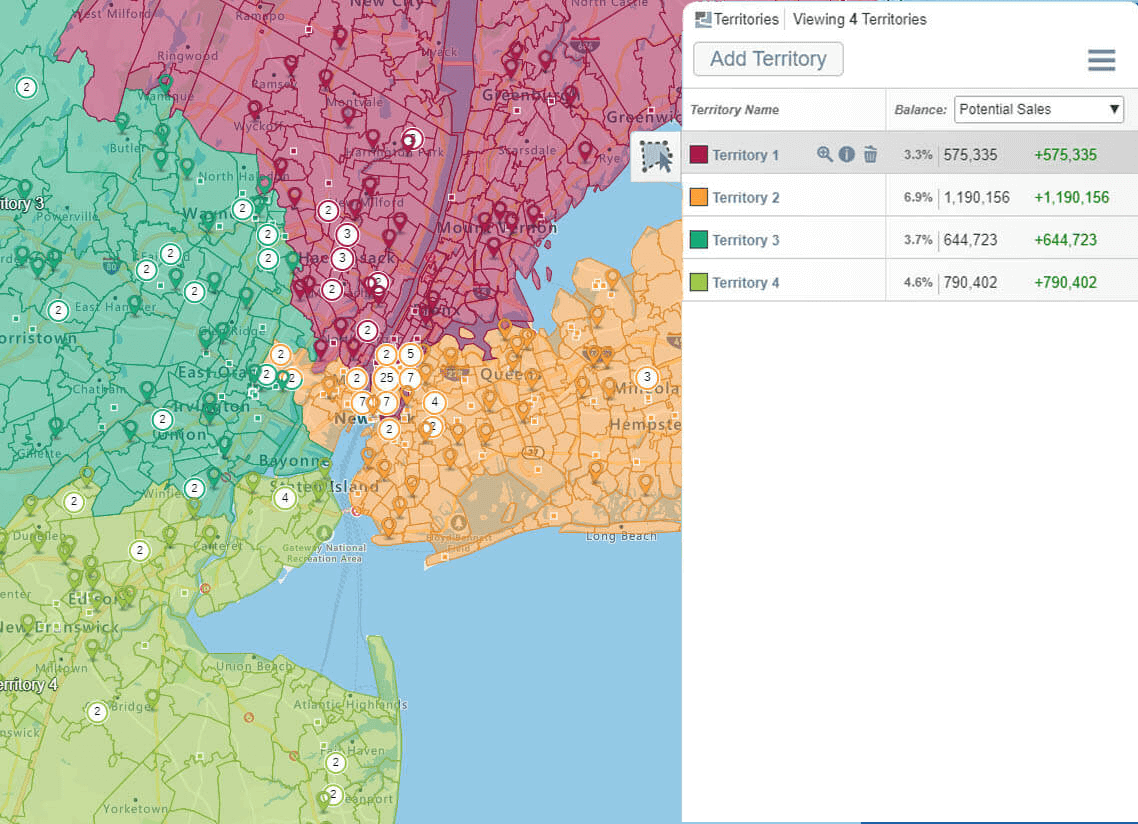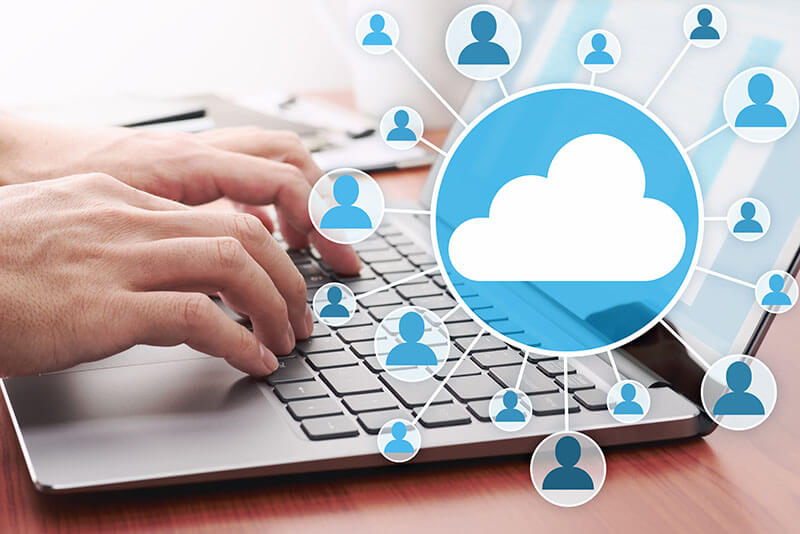 Providing an interactive snapshot of your data
When sales data is spread across spreadsheets and CRM systems, it can be hard to see the big picture. Territory map makers visualize this data and empower you to make the best decision. Armed with vivid maps and charts, you can share accurate and engaging reports with every member of your team.
Interactive mapping software also lets you collaborate with your team. Multiple people can create maps or work on one together. If you've already mapped out your data, others can take in the larger picture or dig into the details by zooming and selecting pins.
Supporting sales personnel in the field
In most companies, sales reps only spend about a third of their time selling. Admin is part of the challenge, but creating a plan can also take up time. They aren't sure who to target and they often end up winging it.
A territory map maker allows you to support your sales team in the planning process and gives them the tools to do it more effectively. Tools like filtering allow you to target accounts by industry, value and more. That way you can ensure your sales team's activity will align with your business goals.
For example, say you're running an end of quarter push. You have a limited amount of time to make it over your targets. You can filter out low value leads and laser focus on the ones that will allow you to get to your goal.
Once you've filtered and have a map of your ideal targets, that map can be shared with the field sales reps. From there, they can use route optimization to create a plan that allows them to see the most leads possible, giving your team the best chance at hitting your quarterly target.
Territory mapping can create both static and live sales maps, which allows your whole sales team to work from one source of truth. That cuts any confusion and makes it easier to work together. If one of your reps scores a new lead outside their assigned ZIP codes, they can connect that person with the right teammate. This enhanced collaboration eliminates inefficiencies in the early stages of the customer-business relationship. In the long run, you end up with more sales and happier customers.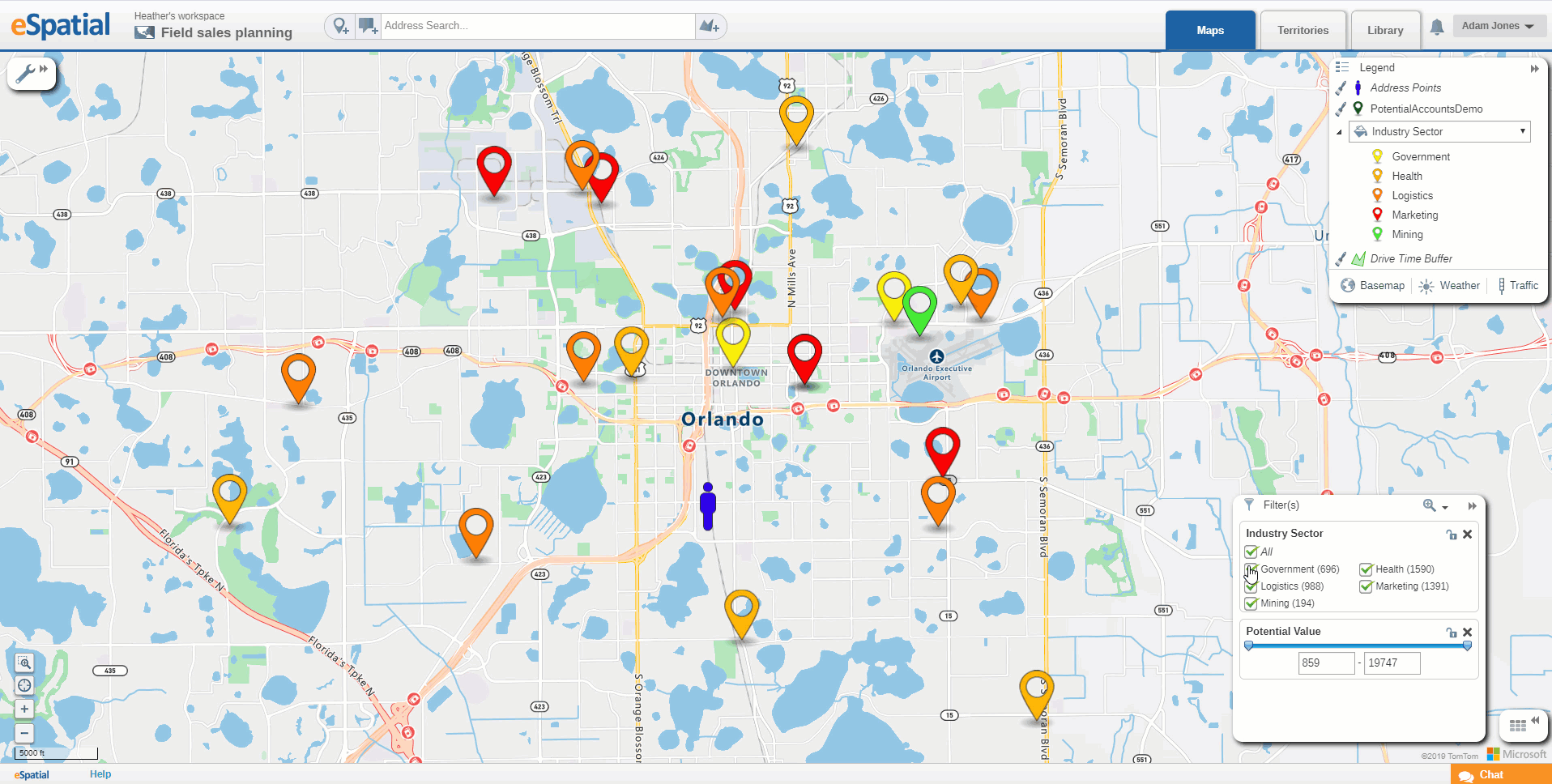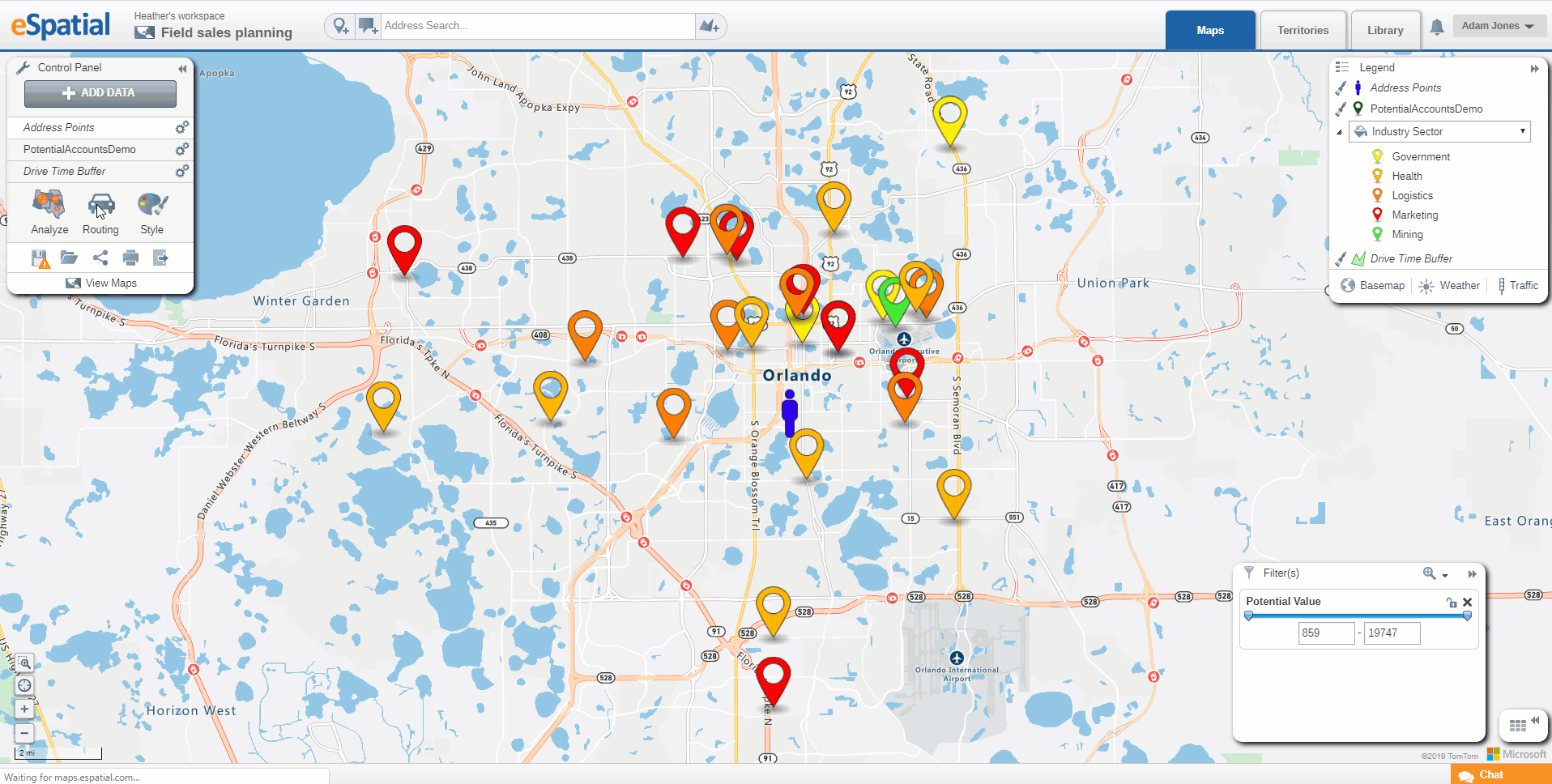 Make your own territory map
Sign up for a free 7-day trial
Using mapping software to create flexible territory maps
Modern territory map makers are easy and customizable, but there are a few things you need to know. First, you should choose a center point for each territory. Usually, that aligns with your in-office locations or the home addresses of your field sales reps.
Once you've selected a starting point, the next step is to add the data you want to use to balance your territories. This is often sales data from spreadsheets, CRMs and ERP systems.
Once you have this information, you can map out each territory based on radius, driving time or customer density. Some territory map makers offer optimization. That means the software can automatically create a set of balanced territories. This is a great place to start and can save days of work. These territories often need only small tweaks before they're finished.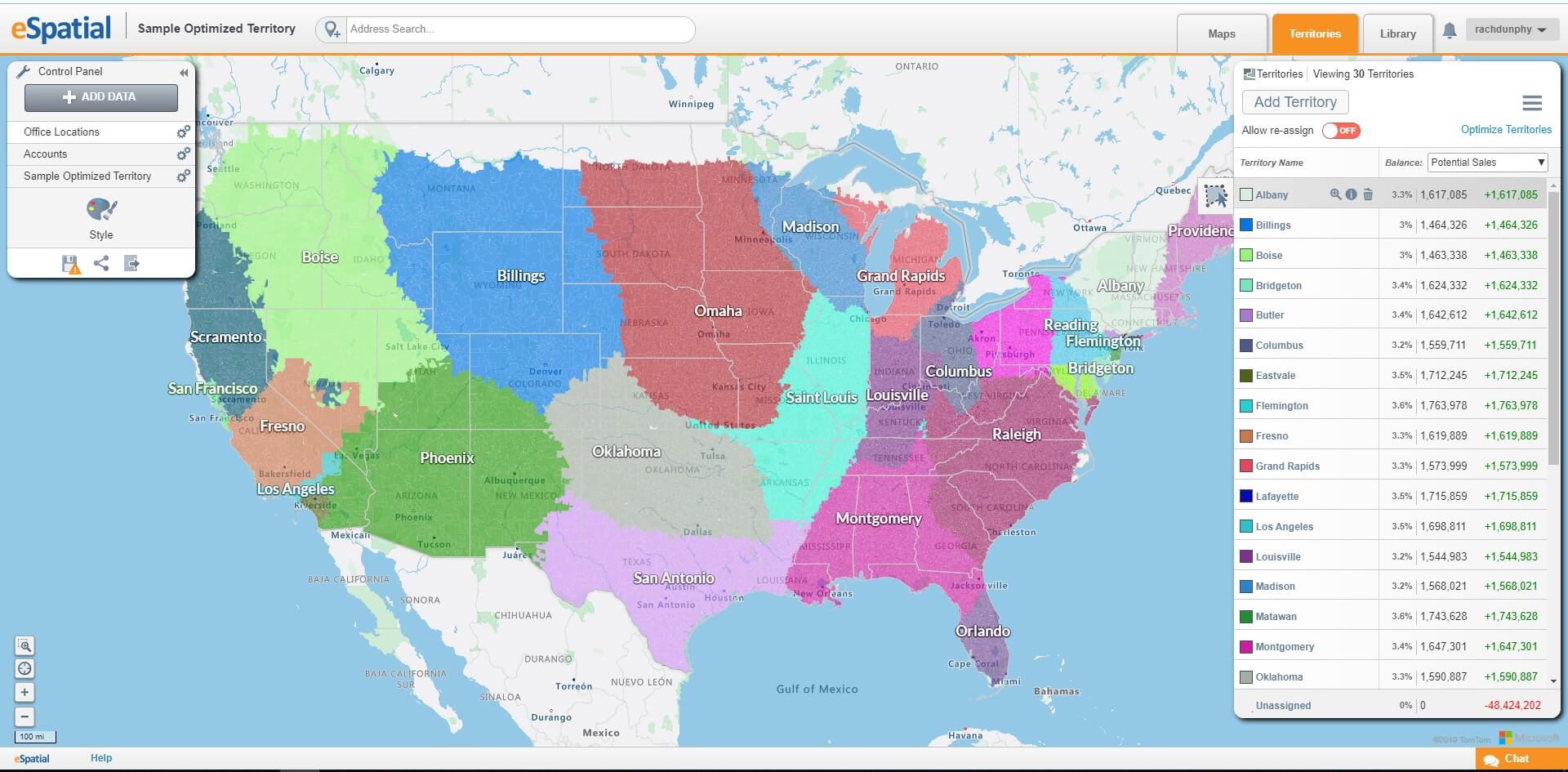 Essential features of a territory map maker
After you've mapped your data, you'll want to analyze it to uncover new insights. Since all sales mapping platforms are different, it's important to select a solution that offers a wide range of features. Here are some essential features in eSpatial's geo mapping software:
Data visualization and analysis
The type of map you need will depend on what you're trying to do. eSpatial offers a range of map types that allow you to dig in and analyze your data.
Pin maps
Plot the exact location of your customers and sales reps for an overview of your business. By clicking on each pin, you can see key information. That can include past purchases, assigned sales representatives or anything else you want to include.
Heat maps
See where your customers are and find areas where you're missing out on easy sales. Heat maps can provide a wealth of information about sales performance and ZIP code coverage. Choose between hot spot and regional heat maps to fit your needs.
Radius maps
Optimize your client assignments by checking the proximity of sales personnel to customers in their region. Radius maps can also support distribution network analysis, store-to-customer research and territory realignment.
Advanced territory management
Territory management is an essential for salesforce planning, resource allocation, reporting and more. With eSpatial's Territory Manager, you can bring your management tasks into the digital age. Design and optimize territories in just a few clicks, saving days of manual fiddling. After you've created your territories, use the built-in comparison tool to check ongoing performance against past sales metrics.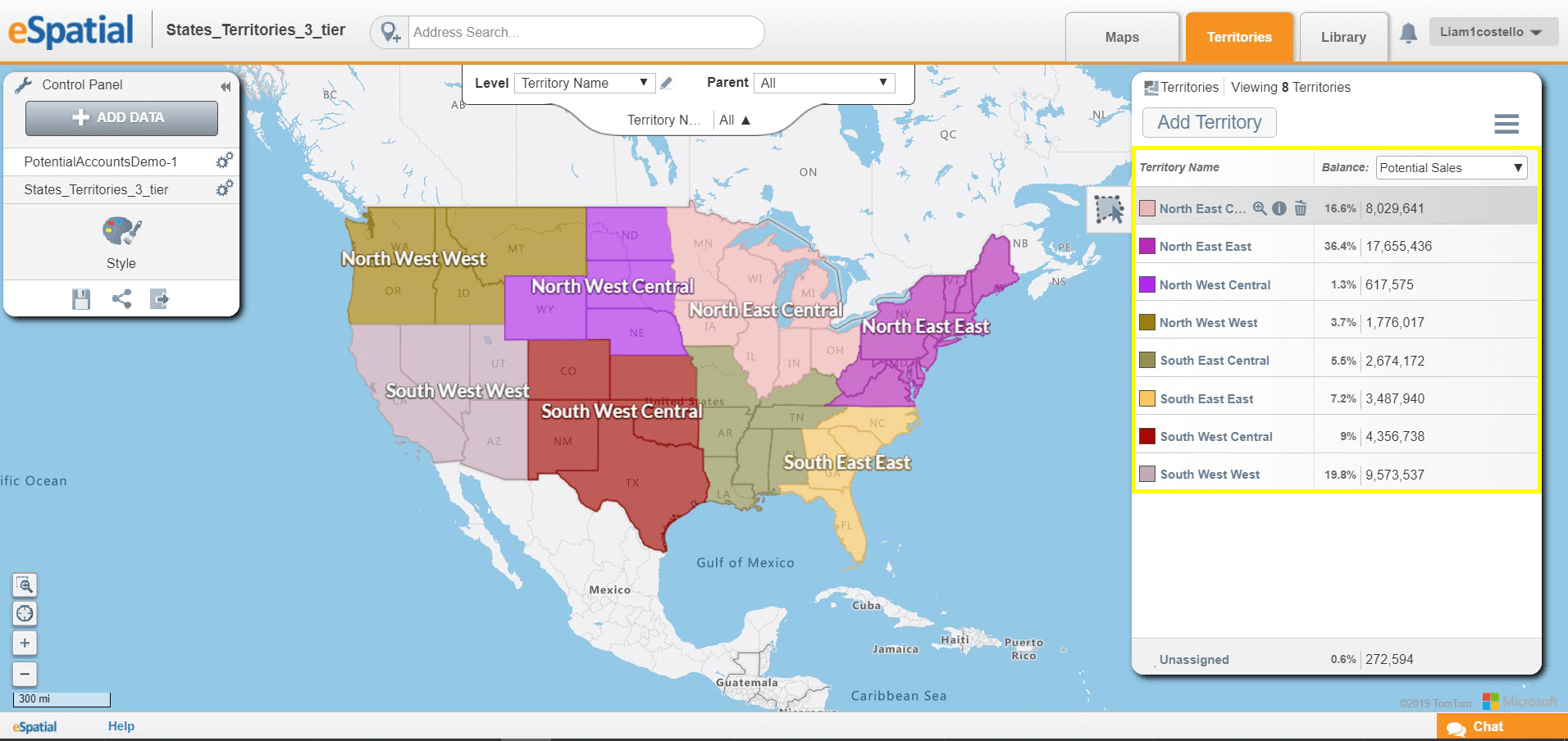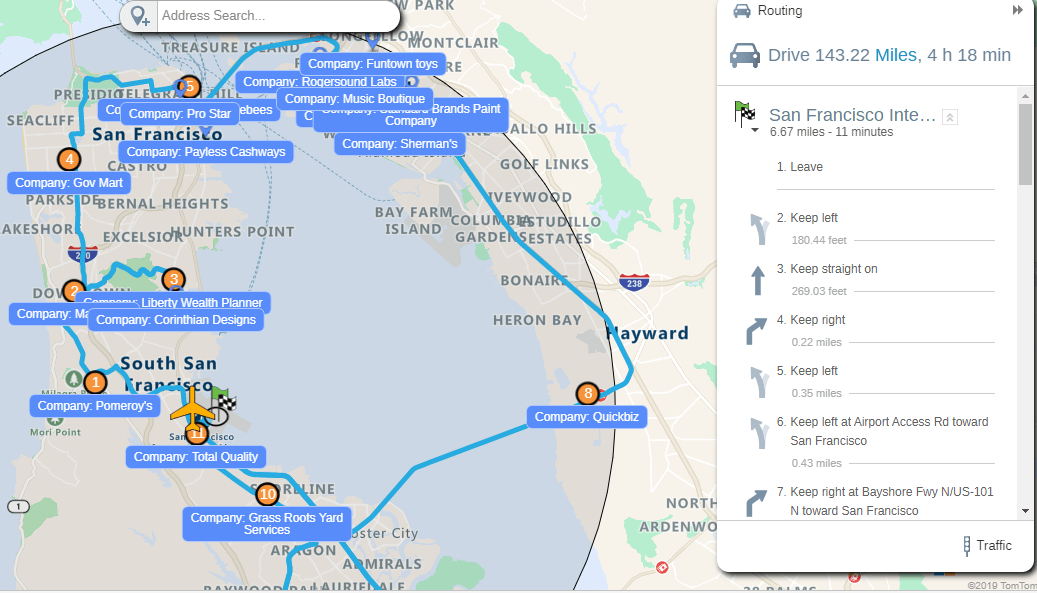 Route optimization
Reduce travel time and improve customer experience by using route optimization. With eSpatial, your sales reps can plan out their entire day, create an effective travel route and spend more time engaging with customers.
No matter what industry you're in, territory map makers can help you focus on revenue growth and cost reductions. But to get the most out of your mapping software, it's crucial to select a platform that offers the features you need to make sense of your business data.
Full on-boarding and support
You're focused on getting insights and results as quickly as possible. You know that getting your team on-boarded and trained means greater return on your investment and time. Our mapping experts offer one-on-one training when you sign up for an eSpatial account. As you work on your project, your Customer Success Manager will be available to answer any of your questions. You'll also have a range of helpful guides, blogs and videos to help you get the most out of eSpatial.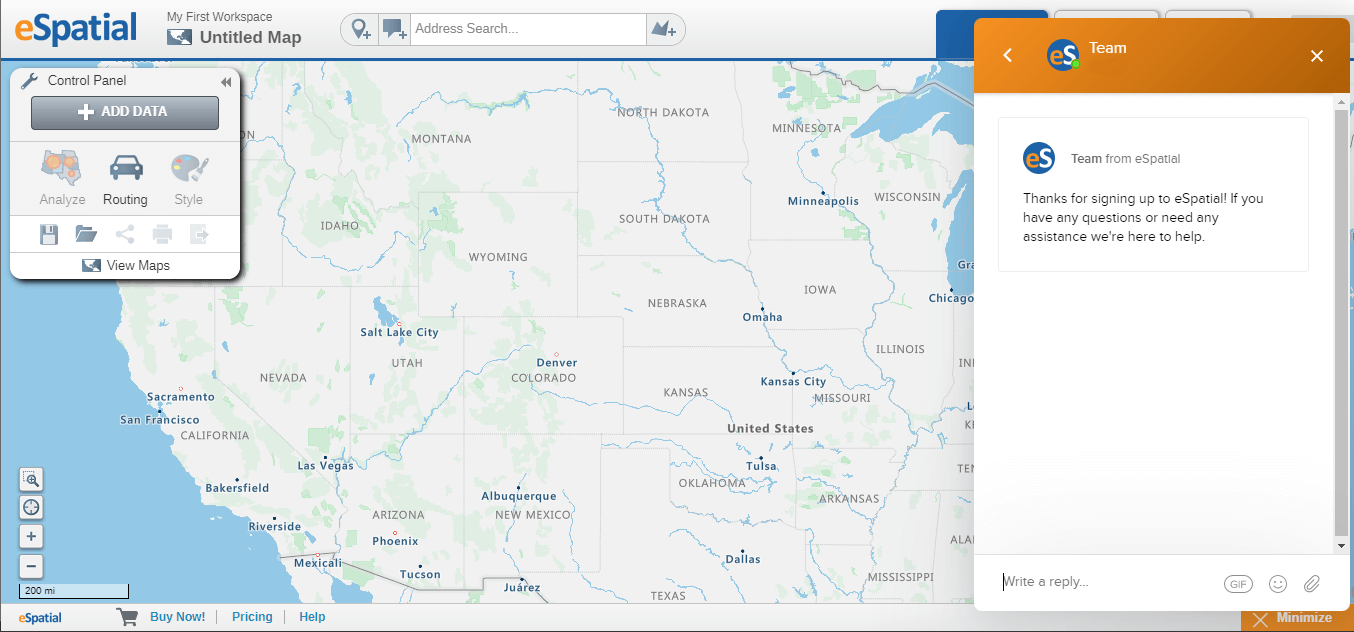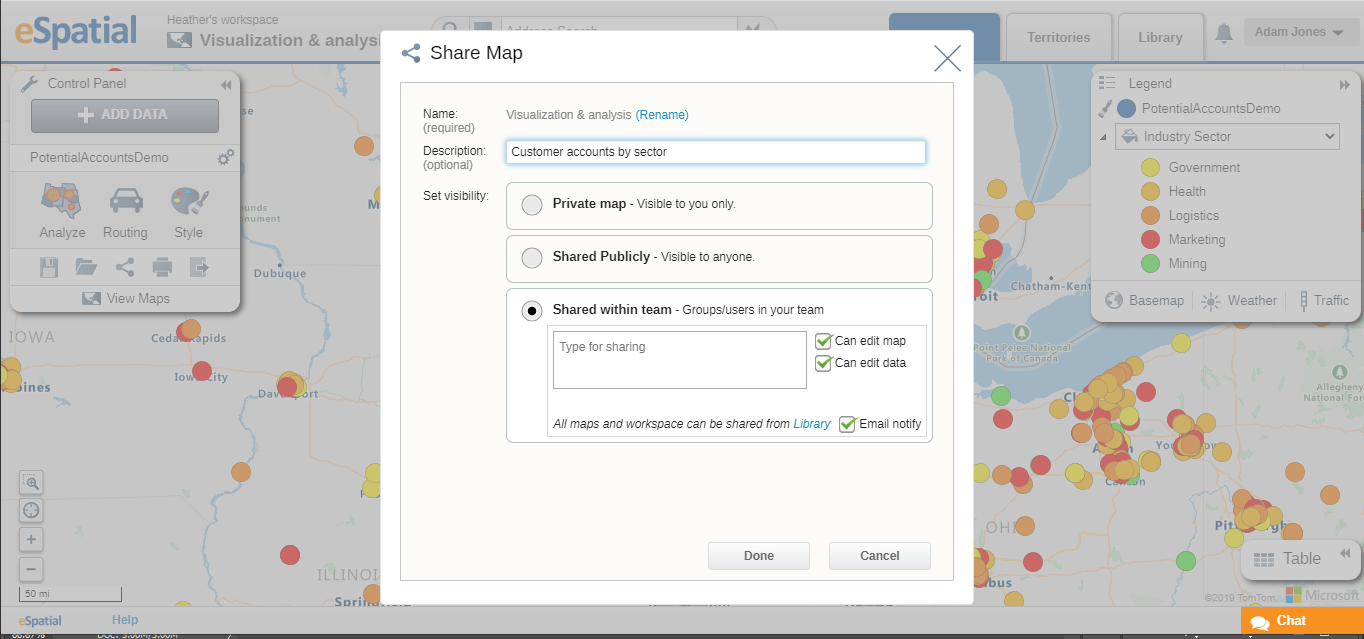 Secure sharing and collaboration
To get the most out of your territory map maker, you need to work together with your team. eSpatial allows you to securely share your territories and maps with your teammates. You can also build territories with hierarchies so each person can focus on their area of responsibility. For an individual salesperson, that's their own territory. For a regional sales manager, that can be several individual territories.
Maps can also be embedded on a website or in presentations to help you communicate your data.
Improve your entire business with a territory map maker
Ultimately, a robust territory map maker can help every area of your business plan, from employee retention to lead generation and beyond. If you're looking to step into the future of sales management, eSpatial's mapping software can supply the data-rich insights and detailed visualizations you need to grow your business.
To learn more, explore our product pages or contact an eSpatial mapping expert today.