Sales, service, and revenue operations teams need a deep understanding of customers, competitors, field resources, and performance. Market conditions fluctuate wildly, the competition gets fiercer, and the challenge of managing field-based teams gets harder. In today's environment, a territory map maker is a competitive advantage. It is a new revenue and productivity engine.
Territory maps help you visualize your sales and service activities in extraordinary detail. They transform customers, leads, and distribution centers' data into simple, easy-to-understand maps. Designing, optimizing, and uncovering new opportunities to grow and improve service levels is achievable with territory mapping software.
Many companies have their data scattered across spreadsheets and databases. It's a nightmare to cobble it all together to understand your business better. Territory maps centralize this information, making it easy to access and understand. But displaying your data is just the beginning. With advanced filtering and analysis, you can discover new insights and gain a competitive advantage.
For example, you can quickly find high- and low-performing territories using a regional heat map and investigate the causes. Does the area lack sales potential or opportunity? Does the salesperson have a lower close rate and need more training? Do your service people overlap on their routes? Do your team have balanced workloads?
The image above is a regional heatmap showing sales by county. Areas in red are low sales and dark green represents high sales counties.
Ultimately, a territory map maker allows you to focus on creating a winning strategy. It's a critical tool for making data-driven decisions. And when data guide your business plan, you can increase sales, and service levels, lower costs, and stay flexible in a shifting marketplace. But before you start assembling a territory map, it's essential to understand the basics.
What is a sales territory map?
There are three territory types:
Geographic - You assign an area to a sales or service rep who manage a group of customers within that geography.
Account-based - The sales or service account manager manages the customer and its locations. You assign accounts to a rep regardless of their geographic location.
Hybrid - You use both geographic and account-based territory alignments.
Territories can span zips, counties, states, and countries. Sales and service strategies can vary by industry so territory maps can differ.
Territory map makers are the cutting edge in the sales territory mapping revolution. They allow a granular, big-picture view of customers, leads, and performance. You can zoom in to the customer level or zoom out to uncover hidden trends, inefficiencies, or overlaps in your alignments.
How can territory maps drive revenue growth and service level improvements?
You can integrate location analytics into your sales and service plans with territory maps. Diving into the data is easy and leads to a granular understanding of your business operations.
A territory map maker lets you quickly segment and filter your data, reorganize your territories, and more. For example, you might filter your data to show those customers with the highest levels of sales potential across all sales territories. It could lead to a rethink on a new realignment.
The increased insight you glean from this sales mapping tool can help you manage the workload of your field teams. More specifically, territory maps drive efficiencies, revenue growth, and call numbers by: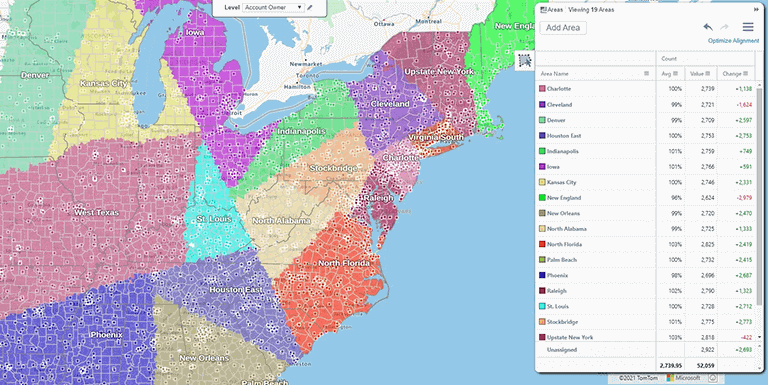 1. Managing your sales territories
Your market is constantly changing, making it difficult to manage your territories. They require ongoing maintenance. But with territory mapping software, you can balance the workload to ensure every team member has an equal effort.
Sales teams produce more revenue in less time when their workload is balanced. This fair division is crucial for maintaining productivity.
With balanced territories, organizations reap the rewards of higher productivity. More calls made to the highest priority customers in less time is achievable.
You'll want to avoid a territory rewarding the rep. It is common. A representative has so much untapped sales potential that hitting quota is easy, while others are starved of the opportunity and miss quotas.
Two people with equal abilities and skills but with very different realities. Which one wins the awards? The real question is which one deserves to win the prize, the salesperson or the territory.
You can improve morale and reduce turnover by keeping territories up to date. It also frees salespeople to focus on closing more deals.
2. Ending coverage overlap
We discussed the three territory types above, and with account-based and hybrid models, you accept coverage overlaps.
Geography territory overlaps are a problem you can eliminate. The territory map can show areas of overlap.
Without clear boundaries, you may experience conflict with teams and confusion, not to mention frustrated customers (who sometimes prefer one rep over another).
It reflects poorly on an organization when sales and service teams needlessly overlap. Your customers value their time.
Meanwhile, team members may start arguing over who owns which lead. If left unchecked, reps might begin gaming the system to gain an advantage over another.
You must establish a firm set of territory design and realignments best practices. Clarity wins through for all stakeholders. That is good for you, your organization, your team, and your customers.
3. Addressing coverage gaps
The upside is that you uncover new areas to create or realign territories that exploit revenue growth potential. There may be areas you lack coverage or regions with little competitor activity ripe for you to grow.
Mapping software can help you investigate these areas to see whether they're ripe for business expansion and devise a territory plan that makes sense for the organization.
4. Locating hot spots that need extra attention
Geographical size is no longer an important factor when analyzing your territories. We recommend you factor in sales potential. It is the critical element in balancing sales territories. A large geographic area may have the same level of sales potential as a single ZIP in New York.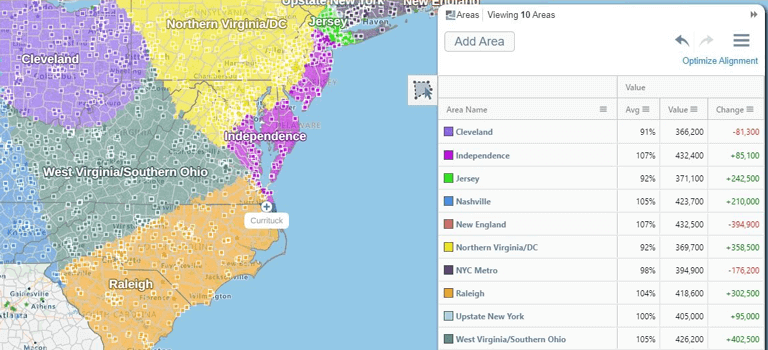 You want your sales team to spend more time with their highest potential customers and prospects. Carving out territories using a workload will offer new potential to grow revenue. So look for a map maker with a workload index and advanced weighted balances. eSpatial is the perfect choice as it is a power mapping platform with data visualization, territory optimization (with workload and weighted balances), and route mapping software all in one.
5. Providing an interactive snapshot of your data
Critical data is not centralized and managed in a CRM or spreadsheets for many organizations, making it hard to access and analyze.
Sales territory mapping software brings your data to life through visualization and empowers you to make the best data-backed decisions. Armed with vivid maps and charts, you can share accurate and engaging reports with every team member.
Interactive mapping software also lets you collaborate with your team. Multiple people can create maps or work on one together. If you've already mapped your data, others can take in the larger picture or dig into the details by zooming in and selecting pins.
6. Supporting sales personnel in the field
Administration, planning, and travel time reduce your field team's time with customers daily. Reps may need help determining who to target, or they end up winging it.
A territory map maker gives your reps the tools to plan more effectively. With a filtering feature, you can target accounts by industry and value to help ensure your team's activity aligns with business goals.
You can filter out low-value leads and laser focus on the ones that will allow you to reach your goal. For example, say you're running an end-of-quarter push. You have a limited amount of time to make a quota.
Once you've filtered and have a shareable map of your ideal targets, they can use route optimization to create a plan that allows them to see the most leads possible, giving your team the best chance at hitting quarterly targets.
If a rep uncovers a new opportunity in another territory, it makes it easy for them to share with the right teammate.
Using mapping software to create flexible territory maps
Modern territory map makers are easy and customizable, but there are a few things you need to know. First, you should choose an anchor point for each territory. Customers will stay with you longer than individual sales reps in most companies. Designing territories around customers rather than a geographic center (middle point) or a rep's location is good practice. When you locate reps close to customer concentrations, they are far more productive.
Once you've selected a starting point, the next step is to add the data you want to use to balance your territories. Use your Excel spreadsheets, CRM, and ERP data.
Armed with the data, you can map each territory based on the radius, driving time, or customer density. Some territory map makers offer optimization. That means the software automatically creates balanced territories. It is essential to save time, administration, and hassle that you consider territory optimization software.
Essential features of a territory map maker
Before creating your territories, you should leverage power mapping capabilities to analyze and strategize scenarios. All sales mapping platforms are different, and selecting a solution that offers a wide range of features is essential. Here are some must-have features in eSpatial's geo mapping software:
Data visualization and analysis
The type of map you need will depend on what you're trying to do. eSpatial offers a range of map types that allow you to dig in and analyze your data.
1. Pin maps
Plot the exact location of your customers and sales reps for an overview of your business. By clicking on each pin, you can see essential customer information, including past purchases, assigned sales representatives, service call history, or anything else you want to include.
2. Heat maps
Heat maps can provide a wealth of information about sales, service performance, and territory coverage. Analyze customers, revenue, product sales, and resource densities with ease. Choose between hot spot and regional heat maps to fit your needs.
3. Radius maps
Optimize your client assignments by checking sales personnel's proximity to their region's customers. Radius maps can also support distribution network analysis, store-to-customer research, and territory realignment.
Advanced territory management
Territory management is essential for salesforce planning, resource allocation, reporting, etc. With eSpatial's Territory Mapping software, you can bring your management tasks into the digital age. Design and optimize territories in just a few clicks, saving days of manual fiddling. After you've created your territories, use the built-in comparison tool to check ongoing performance against past sales metrics.
Route optimization
Reduce travel time and improve customer experience by using route optimization. With eSpatial, your sales reps can plan their entire day, create an effective travel route and spend more time engaging with customers.
Regardless of your industry, territory map makers can help you focus on revenue growth and cost reductions. But to get the most out of your mapping software, it's crucial to select a platform that offers the features you need to make sense of your business data.
Full on-boarding and support
Get insights and results as quickly as possible. You know that getting your team onboarded and trained means a greater return on your investment and time. Our mapping experts offer one-on-one training when you sign up for an eSpatial account. As you work on your project, your Customer Success Manager will be available to answer any of your questions. You'll also have a range of helpful guides, blogs, and videos on our website to help you get the most out of eSpatial.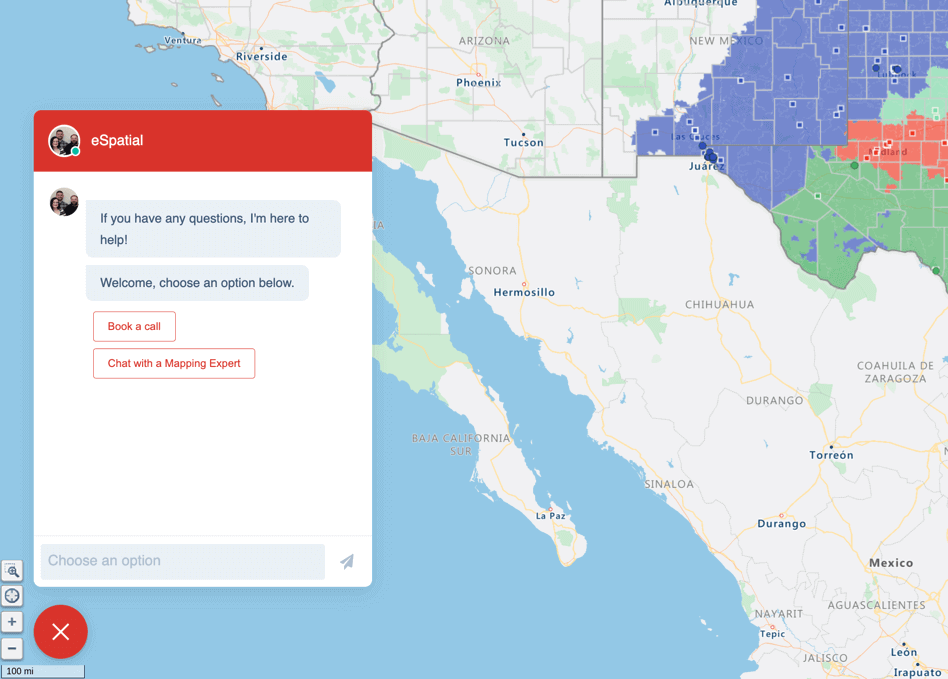 Improve your entire business with a territory map maker
A robust territory map maker can help every area of your business plan, from employee retention to lead generation. If you want to step into the future of sales management, eSpatial's mapping software can supply the data-rich insights and detailed visualizations you need to grow your business.
Contact an eSpatial mapping expert today to learn more.