Sales territory management is a valuable lever for sales leadership and operations teams. It's about optimizing resources across geographical areas, which drives improved efficiency and sales productivity.
The last few years have been highly disruptive for businesses across all sectors of the economy — but especially field sales operations. Company leaders and sales managers have had to embrace new ways of working as nearly 90% of sales teams moved to selling over the phone or via video conference calls in 2020, according to McKinsey.
Fast forward to today, and hybrid selling is quickly becoming the dominant sales strategy, at least for the immediate future. All this change has pushed sales leaders to do more with less as budgets and lead pools have shrunk.
The current climate has put renewed emphasis on efficiency and productivity. As a result, sales ops teams prioritize sales territory management and optimization. In this article, we'll examine how sales lead organizations use territory mapping software to unlock hidden insights and opportunities.
What is a sales ops team?
Before we start, it's important to understand the role of sales operations. The sales ops team aims to improve sales performance across the board. They are responsible for ensuring a smooth-running and effective sales process, utilizing each sales rep on the team to their fullest capacity. It's all about maximizing your resources — how can a small number of people in sales ops impact the productivity of the entire sales force?
Among other things, sales ops create motivating compensation plans, set challenging yet achievable quotas, and oversee territory alignment plans that enable reps to be more productive. They also provide other tools to help sales professionals reach their goals and maximize their compensation. These range from CRM software and pipeline management to route optimization and proposal management solutions.
With the future as uncertain as it is right now, every sales manager should be looking for all possible opportunities to boost efficiency. Effective sales territory management is often an excellent place to start.
What is sales territory management?
Sales territory management is the ongoing process of creating, aligning, and optimizing the territory assignments and boundaries in which your sales team operates, whether geographical, accounts-based, or hybrid alignments.
A strong territory plan can ensure that your sales resources are evenly distributed. That way, you can avoid a situation where some sales representatives are overwhelmed while others don't have enough opportunity to make their quotas.
The best sales ops teams typically have three things driving their sales territory planning:
Recent and reliable customer data
Dedicated sales territory mapping software
Buy-in from their sales leader
Good data is essential for managing sales territories. The sales ops team should ensure the structures and processes for capturing data are in place. It can then help the department make decisions about territory optimization based on solid and reliable evidence.
A dedicated mapping and territory management software platform like eSpatial takes your data and makes it quicker and easier to draw useful insights. It reduces the number of manual steps necessary in traditional territory planning and mapping while making it easier to devise balanced territories and manage them at scale.
The benefits of sales territory mapping software
Sales territory mapping software has become an indispensable tool for modern sales teams. In addition to comprehensive management capabilities, these solutions offer advanced visualization features that allow leaders to dive into their data and extract deep insights easily.
This bird's eye view of granular details highlights patterns otherwise hidden in traditional spreadsheets. As a result, managing sales territories becomes a streamlined, intuitive process that delivers actionable information with each new map generation.
With eSpatial's sales territory mapping software, both reps and leaders can benefit from:
Improved sales performance:
Sales mapping software streamlines data aggregation and analysis to provide consolidated performance reviews. Leaders can segment and filter data to identify high-performing areas and target regions that need additional support.
Time and money savings:
Automated map generation accelerates the territory planning process to save time and money. Connect the mapping software to your existing data sources or upload CSV files to create vibrant realizations of your tabular data.
Hidden sales potential:
Mapping software also highlights high-priority clients to visit with advanced styling features. Generate a heatmap to uncover top-performing areas and optimize your territories around the clients that deliver the most value.
Optimized territory alignments:
Territory alignment features allow you to maintain balanced workloads while ensuring reps can hit their sales targets. Use the intuitive maps to redraw borders and assign reps based on three types of territory alignment: geographic (usually Zipcode based), accounts-based (ignoring geography) or hybrid, or a combination of the two.
Real World Scenarios
To further demonstrate the power of territory management software, here are a few real-world examples:
A Midwest auto parts distributor chooses geographic-based sales territories as their design of choice, assigning reps to manage customers within a grouping of ZIP codes.
A healthcare product wholesaler covering North America ignores geography because ZIP codes aren't granular enough. Instead, they have reps focus on specific account verticals.
A global medical device manufacturer uses a hybrid approach, with account or point-based territories in some countries and geographic-based territories in others.
Sales territory management and mapping solutions like eSpatial can help businesses drive greater efficiency and better performance across the sales process. But even with good data and reliable software, sales ops teams need management support.
A data-led approach to designing sales territories will provide 90% of the solution. As with many projects, the last 10% is crucial. It may not change the design dramatically, but this is where regional sales managers can apply their local knowledge and make the final tweaks. This makes for a better solution and one that is more likely to have buy-in from sales managers. If managers can explain to their team members why changes were made, it minimizes disruption and boosts rep buy-in.
Explore our Conquering territory management guide
How sales teams drive success with better territory management
Sales and Ops teams can find inefficiencies in how sales territories are organized. With clean data and the right territory management tools, they can help reps and their managers use the organization's resources better. Let's look at some of the steps sales ops teams follow to create aligned, optimized, and balanced territories:
1. Create a sales territory plan
If you don't already have a sales territory management plan, putting one together should be your first step. This is what you'll need to do so:
Analyze your market through in-depth data insights. This includes you mapping existing customers and opportunities. By mapping this information, you can identify areas where your sales team is underperforming.
Segment your customers according to the categories that make the most sense for your team. You might start by separating them based on vertical industry, sales potential, or by other parameters or common patterns you see in your CRM platform data.
Conduct a strengths, weaknesses, opportunities, and threats (SWOT) analysis. It is critical to territory management planning, as it will help you highlight the advantages and obstacles in the regions where your reps operate. You can identify actionable ways to improve your bottom line through this process.
Combine your data to flesh out your plan. All of these insights will help you better define it. Ultimately, you should outline top territories, underperforming areas, and specific sales quotas for your reps.
The map belowshows customer accounts color-coded by vertical (industry type):
2. Choose a territory management tool and plug in your data
Sales territory management software is a must-have for modern sales personnel. A key consideration when choosing such a program is how it fits your existing CRM and other data sources. After all, you probably have more data than you realize. And when it comes to optimizing your sales process, you need all the information you can get.
You need a solution that lets you, your sales reps, and sales managers access, integrate and view data from various sources. eSpatial, for example, enables you to use data from:
Your existing platforms: This includes CRM software like Salesforce, Excel spreadsheets, CSV files, and more.
External sources: While your information is beneficial, adding context through data from third-party sources will paint a more complete picture. eSpatial supports data uploads from external sources – we even provide a library with more than 100 free data sets.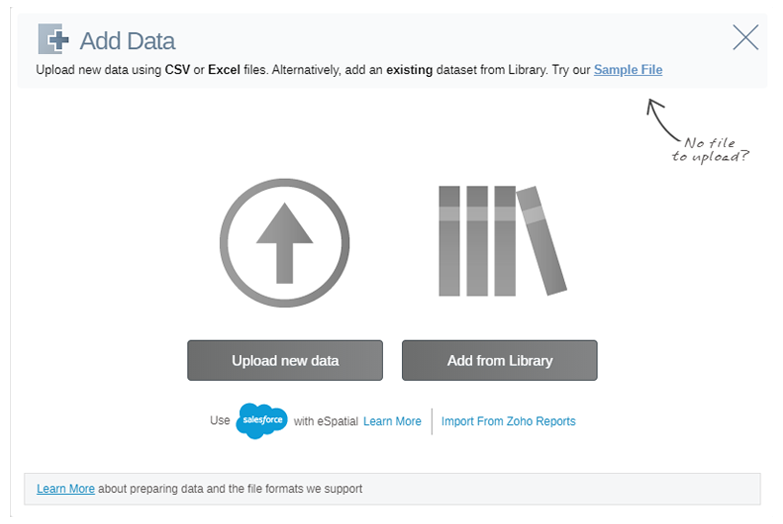 3. Map your territories: Balance and optimize
Your territory management software will allow you to visualize your data, which is often a good way to spot problems and opportunities quickly.
For example, you might notice that your top-performing rep has more big customers in their territory than you realized. Or perhaps someone is failing to hit their numbers but has too many low-spending customers to be able to service them all effectively, meaning that their quota difficulties are no fault of their own.
If sales representatives feel overworked or their targets are unachievable, they will become demotivated. Sales already have a higher churn rate than many other professions, and bad management could cost you good reps. By balancing workloads across the different territory assignments your reps oversee, you can tackle inequities across the team.
More tips to optimize your sales performance
1. Keep an eye on your metrics
Data will play a critical role in aligning your territories. However, you'll also need to be sure you're tracking meaningful key performance indicators (KPIs) across the board.
To improve your efficiency, effectiveness, productivity, and overall sales performance, consider measuring data points such as:
Revenue: Including total revenue, revenue per sale, revenue per product, and revenue by territory.
Existing customers and opportunities: It is especially beneficial if you can do this by location and create territory maps to match.
Sales call data: How often do you visit accounts, and for how long? Correlating sales outcomes to sales actions is critical to fully leveraging your sales resources.
Customer lifetime value: The amount of money your business stands to make during the relationship with each customer.
Conversion rates: Similar figures from all other points in the sales funnel.
2. Motivate your sales team with achievable, data-backed quotas
All your data at your fingertips will also help you create realistic, data-driven goals for your sales reps.
As the sales training organization RAIN Group pointed out, having quotas in place for your team is beneficial, but it's important that these are set appropriately.
You can leverage your available resources – including all of the information from your territories and associated management – to create specific, measurable, achievable, relevant, and time-bound (SMART) sales quotas. These will help encourage your team and bring in more deals.
If your sales ops team is looking for ways to drive efficiency and improve sales performance, connect with us at eSpatial to learn more about our specialized territory optimization software. You can also try the platform free for seven days to get an even fuller sense of its ins and outs.