What is Excel data mapping?
Take any spreadsheet or CSV file and overlay it on a map, and you bring your data to life. It is a fantastic hack because when you see your data on a map, you understand it more deeply.
Plotting your data with map software can be a game-changer for maximizing the value of that information, especially when looking to improve sales, marketing, service, or operations performance. Sales, marketing, and data analysts love mapping software because it is a powerful tool for unlocking new insights.
Let's start mapping your Excel data with some simple steps.
Excel data mapping transforms decision-making for sales, marketing, and operations teams
Understand your data and unlock new insights
You unlock a powerful, interactive visualization when mapping your Excel or spreadsheet data. It brings data alive and unleashes new possibilities.
Scientific research, including a study by the Aberdeen Group, found managers who use data visualization and discovery tools are 28% more likely to uncover timely and valuable information than those relying solely on dashboards and reports.
In addition, a study conducted at the University of Pennsylvania School of Medicine showed that the eye's retina transmits visual input to the brain at about 10 million bits per second - far faster than the processing speed for text.
Human learning is 80% visual, so mapping complements your natural style and helps make sense of complicated datasets faster. Some mapping software options — like eSpatial — come with various analysis tools to help you better understand your data.
Check out our Conquering mapping software guides (no signup required)
Data visualization and analysis
Below are common map types that allow you to dig into and analyze your data in new ways.
1. Pin maps
Pin maps are simple power maps that allow you to plot critical data to gain a visual overview. For example, you can plot customer, sales, and service reps, office, employee, and machinery locations.
Clicking on a pin reveals more details like address, contact details, emails, sales, sales potential, opportunities, and service details. In short, you can import as much detail as you need and access it with one click.
2. Heat maps
You will recognize heatmaps and their usefulness every time you watch a weather report. Hot spot heatmaps are like your weather map, offering insights into your highest and lowest performance areas.
You can identify hotspots relating to product sales, revenue growth, service calls, or any critical metric. And they make communicating complex information a cinch because they are visually stunning and instantly understood.
Choose between hot spot and regional heat maps to fit your needs.
3. Radius maps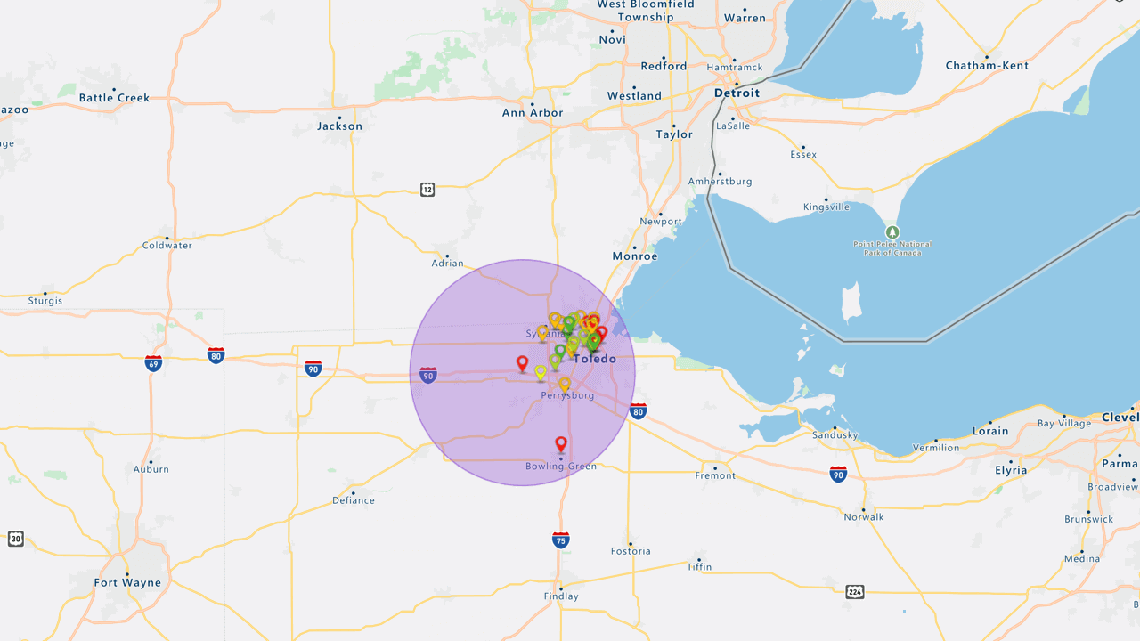 Radius maps are a perfect option for analyzing and allocating resources better. For example, a marketing manager might want to understand how many customers are within a 20-mile radius of an event before booking a venue.
An operations manager may want to map the number of customers within a 50-mile radius of a depot to ensure they get one-hour deliveries. A real estate agent may want to map the number of house buyers within a one-mile radius of a new development.
A sales leader might need to understand customer densities within a 5-mile radius of every sales rep. Radius maps also support distribution network analysis, store-to-customer research, and territory realignment.
4. Drive-time maps
Drivetime maps are similar to radius maps and offer many of the same advantages. The critical difference is that a drivetime map bases the radius on how far you can drive within a selected timeframe.
So, a sales or service rep flying into an airport might identify the number of customers within 30-minute drivetime of the airport and plan their day to maximize visits.
Improve results and make strategic decisions
Sales, service, and operations teams map their Excel data to improve decision speed and results with data-driven insight.
1.

Advanced territory mapping
---
Territory management and optimization is a new sales, service, and operations revenue engine. Harvard Business Review found that organizations that optimize their territories see an average revenue increase of 7%, even if they make no other notable changes to their operations.
So by optimizing resources, you unlock more revenue and maximize rep utilization. How is that? You may need to improve your sales or service territory alignments. Imbalances are common as your marketplace is dynamic and changeable. Once balanced, territories can shift as customers move, merge, close, and as competitors encroach.
Some sales and service reps are overworked, and others are underworked. With eSpatial's territory mapping software optimizing sales territories is easy. Overlay your sales rep locations and territory alignments. You can quickly and efficiently map your Excel data, including key performance indicators like numbers of customers, opportunities, or leads.
You can use workload or weighted balances for better results. Armed with this info, you can design and optimize territories in just a few clicks, saving days of manual fiddling, allowing you to reap the benefits of well-designed territories - and do so up to 92% faster than manually creating them.
2.

Route optimization
---
You have mapped your Excel or spreadsheet data and want to take it to the next level of analysis. Reducing travel time and improving customer service levels is made possible with eSpatial's route optimization capabilities. Sales reps, service techs, and other field-based personnel can optimize weekly and monthly schedules in minutes. Route optimization software slashes planning times and means your field team spends more time engaging with customers. Real estate consultancy and analysis firm Engel & Völkers doubled its agents' weekly client visits through territory and route optimization.
3.

Transform internal and external communication
---
It may be the most important benefit of mapping your business critical data. Creating and sharing your data story with maps transforms team communication and collaboration. Share your maps, research, or analysis in live sessions and get instant feedback. Export your maps to a PowerPoint or PDF and share them with stakeholders. Vivid maps backed by your data-driven analysis are perfect for internal presentations and get more engagement. That means better decisions, faster.
How to start Excel data mapping
1. Prepare your address data
To start, you'll need to prepare an Excel file of all your addresses. To ensure you're able to upload your address data smoothly, make sure:
Your file is saved in .csv, .xls or .xlsx format.
The data you want to map is saved in the first sheet of your Excel file.
You have column headers in the first row of your file. These should indicate what's in the column below, like city or ZIP code. Each column header should have a unique name.
Your file has good location data, and includes things like street address, city, state, country and ZIP code. The more information you provide, the more accurate your map will be.
If you need more help, follow our in-depth guide on preparing your data.
2. Sign up for a free trial
Once you have your location file ready, sign up for a free seven-day trial of eSpatial.
3. Upload your Excel file
Once you've signed up for your free trial and logged in, click the "Upload new data" button and select the spreadsheet you've prepared.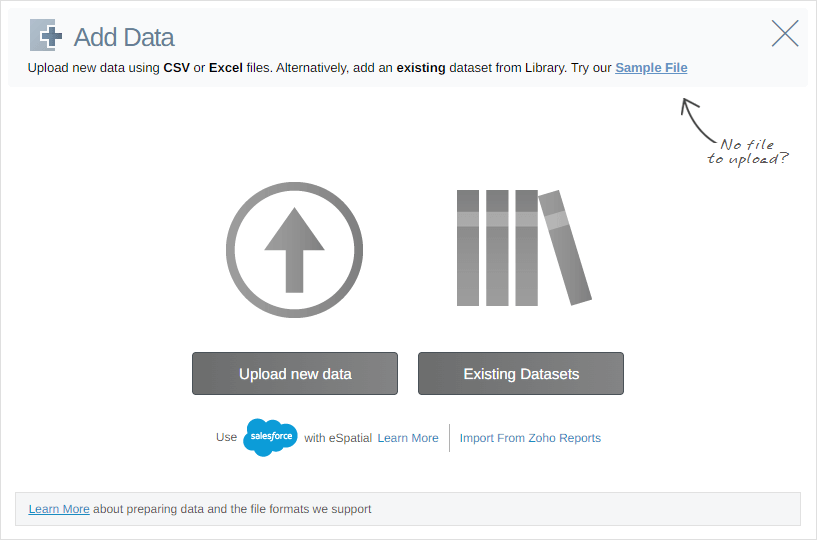 4. Review your settings
Review the columns that eSpatial has selected. These will be used map your locations. You can adjust which columns are used or change their order by hitting the "Change Settings" button. Once you're satisfied with your columns, check that the correct country is selected.
5. Map all your addresses at once
Once everything is set up to your liking, click Complete, and eSpatial will map your locations. Click Return to Map to take a look at your visualized results.