There are many different choices out there today for digital route planning. However, the vast majority of these options weren't designed with a mobile sales team in mind. What's more, most of these options don't let users intuitively navigate a multi-stop route. Those that do lack the efficiency and logical planning that your field sales reps need.
You and your sales team may have used a consumer-level route planning or navigation app in the past, and you certainly aren't alone here. But you may also have noticed a few problems with these applications:
Consumer-focused. General route planning apps weren't built with traveling salespeople in mind. Regular navigation software may get the job done, but a multi-stop route planning app created for agile sales teams provides features and benefits where other consumer-level options fail.
No way to integrate. General route planning apps make it difficult to input a large number of stops. You often have to type in each location, then choose the order you'd like to visit them in. This is a tedious process that isn't realistic for salespeople who need to make lots of stops each week. You need a system that integrates your client information and allows you to select stops with a click.
Lack of optimization. Most navigation apps will provide the quickest route between two stops. But they'll often choose the quickest route in the order you've given. That can lead to some pretty strange results. With optimization, you can select the stops without worrying about order. The program organizes them and finds the best route based on that list. And what if plans change along the way? Sales teams need agile and flexible multi-stop route planning apps that allow them to adjust their plans as they go.
Problems with route sharing. Many companies have a central person or team create schedules and routes for salespeople. This makes it critical to be able to save and share maps with other team members — something consumer apps just aren't designed to do. This is yet another hangup with route planning apps designed for consumers, and not for corporate sales teams.
Lack of historical mapping. Sales team managers need the full picture. This means not only being able to view where their sales reps are headed, but where they've already been on previous days. Other multi-stop route planning software can't provide these types of historical views. And if they can, they don't include the kind of actionable data and details managers need.
It's time to ditch that consumer-level app and upgrade to a multi-stop route planning app that was designed with the needs of your traveling sales team in mind.
What is a multi-stop route planner?
A multi-stop route planning app takes the capabilities of regular navigation software to new heights. A multi-destination route planner like eSpatial 's intelligent route mapping lets you and your salespeople map out the most logical and efficient driving routes. And this mapping is all based on your own unique sales data and visualizations, including the customers that salespeople need to see immediately, and the leads they should follow up on first.
Users can quickly and easily add new locations to their multi-stop routes. But beyond simple mapping, a multi-stop route planner also lets users build in the amount of time they want to spend at each location. This helps keep sales reps on track and on schedule. And it ensures that no appointment falls through the cracks.
In addition to including start and stop times for each location, users can also adjust locations and timetables as they go. So, if one meeting runs over its planned time slot, you can adjust the meeting length for that location in the multi-route planning app. It also automatically adjusts the times for every following appointment.
Unlike a regular calendar view where appointments will simply overlap, a multi-destination planner helps keep your sales team on track, according to their actual schedules.
Multi-stop route planning: top features and benefits
There are quite a few advantages to having this kind of multi-destination route planning software in place, including:
1. Better visualize sales routes
Don't just view individual routes from one stop to another. A best-in-class multi-stop route planner lets you view the entire journey, including each and every location along the way. This visualization also includes the number of total miles and average drive time, as well as the time and miles in between each stop. Being able to visualize the complete route like this gives your salespeople the full picture.
2. View destinations based on contact name
The stops in an advanced multi-destination route planning software like eSpatial's don't just pop-up as generic addresses. Instead, your salespeople can view all the information on the client at each stop. That can include contact name, company, past order details and other notes. And while this may be a small change in comparison to general navigation apps, it makes a big difference for your sales team. Instead of planning to head to 123 Cherry Street, your salesperson can better prepare for their meeting with Sally Smith at Acme Inc.
3. Stay on schedule
One of the biggest headaches for any sales team happens when things don't go according to schedule. Even a small delay can cause a domino effect. You certainly don't want your sales reps to cut meetings short simply in the interest of schedules and planning. But it's also important that team members meet with every customer and prospect that they need to.
This is where a multi-stop route planner becomes such a key investment. In addition to including the starting and ending time for each meeting at each location, sales team members can adjust their schedules as they go. This means, should a sales rep run behind or find themselves ahead of schedule, they can shift the stops along their route accordingly. And since all your customers are stored in a multi-stop route planner, salespeople can add new stops if an appointment cancels or they find themselves with extra time.
4. Collaborate and seamlessly share routes
Keep your workforce on the same page through route sharing. Your sales team can simply and easily share details like route itineraries, planned meetings, and route directions with fellow sales reps or office support staff. This is a fantastic feature, particularly if your office staff helps support your sales team by booking appointments.
What's more, users have the choice to share routes privately or publicly, depending on your business planning and privacy needs. Shared routes can be viewed on any mobile device, making them simple to access and use for decision making and prioritizing. And because eSpatial's multi-stop route planner can connect and integrate with top navigation apps, shared routes can be opened to view step-by-step route destination directions.
5. Simple to use
It may sound like there's a lot going on with multi-stop route planners, particularly in comparison with other route mapping or navigation apps. This is certainly true, but it doesn't mean that a multi-destination route planning app is difficult to use. In fact, eSpatial's multi-stop route planning software is simple and intuitive. The user interface is clean and familiar, and while there are beneficial added features, these are easy to navigate. The result is that you and your sales team can be up and running with a new multi-stop route planner in no time, and with little to no learning curve.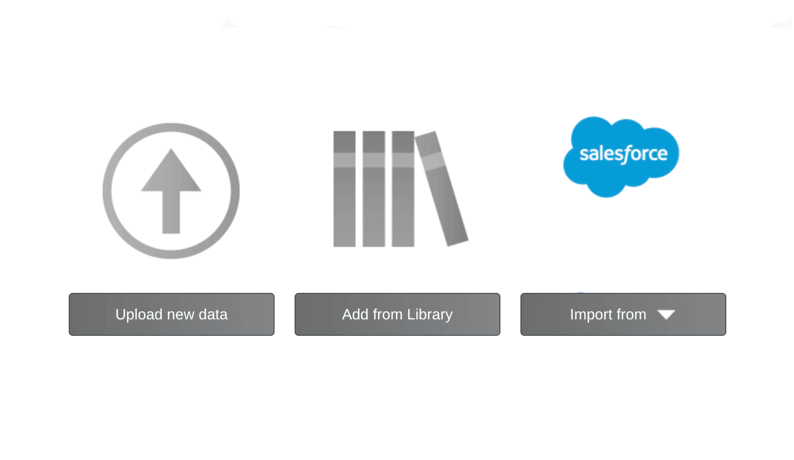 6. Integrate with other apps and functions
eSpatial's multi-destination route planning software can also integrate and combine with other features and tools that your salespeople use most. This includes being able to open step-by-step route directions in top navigation apps. The benefit here is the ability to create one cohesive and comprehensive sales planning solution that incorporates everything you and your sales team need.
How a multi-stop route planner works: A step-by-step guide
Now that we've seen what a multi-stop route planner app is, and what it can do for your business, let's look at how it works:
1. Upload data
Multi-stop route planning software lets you use and view more than just destination addresses. First, users need to feed their data into the system to be able to make the most of its comprehensive route planning features. The data you need will vary depending on your business, but uploading the locations of your customers, prospects and sales reps is a good place to start. You can also upload a list of your business's service depot locations and incorporate these into your route planning as well.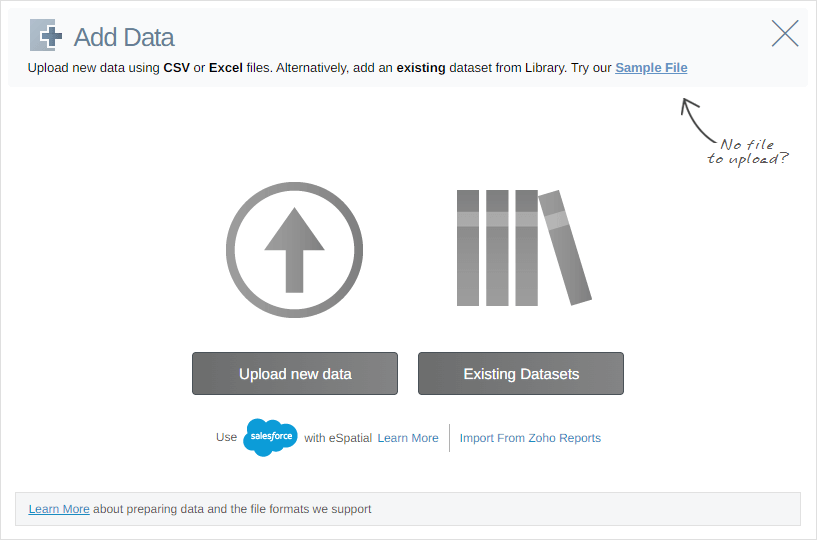 2. Choose your stops
It's best to upload a complete list of your customer destinations so that you can use these to plan routes in the future. Once this information is in the route planner, you can analyze the clients your salespeople need to visit and the stops they need to make. The multi-stop route planner will have comprehensive lists of your current customers, your sales prospects and even your service depots. This means you can analyze and plan routes based on your unique sales priorities or customer needs.
3. Set up your appointments and route
Once you know who your salespeople need to see and where they need to go, you can use eSpatial's Control Panel to access the Routing Panel. From here, all you need to do is use the Add button to select your chosen customer stops from your uploaded list.
The Routing Panel also includes the Times feature, where you can set up specific starting and ending times for each meeting, at every location along the planned route.
4. Optimize your route
A multi-stop route planner is more than just a scheduling tool. It also provides users with automatically optimized routes — using the Optimize and Get Route buttons in the Route Panel. This means your sales team takes the route that provides the best drive time from stop to stop, cutting down on lost time and productivity along the way.
And that's it! Once a route is created, it can be shared with other team members, opened in a regular navigation app for step-by-step driving instructions, or adjusted based on meeting times and schedules.
What to look for in a multi-stop route planner
Not all multi-stop route planning software is created equal. There are a few crucial features that you should look for to make sure you arm your sales team with the best route planning solution:
Mobile access, because your sales reps don't want to use a laptop in their passenger seat just to plan their multi-destination routes.
Bulk add stops from your uploaded customer list. This cuts down on planning time and enables you to access an optimized route in a matter of seconds.
Adjustable meeting times, including the planned starting and ending times, so users can easily and efficiently see how long they'll spend at each destination and how this affects the rest of their route. The best multi-stop route planning solutions also allow you to adjust these times based on your real schedule. So if things don't go as planned, you can update your route and driving time accordingly.
Shareable routes help keep everyone on the same page. This includes sales team members as well as managers and office support staff who may help with scheduling. What's more, shareability means that nothing falls through the cracks, even if a prospect cancels or salespeople have time to add a stop to their route.
Route optimization to ensure that traveling salespeople take the most efficient and direct routes. And even when plans change, their drive time is as optimized as possible.
A multi-stop route planning app like eSpatial's can provide the visibility, insight and optimization to boost your sales team's productivity and keep everyone informed.
Talk to a mapping expert to learn more about multi-stop route planning, or the other features of our best-in-class solutions.