A multi-stop route planner is essential for sales, service, and field-based teams boosting productivity and compressing planning time.
Finding the right route optimization software for your team can be challenging with so many choices. You must access a solution that makes it super simple to plan a multi-stop route. Consumer-level route planners work well for the basics, but if you want to improve schedules, you need a power route scheduling tool.
Consumer-focused. Most route planners cater to a consumer audience and get the job done. But for sales and service teams, you need an agile system designed for hectic schedules that often require regular re-optimization as you hit traffic or get cancellations.
No integrations. If you need to plan a 20-day schedule or a route with many stops, you need a system that handles the heavy lifting. You don't have time to enter locations manually. If you use a CRM like Salesforce, you'll want an integration. You also want to import large spreadsheets with your customer information quickly, so you can select stops and hit optimize in minutes.
Lack of optimization. Most navigation apps will provide the quickest route between two stops. But they'll often choose the fastest way in your given order, leading to mixed results. Route optimization makes the process easy. Add your stop data and let the system calculate the most effective way to schedule your day. And if you get a cancellation or experience delays. No hassle; search for replacement calls on a map and select, or hit re-optimize, and you are back on schedule in minutes.
Problems with route sharing. Many companies have a central person or team creating salespeople schedules and routes. Sharing is critical and needs to be secure. Most consumer-level apps lack the functionality required for an enterprise sales team.
Lack of reporting and analysis. Sales team managers need the whole picture. The ability to assess the schedule against the plan is essential. So historical views and actionable data are critical to ongoing performance and productivity gains.
It's time to ditch that consumer-level app and upgrade to a multi-stop route planning app that delivers for your sales and service teams.
Real World Scenario
You are a sales rep with a mixture of existing customers and prospects. You need to allocate 30% of your time to new account development. You have several customers who have "time limits" for sales calls. So you can only visit them at those "locked-in times." You are eleven weeks into your quarter, and for your final week, you want to prioritize:
"A" customers (highest priority)
Prospects with a deal probability of 75% or higher (those likely to close before the quarter ends)
You access your multi-route planner on Sunday evening to schedule your week. First, you select those customers you need to "lock in" due to their time windows. In effect, you are letting the route optimizer know that it optimizes your schedule around those "locked-in" appointments.
Next, you use the recommendations engine (look for a route planner with a recommendations engine). You instruct the system to plan your schedule, ensuring it prioritizes prospects with a 75% or higher probability (the data is accessed via your spreadsheet or CRM).
The recommendations engine does its magic and schedules your week accounting for breaks (lunch etc.) and travel times. So you set off on Monday morning, and within an hour, you receive a call from a customer asking you to re-schedule. No sweat. You open your mobile, select that stop, change the time and date, then hit the re-optimize button. You will be back on schedule in minutes.
Are you dreaming? No. With eSpatial, all of it is possible:
Easily add your customer data
Select stops on a map
Lock in appointments
Access a recommendations engine
Optimize the route or week schedule
Re-optimize if you get cancellations or run late
Check out our guides
Conquering territory management
Support from our mapping experts when you need it
Users love our power mapping platform. Why? Onboarding is easy. You access in-person support fast. Talk to a real person now.
Multi-stop route planning: the benefits
Multi-destination route planning delivers numerous benefits to field-based teams:
1. Time
You cannot manufacture time but optimize your time with a route planner. The technology does all the heavy lifting and frees up more time to make those sales and service calls.
2. Revenue and service improvements
You add more sales calls and can prioritize your day, focusing on your highest-priority sales calls. That drives revenue growth and improves customer service levels..
3. You can visualize your week
Route mapping software brings your schedule to life. It beats spreadsheets, hands down. Seeing your route on a map makes it easy to optimize your day. And when you see prospect locations and other stops of interest, select and add them to your schedule. See the full picture on your route map.
4. View the contact information on the fly
Salespeople can view all customer information at each stop, including contact name, company, past order details, and other notes. It makes call planning super easy, and post-call admin, too, is a cinch.
5. Stay on schedule
Staying on track is easy when you get thrown off plan by traffic delays, meeting overruns, or cancellations (all in an average day). Re-optimize on the fly and get back on schedule. It will save your day.

Multi-stop route planner excels in dynamic environments and delivers massive ROI for sales and service team by boosting calls per day and utilization.
6. Collaborate and share routes seamlessly
Your team can easily share details like route itineraries, planned meetings, and route directions with fellow reps or office support staff. Perfect for teams whose office staff book sales rep's appointments.

What's more, users have the choice to share routes privately or publicly, depending on their business planning and privacy needs. Shared routes can be viewed on any mobile device, making them simple to access and use for decision-making and prioritizing. With eSpatial, you can share a route and view step-by-step route destination directions.
7. Simple to use
If it is simple, you will use it, so you are in the right place. The technology behind the scenes may be complex, but for a user, it is easy.

The interface is clean and familiar, and all features are easy to navigate. You and your sales team can be up and running with a new multi-stop route planner in no time and with little to no learning curve.
8. Integrate with other apps
eSpatial's multi-destination route planning software can also integrate and combine with additional features and tools that your salespeople use most. Open step-by-step route directions in top navigation apps like Waze or Google Maps.
How a multi-stop route planner works: A step-by-step guide
Now that we've seen what a multi-stop route planner app is and what it can do, let's look at how it works: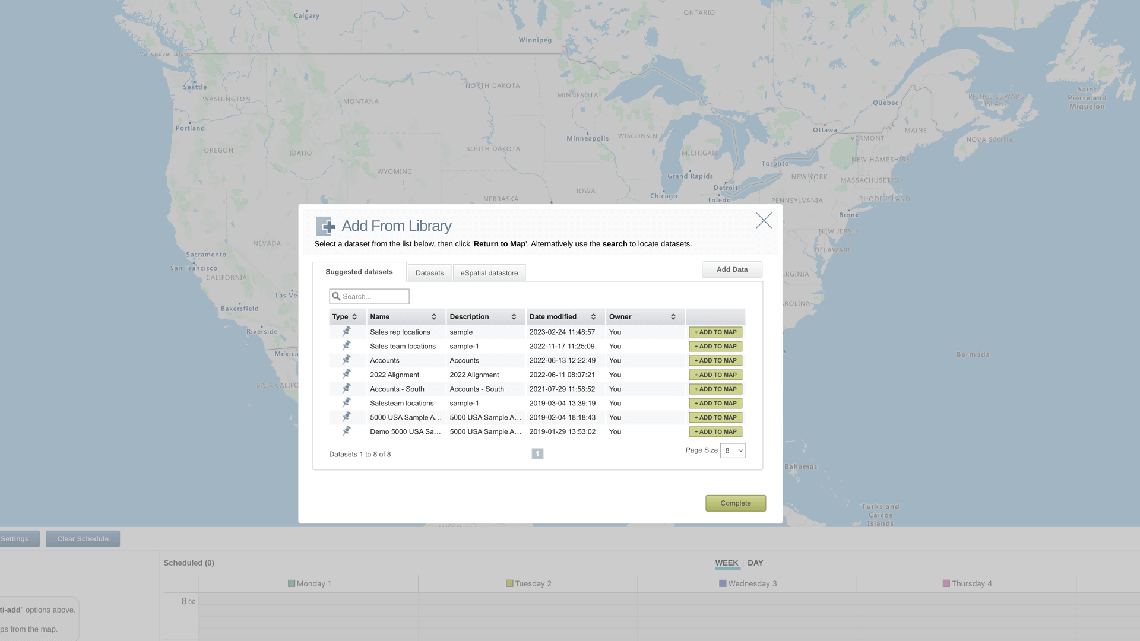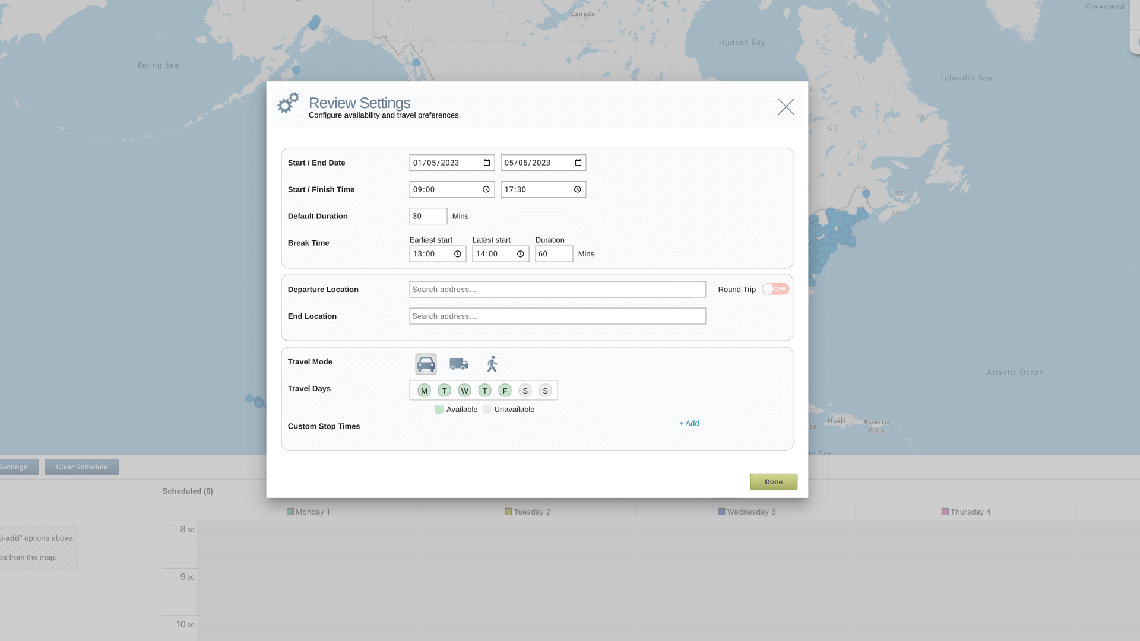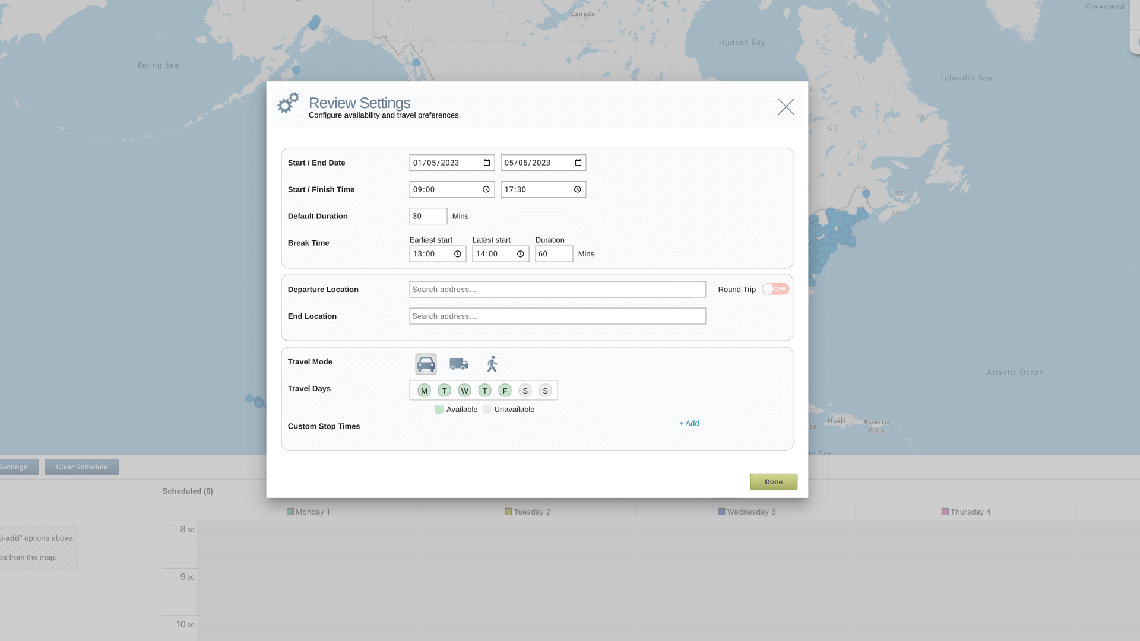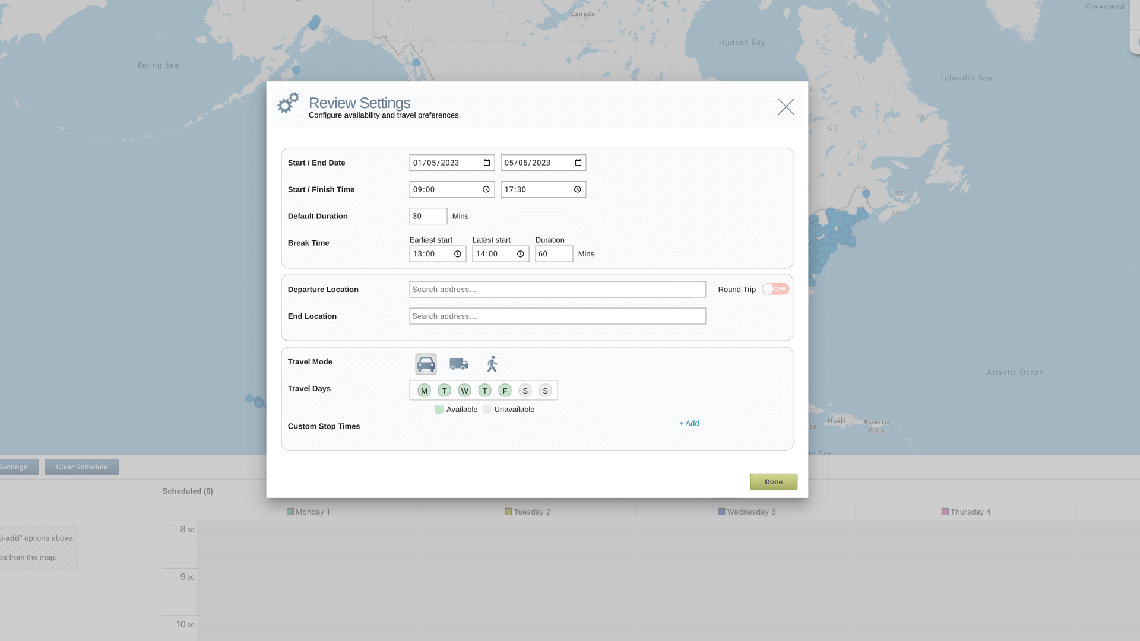 3. Use the recommendations engine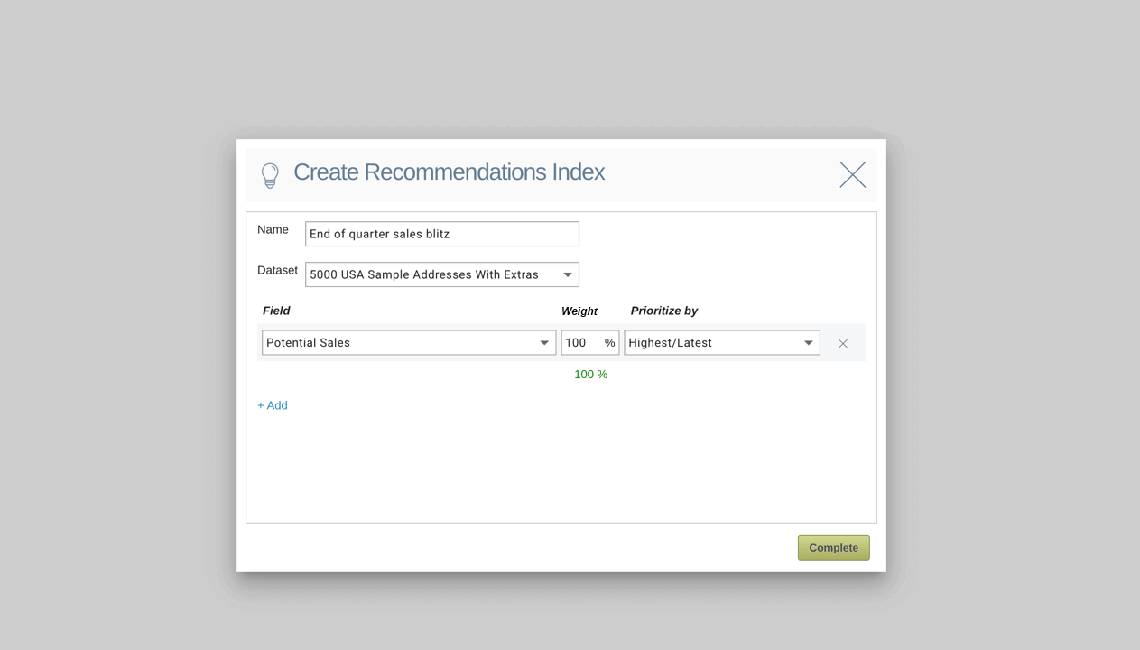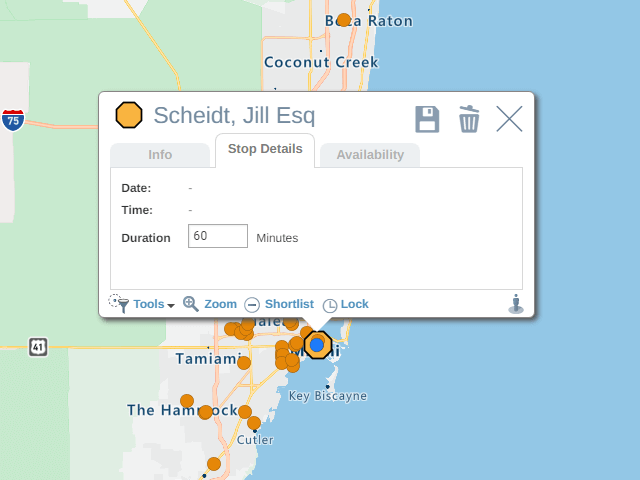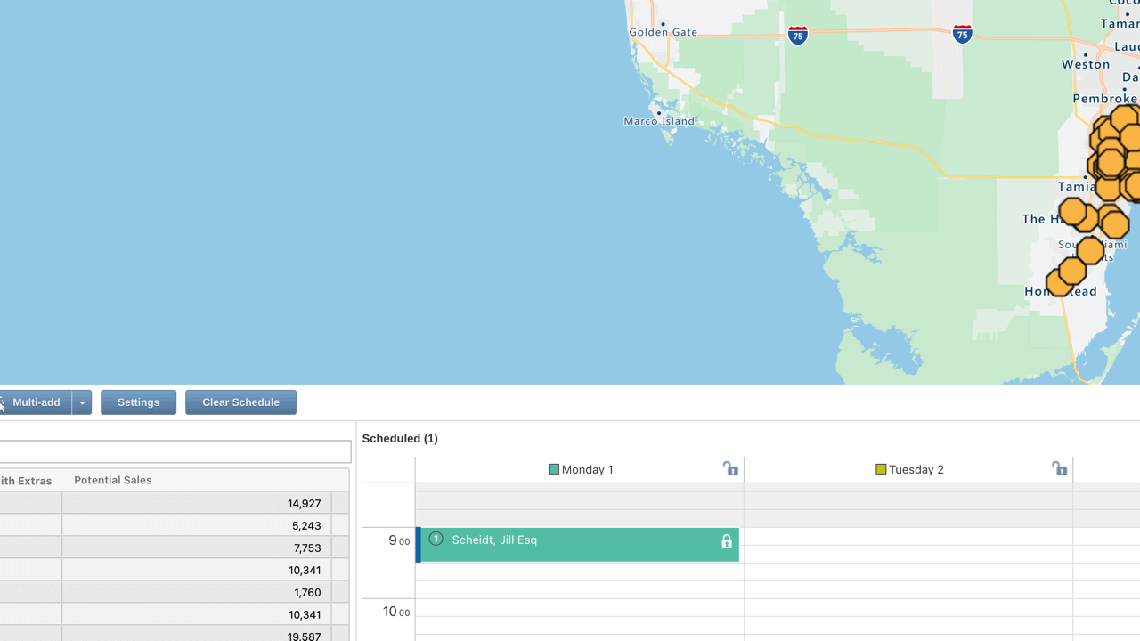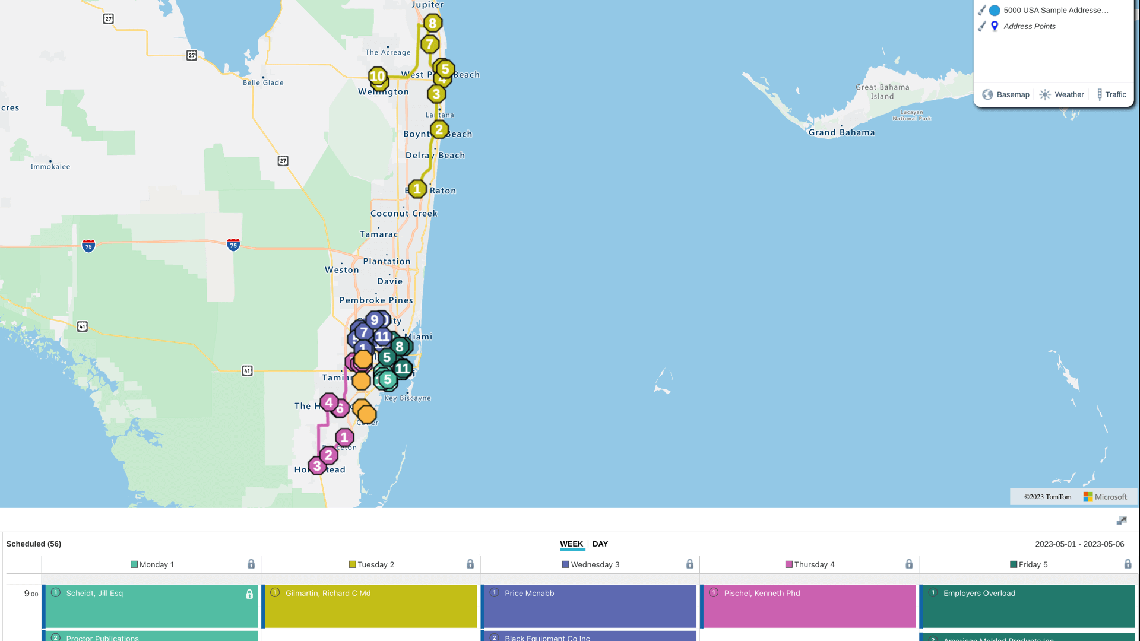 What to look for in a multi-stop route planner
Not all multi-stop route planning software is created equal. Here are the essentials:
Mobile App because your sales reps don't want to use a laptop in their passenger seat just to plan their multi-destination routes.
Bulk add stops from your uploaded customer list. This cuts down on planning time and enables you to access an optimized route in a matter of seconds.
Adjustable meeting times, including the planned starting and ending times, so users can easily and efficiently see how long they'll spend at each destination and how this affects the rest of their route. The best multi-stop route planning solutions also allow you to adjust these times based on your schedule. So if things don't go as planned, you can update your route and driving time accordingly.
Shareable routes help keep everyone on the same page. This includes sales team members, managers, and office support staff who may help with scheduling. What's more, shareability means that nothing falls through the cracks, even if a prospect cancels or salespeople have time to add a stop to their route.
Route optimization to ensure that traveling salespeople take the most efficient and direct routes. And even when plans change, their drive time is as optimized as possible.
A multi-stop route planning app like eSpatial can provide the visibility, insight, and optimization to boost your sales team's productivity and keep everyone informed.
Talk to a mapping expert to learn more about multi-stop route planning or the other features of our best-in-class solutions.