Logo carousel. If your screen size is less than 768 pixels 2 logos will be shown, greater than 768 pixels and less than 992 pixels 4 logos will be shown, other 6 logos will shown. Use the previous and next buttons to navigate.
---
Create two types of geographic heat maps
Identify clusters of customers.
Highlight opportunities outside of current territories.
Uncover trends in sales of particular products in particular locations.
Quickly spot areas for further investigation based on the density (or lack thereof) of sales.
Get an overview of your market performance.
Quickly identify high and low performing areas.
Uncover trends in sales of specific products in particular locations.
Quickly spot areas for further investigation based on the density of sales.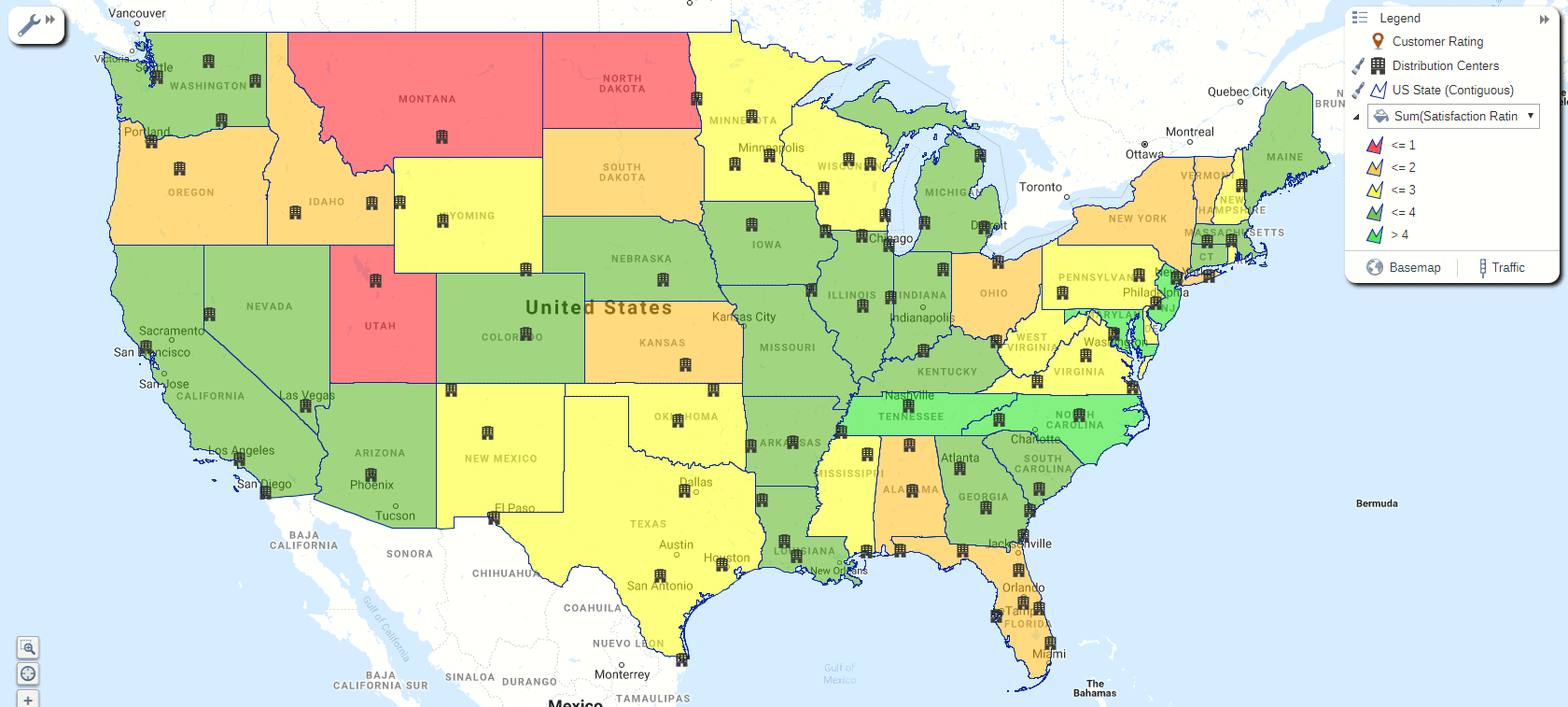 Create Your First Geo Heat Map Today
eSpatial requires JavaScript to run. Please enable JavaScript to sign up for a free trial
Once you sign up you will be automatically logged in to start your free trial
eSpatial features customers love
1.

Territory mapping and management
---
Create, merge, align, optimize or balance territories up to 32x faster. Complete power territory mapping software for sales, marketing and operations. Boost revenue and slash design time. Simple, fast and secure.
2.

Route mapping and optimization
---
Optimize routing software for sales and service teams. Our advanced recommendations engine will help boost utilization and productivity. Mobile ready to allow users in the field instant access to up to date routes and schedules.
3.

Create a story with your data on maps
---
Present your data on heat maps, radius maps, ZIP maps, proximity, and drive time maps. Gain new insights, spot trends, and unlock hidden opportunity.
4.

Simple and fast power mapping
---
Loved by thousands of users worldwide for being simple, fast, and powerful. Our product offers full support, talk to a real people in-person or in-app.
5.

Collaborate securely
---
You get the highest levels of security. Share and collaborate with colleagues and customers easily. Speed up your decision making process and increase buy-in.
6.

Data loading
---
Load Excel, CSV, and CRM data in seconds. Integrate seamlessly with your Salesforce data. Your data can be used to generate live interactive maps that can be shared privately or publicly.
What Can You Do With eSpatial?
Instantly see geographic trends and patterns.
Import, analyze, segment, and report on data.
Create maps for any country worldwide: use address, zip code, postcode, or county data.
Create geographic dashboards, heat maps, charts, and reports.
Filter and segment data with location analytics.
Embed maps on a website or blog.
Print, export, and share results both on and offline.
Why is eSpatial different?
It is a complete mapping solution for data visualization, territory management, and routing.
You partner with a designated account manager who will ensure you reach your goals.
eSpatial includes free datasets like census, zip code, states, counties, and more.
eSpatial is cloud-based, so you are future-proofed. And it's quick and easy to get started and see results.
eSpatial provides a fully secure and confidential service, trusted and backed by 20 years of mapping experience.