Here at eSpatial, we are really excited about our latest release. As always, customer feedback is key to our product roadmap and ongoing updates. In December's release, the two key development areas are Map Styling and Salesforce.com Integration.
Map Styling
The additional map styling capabilities are something that all our users will benefit from. The new styling functionality provides you with a whole host of new capabilities as well as far more efficient ways to style your maps.
These new capabilities include:
Apply multiple styles to a single point.
Define multiple style palettes for colors and symbols.
Set the default style for colors and symbols.
A new single entry point into styling.
Easier to switch between multiple layers when styling a map.
Apply multiple styles to a single point
You can now apply multiple styles to a single point. This includes labels, coloring, sizing and symbols that can all be styled based on underlying data for that point. For example, you could label all points with their company name, use a symbol to indicate the companies industry, color based on their current revenue and size based on their growth potential. Using multiple styles is a great way to show multiple views on a single source of data, and present a really powerful story of what is going on.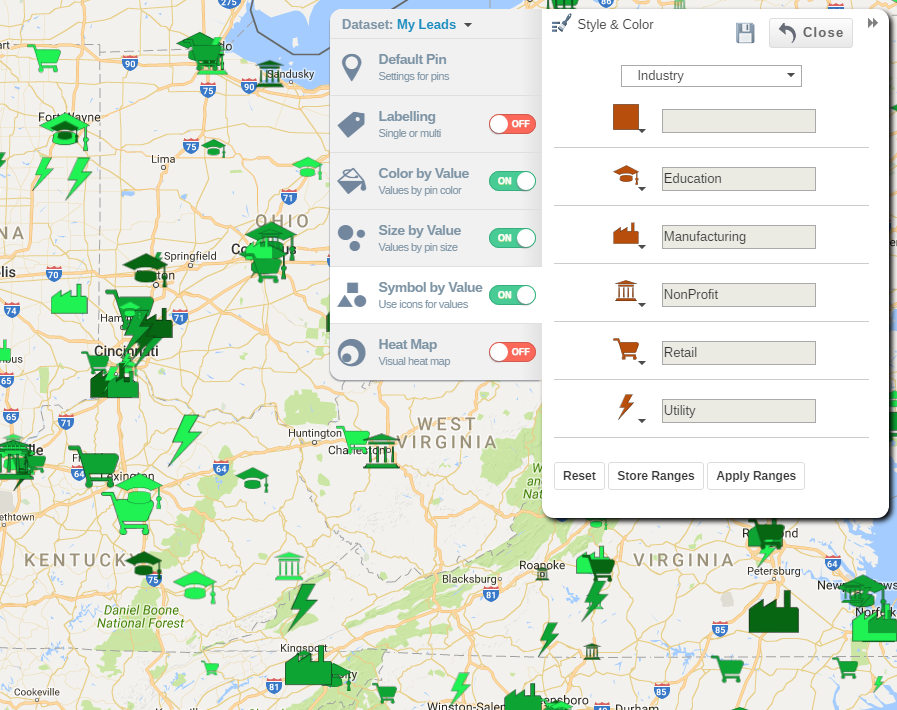 Define multiple color and symbol palettes
With this new feature, you can save a palette of styles (colors or symbols) and the matching range values. This is great when you want to create similar maps on a regular basis. You can define a set of styles that work best with your data. You can then easily reuse these styles as you update and reload new versions of your data. For example, you could have a preferred symbol or color for your sales reps. You may wish to set a preferred set of colors and ranges to apply to your revenue figures so that your maps are both easy to reproduce, and also so that there is consistency between the maps you produce.
You can also set the default color and symbol style, so that the next time you upload data, the default will be applied where appropriate.Additional improvements in this release include a single access point to styling and the ability to switch between layers once in styling mode. These improvements will help you get you the best output in a quicker time.
Salesforce.com Integration
Earlier this year, we launched a Salesforce.com Beta program and the feedback we've received to date has been really positive. We are delighted to make this functionality available in our December release for all paid subscriptions. This is a great way for you to synchronize your Salesforce.com reports with eSpatial.
The key features include:
Importing Salesforce.com reports directly into eSpatial.
Scheduling Salesforce.com reports to synchronize regularly with eSpatial.
Manually re-run a report to import the latest data into eSpatial.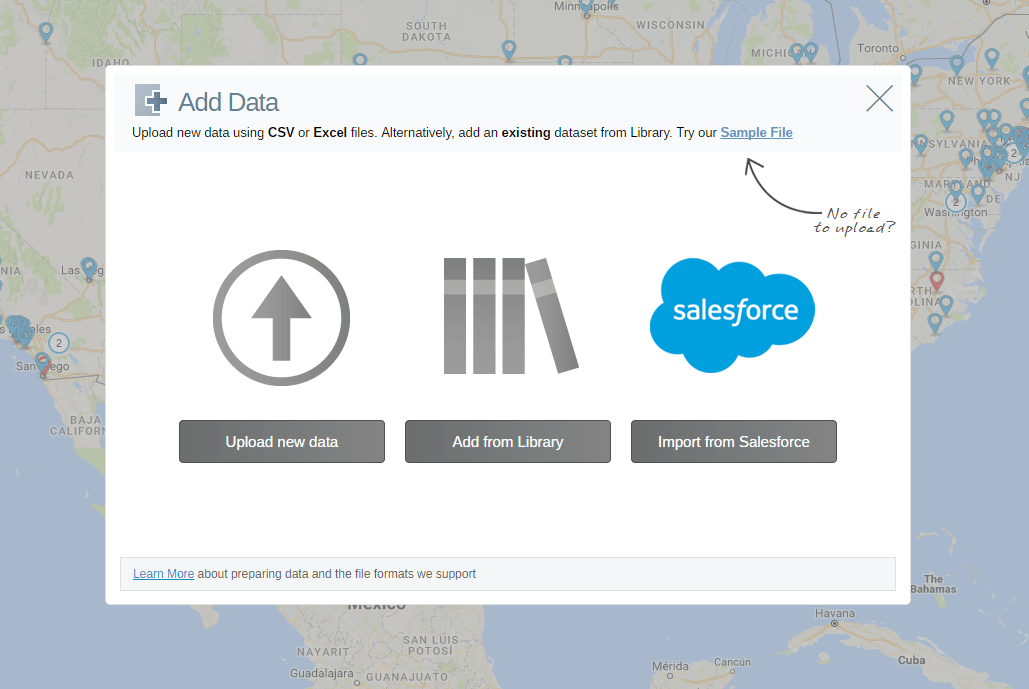 Using Salesforce reports gives you the flexibility to define and filter your data the way you want it, before uploading to eSpatial. It is used it for leads, accounts, opportunities, customers, projects, cases. It supports most custom Salesforce.com objects.
It is a great way to bring your Salesforce data to life on a map and using the scheduling capabilities keep the two in sync.
Feedback
If you have any feedback on our upcoming release or future requirements, please reach out to me or your customer success manager through in-application chat where we are always happy to take your feedback.