eSpatial's Canadian boundary datasets are from Statistics Canada's 2011 census. We provide Canadian province and territory, Census Division and Canadian Census Metropolitan/Agglomeration Area (CMA) boundary datasets. These boundary datasets can be used in conjunction with your own personal or commercial data. eSpatial allows you to link your own data with these boundary datasets, to help you analyze your information. These boundary datasets can also be used with your own data to create reports. Below is an example of the kind of report you can create with eSpatial.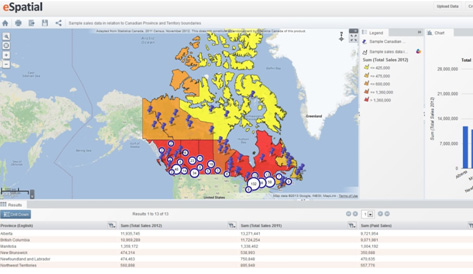 We created a heat map report using Canadian province/territory boundary dataset and a sample sales dataset. The report examines total sales in Canadian provinces and territories. The same information could have been based on Canadian Census Division or CMA boundary datasets for a more granular view.
Provinces and territories are colored and categorized according to the total number of sales in each area during 2012. The graduated color scheme makes analysis of the data quick and easy. It's evident from the map that yellow provinces/territories (e.g. Nunavut) have the lowest total sales, while red provinces/territories (e.g. Saskatchewan) have the highest total sales.
---
Plot Your Data On a Map Now