Are you looking to create a map that contains interactive map data? Then look no further than eSpatial, the online mapping software. Use eSpatial to convert your location data into a map. Start out at point A - an Excel spreadsheet - and end up at point B - a data-rich interactive map.
Improve efficiencies
Reduce costs
Get the best return on investment (ROI)
Make faster decisions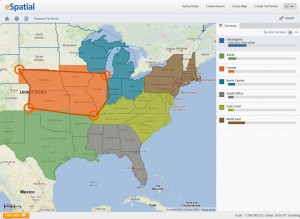 ---
eSpatial can handle a huge amount of interactive map data to produce eye-catching maps that reveal new insight. These can then be, printed,  embedded on websites or shared electronically.
eSpatial is used by 1000s of businesses and non-profit organizations, all over the world. If you're not using this tool to plot interactive map data, then you are not making the most of one of your most precious resources.
Plot your interactive map data using eSpatial
Create maps in minutes
Transform Excel spreadsheets into eye-popping data-rich maps
Generate a variety of maps: for location plotting, territory mapping, within distance mapping – and much more
Get new insight from automatically-generated reports
Create marketing plans from real-world data, provided by detailed demographics
---
Start Plotting Your Interactive Data Today