Meeting the challenge
There is a huge amount of untapped business data contained in Excel spreadsheets. Finding and using this data effectively has long been a challenge.
Research has shown human beings are much more responsive to shapes and colors than lines of text (our eyes are designed to recognize millions of colors, not just black and white). This has created a market for plotting Excel data on maps.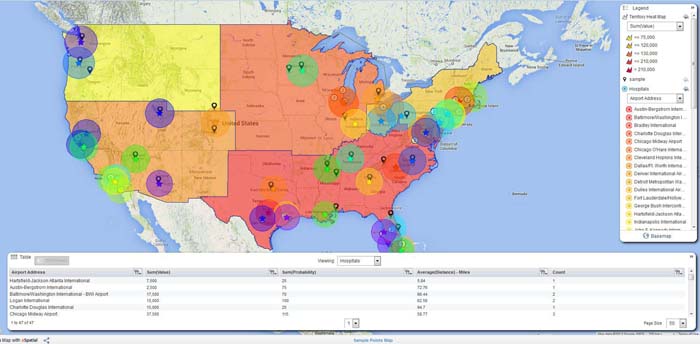 This map, created by eSpatial Excel mapping software, mixes radius map styling and color coding to provide a detailed analysis of a market.
Improving business
These map visualizations can improve and enhance business operations, across a variety of sectors. Obvious industries that benefit from plotting data on maps are logistics and distribution companies (Where is the product? Where is the customer? What is the fastest route to the customer?)
However, there are also more subtle ways to use such Excel mapping software. For instance, marketing departments can organize campaigns targeting the particular demographic make-up of a geographic region. For example, the marketing department of a nursing home for the elderly could analyze a map that reveals high densities of 60 to 80-year-olds within a 10 mile radius. A highly-targeted promotional campaign could then be created to optimize the potential of this market.
The creators of Excel - Microsoft – long ago recognised the importance of maps in business. In fact, up until 2000 being able to map Excel data was a feature of the spreadsheet program. When this functionality ceased, Microsoft introduced its own Excel mapping software, MapPoint. Unfortunately, Microsoft's Excel mapping Software was discontinued at the end of 2014.
eSpatial Excel mapping software
eSpatial is a cloud-based mapping software, and MapPoint replacement, that takes data from an Excel spreadsheet and converts it into a map. Users can then interact with that data - drilling down into it, or carrying out a range of analysis. eSpatial works by allowing users to layer their own data onto custom maps. For this reason, it can claim to provide the most-up-to-date maps available.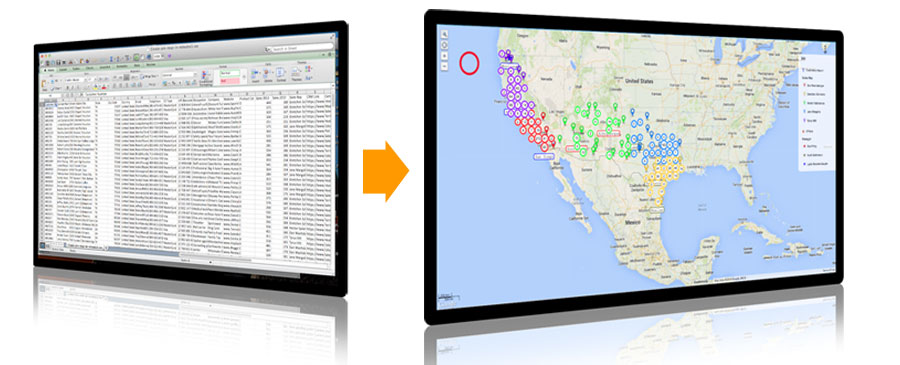 What kind of Excel maps can you create using eSpatial?
Basic pin maps, radius maps, territory maps, route optimization maps and bubble maps. eSpatial provides free updates, every 6-8 weeks, so the range of mapping features is being continuously expanded.
What industries are currently using eSpatial?
Below are a small sample of recognizable business customers that use eSaptial. For more information on them and to read testimonials, click here.
Additional information
Discover how to create your own Excel data map.
---
Explore Excel Mapping Software Today
You can get a free eSpatial trial, and start plotting Excel data