Save time with automatic dataset updates for powerful and up-to-date sales performance maps.
---
Analyzing and reporting on sales is an important part of a sales manager's job. Knowing who is performing and where at all times is key to the success of the business. The most time-consuming element of this is getting your data uploaded for analysis, especially if the reports are a daily, weekly or monthly occurrence. While it is an easy task, there are many steps involved. You have to sign into your database or CRM, run the report, export the data, log into eSpatial and upload the data. Our eSpatial Data Upload Tool allows you to skip those steps with automatic scheduled updates to your imported datasets.
eSpatial has powerful analytical and visual tools to allow you to gain valuable insights into your business and sales data. When using eSpatial to analyze your data, you want it to be up to date and you want it done automatically. This is why we have developed our eSpatial Data Upload Tool.
Typically, your data will be sourced from a spreadsheet, a CRM such as SalesForce.com, Microsoft Dynamics, Sage etc. Most of these applications provide capabilities to export to various file formats (e.g. CSV, JSON, etc.) to a network location at regular intervals. Our standalone application automatically imports your data into eSpatial,  removing the need for a manual import process. Using the eSpatial Upload Tool, you can schedule data updates from a source file stored on your network.
The eSpatial Upload Tool supports the following formats: CSV, JSON, HTML, Excel, and XML
Example: You have a database containing your sales records.
Every night at midnight, you export the sales for that day to a CSV file, named daily_sales.csv. You then schedule a task for the eSpatial Upload Tool to run at 12:05am every night to append daily_sales.csv to your dataset on eSpatial.com.
---
User Interface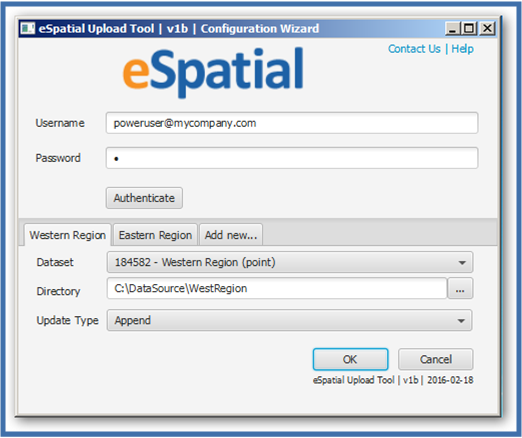 With an easy to use interface, you can select the eSpatial dataset for updating, the update file and whether you want to append data to or replace the existing eSpatial dataset.
---
Features of the eSpatial Upload Tool
Schedule automatic updates of your eSpatial datasets
Configure the Upload tool to update the eSpatial dataset only when data file exists on the network (using Location Watcher tool)
Facility to update multiple eSpatial datasets at once
Match data file locations to specific eSpatial Datasets
(e.g data file in C:DataSourceWestRegion will be imported into the WestRegion Dataset)
Audit and log file available for error checking and analysis
---
Implementation
We recommend that the implementation of the eSpatial Uploader Tool be undertaken by a systems administrator or Power-User of the eSpatial system. Our eSpatial developers will be on hand to assist in the implementation and ensure the Upload Tool is fully operational.
You can use the eSpatial Upload Tool in your own environment. You will need a dedicated machine to host the Upload Tool. Typically, you would schedule this (using either Windows Scheduled Task or Linux cron job) to run periodically and have it upload a local, network accessible or URL accessible file directly to espatial.com over HTTPS.
---
Process Workflow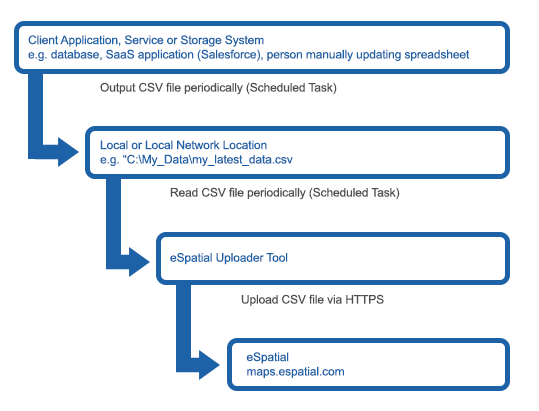 ---
Want to learn more about the Data Upload tool?