Use mapping software to build balanced and aligned territories to keep your sales team focused and motivated.
---
Over time sales territories become misaligned and unbalanced due to various factors including staff turnover, changes in headcount, changing market conditions and ever changing sales pipeline. Territory management should not be a daunting administrative overhead.
Many progressive sales teams review and update their sales territories every quarter. Poorly designed sales territories only get worse over time and will cause a company to leave more and more profits on the table.
Sales territories are the backbone of many sales teams. Ensuring they are aligned and balanced for an even workload across all sales personnel is key to a motivated team. The eSpatial Territory Builder can help you start from fresh using small areas such as ZIP codes or large areas such as States as the base. You can also upload your existing territories and reassign, realign and balance those too.
eSpatial allows you to balance your territories in terms of certain data such as demographics or values. You can also balance on your latest sales or pipeline data to ensure that you are balancing on the most up to date information. This will help identify whether the distribution of territories is balanced and fair.
---
Quickly Build Your Territories
1. Open the eSpatial Territory Builder
Log into your eSpatial account and open the Territory Builder by clicking the Territory Builder button on the top right of your screen.
2. Create Manually
The next screen you see will give you two options: "Create Manually" or "Create from File". Select "Create Manually".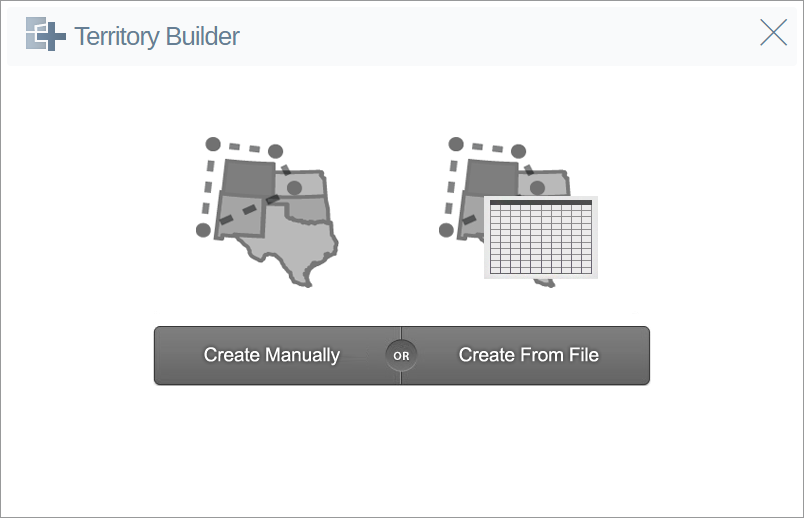 3. Select Your Territory Criteria
On this screen, you have to set your territory criteria.
What region dataset will you be building your territories on? ZIP/PostCode, Counties, or States.  You should select the smallest unit you will define your territories on.
Do you want to add customer or sales data to assist with creating balanced territories for your team?
Do you need hierarchal territories to follow the hierarchies in your organization?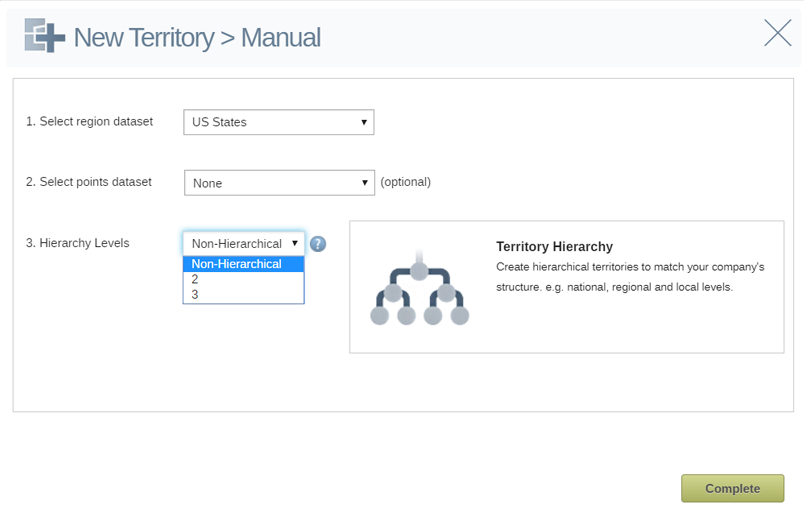 4. Add One Area at a Time
To add a single area to a territory simply click on the plus sign in the region. If you don't see a plus or a minus icon for an area, zoom in on your map to locate them.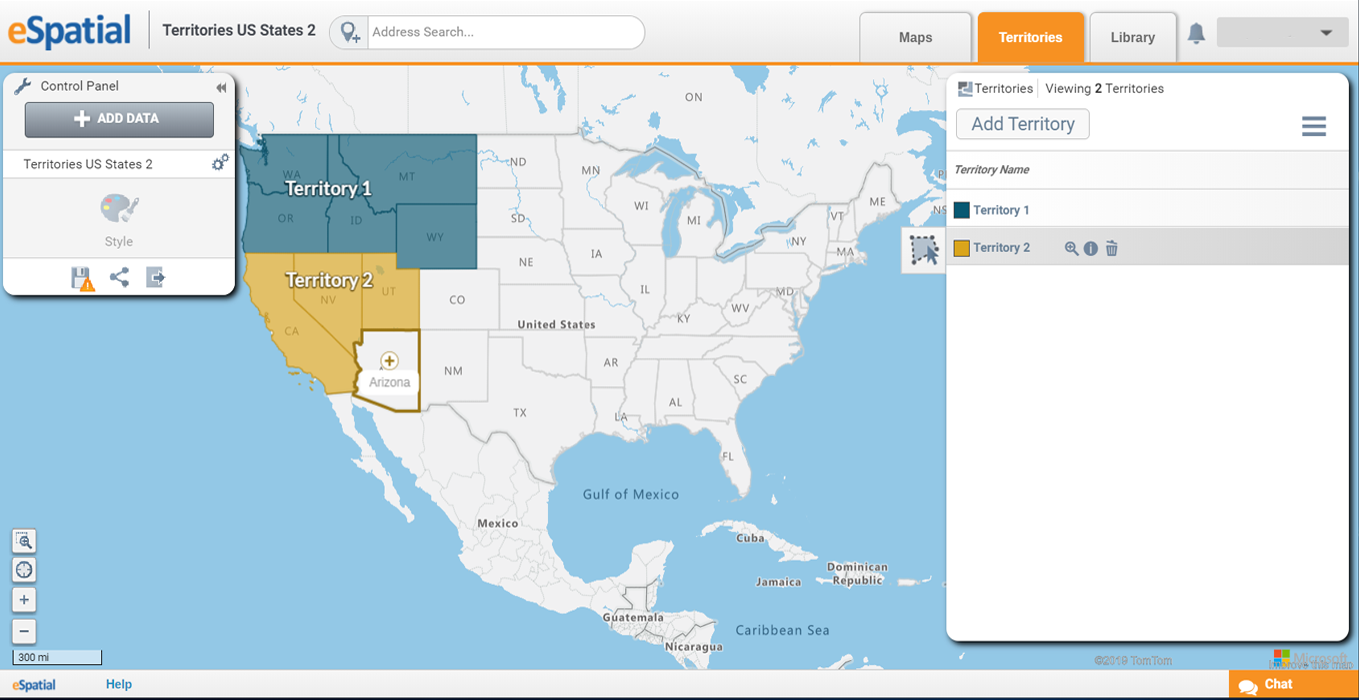 5. Add Multiple Areas at a Once
To add multiple areas to a territory simply click on the select areas icon next to your territory name. Click on the outer regions of your territory to create a shape and double click on the map to add those areas to your territory.
6. Add More Territories
To add a new territory, click on the "New Territory" Button and build using one of the methods outlined above.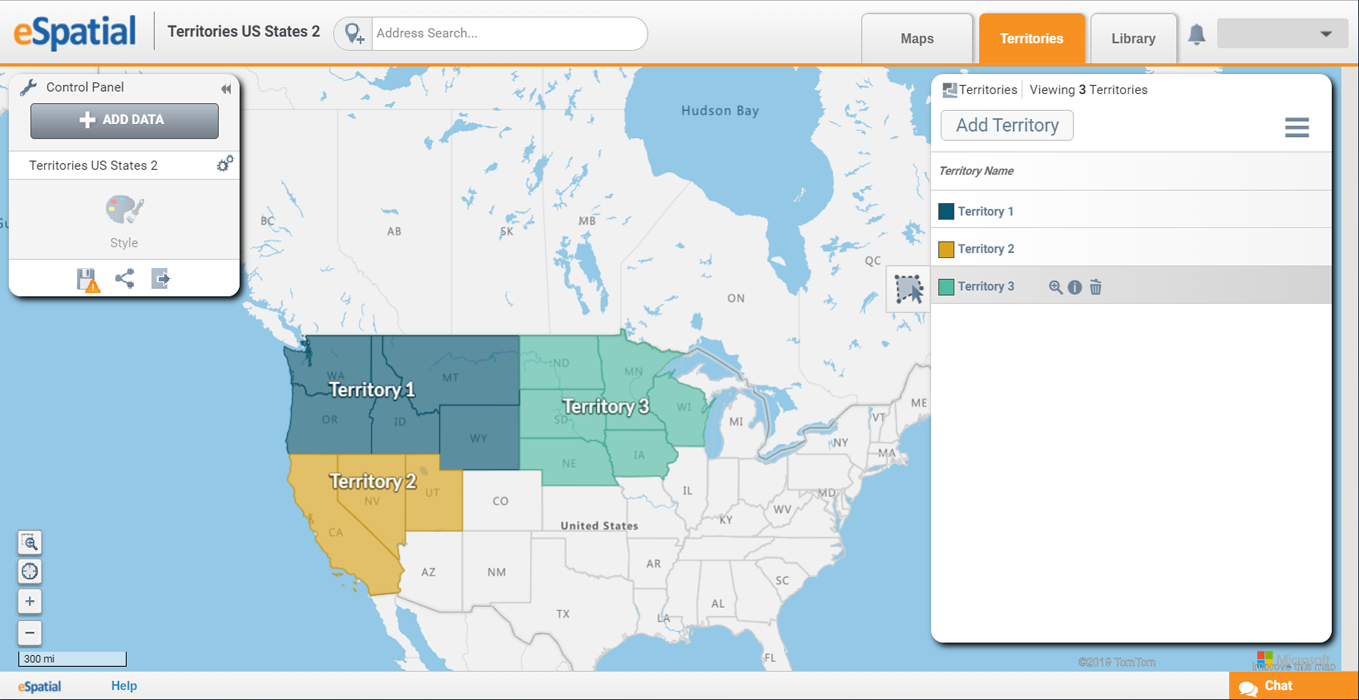 7. Balance Your Territories
To add balance criteria, click on Add Balance.
Select the dataset you want to pull your criteria from. You can pull the most up to date information from your CRM to ensure that you are balancing your territories on the most up-to-date information.
Select the balance criteria you want to add to your territory builder. You can balance this on your current sales pipeline, your current account values, recent sales performance.
Click complete and you will see your territories now have balances next to them based on the criteria you set.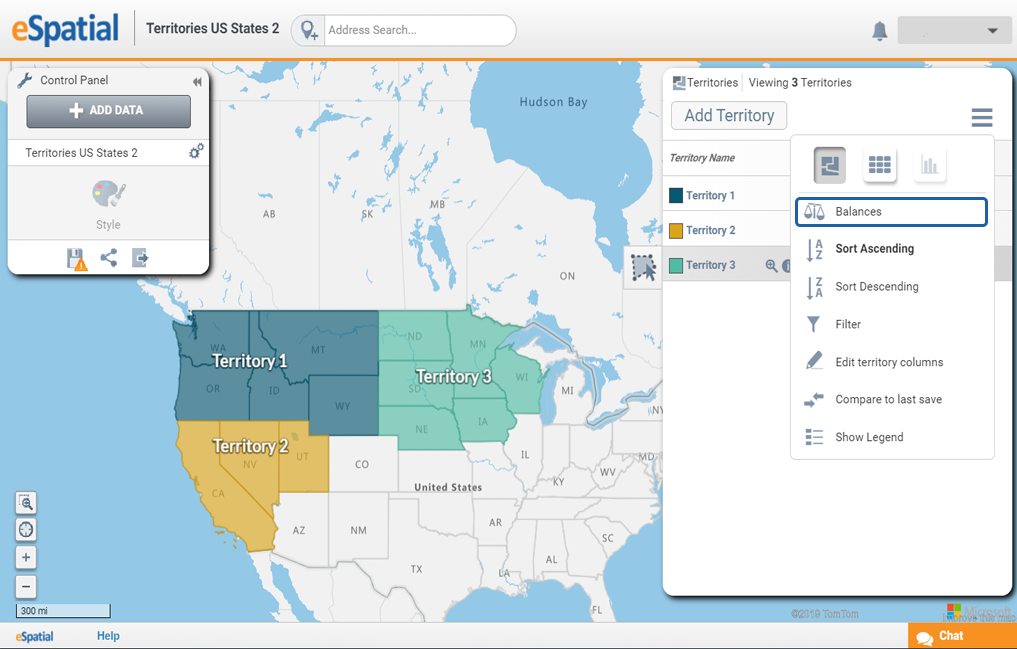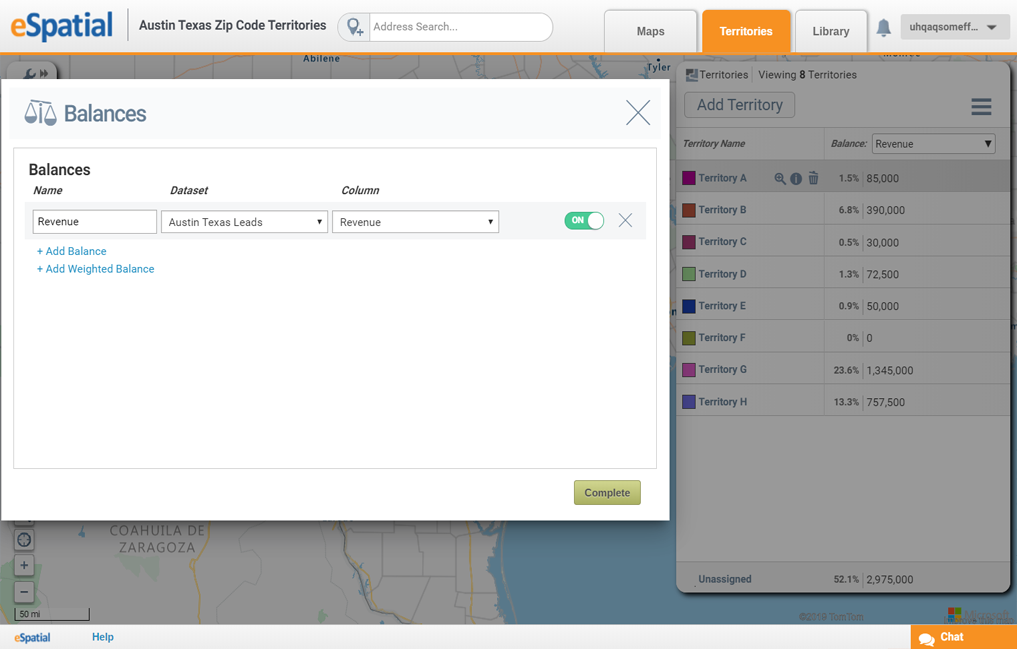 8. View Hierarchies
You can access the hierarchy view by clicking on the Level 1 Tab at the top of your screen. This pulls down the hierarchy view over your map. You can view your hierarchies as a percentage of the level above the one you are viewing or a percentage of the total.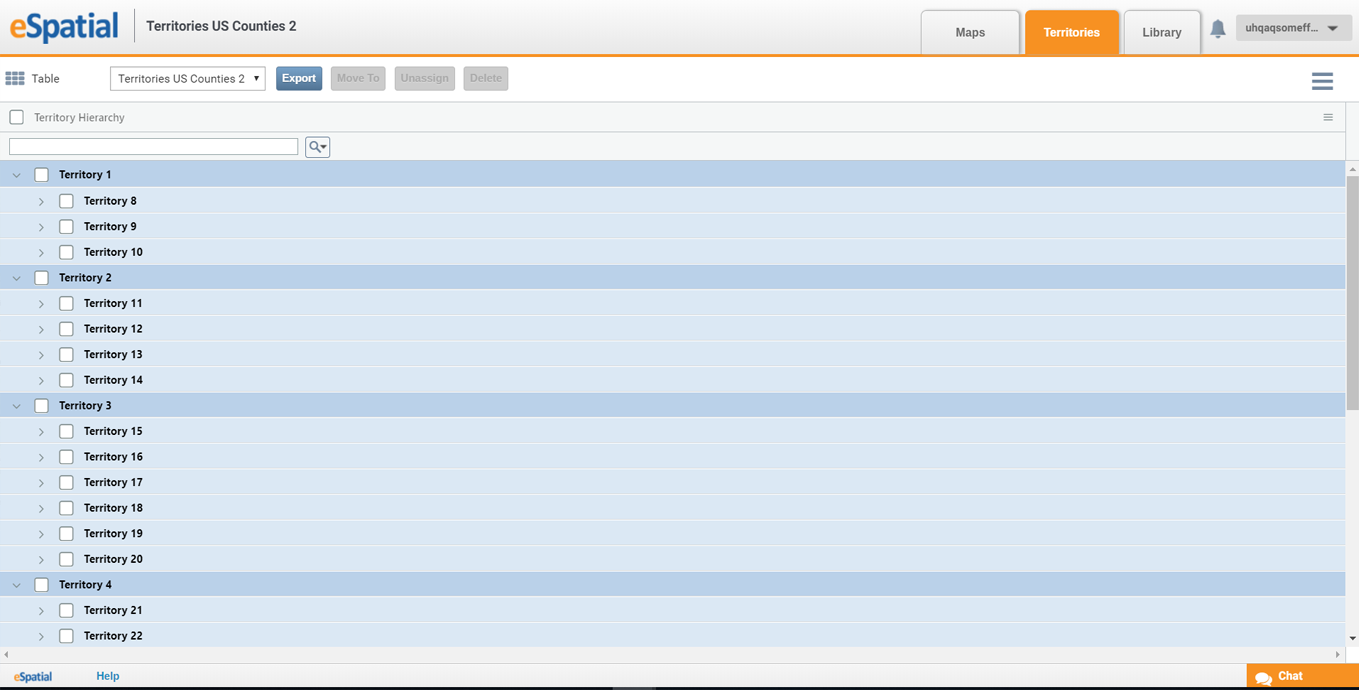 9. Add Your Territories to a Map
Once you have your territories built, you can add them to a map by clicking on the cog icon beside the territory name in the Control Panel.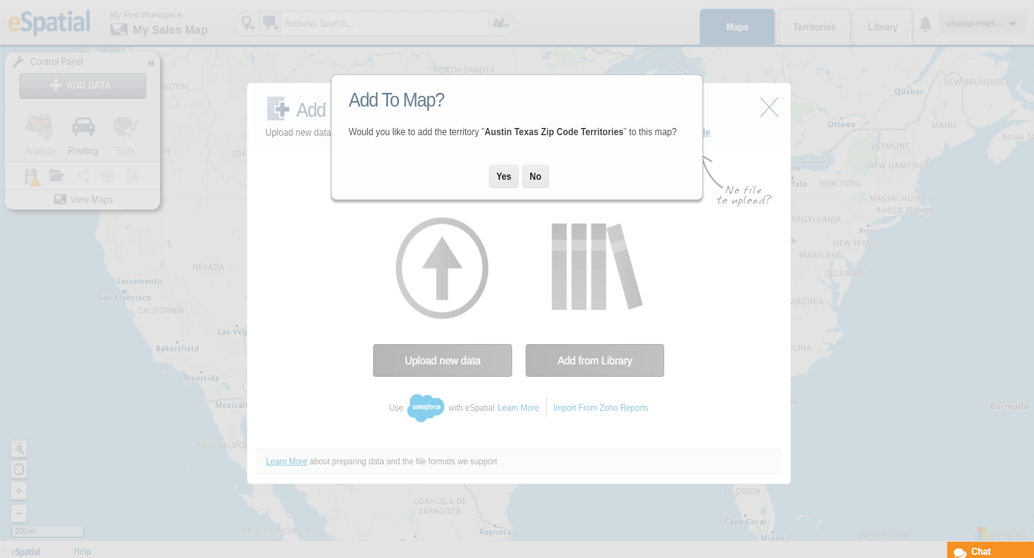 ---
Build Your Sales Territories Today