Integrate your Salesforce account seamlessly with eSpatial for up-to-date and interactive sales performance maps to share with your team.
---
Analyzing and reporting on sales is an important part of a sales manager's job. Knowing who is performing and where at all times is key to the success of your business. The most time-consuming element of this is getting your data uploaded for analysis, especially if the reports are updated on a daily, weekly or monthly basis.
While it is an easy task, there are many steps involved. You have to sign into Salesforce, run the report, export the data, log into eSpatial and upload the data. Our eSpatial – Salesforce Integration allows you to skip those steps with automatic updates of your Salesforce Reports with eSpatial.
eSpatial integrates with Salesforce ensuring that the data you are working with is as up to date as your Salesforce reports without the need for regular manual uploads. You can do a one-off import of a Salesforce.com report, which can then be updated on demand from within eSpatial or scheduled to be automatically updated on a daily or weekly basis.
Once imported, your Salesforce.com report is treated just like other datasets in eSpatial. It can be included in multiple maps. It can be further filtered and shared with colleagues. Once the report/dataset is updated in eSpatial, all maps that include this report/dataset will be automatically updated to reflect the latest updates.
This feature is available in all paid eSpatial subscriptions. It is also available during the trial. Your Salesforce.com subscription must include API access. This is available in Developer, Enterprise, and Unlimited Salesforce.com packages. Note that you there are Salesforce API limits that you should be aware of.
---
Integration Set Up
Connect eSpatial to Salesforce
Firstly, you need to ensure that your eSpatial account is set up to access Salesforce.com. You can quickly check this by clicking on the "Add Data" button from any workspace. If there is no "Import from Salesforce" on the "Add Data" popup window then you need to contact your eSpatial administrator to give you permissions. Once you have been given the correct permissions within eSpatial, you can click on "Import from Salesforce" and you will be prompted to log into your Salesforce account.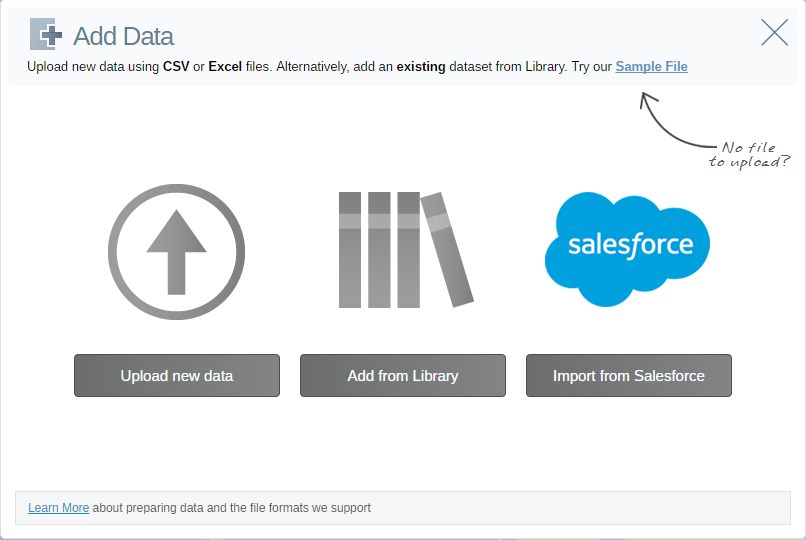 Import Your Reports
You will be presented with a folder structure of your Salesforce.com reports. Only folders that contain reports will be listed in eSpatial. (Creating an eSpatial folder in Salesforce.com can be a great way to group reports you have created to be imported into eSpatial.)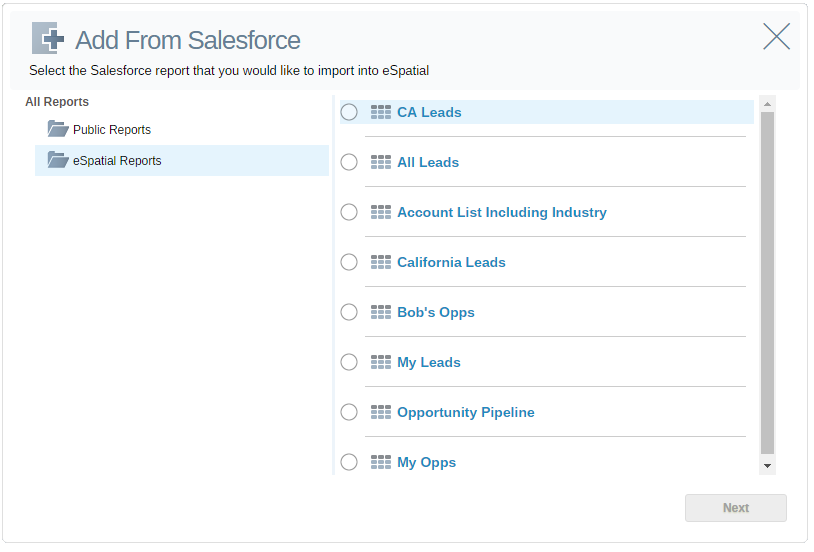 Set Synchronization
By default, your report will be imported just once. After selecting which report you wish to import, you will be given the opportunity to set this account up to be synchronized on a daily or weekly basis. Simply:
Click on the "Keep this Salesforce reported synced"
Select either Daily or weekly from the drop down
The schedule time is based on the time of initial setup.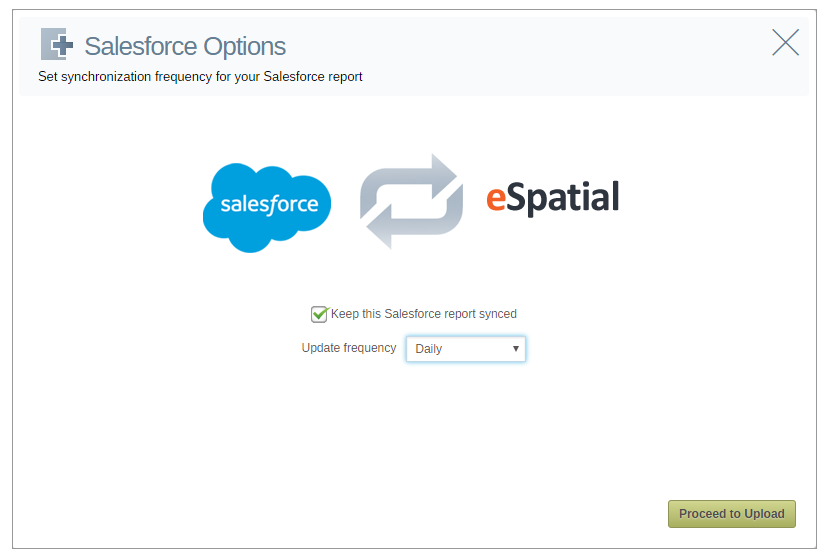 Upload Data Settings
On the Upload data settings screen, you need to select the location fields as you would any other dataset you upload to eSpatial. Your salesforce report will have to include some location information so that it can be plotted on a map.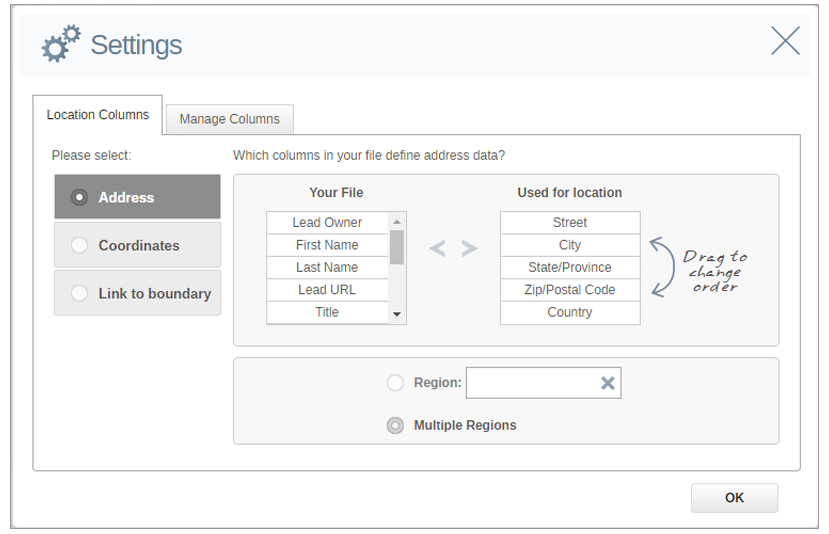 ---
Manage Your Scheduled Reports
You can view a list of your Salesforce.com reports and scheduled updates from your library.
Salesforce.com reports
Go to the Datasets tab in your library and all Salesforce reports will have "Salesforce" written in the Integration column.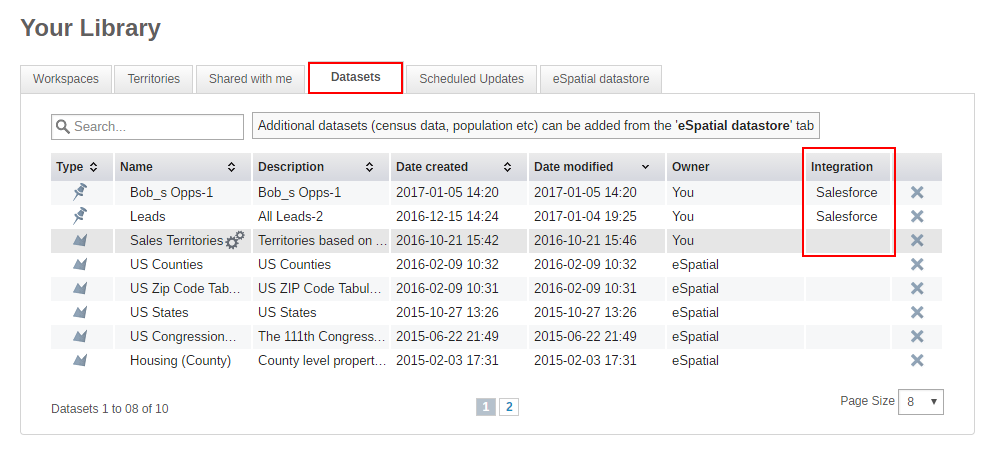 Scheduled Jobs
You can view a list of all your scheduled Updates under the "Scheduled Updates" tab. To cancel a scheduled update, simply click on the x in the row of that scheduled report.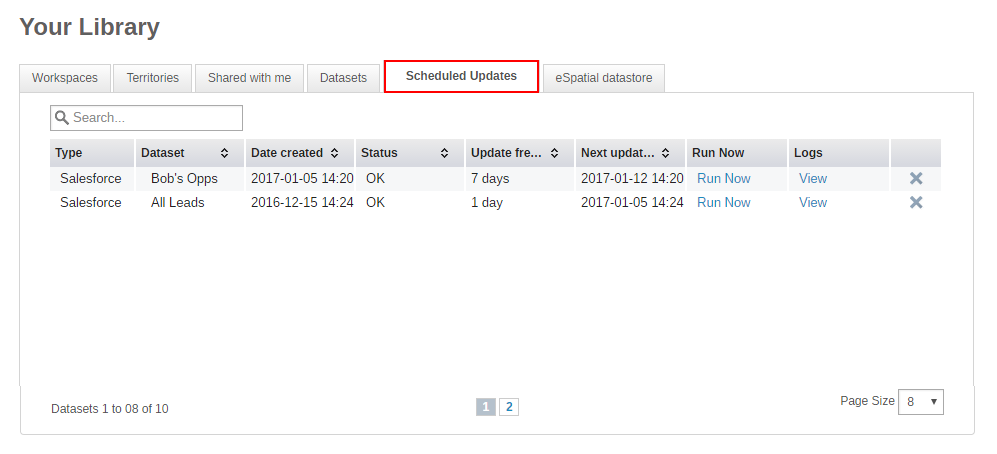 Create a New Scheduled Job
To create a new scheduled job for reports that have no scheduled update against them, from the datasets tab, click on the cog just to the right of the report name, click on actions, click on update, and select Daily or Weekly.
Update report now
For any scheduled report, you can update it manually by simply clicking on the "Run Now" button.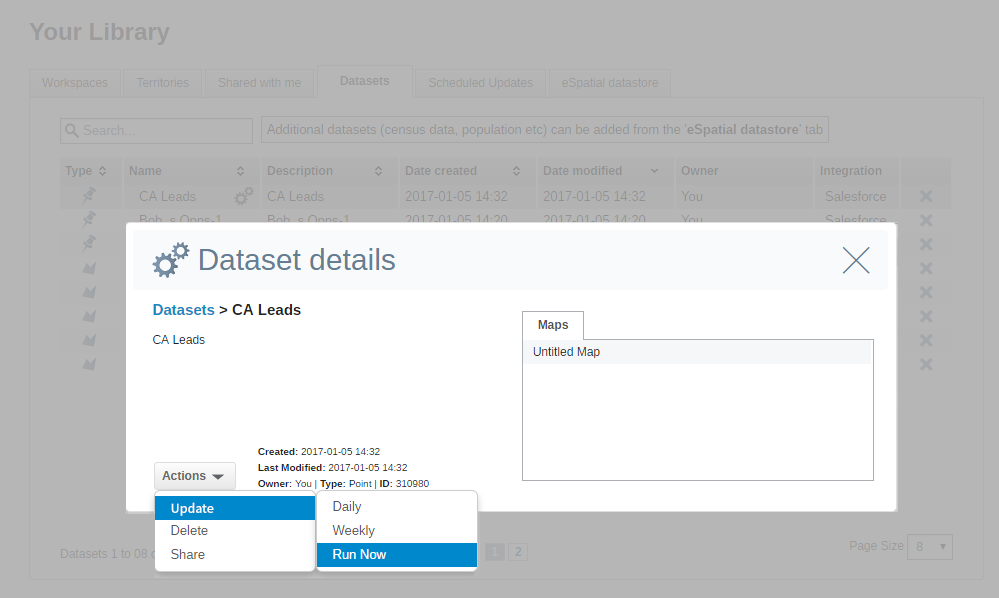 ---