Your All-in-One Mapping Solution for Salesforce
---
eSpatial for Salesforce is built to give you the full power of a complete mapping solution within your Salesforce Org. With seamless data loading of common Salesforce objects such as Leads and Opportunities, as well as Custom Objects, geographically visualizing and analyzing your data could not be easier.
All the features eSpatial is renowned for such as territory management, heat mapping, proximity analysis and sharing of maps are all still included and in fact, we've added in some extra features just for Salesforce users such as logging calls, events, and tasks as well as the much sought-after map templates which will facilitate a much easier roll out amongst your team.
Empower your team with the tools to manage their day, optimize their time in the field, and update Salesforce on the go with eSpatial for Salesforce.
Here at eSpatial we like to make it as easy as possible to get started with our solution. In this How to Guide, you will be taken through a quick overview of eSpatial for Salesforce to help you get an understanding of where to begin.
---
Everything You Need to Know to Get Started with eSpatial
To get started, you need to install eSpatial from our listing on the Salesforce AppExchange which can be found here. You should then follow the post installation steps here to grant access to eSpatial to your Salesforce users.
Like many other apps on the AppExchange, you open up eSpatial from within Salesforce CRM itself, eSpatial will appear as a tab towards the top of your screen. This allows you to switch seamlessly between Salesforce CRM, eSpatial, and any other apps that you may use.
Add Data
When you open the eSpatial app, the first task you will be given is to add data. Here, you will be given the option to select the Salesforce object you would like to add to eSpatial. You can choose from:
Leads
Accounts
Opportunities
Contacts
Custom Objects
Reports
As well as that, eSpatial allows you to add external data from a spreadsheet (such as Excel) and choose from a number of datasets in our library (such as demographic information and boundary datasets).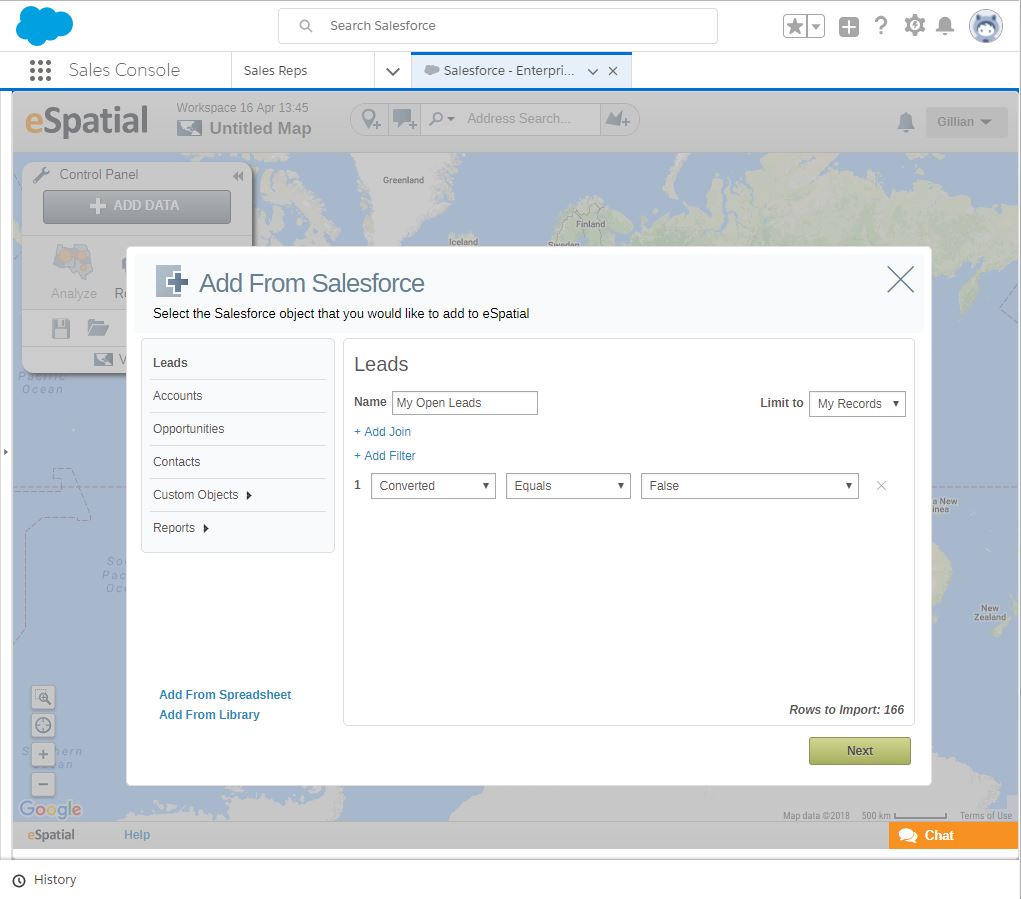 Tips to Add Salesforce Data
Name: Give your dataset a meaningful name such as "My Leads", "All Leads", "Leads contacted within last month" so that you know what you are looking at.
Limit to: With this option you can specify if you only want to look at records that your own (My Records) or all records you have access to in Salesforce (All Records).
Join: You can join multiple object types together such as contacts to accounts or opportunities to accounts etc.
Filter: You can filter out records before adding to your map. For example you can limit the data import to accounts that haven't been visited in over 6 months or only add leads from the Insurance Industry.
Settings: The setting page will list all available columns from Salesforce. The columns you select and add to "Columns For Use" is the information that will be made available to your map. This is the information used to plot your data on a map, the information available in pop-ups, the information you filter and colour your data by on a map. Basically, any Salesforce information you want to view, filter, analyse or color by on a map should be added at this stage.
Upload Data – Location Settings: On this screen you need to select the attributes that contain the location information for your Salesforce information. Do you use Billing, Shipping address, or other? It is on this screen that you should select the most appropriate location information.
---
Workspace
A Workspace is where you do all of your work. Different workspaces can be used for different maps e.g. you could have one workspace for all of your US maps and another for all of your UK or Europe maps. You can think of a workspace like a folder or project for your maps.
A workspace can:
Contain one or more maps.
Be opened from your Library.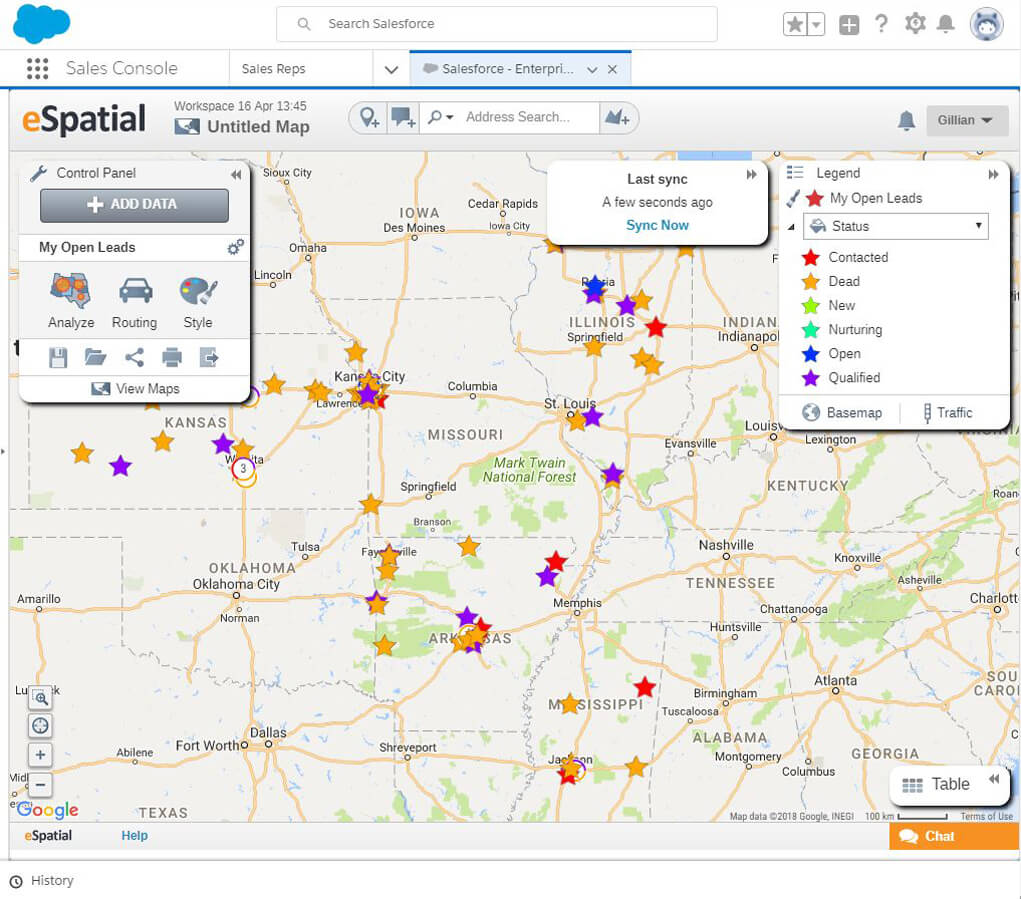 Control Panel
The Control Panel allows you to add and remove data to and from your map, analyse the data, get a route or style your map. Here, you can also:
Save Map
Open Map
Share Map
Print
Export
Analyze – Regional Heatmap, Bubble Map, Radius, Nearest Neighbor, Drive Time, Aggregate by Value.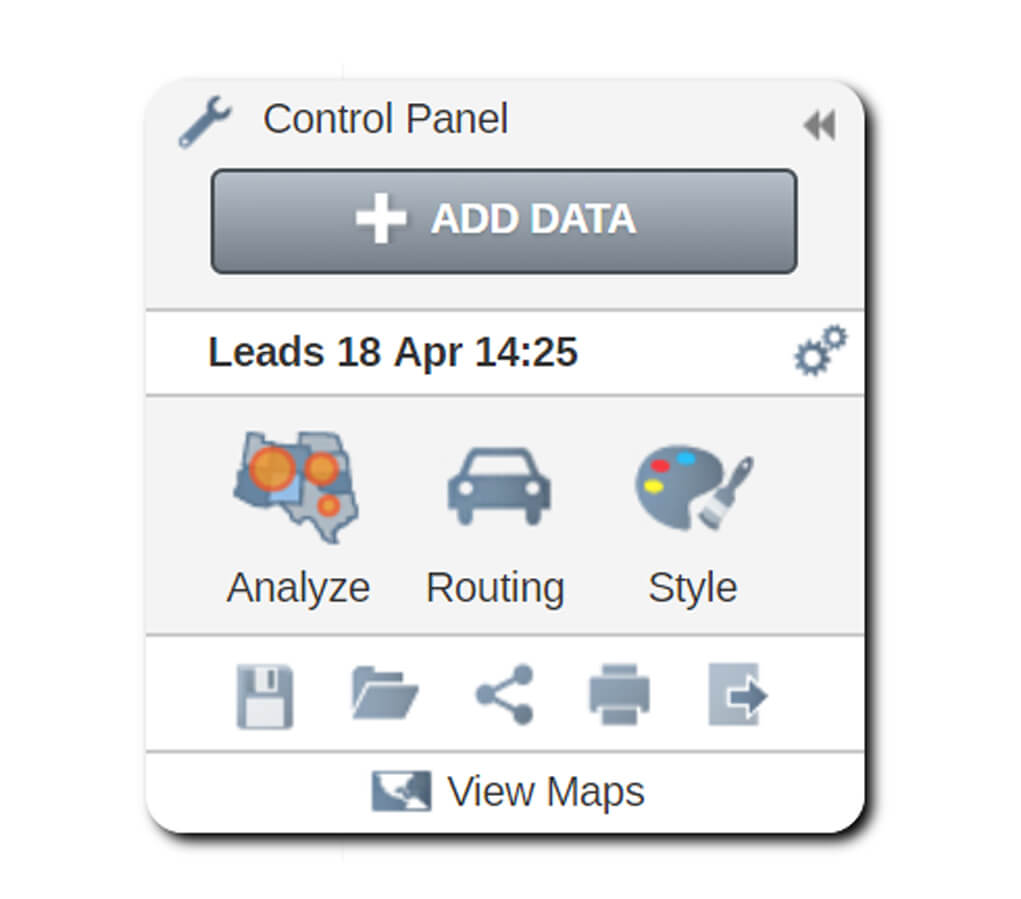 Legend
The Legend is a place where you can view what data is on your map and how it is represented. From the Legend you can:
Switch on and off datasets.
Switch on and off Color by Value.
Change Basemap.
View Traffic.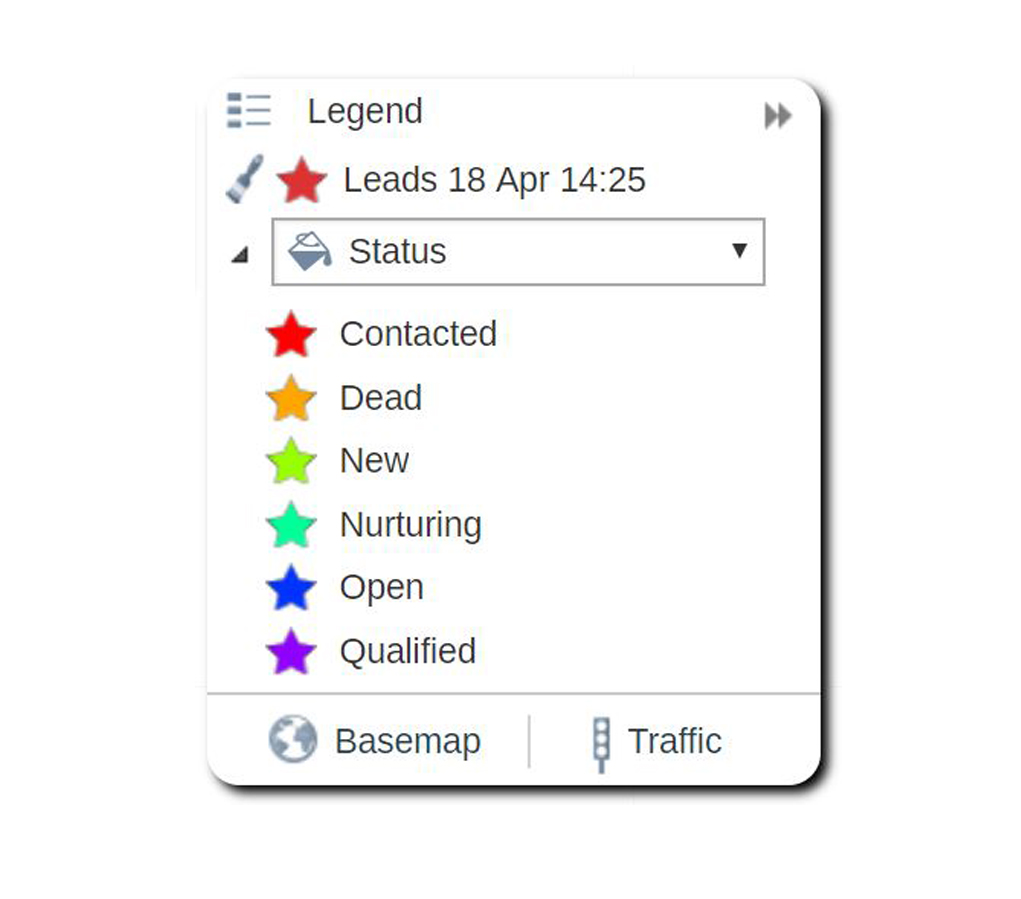 ---
Navigation
You can use the + and – buttons to zoom in and out of your map, or the scroll button on your mouse. To move around the map, simply click and drag to the area to want to view.
---
eSpatial Toolbar
The eSpatial toolbar is the grey bar above your map. From here you have a number of different options:

Rename Workspace and Map – You can change the title of a map as well as the workplace it is located in. This is handy for keeping everything organized.
Address Search – This is where you can search for any address, when completed it will place a temporary point on the map.
Add Address Point – If you wish to place an address point on the map, you can simply click on this button and place it on the map.
Add Annotation – Here you can add notes or a corporate logo to your map.
Draw Polygon – Create a custom area using this tool.
Library – Here you will find all the datasets that you have uploaded. You will also find a huge selection of boundary datasets supplied by eSpatial. These can be combined to create compelling maps. You can also navigate and access your maps and workspaces.
Territory Builder – This is where you create, balance and align your territory datasets that can be used in your maps. The Territory Builder is where you create and manage your sales territories. (The territory itself can be added to a map in a workspace for further analysis and styling).
Notifications – Here you will find notifications about territories, maps and workspaces that have been shared with you. You will also receive notifications on updates to these.
---
eSpatial for Salesforce Features
There are many benefits to using eSpatial for Salesforce, here are a few to get you started:
Create a call, task, or event directly from your map. There's no need to switch back and forth.
Add non-Salesforce data to your map for enhanced analysis.
Bulk update and reassign records from your map. This saves time by cutting down on admin work. For example, change the owner of all leads in a sales territory to owner of that territory.
Bulk add Salesforce records to a Salesforce Campaign. For example, add all leads within a 60-minute drive of our upcoming sales event to a Salesforce campaign.
Give non-Salesforce users access to maps.
Create Map Templates to rapidly rollout customized maps specific to each user.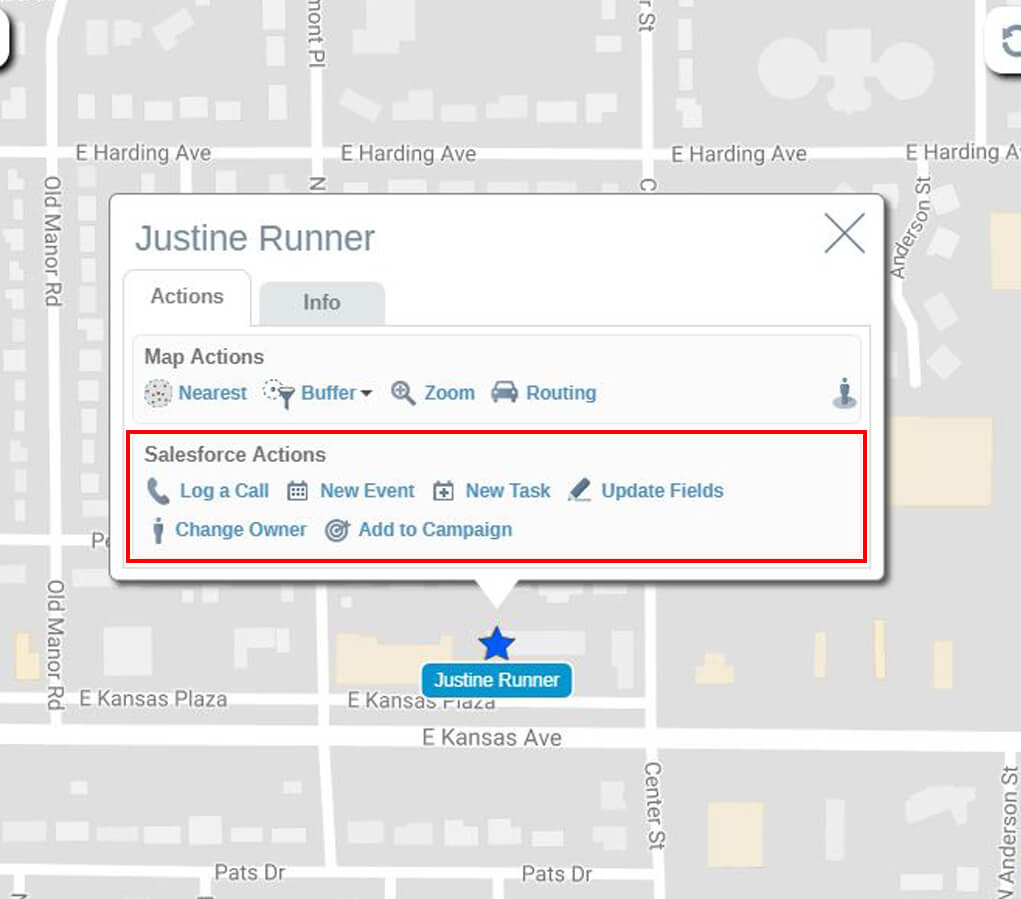 ---
User Menu
User Settings – Here you can see what usage limits you have regarding Datasets, Maps, and Geocodes in your account and how much you have used. Your own account details including name, email, eSpatial Tenant ID, and account type will also be displayed.Manage Groups & Users – If you have a Team or Enterprise account and Admin access you can manage accounts, users, and privileges here.Help – This links to the help section.About eSpatial – This contains information about the current release of eSpatial
---
Support
In the bottom left of your workspace you will find a Help button which will bring you to eSpatial's Help section. In the bottom right, the chat function where you can talk to a member of our Sales or Customer Success Team.
---
Hopefully this quick guide can get you going on eSpatial with Salesforce, you can also view more specific our Help section here. If you have any questions don't hesitate to contact us through our in-app chat.